This post may contain affiliate links. Read my disclosure policy here.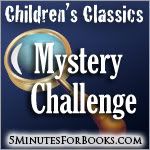 We're gearing up to host a Children's Classics Mystery Challenge over at 5 Minutes for Books and I'm way hyped about it! As you all know, we're all about books at this sister site and one of the things we moms love to do is revisit old literary friends and introduce our children to them also. To that end, from January to June we're hosting this particular challenge which you can learn more about by clicking HERE.
Personally, I am loving the opportunity to spend time with Nancy Drew, Trixie Belden and the like. This past month I've been devouring these books as part of this challenge. I've written up a little bit about Nancy Drew on my own personal site, Reading to Know, and what it is that I remember and like best about her. My favorite Nancy Drew title of all times is the 1934 edition of The Clue of the Broken Locket. I prefer the 1930's (original) editions of Nancy and love the antiquated terms which are applied to almost everything. These books are an interesting study on the history of our nation and how much we've changed in the past 60+ years. In this particular story, Nancy is trying to find the missing birth mother of a pair of twins which have been adopted from a "foundling home" from a couple of neglectful "show people." The main clue in her possession is, of course, a broken locket. It's hard to find a copy of the 1934 edition but if you do, I heartily recommend you snatch a copy of it up! Speaking of snatching copies up – if you haven't read Nancy Drew, the Hardy Boys, Trixie Belden and the like in awhile, we'd invite you to do so and join with us on our challenge.
And now for a rather unique giveaway – not necessarily in book form but definitely related to the above mentioned title. We have FIVE of the following sterling silver lockets from Emma Parker & Co. to give away in conjunction with this reading challenge.
What do you need to do to win? You have a couple of options. Any or all of these will get you a chance to win (you don't have to enter the challenge):
Sign up to join the Children's Classics Mystery Challenge over at 5 Minutes for Books. The post does not have to be long or complex. Just create a post saying, "I'm in" and include our nifty little button as well as a link to the Children's Classics Mystery Challenge informational page. Then make sure you link up your post on Tuesday to our Children's Mystery Challenge page. Each link (of either a entry post or a review) will count as an entry.
Browse Emma Parker & Co.'s online jewelry selection. Then come back here and leave an extra comment telling us which piece you really like.
You can gain an additional entry by tweeting a message linking to your favorite piece of Emma Parker & Co. jewelry. If you decide to do this, come back here and leave a comment telling us you did so, and leave a Twitter link.

Five people (who follow these requirements) will win one of these gorgeous lockets.
In the meantime, if you are looking for a special piece of jewelry for Valentine's Day, Mother's Day or any other special occasion, check out Emma Parker & Co.! We're grateful for their generosity and support of the reading goals of classic mystery lovers everywhere!
This giveaway is open to US and Canadian addresses.
We will announce the winners in next week's book column.
Book blogger Carrie thought of Nancy Drew and Trixie Belden as some of her best friends growing up. She blogs about books regularly at Reading to Know and Reading My Library and of course 5 Minutes for Books.
The winners of The Happiness Project are #84 Lori Taulbe and #20 Melissa Nunley.