This post may contain affiliate links. Read my disclosure policy here.
Do you want to know how to make espresso without an espresso machine? Stovetop Espresso is a quick, affordable way to brew strong, rich coffee at home — and it is delicious and fun to make. You'll be surprised how simple it is to make espresso at home using a stovetop espresso maker. We'll show you how…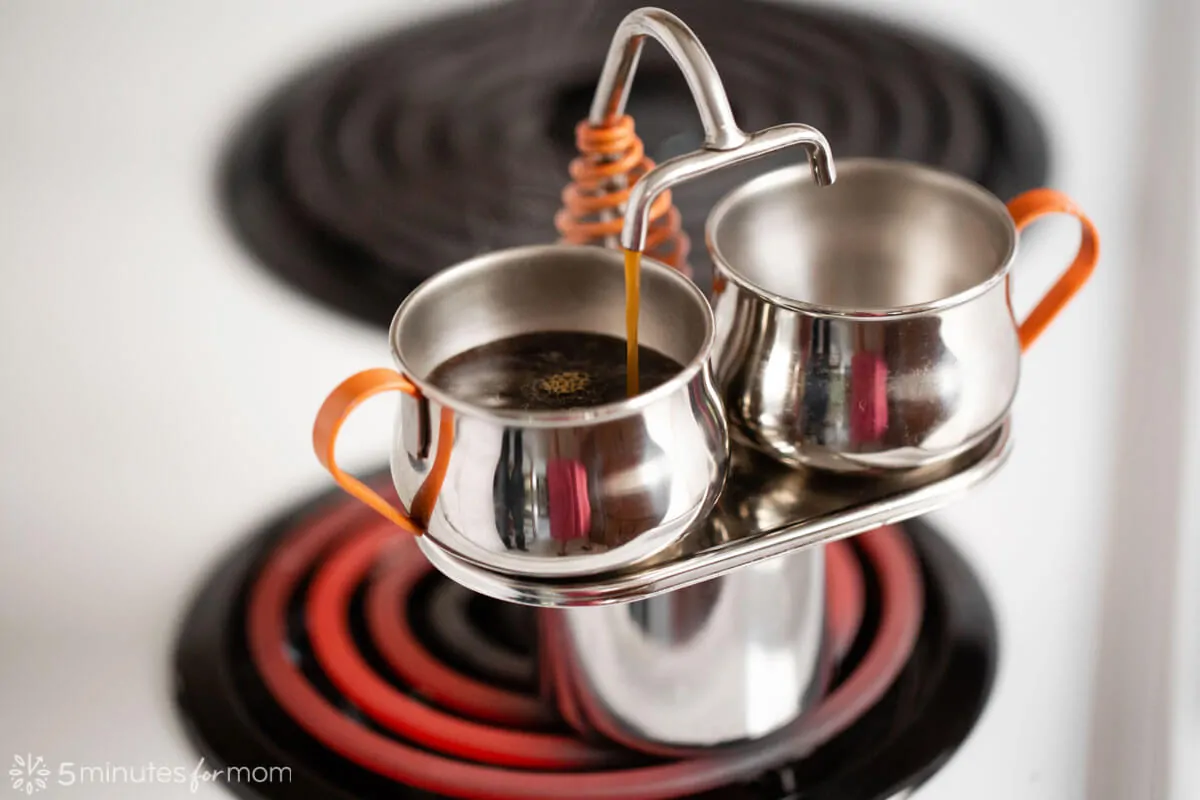 Please note that this post includes Amazon affiliate links — when you shop through our links, we may receive a small fee which helps keep our blog running. Thank you!
Did you know that you can easily brew intense, bold, deep flavored coffee at home without an expensive espresso machine?
If you are spending too much money at Starbucks, or you just want to make really great coffee easily at home, this post is about to change your life…
How to Make Stovetop Espresso
It is simple to learn how to make espresso at home. But it may take several brews for you to both season your coffee maker and perfect your brewing technique.
If your stovetop espresso maker is new, follow the enclosed directions before first use. In general, you should wash a new coffee maker well with warm, soapy water, and then make a few brews and discard to condition the pot.
First, to brew stovetop espresso fill the bottom chamber with water.

I prefer to use filtered water. (Some people suggest pre-boiling the water before filling the pot to avoid over-extracting the coffee, but I do not pre-boil the water.)

It is critical that you do NOT overfill the chamber — do not fill past the safety pressure valve.





Second, fill the filter basket with medium coffee grounds (not as fine as espresso grounds) and place on top of the lower chamber.

(You can either fill the basket first and then place on the pot or place it on the pot and then fill it. Whichever you prefer.)

Do not tamp the grounds as you would with a regular espresso machine. You can level off the grounds with a knife or your finger.

Ensure that there are no coffee grounds around the rim of the pot that would keep the gasket from sealing tight.


Third, firmly screw on the top of the espresso maker.




Fourth, place the stovetop espresso maker on the stove on medium heat.

Note that stainless steel stovetop espresso makers work on gas, electric, and induction stovetops. But aluminum coffee makers only work on gas and electric and do not work on induction stovetops.




Fifth, once the coffee is bubbling and brewing, reduce the heat to low on the stove.

If the coffee is bursting out too much, remove from heat to finish brewing.




Finally, when you hear the coffee gurgle and sputter up the funnel, your coffee is done.

Stir coffee to blend layers before pouring and serve immediately.

If you are using a stovetop espresso maker with a steaming wand, after you have brewed your coffee, close the coffee valve, return to the heat and steam your milk by releasing the valve on the steaming wand.



Stovetop Espresso – How Italians Brew Coffee at Home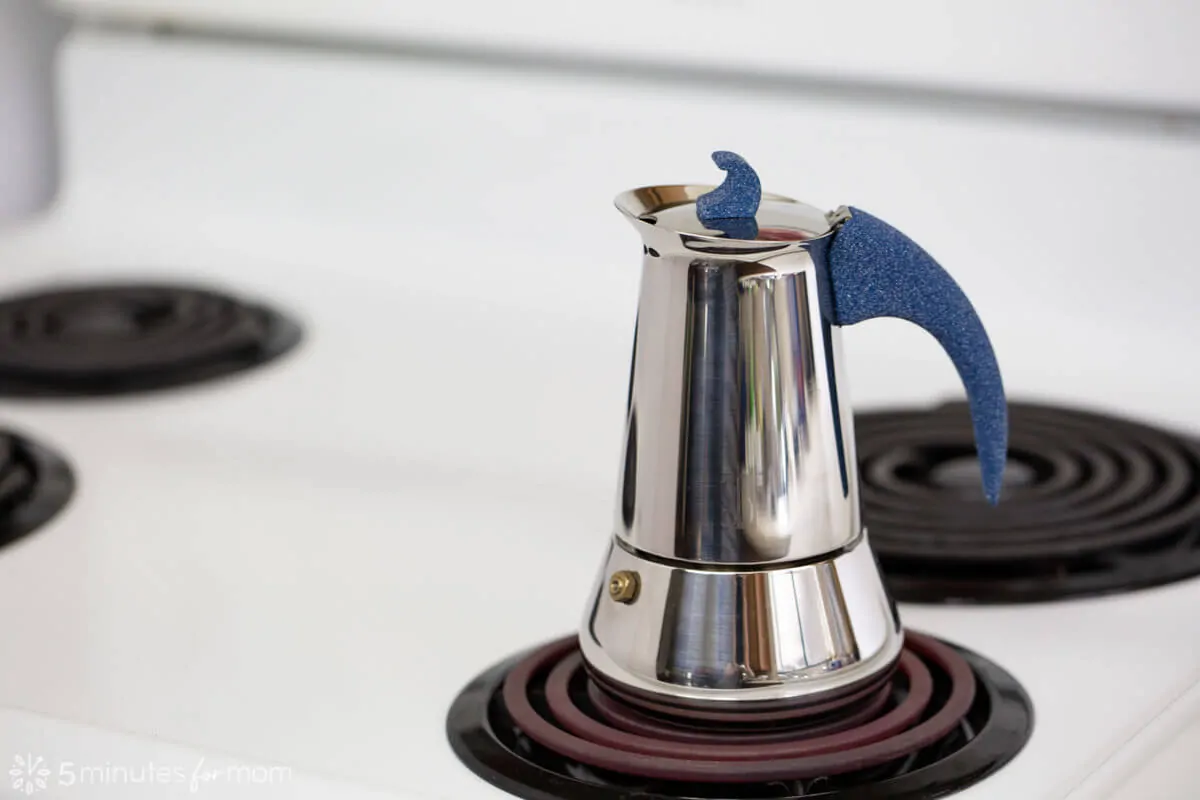 When Susan, my twin sister and co-blogger here at 5 Minutes for Mom, first visited her soon-to-be inlaws in Italy, she noticed a strange, small pot sitting on the stove.
Little did Susan know at the time, the curious kitchen appliance is called a moka pot and it has an incredible origin story.
In 1933, Italian inventors Luigi di Ponti and Alfonso Bialetti registered a patent for a pressure-driven aluminum stovetop espresso maker, called the Moka Express, that would ultimately change the way much of the world brewed coffee.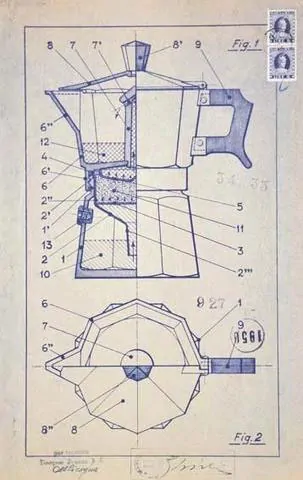 Within a few decades, most of Italy and Europe was brewing their coffee at home with this revolutionary stovetop coffee maker.
Today, Bialetti still rules the stovetop espresso market with their original moka pot, the Moka Express. In fact, nine out of ten Italian households own at least one Bialetti stovetop espresso maker. Likely, most Italians know how to make espresso at home.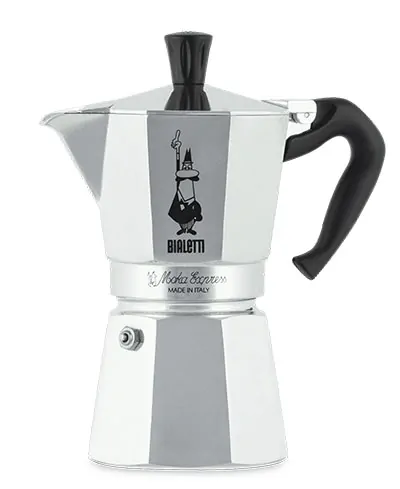 The Bialetti Moka Express has become synonymous with stovetop coffee makers and some people even refer to all stovetop espresso makers as Bialettis.
But Bialetti is not the only company making stovetop coffee machines inspired by the original aluminum Moka Express.
Other competitors offer different versions of pressure-driven stove top espresso makers, including many varieties of stainless steel stove top espresso makers.
How Does a Stovetop Espresso Maker Work?
There are various styles of stove top espresso makers, such as mini stovetop espresso makers, higher pressure stovetop espresso makers with wands for steaming milk, and different versions of moka pots. If you're wondering how to make espresso at home, there are different methods you can use.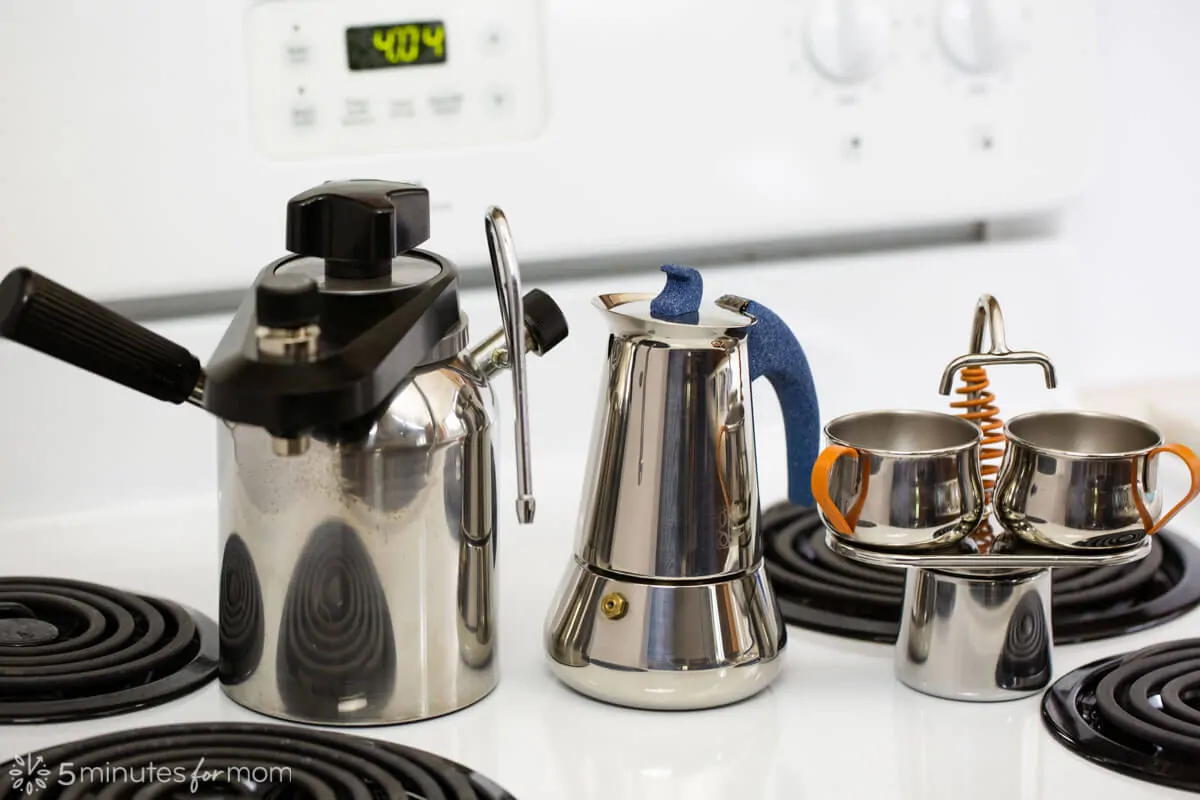 All of these stovetop espresso makers use steam to build pressure and push hot water up through coffee grounds to brew intense, bold coffee.
Stovetop espresso makers consist of either two or three chambers.
In a moka pot style stovetop coffee makers, the first chamber holds the water, the second chamber holds the coffee grounds in a filter basket with a funnel that the hot water travels up and through the coffee grounds, and the third chamber holds the finished brewed coffee.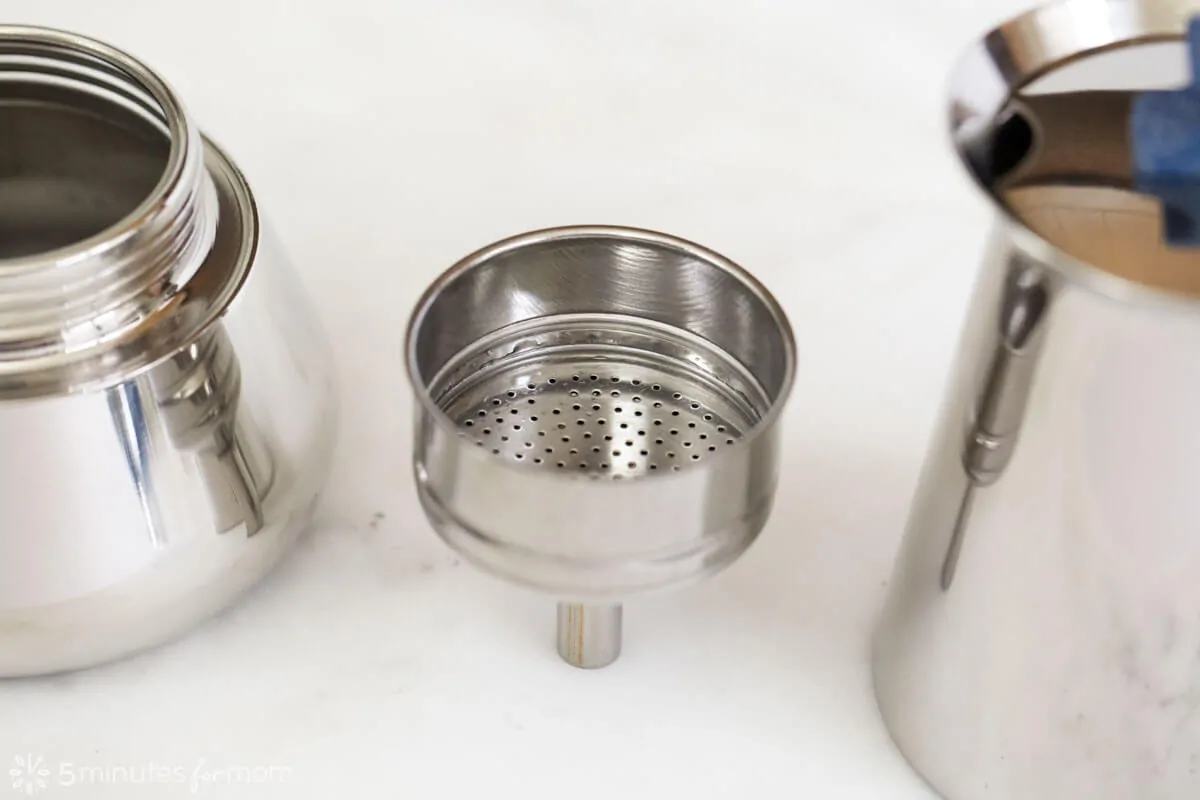 Some other styles of stovetop espresso makers, do not have the third chamber. Instead, the brew comes directly out of the coffee maker into your cup.
For example, in a mini stove top espresso shot makers, like the Tracanzan Alfa SRL Birba Stove Top Espresso Maker (photographed in this post) or the Bialetti Moka Mini Express, the brewed coffee flows out of the spouts into the shot cups.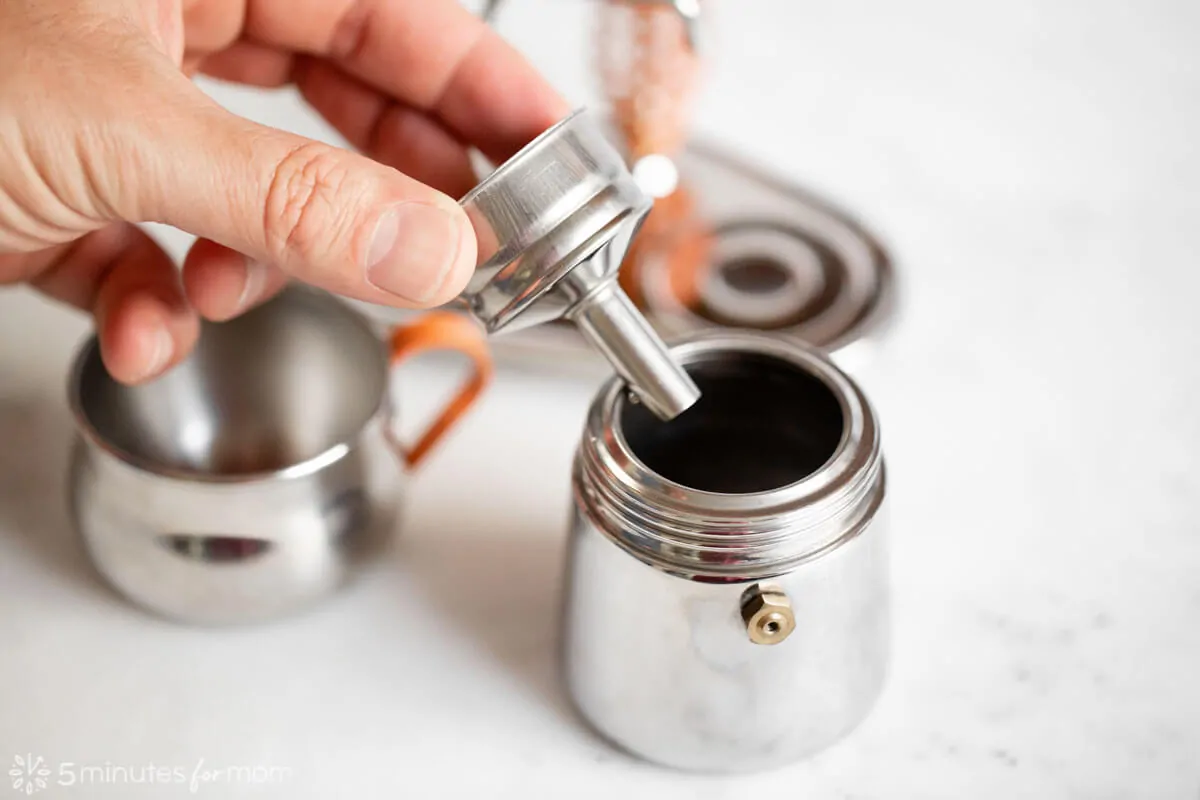 With a higher pressure stovetop espresso makers like the Elebak or the Bellman, you open a valve and the brewed coffee pours into your cup.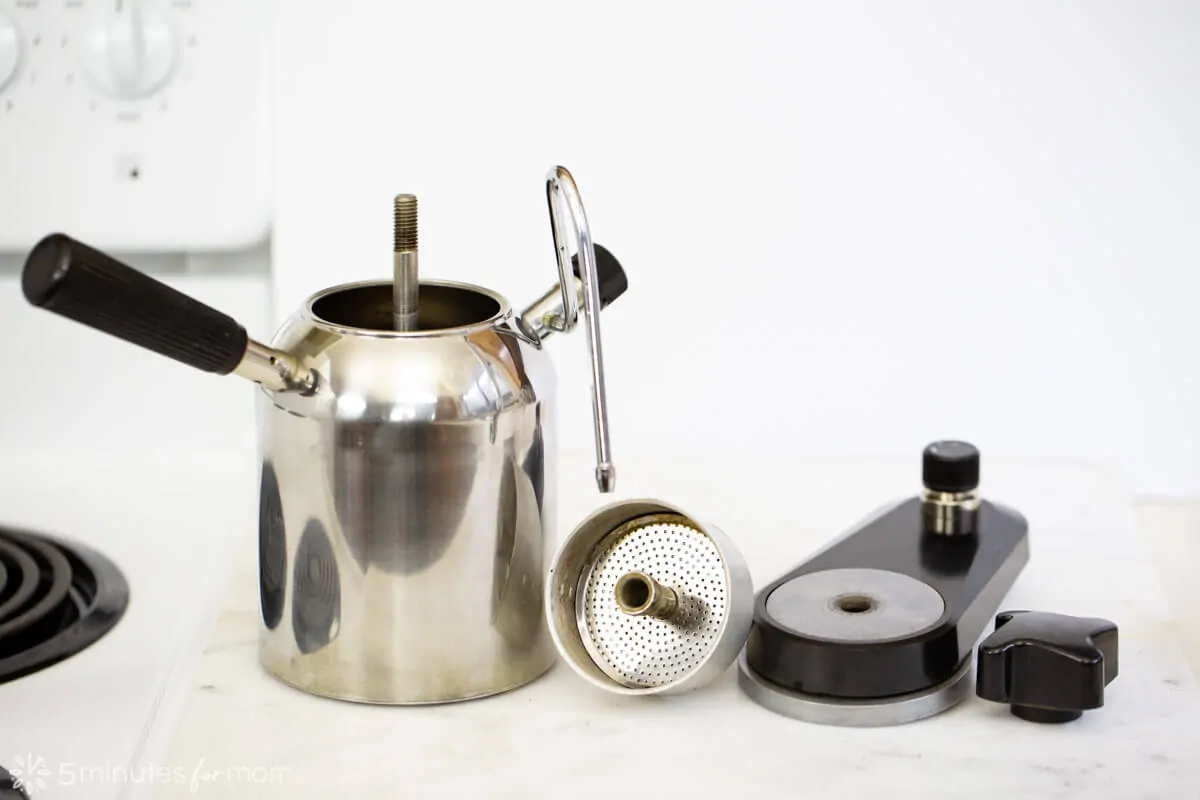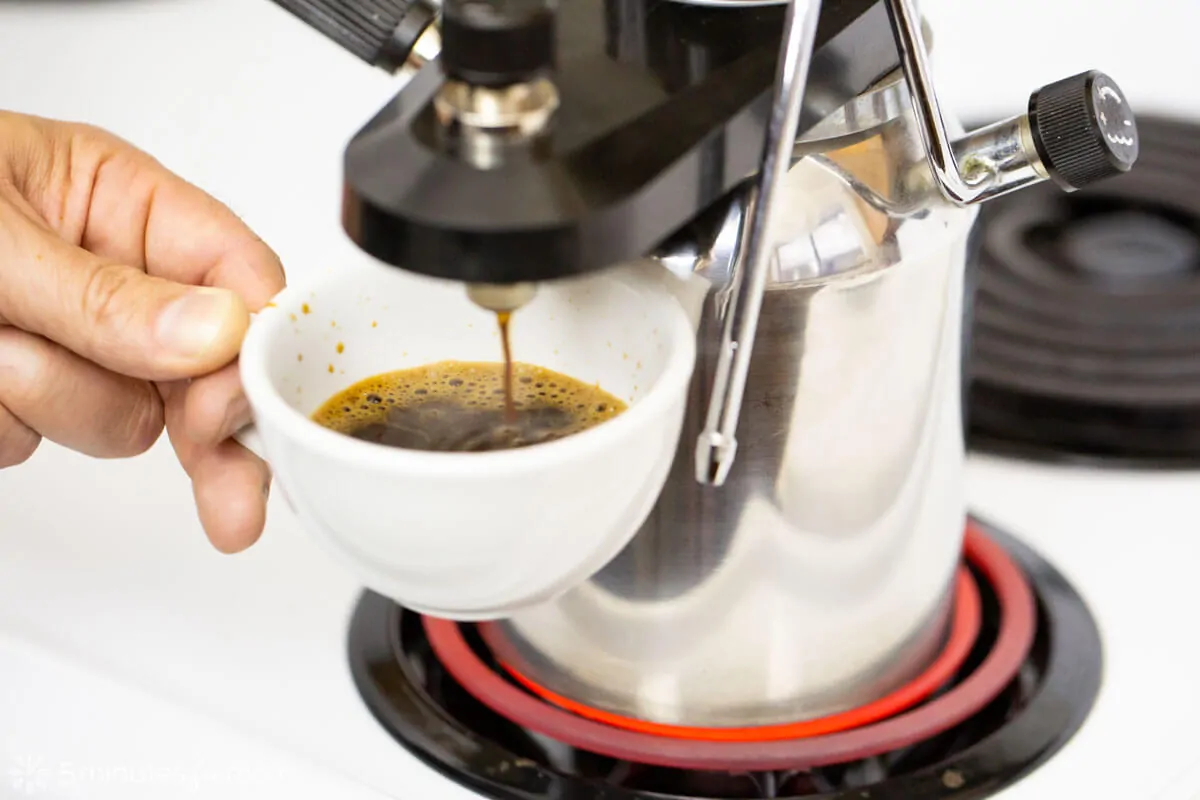 How Long Does Stovetop Espresso Take?
The length of time it takes to brew stovetop coffee depends on the type and size of the stovetop espresso maker you are using.
If you are using a mini espresso maker that produces espresso shots, it only takes two to three minutes.
With moka pots or larger stovetop coffee makers, it can take longer to brew – around five minutes. You will know the coffee is ready when you hear the tell-tale gurgling of the last drops of coffee sputtering into the top chamber.
Is Stovetop Espresso Real Espresso?
Okay, let's get technical for a moment.
No, stovetop espresso is not "true" espresso.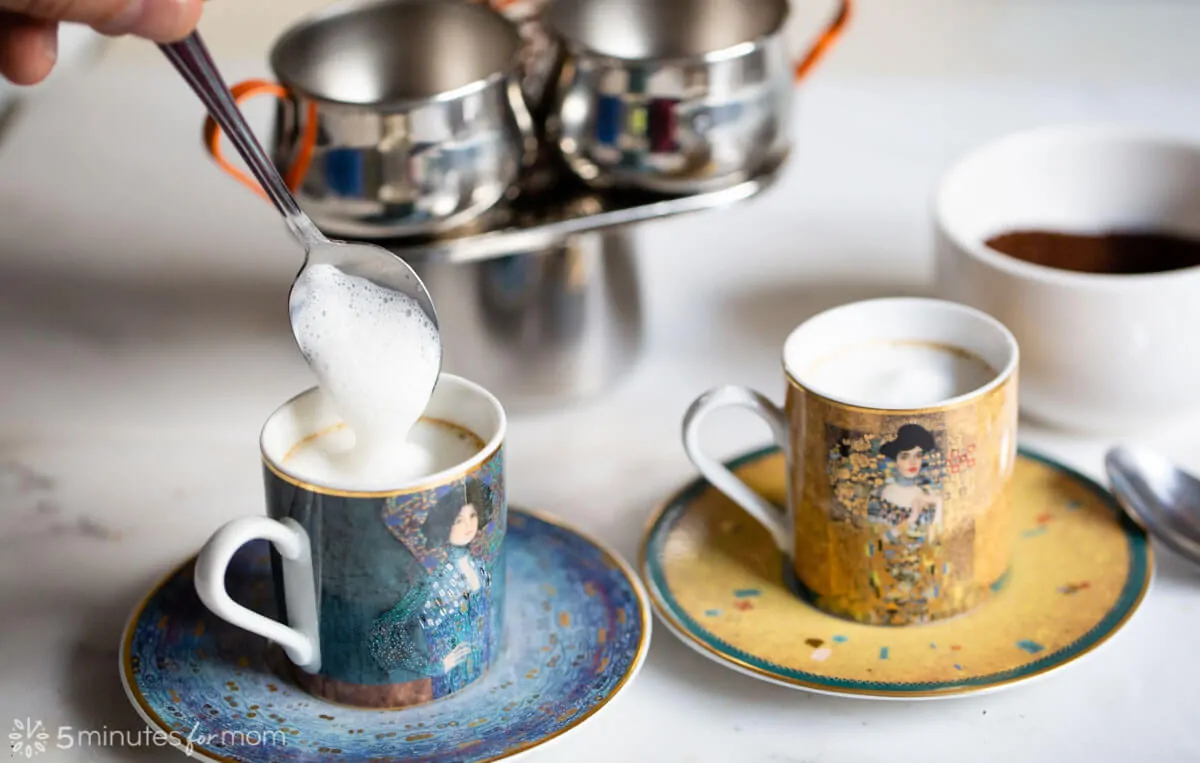 While stovetop espresso makers and moka pots brew strong, bold, flavorful coffee, they do not technically make modern-day espresso.
Modern espresso requires espresso machines that use 8-10 bar of pressure and moka pots are only capable of 1-2 bar of pressure.
This lower pressure is not enough to create the same aerated crema texture as a true espresso.
However, some stovetop coffee makers, such as the vintage, Italian-made Elebak stovetop espresso maker I am using in these photographs, have a pressure valve that allows the steam to achieve higher pressure and produce a richer coffee with crema that is closer to a "true" espresso.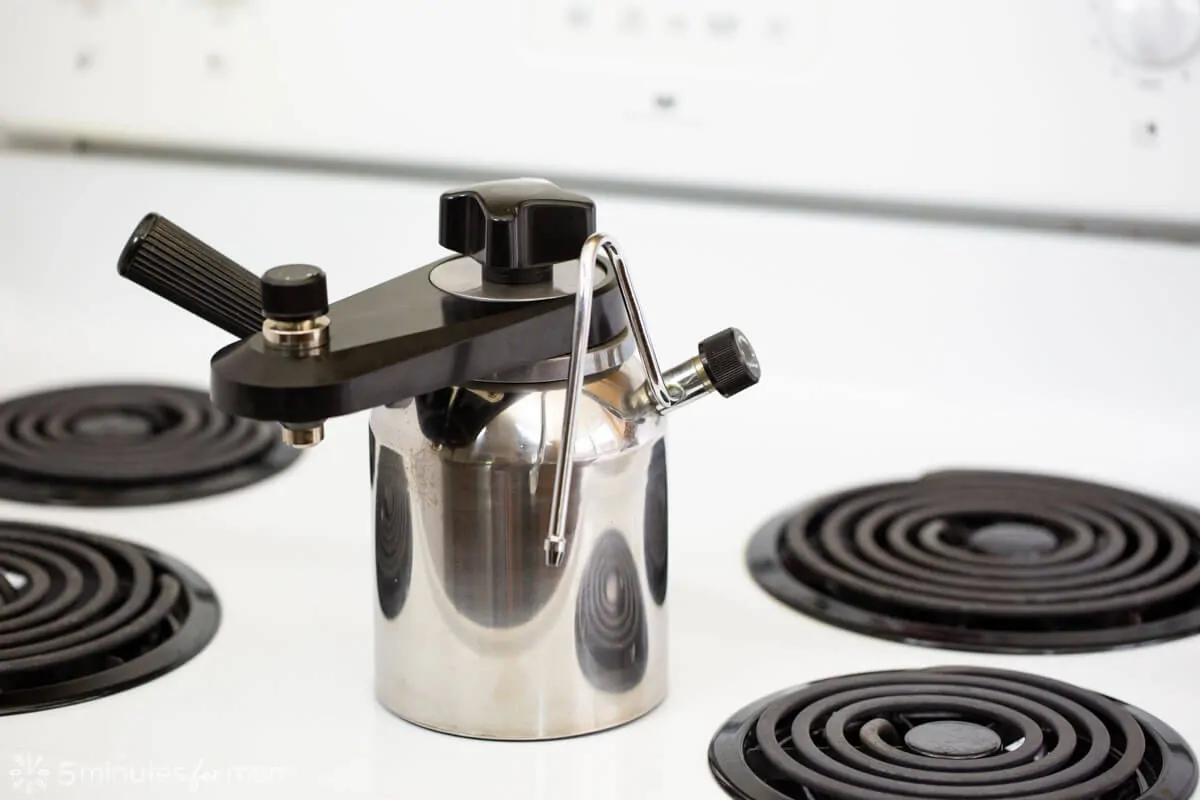 How to Get Crema on your Homemade Espresso
While you may have trouble finding vintage stovetop coffee makers, such as my Elebak, there are some currently available that are similar in design and achieve higher pressure to create that sought-after coffee crema.
The CX-25 Bellman Stovetop Espresso Maker is very similar in design to the Elebak that I have and is available on Amazon. I love that the Elebak and the CX-25 Bellman Stovetop Espresso Maker allow you to achieve a higher pressure to brew a richer coffee and they have steamers so that you can also steam and froth milk to make cappuccinos and lattes.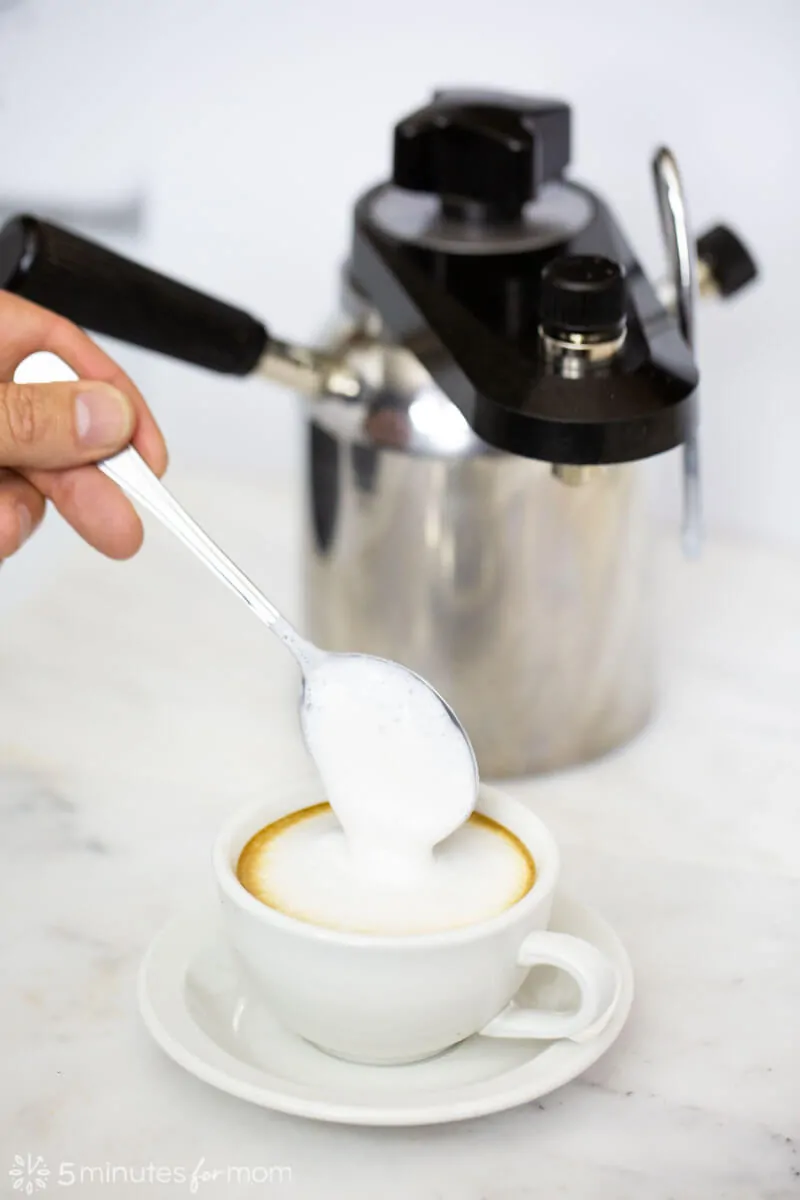 Unfortunately, the CX-25 Bellman does cost significantly more than Bialetti Moka Pots, especially more than the very affordable original design aluminum Moka Express.
So if you want to keep costs under control, you can scour flea markets to find a vintage Elebak or you can skip the milk steaming option and go for the Bialetti Brikka.
The Bialetti Brikka has a pressure valve that produces a froth so you can have your stovetop coffee and your crema too!
Or, if you would like some milk in your coffee, you could try the Bialetti 5410 Kremina Espresso Maker. This unique stovetop coffee doesn't just brew coffee, it also creams the milk for your Caffè Macchiato during the same process.
The Bialetti Kremina uses a special patented lid with a whipper device that froths the milk once the coffee mixes with the milk. If you prefer your coffee without milk, you can also use the Bialetti Kremina to make a foamy, frothy coffee.
The Bialetti Brikka and the Bialetta Kremina are made with aluminum though. So, if you want a stainless steel coffee maker, then the Brikka and the Kremina may not be for you.
You may want to stick with one of Bialetti's stainless steel stovetop coffee makers, either the Bialetti Musa, the Bialetti Venus, or the Bialetti Kitty.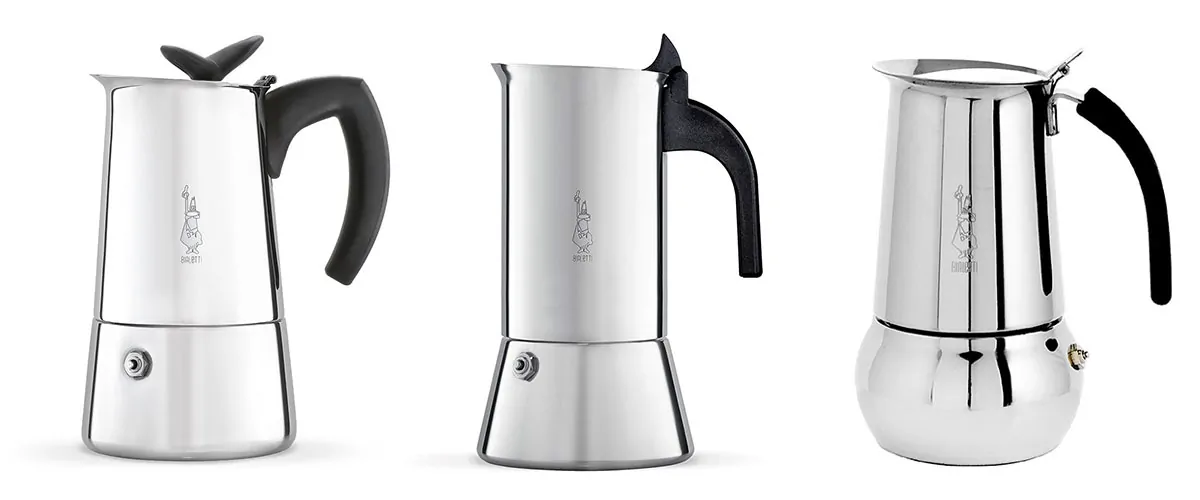 All three of Bialetti's stainless steel stovetop espresso makers – Musa, Venus, and Kitty – are made with 18/10 stainless steel and are built the same. They are all safe on all types of stovetops, including induction, and, according to Bialetti, none of them are dishwasher safe. None of these three makers will provide much crema, but they will make rich, stovetop coffee.
The main difference between them is simply their design, but they do vary slightly in price. So just choose which one appeals the most to you and remember to choose the cup size that works best for you.
The moka pot that I have photographed for this post is a vintage Guido Bergna and it was made in Italy and is stainless steel.
You can no longer purchase Guido Bergna moka pots as the Bialetti Group acquired Gb-Guido Bergna in 2001. But the Guido Bergan team designed the Bialetti stainless steel pots and they are very similar in design.
One of the best options for a strong, rich espresso-like shot from a stainless steel stovetop coffee maker is to go with a stove top espresso maker like the vintage Tracanzan Alfa SRL Birba Stove Top Espresso Maker 2 Cup that I have featured in this post.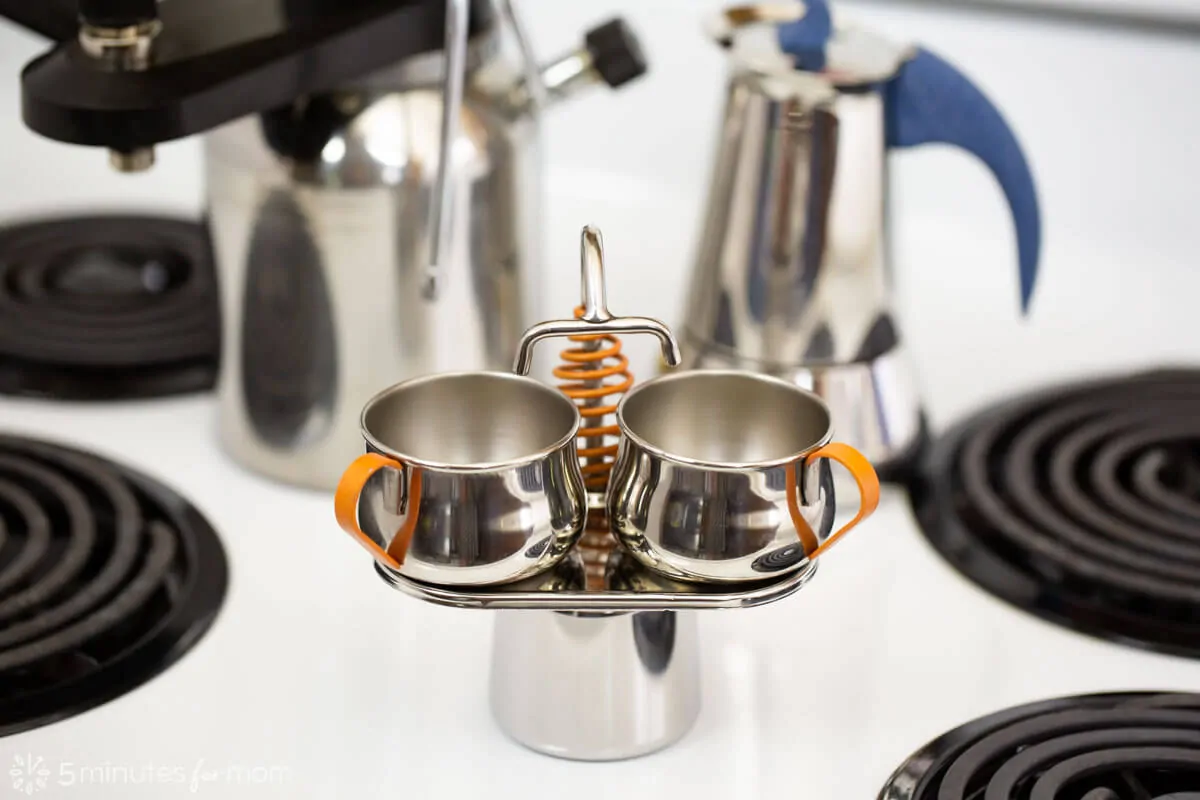 This beautiful stainless steel stove top espresso maker produces deep, flavorful shots with some crema.
It is super fast, brewing shots in just a couple minutes, and is lightweight and perfect for traveling, camping, etc.
The Tracanzan Alfa SRL Birba Stove Top Espresso Maker 2 Cup appears to no longer be in production. But you may be able to find one at a flea market or a vintage store or you can buy a used one online.
Fortunately, there are some similar models currently available such as the Bialetti Mini Express Stovetop Espresso Percolator which comes in a 1-cup version and a 2-cup version.
The Bialetti 06973 Mini Express Stovetop Espresso Percolator is aluminum.
I have searched extensively online and I can only find a couple of stainless steel versions.
The most readily available stainless steel mini espresso stove top coffee makeris the GSI Mini Espresso Set which comes in a 1 or 4 cup.
I also found this mini stainless steel stovetop espresso set that is made in Italy.
What is the Difference Between a Stovetop Espresso Maker and a Percolator?
Are stovetop espresso makers the same as coffee percolators?
No, stovetop espresso makers and moka pots are not coffee percolators — despite the fact that some stovetop espresso makers actually have the word "percolator" in the name or description of their product.
Stovetop espresso makers and percolators brew coffee differently.
Percolators are made of one single chamber where the brewed coffee continues to circulate through the coffee grounds as it finishes brewing.
At the bottom of the percolator is a tube where, as the water boils and steam builds, water is pushed up through the tube and then pours DOWN over the coffee grounds that sits below the top of the tube. The percolator continues to boil and circulate the coffee until the coffee is the correct strength.
Because the brewed coffee continues to "percolate" through the coffee grounds during the brewing process, coffee can be over-extracted with a percolator and may be too dense or bitter.
However, percolators are useful when brewing a large amount of coffee in a short amount of time. I remember as a child watching the ladies at church brewing the after-service coffee in large 100 cup coffee percolators.
On the other hand, moka pots and stovetop espresso makers use boiling water to build pressure to push water up a funnel and UP through the coffee grounds.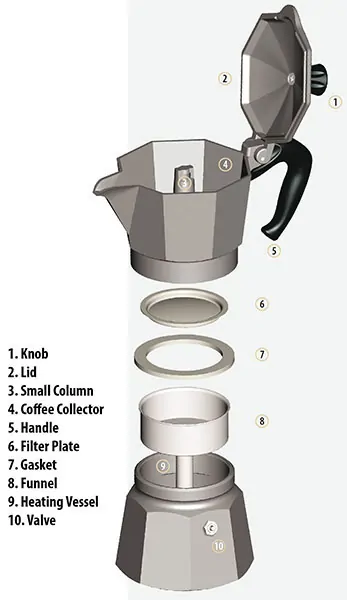 The coffee is extracted only once and then the brewed coffee flows into the top chamber, ready to serve.
Stovetop espresso makers brew rich, strong, "almost-espresso" coffee. Since the brewed coffee in a moka pot or stovetop espresso maker does not circulate through the coffee grounds as it does in a coffee percolator, stovetop espresso makers do not boil the brewed coffee or continue to over-extract the coffee grounds if brewed for too long.
What is the Best Stovetop Espresso Maker?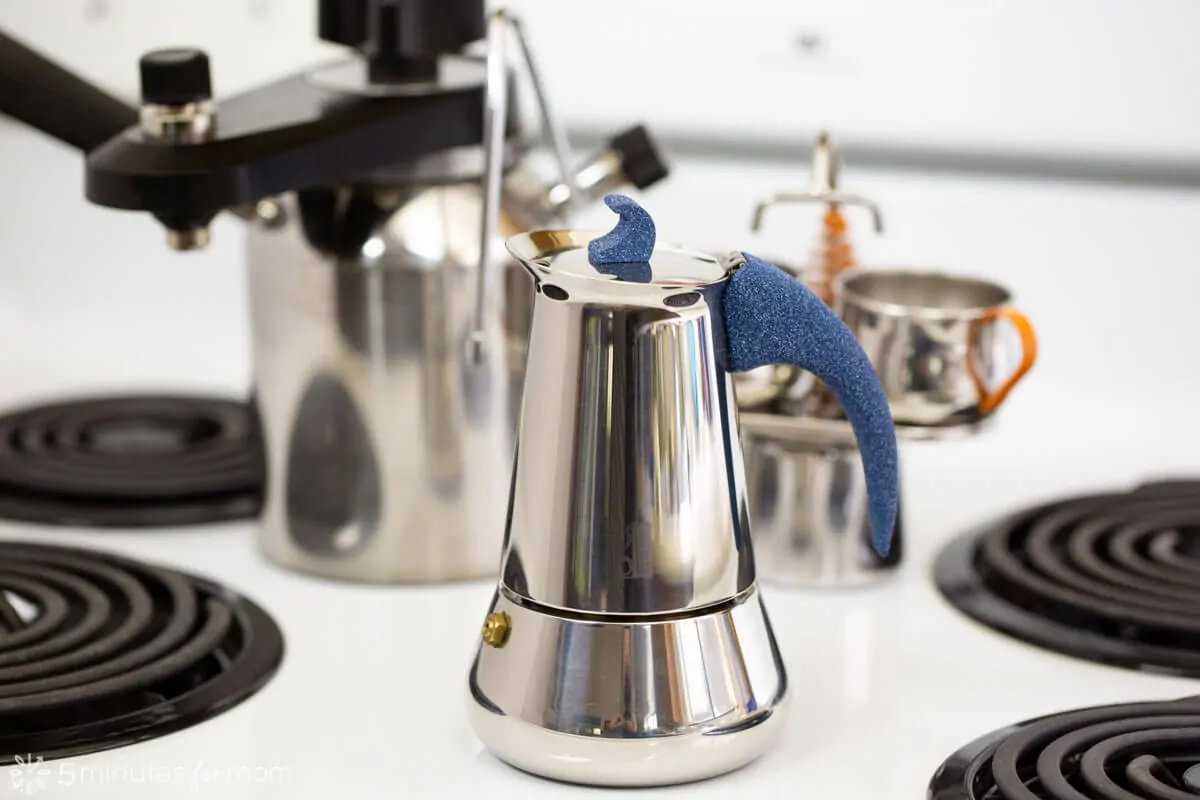 If you want to save money and cut down on your coffee shop bills, but you don't want to invest in an expensive high pressure espresso machine, then making espresso on the stove top is a perfect way to make incredible coffee at home. And now that you know how to make espresso at home, it is time to choose the best coffee maker for you.
But when you are shopping for a stove top coffee maker, you may get overwhelmed trying to decide what is the best stovetop espresso maker and which one you should choose.
There are so many fantastic stove top coffee makers.
So to help you decide, here is a list of some of the BEST stovetop espresso makers:
Cheers to incredible coffee and wonderful coffee breaks!
We would love to hear from you: Have you used a stove top espresso maker? What is your favorite stove top coffee maker? What are your tips about how to make espresso at home?
And if all of this discussion about how to make espresso at home has put you in the mood for some caffeine, check out these Iced Coffee Recipes or go for an even fast hit of caffeine with chocolate covered coffee beans.
Please note that this post includes affiliate links — when you shop through our links, we may receive a small fee which helps keep our blog running. Thank you!
Written by Janice Croze, co-founder of 5 Minutes for Mom
Talk with me: @5minutesformom and Facebook.com/5minutesformom
Pin with me at pinterest.com/5minutesformom

Sources: