This post may contain affiliate links. Read my disclosure policy here.
On a cold winter day, I crave warm and comforting food like polenta. A coarse cornmeal cooked over a long slow heat to create a light texture and rich corn flavor and then pan-seared. The edges get crispy and the cheese yields softly beneath the crust. Dredge these polenta squares in a thin pool of tomato sauce or pesto – well, I've already forgotten all about the bitter cold weather.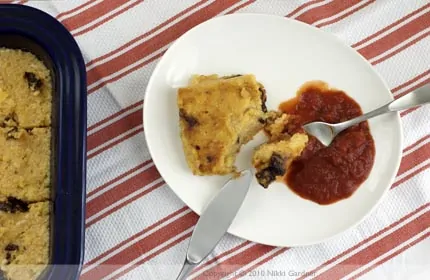 Polenta is a humble dish made from ground corn and water. It's also a versatile dish, one that can be dressed up or down, depending on your day. Add a few shavings of Parmesan cheese, drops of olive oil, and sliced sun-dried tomatoes to polenta's humble beginnings and end with a luscious finish suitable for any occasion, especially a cold one like today.
Pan-Seared Polenta
adapted from The Art of Simple Food by Alice Waters
Yield 4 servings
4 cups water
1 cup polenta (coarse cornmeal)
1 teaspoon sea salt
5 tablespoons olive oil (divided)
½ Parmesan cheese (grated)
½ sun-dried tomatoes (hydrated with boiling water)
Boil water in a heavy-bottomed pot. Whisk polenta and salt into boiling water. Lower heat and stir constantly until the polenta floats in the water instead of sinking to the bottom of the pot. Cook for 1 hour, stirring occasionally, at a low simmer. Add water if the polenta becomes too thick to stir.
Cut the sun-dried tomatoes into strips then place them in a small bowl. Pour enough boiling water over the tomatoes to cover them and let sit for 5 minutes. Strain tomatoes; set aside.
Stir 3 tablespoons of olive oil, cheese, and tomatoes into the cooked polenta. Taste and adjust salt, if necessary. Spread polenta into a shallow baking dish smoothing out the top with the back of a wooden spoon or a spatula. Allow the polenta to cool and firm. Can be made 2 days ahead. Cover with plastic wrap; chill.
Preheat oven to 325 F. Cut polenta into squares. Heat 2 tablespoons olive oil in large skillet over medium-high heat. Add polenta squares in small batches. Sauté until lightly colored and crisp, about 2-4 minutes per side. Transfer polenta to a baking sheet; place in oven to keep warm. Repeat with remaining polenta, adding extra oil to skillet as needed.
Serve polenta squares with your favorite tomato or pesto sauce along with a side of sautéed kale.
Nikki is a freelance writer and photographer capturing the simple things in life: art, food, and story. She blogs at art and lemons.