This post may contain affiliate links. Read my disclosure policy here.
Okay – an Apple iPod Nano that comes inside a pretty box of chocolates – how great is that?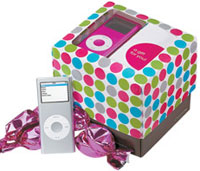 Best Buy knows what us modern moms want for Mother's Day… an Apple iPod Nano AND chocolate! That sounds just about perfect to me. (Oh and of course they know we love all things cute, so they made sure to wrap it up just right!)
Here are the facts (cause you know you will need to give some detailed hints to your husbands!)
The Apple iPod Nano and Chocolate Gift Set:
Features a pink or silver 4GB Apple iPod nano, slim enough to fit in mom's pocket, purse or palm
Includes a variety of pink-foiled milk chocolate meltaways
Packaged in a mod polka-dot-patterned box inspired by the prism of iPod nano colors and this spring's hottest accessory: dots!
Price: $214.99
Available in Best Buy stores beginning May 6,2007

And thanks to Best Buy – one of you is going to win this wonderful Apple iPod Nano and Chocolate Gift Set at our big Mother's Day Giveaway.
So – you want it???
All the instructions are included in the Mother's Day Giveaway sticky post (including the code to put our Mother's Day Giveaway button on your site.)
But here is a quick run down:
Leave a comment to be entered.
Post a link to this contest (gotta let your readers know that they could win an iPod Nano – not letting them in on the secret wouldn't be nice!) and/or link and post a button to our Mother's Day Giveaway post. (If you post the button and link to the Mother's Day Giveaway, you are qualified to enter in all the upcoming Mother's Day Giveaway contests. Yes – there are more contests to come!) Non-bloggers are welcome too – we understand you can't link – but feel free to pass the word on to your friends.
AND guess what?!?! Canadians can enter to win the iPod Nano set too!!!!!
Good luck! And we will see you tomorrow for our next Mother's Day Giveaway contest…