This post may contain affiliate links. Read my disclosure policy here.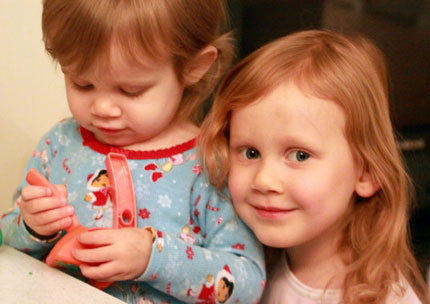 Today Sophia had to go to the Children's Hospital Heart Center to have her recently detected heart murmur investigated.
Since I learned the value of having Big Sister Julia by her side at her last pediatrician appointment, I brought her with me again.
(Oh, didn't I tell you about that?

Well, at our last appointment, as soon as we walked into the doctor's exam room, Sophia started screaming and kicking as only a 2 year old can. But the wise doctor handed Julia a stethoscope and together Julia and the doctor listened to Sophia's heart. She sat on my lap and I could feel all the tension in her little body release as she stopped crying and sat perfectly still letting her big sister Julia doctor her.)
Today Sophia was thrilled to set off on our car ride with Julia in the car seat next to her. She bounced with excitement in the waiting room as they both watched cartoons on the big TV.
Then they called us in for…
Step 1 — Height and Weight Measurements
Big Sister Julia led the way and demonstrated standing tall against the wall with feet placed carefully within the painted red footprints on the floor. As Julia stepped aside, without a sound, Sophia placed her feet on the footprints and stood up straight. With a bit of coaxing from Julia and me she even looked straight ahead and let the nurse read the height.
For the weight, Julia went first and stepped on the scale. Sophia followed silently and within moments we were headed back to the waiting room.
The girls enjoyed the TV for the next 15 minutes until we were called into…
Step 2 — The Echo
As we pushed the stroller into the darkly lit room full of equipment, I oooh'd and ahhhh'd with pretend excitement and to my shock it was Julia who hesitated slightly and let out a tiny, barely audible, whimper.
The nurse quickly showed them both the TV screen and asked if they wanted to watch a movie. Thankfully, her first option was Strawberry Shortcake. Score.
Julia sat quietly in Sophia's stroller as Sophia and I lay on the exam table. Sophia, soother in mouth, sister nearby and Mommy in hand, lay perfectly still, watched the TV and never made even the slightest noise for the 20 minute exam.
I could NOT believe it.
Back to the waiting room with bliss, until…
Step 3 — The ECG
There was no TV this time and she had the stickers placed across her chest and on her legs. Again, not a muscle quivered, not a sound uttered. Even when I had to tear off each of the ECG stickers which stick harder than any bandaid. Not one sound. It seemed impossible. She was in perfect peace.
Back to the waiting room, until…
Step 4 — Doctor Follow Up
Both girls quietly looked at books while I gave medical background to the intern. Then I lifted Sophia up on the exam table (normally cause for ear-piercing screams) and the intern listened to her heart and took her pulse. A few minutes later she displayed the same perfect behavior for the senior doctor who came in and listened to her heart.
The doctor declared her heart murmur to be no cause for concern. Apparently it is what they call an "innocent heart murmur" and is different from what Julia has which is a small VSD. But he listened to Julia's again (she's been there twice in the past) and repeated his previous words that Julia's VSD is very small and that we are not to worry about it.
I felt guilty leaving with such good news.
I thought about all the little patients and their parents who don't get good news. It's such an unfair world and I can't seem to thank God enough for my blessings.
With a deep gratitude, we left the hospital. Me and my two little girls — infinitely blessed to have each other.

Written by Susan, co-founder of the 5 Minutes for Mom Mommy Blog.
Get our feed so you don't miss out.
And of course, tweet with us.