This post may contain affiliate links. Read my disclosure policy here.
"Mom, next year can Santa bring us what he gave Madison?"
What do you say?
I replied to Julia, "Well, Santa brings everyone different things… we'll just have to see what he brings next year."
She seemed to be distracted enough, accepted the answer and ran off to continue playing. I was lucky this time!
The funny thing is that Santa's big gift to Madison and her sister Avery was a play kitchen from OUR OWN online toy store. LOL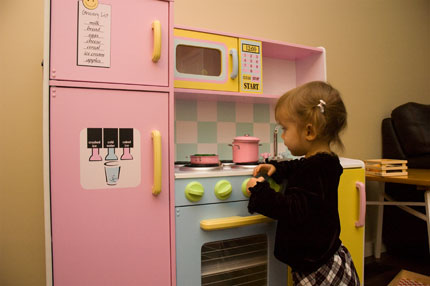 It's actually a toy kitchen that I've wanted to buy for Julia since she was a baby, but never did because our townhouse is so small and already stuffed full of toys.
Since Janice and I own two online toy stores, Julia and Sophia are already a little spoiled with items from our stores… a pedal car, balance bikes, rocking toys, an art easel, a cool kitchen helper safety stand that lets them help cook and wash dishes and more.
Basically, trying to not spoil your kids when you sell awesome toys is tough!
I constantly dream of a bigger house just so I can give them more toys. But, luckily we are limited to a tiny townhouse and we have reached full capacity.
I especially try not to overdo gifts at Christmas because I feel it is important to focus on the real meaning of the season. I do let Santa come and bring a decent amount of gifts to unwrap, but I don't like to let Santa go completely wild.
So with this toy kitchen, I think I just might be as jealous as my girls and want it in our own house.
But, I'm trying to restrain myself. At least Julia and Sophia can play with the kitchen whenever we're visiting their friends, Madison and Avery, (which is every other day).
Trying not to envy our friends is tough for all of us — regardless of our age.
I know I can be completely happy with my small townhouse until I go visit friends who live in big, beautiful houses. Then it can sting a little.
Up until now, my girls have been too young to ask for toys that their friends have… but time is running out. Julia is now 4 and a half, and she's starting to ask questions.
So I'm wondering, what do you say to your kids when they envy their friends' toys?