This post may contain affiliate links. Read my disclosure policy here.
A little bit of spring for your little girl…
Today's contest is sponsored by Madison's Room, a mom-owned boutique that features beautiful, unique hair clips, hair bands and caps.
Weary of the same, typical hair clips with tulle bows or poofy flowers, Cynthia, the mom behind Madison's Room, began making her daughters their own hair clips. After repeatedly being stopped and asked where she got her unique designs, Cynthia opened Madison's Room, an online boutique full of her wonderful hand made designs.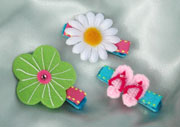 The clips Cynthia sent us are intricately made and covered in soft velvet with a small strip of suede on the inside of the clip to "grip" soft, fine hair. All of the clips are completely lined and the fabrics are neatly tucked away to prevent fraying. With no metal or pointy ends exposed, these clips are super comfortable for your little girl!
(Thank you to my gorgeous little model Sage. Isn't she an angel? She was thrilled with her new clips – of course I had to give her the clips to keep! Just look at how sweet she looks!)
So if you want some new hair clips for your princess, head over to Madison's Room and of course enter here to win a free variety pack!
Note: For the next 30 days, Cynthia is offering a 15% off discount for our readers. Just enter the code "mom" to get your discount. Also – she is also offering a coupon for free shipping on orders of $50.00 or more – code "Allison."
We will play by the usual rules:
Here is what you do:
First – sign the Mr. Linky (the Mr. Linky is that list of names at the end of this post – just type your name in the box) with your name and URL by Tuesday, May 1st at 12:30pm Eastern. We will announce the winner Tuesday afternoon. Note: make sure you have signed the Mr. Linky by 12:30pm Eastern, Tuesday May 1st. If you are not a blogger, you may still enter. Just sign your name on the Mr. Linky without a URL and then email me your contact information at janice @ 5minutesformom.com (remember to remove those spaces!) Please note on your email that it is for the Madison's Room contest.
Second – on your blog, link to this contest so your readers can hear about it. And please also link to Madison's Room – linking is always a friendly thing to do! If you are not a blogger, no worries, you obviously can't link. But if you want, you can tell your friends about the contest.
Note: For shipping reasons, this prize is only available to a US shipping address.
Good Luck!