This post may contain affiliate links. Read my disclosure policy here.
Can blogging help you with your housework? Well, I think I may have found a way…
Since we started this blog in March, my housework has suffered. I have clutter spots that are threatening to completely take over my house and my spirit. I now divert all playdates out of the house and have not had company over for three months.
You see I am a procrastinator. I hate housework and paper work, as one look at my house lately will prove. I don't let my house get dirty per se – I hate germs. But I am a "piler" and I let piles grow on counter tops, tables etc…it can get crazy!
But, blogging I love. I always do my blogging homework. So what if my housework became part of my blogging homework?
What if my blog could provide the incentive to tackle those trouble spots and those household projects I keep putting off?
So enter a new idea: Tackle It Tuesday
Want to join me?!?
Each week on Tuesday, I am going to post before and after pictures of a project or trouble area that I tacked this week.
I will link to any of you who are also playing along.
The project can be little or big – whatever you want. It could be a drawer you cleaned out, the inside of your fridge, closet or cupboard. It could be your scrapbook area or your garden. And if you are so organized that your house doesn't need any work, you could even post a before/after picture of a new recipe you are trying out.
Basically, Tackle It Tuesday, will be about giving ourselves incentive, deadlines and satisfaction in getting our household tasks done.
To get this little meme started I am going to tag some of my blogging buddies. You have a full week to find a project in your house – remember it can be a tiny job if that is all you have time for – and then post your success next Tuesday.
But this is a no pressure tag. So, if you don't want to play, please feel free to decline. And if you haven't been tagged, but you want to join up, that is great. Let me know and I will link to you and by next week I will have a cute little header for you to put up as well. (But feel free to design your own.)
What is my project for today? Well, we just arrived home last night from our cabin, so I have tons of laundry and unpacking. It usually takes me a few days to get out of this post-camping mess. So here is a "before" picture of my laundry pile – and by the end of tonight I will hopefully update this post with my "after" picture. (Next week when I tackle my next project and post about it, I will put up both the before and after pictures together.)
So let's go girls – lets' tackle those trouble spots!
My Project To Tackle – Before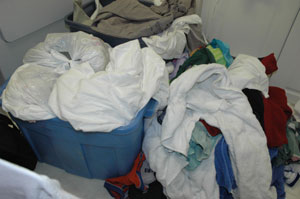 My Project To Tackle – After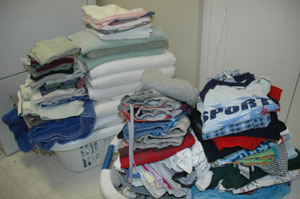 Here is some of the finished product. (There is other laundry hanging to dry.) I did more than eight loads today.The machines are working right now on two more and I still have about five to go. (No, it is not all from the trip – I was about seven loads behind before we left.)

I am getting there! And remember, Tackle It Tuesday isn't about perfection – it is about celebrating what you are able to accomplish. So I will pat myself on the back and then start putting some of it away…