This post may contain affiliate links. Read my disclosure policy here.
Time to hand out more prizes!!!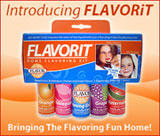 This time we have five winners – each will receive their own FlavorIt kit designed to flavor medicine and other unpleasant liquids at home. (FLAVORx – the company who makes FlavorIt – is available at pharmacies to flavor your behind the counter medicines.)
The winners are:
21 – Michelle B. from Our Full House
31 – Annaliza from Ventanahoos Candid
38 – Alexis from Ramblings for Life
39 – Dana from Sunshine's Blog
41 – Chris who is a non-blogger
Congratulations!!!