This post may contain affiliate links. Read my disclosure policy here.
Whether you drink it from a glass or serve it as a smoothie bowl topped with extra walnuts, berries, and hemp hearts, this healthy blueberry avocado smoothie, packed with vitamins, antioxidants, fiber, and protein, is as delicious as it is nutritious.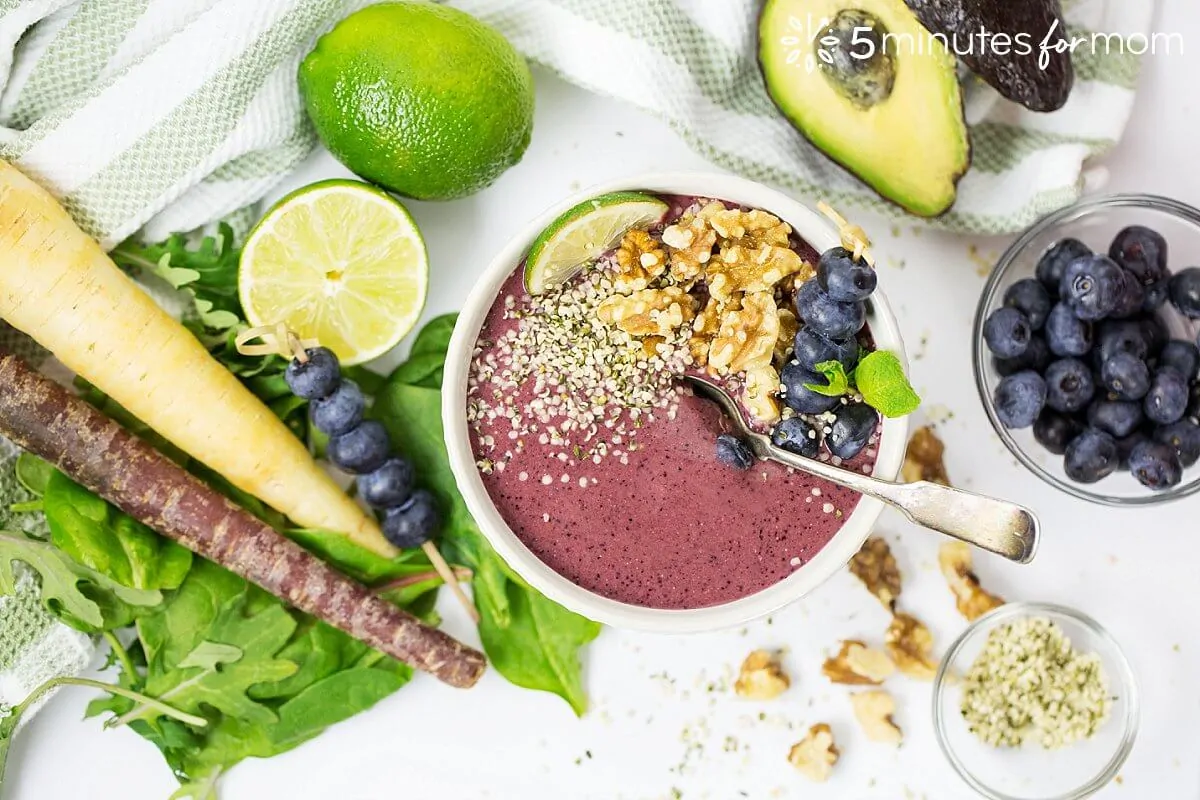 I love pouring myself a thick and frosty fruit smoothie – it tastes like an indulgent treat and yet I know I am actually having something that is good for me.
The only downside to drinking my favorite power smoothie is that it is gone too fast.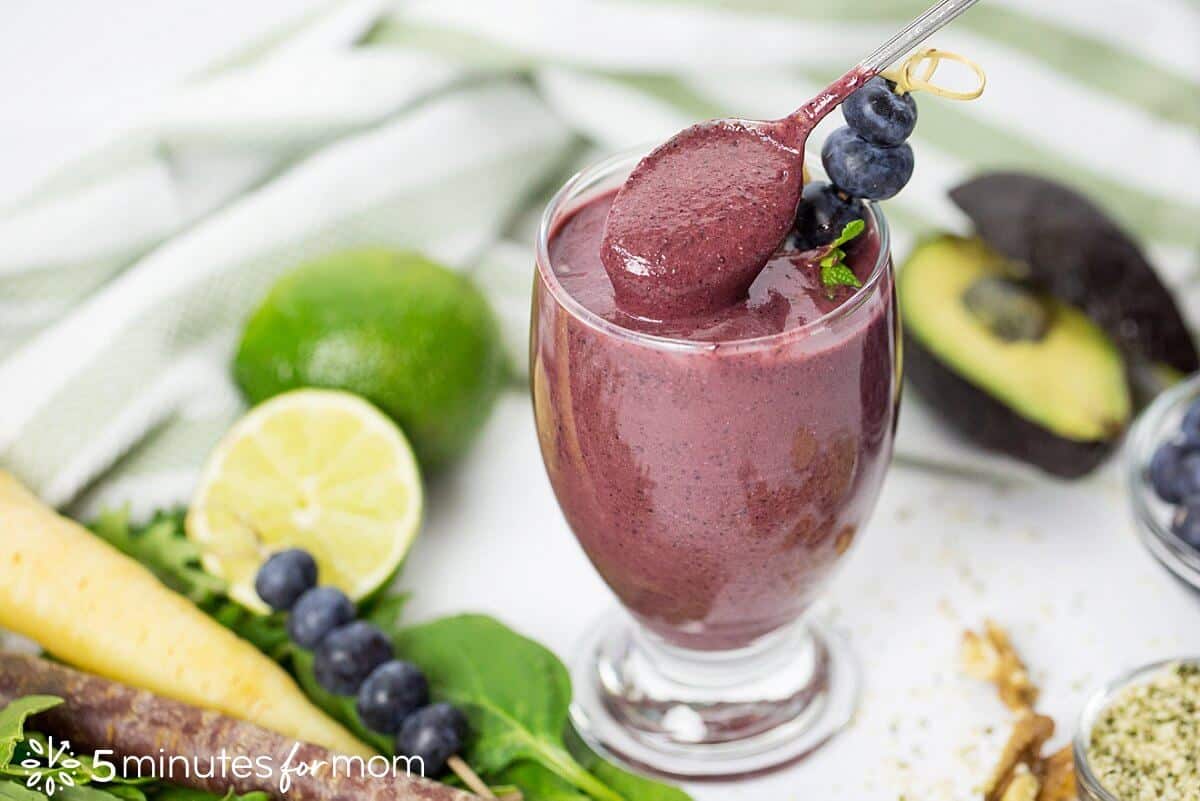 So instead of using a straw, I often use a spoon so I can linger over each mouthful, making sure I savor every last drop.
How to Make a Smoothie Bowl
If you want to make a smoothie feel like a meal, skip the glass and grab a bowl.
A smoothie bowl is simply a smoothie made even better!
To make a smoothie bowl, you can use your favorite smoothie recipe as a base and then add granola, cereal, grains, nuts, seeds, fruit, etc. You can have some fun playing with your food — making your smoothie bowl as pretty and Instagram worthy as you wish.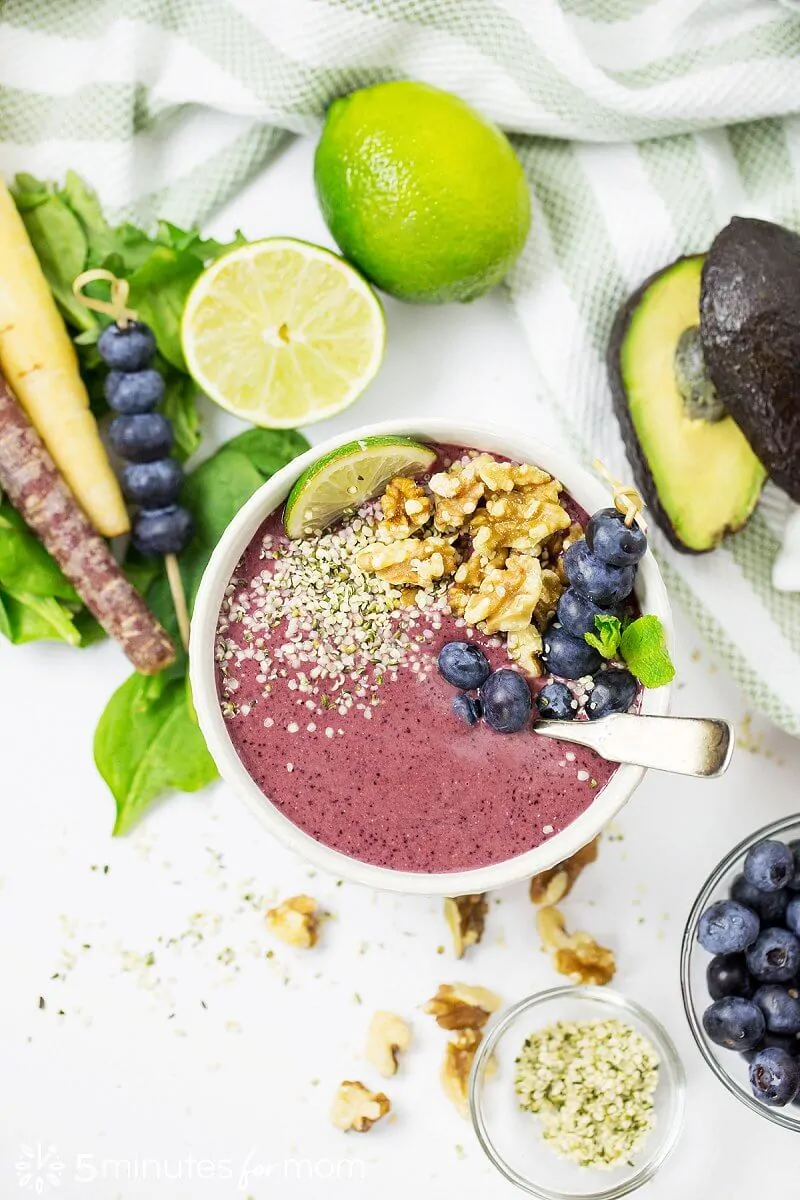 When I serve my favorite smoothie in a bowl, I load it up with nuts, seeds, granola, fruit, or even some dark chocolate. It becomes a stunning meal that is downright exciting to eat.
This blueberry avocado smoothie bowl is so delicious that my kids love it as much as I do. My son had dibs on eating this smoothie bowl that I was photographing, but before I could give it to him, I accidentally ate it!
I only meant to lick the spoon, but I couldn't help myself. I took a spoonful, and then just one more, and all of a sudden it was gone and I had to quickly whip up another one for him.
How to Make a Blueberry Avocado Smoothie with extra Power
If you are looking for a healthy, scrumptious and versatile smoothie recipe that will satisfy you and your kids, you will want to try this power smoothie.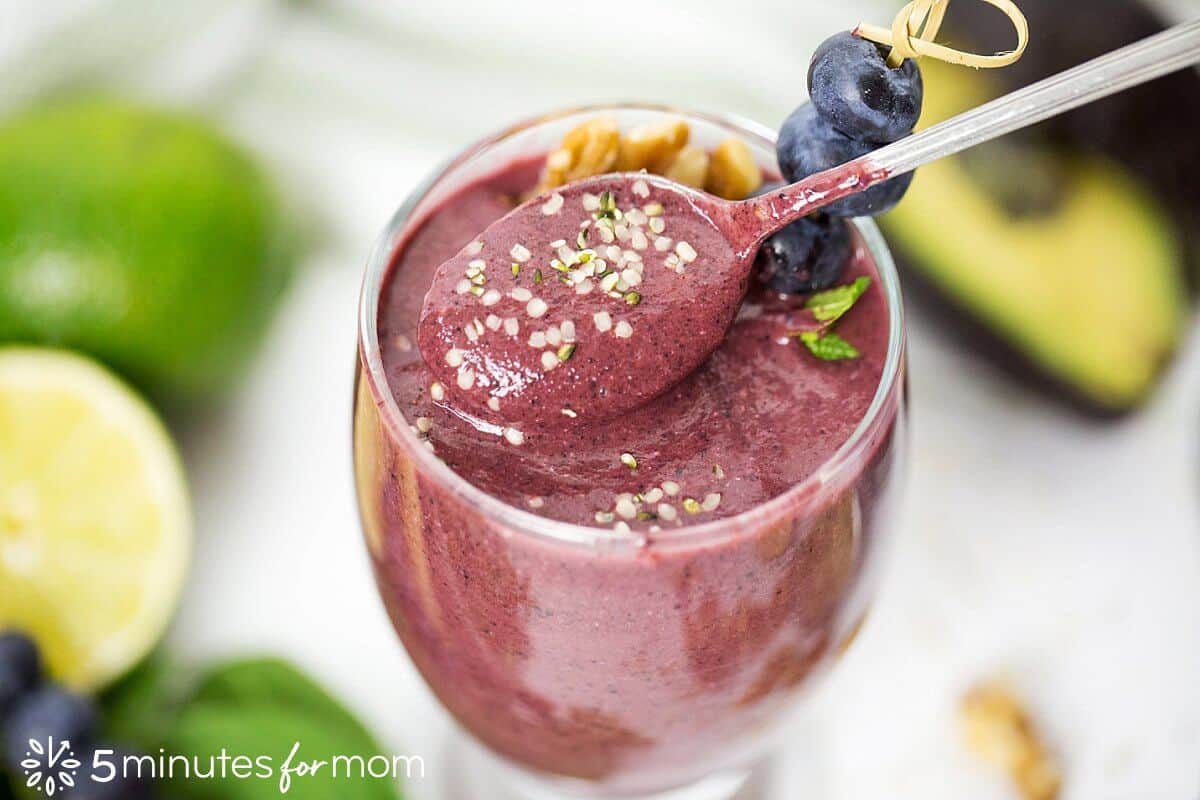 As with any smoothie recipe, you can mix up your ingredients to suit your tastes and to use up what you have in your fridge.
For this blueberry avocado smoothie, I wanted to make it as healthy as possible, while still keeping it sweet and scrumptious.
First on the list, I used a cup of frozen organic blueberries.
I freeze over 100 pounds of local BC blueberries every summer because I am obsessed with blueberries. I also used some fresh blueberries for garnish.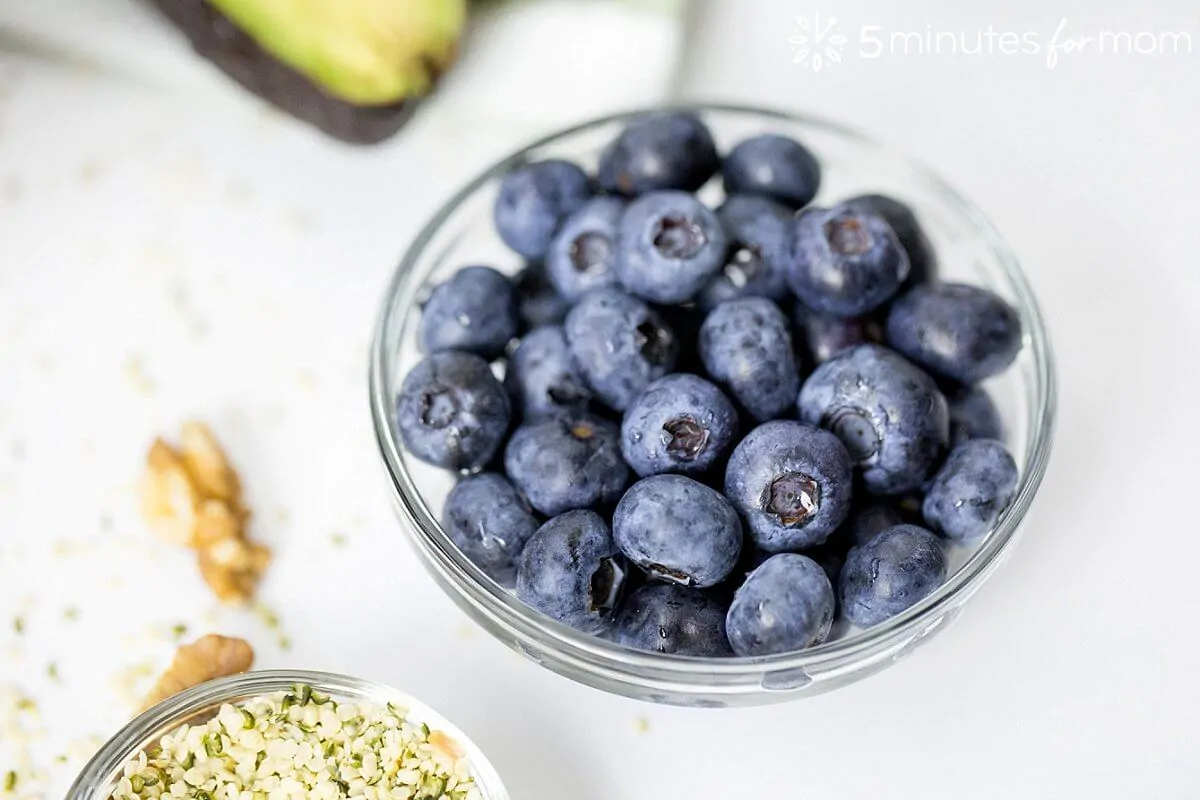 Next up was a half of an avocado. If you haven't used avocado in your smoothies or ice creams yet, you really must.
Avocados add creaminess to your frozen treats, while also adding vitamins, minerals, protein, and healthy fats. Avocados really are amazing.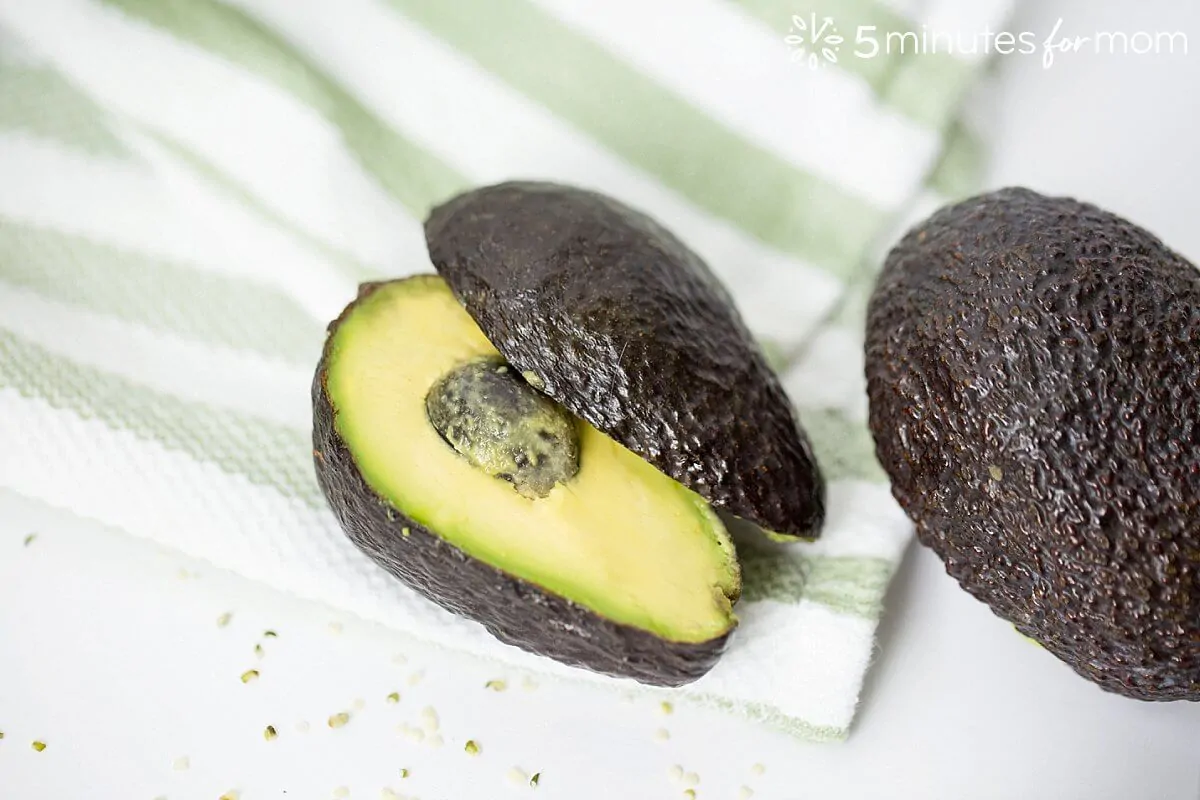 I also love to add frozen strawberries to my smoothies. Even if the strawberries aren't the featured fruit, such as with this blueberry smoothie, strawberries add natural sweetness.
I try to avoid adding any extra sugar to my smoothies, so strawberries are one of my favorite ways of sweetening smoothies. In this smoothie, I added about a half a cup of frozen strawberries.
For liquid in this smoothie recipe, you can use about a half a cup of juice or water or a mixture of both. I like to keep my sugar content low, so I usually use water in my smoothies. But we recently worked with Oasis and their new Hydra Fruit juice beverage which is 50% juice and 50% water and now I am a super fan. It has tons of flavor with 60% less sugar so it is my family's new favorite juice. (This post is not sponsored, I just wanted to let you know because it is the perfect juice for smoothies.)
You could stop right there and already have a fabulous blueberry avocado smoothie, but as I mentioned, I decided to really power up this smoothie with as much nutrition as I could.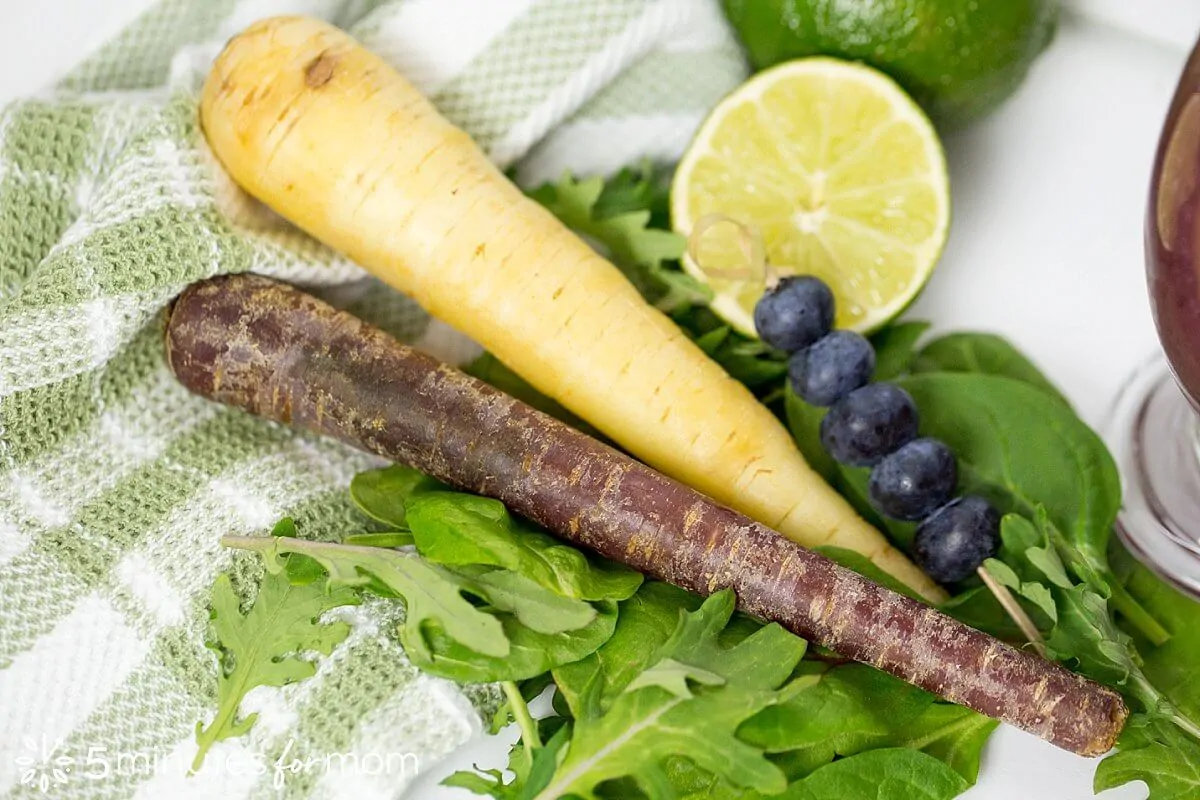 I added a handful of spinach and power greens, a half of a purple carrot, I happened to have purple carrots in my fridge but of course a regular carrot will work, a couple of teaspoons of hemp heart seeds, a quarter of a cup of walnuts, and a squirt of lime juice.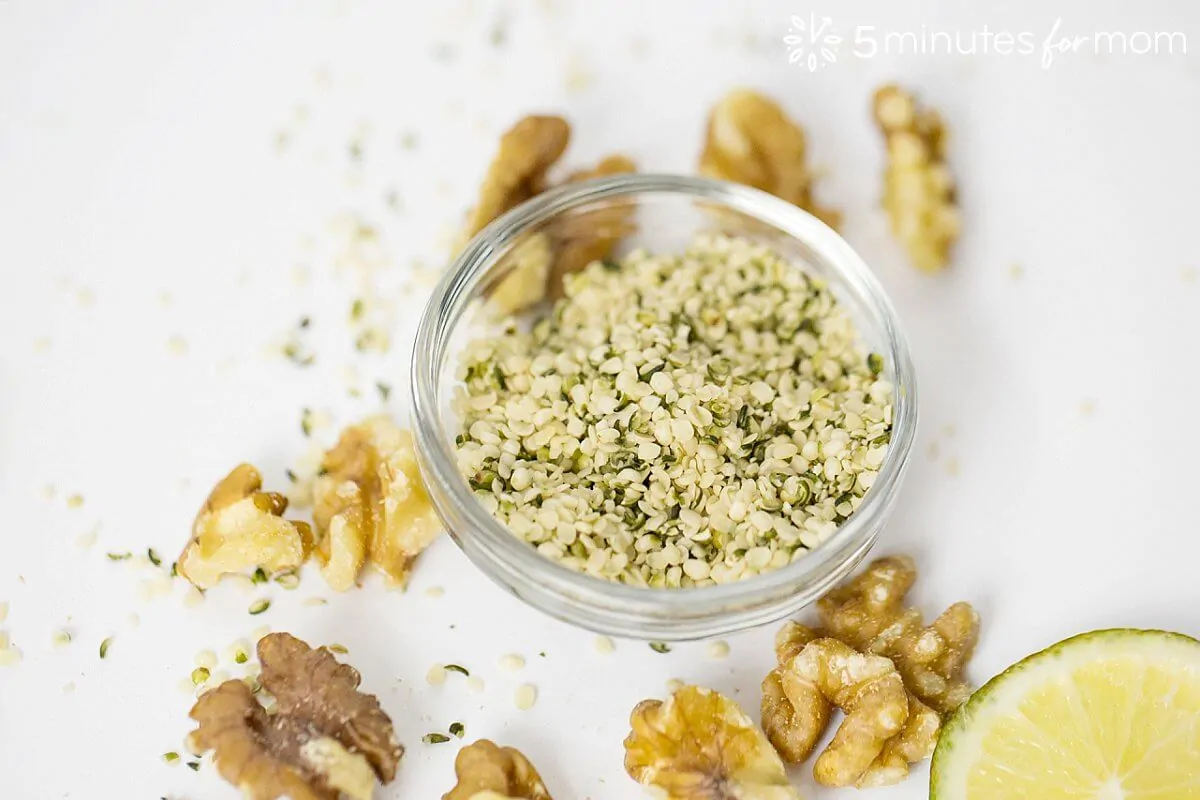 I blended the carrot a bit first to get it chopped into smaller pieces and then I added all the rest of my ingredients and blended until smooth.
Then I poured the delectable mixture into a bowl, garnished with fresh berries, walnuts, and hemp heart seeds, and devoured it.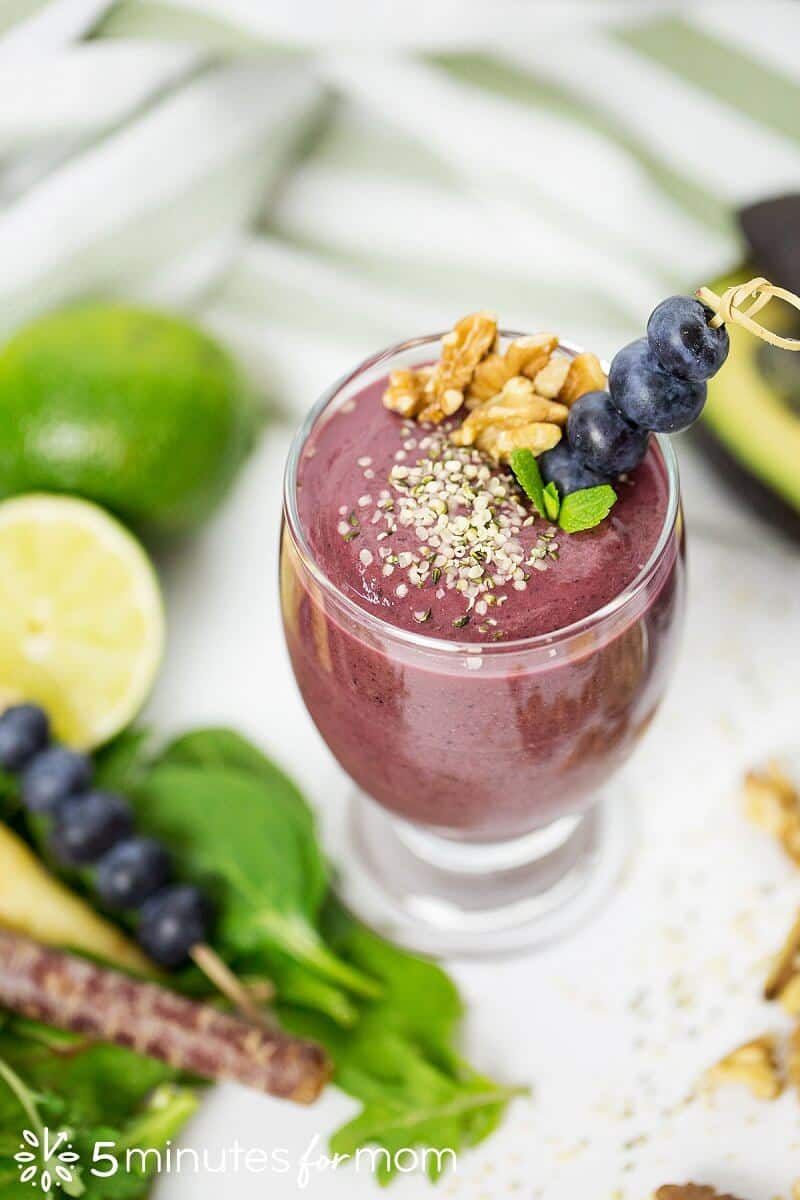 This blueberry avocado smoothie bowl truly tastes as good as it looks. A perfect power smoothie — now you just have to decide whether you are going to serve it in a glass or a bowl. (Hint — either way works. Enjoy!)
Blueberry Avocado Smoothie Bowl Recipe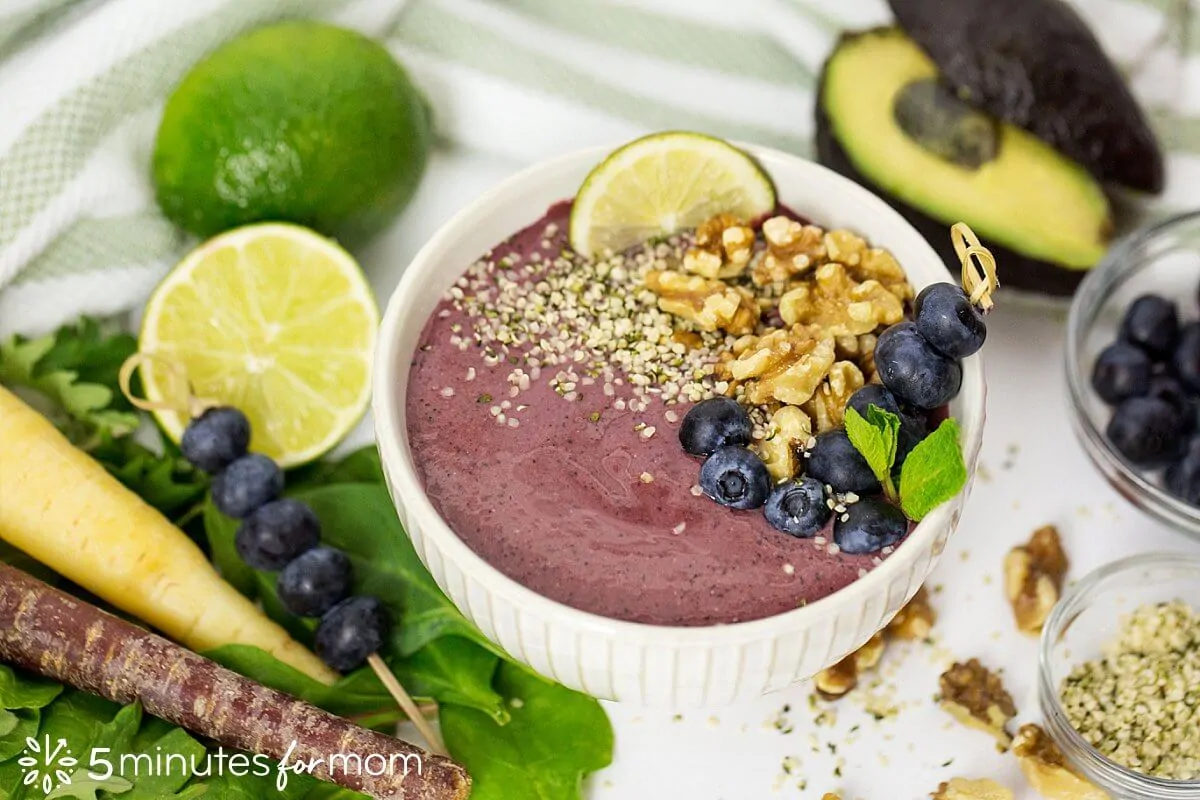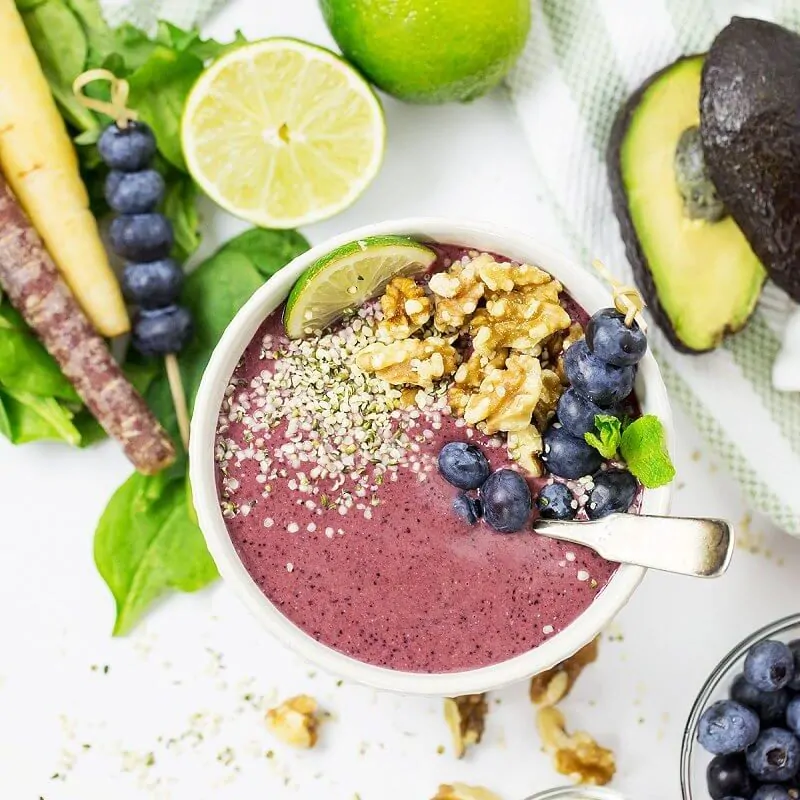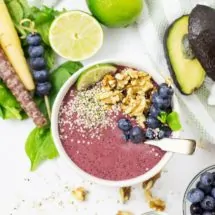 Blueberry Avocado Smoothie Bowl
Healthy smoothie bowl topped with extra walnuts, berries, and hemp hearts packed with vitamins, antioxidants, fiber, and protein.
Print
Pin
Rate
Servings: 1
Calories: 538kcal
Ingredients
1 cup blueberries frozen - plus additional fresh or frozen for garnish
1/2 cup strawberries frozen
1/2 avocado
1/2 cup water or juice - add more if necessary to reach desired consistency
1 cup spinach or power greens
1/2 carrot
2 teaspoons hemp hearts reserve 1/2 tsp for garnish - affiliate
1/4 cup walnuts reserve 1/8 cup for garnish
1 teaspoon lime juice optional
Instructions
Add ingredients to blender and blend until smooth.

Serve in a bowl or a glass, garnish with additional berries, reserved hemp seeds, and reserved walnuts.
Nutrition
Calories: 538kcal | Carbohydrates: 44g | Protein: 12g | Fat: 39g | Saturated Fat: 4g | Sodium: 60mg | Potassium: 1105mg | Fiber: 15g | Sugar: 21g | Vitamin A: 8185IU | Vitamin C: 78.5mg | Calcium: 106mg | Iron: 4.3mg
Pin it for Later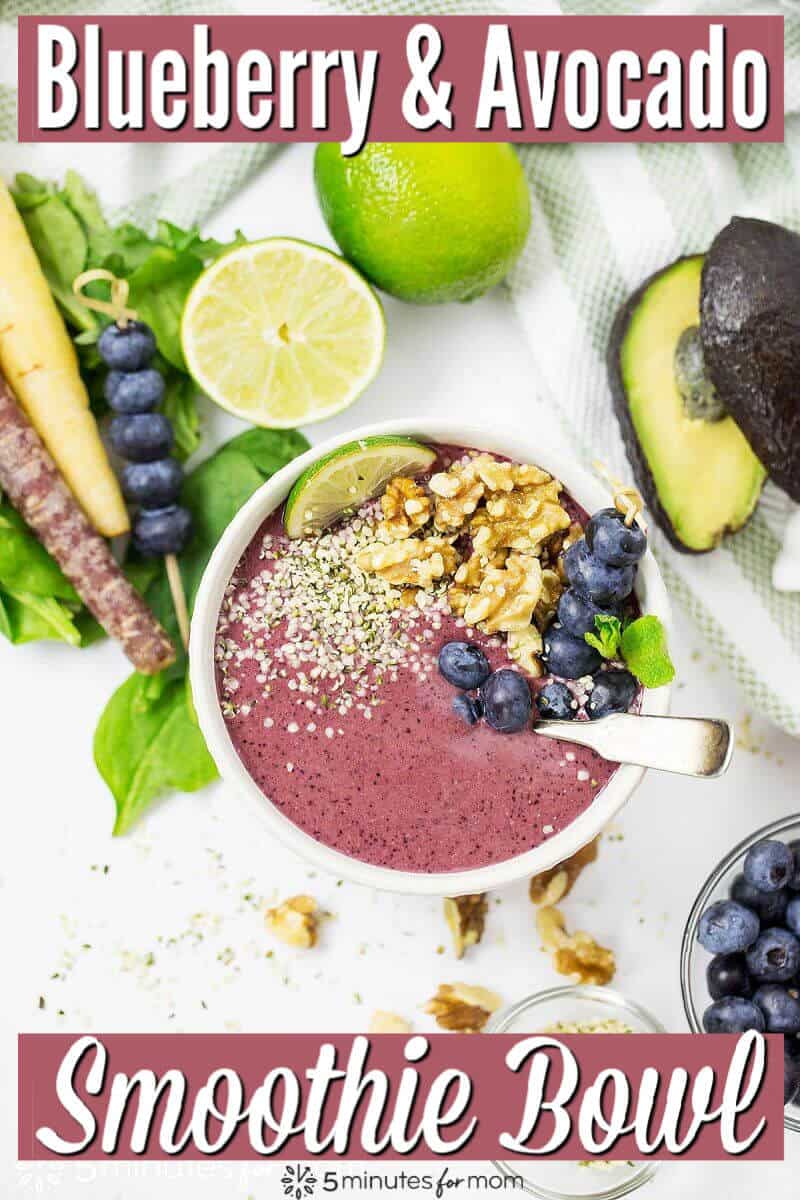 Written by Janice Croze, co-founder of 5 Minutes for Mom
Talk with me: @5minutesformom and Facebook.com/5minutesformom
Pin with me at pinterest.com/5minutesformom
More Smoothie Recipes
Love Crunch Smoothie Bowl Recipe