This post may contain affiliate links. Read my disclosure policy here.
I am thrilled today to introduce you to a fellow work-at-home mom, and a "hero" to me – Jennifer Sprague, owner of All Natural Mommies. (Jenn also blogs and just this week switched her blog to WordPress – way to go Jenn! She also changed the blog's name to Natural News)
I met Jennifer last year in the parenting forums at Child Avenue. We quickly bonded and have been friends ever since.
Jennifer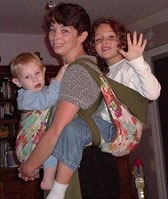 is a single mom with two children – Aubrey who is eight and Zachary who is three. Jenn's road is not an easy one. Zachary is on the autism spectrum and has Sensory Processing Disorder and a speech delay. He is currently undergoing more testing. Still Jennifer continues to work tirelessly, parenting all day and working till the wee hours every night, trying to build her business and a future for her children. (Jenn parents Zachary without the help of his father. Aubrey's father is involved in raising Aubrey, but both children live full time with Jenn.)
All on her own, Jenn does an incredible job parenting her children – while still building her business All Natural Mommies. With few moments to herself during her children's waking hours, Jenn still manages to do it all – and I just watch in amazement and wonder, "How?!?"
Today I asked Jenn a few questions to find out how she manages her busy life and business:
Janice: Jennifer, you are committed to attachment parenting, extended breastfeeding and natural parenting products. Can you briefly tell us what made you become so dedicated to "natural" parenting?

Jennifer: Need – to put it plain and simple. As a single mom, I don't have anyone around on a day to day basis to help me, do anything really. So, I had to come up with a way to parent that *I* believed in. To me, natural parenting – the way I parent, is not about a "list of rules or guidelines" its more about listing to my kids, believing in them (along with myself) and then trusting what my instincts are telling me. Does that make sense?

Janice: That is wonderful explanation. Makes perfect sense to me! Jenn – I am so impressed with your websites, the quality of your work and now your new free e-book Babies Galore. As a single mom with two children – one who is still "attached" – how do you possibly get all of this work done?

Jennifer: Well, I work a lot at night, after both kids are asleep. I pride myself on making sure that the hours between 3 (when Aubrey gets out of school) and 8:30-9:00 (when they both hit the hay) are spent with the kids (doing homework, playing, creating, going to the park or playing games!)

Other things that help is that Zachary has started preschool (though he's not liking it too well, so I am not sure if he is going to stay in it). I also try to get Zachary "doing something" at the table with me, either play doh, coloring, or some activity. We just got an aqua doodle and Zachary's in love (for this week anyway!)

Zachary does not like to watch TV, so that's not even an option with him, and so I try to work in short "spurts" only working for 20-30 minutes at a time, then making sure to spend time with him doing something fun!

Janice: What made you decide to take this difficult road of starting your own business instead of just finding a regular 9-5 job? What is your inspiration on those long, difficult days trying to get a new business off the ground?

Jennifer: Oh Janice what a question!!! Actually what made me want to start, is my kids! I started All Natural Mommies when Zachary was 5 months old. He was VERY attached to me, and was nursing quite often! Aubrey was in school, but was getting adjusted to her life as a kid with "2 homes" instead of one. I just felt the HUGE need to BE HERE for Zachary and Aubrey. But yet, I felt a HUGE need to DO something to HELP other parents too! I had started babywearing and just LOVED it, I guess I felt like it was one of those MUST HAVE things for moms and often wondered how I got things done when Aubrey was a baby without one!

So, on those days when I just want to give up, I first thank the Lord that I am healthy, and able to do what I do. Second I look at my beautiful kids' faces, their smiles, their triumphs, their milestones, all of which I would miss if I was working outside the home. Then last I think of my customers, those mothers and fathers out there, who are able to meet their families' needs, better – because of a baby carrier I made, or a changing pad that just saved the day!

Janice: Can you tell us a bit about your new free e-book "Babies Galore – The Ultimate Advertising Book for All Things Baby?" What does it offer to the average new mom? What inspired you to take on such a project?

Jennifer: Well my sister is the inspiration for "Babies Galore." She is (now) 5 months pregnant, with her first baby. One day she had just gotten back from Babies R Us, and she was telling me about all the things she registered for. Then she looked at me and said, "I bet there are moms just like YOU that make things and/or sell things that we need for our baby." Of course I knew the answer to that question was a resounding "YES!" So she asked for a list of online stores to check out – I drew a blank!

So I wanted to put together a free resource for moms (and dads), to make it easy (or at least easier) to find work at home moms that sell "All Things Baby" (or at least some things baby). Babies Galore is a resource that lists a brief description of each business, along with their URL, making it easy. Not only can you buy from another mom, but you can shop from home – something we all LOVE to do!

Janice: What advice can you offer to women who are thinking of starting their own business?

Jennifer: Remember, it takes GREAT patience! When I first started, if someone told me how HARD it would be, honestly I probably would have been scared out of my mind, and NOT opened All Natural Mommies. It's very hard to start up your own business; it takes patience, time and LOVE. First thing is to find what you LOVE to do (your going to be doing A LOT of it, so you better LOVE it). Next is to not assume that you open a business so people will just come. And last, don't be afraid to learn new things, I am always learning!

It's at times scary, but honestly, if I never go any further than I am now, I have learned so much, grown so much as a person, and met some WONDERFUL people (like yourself) that make it worth it…and I am seeing all those milestones that my kids are doing – and that makes it worth it!

Janice: Jenn – you are a true inspiration to me. When I am exhausted and overwhelmed, I so often think of you and all you do. Congratulations on your Babies Galore and your fabulous websites! By the way, your new WordPress blog Natural News looks fantastic. Once again – you continue to amaze me with all you get accomplished!

Jennifer: *blushing* thank you so much! Honestly, you amaze me, and I find inspiration in all that you have done! 5 Minutes For Mom is a blog that I read EVERY DAY, what you and Sue have put together is a great resource for so many! Those coveted "5 minutes for mom" awards that I see popping up everywhere! Everyone one wants one! 🙂 You should be proud!

Janice: You are too nice! Thanks so much Jenn for chatting with us today and for your offer of a 15% discount for our readers at your store All Natural Mommies. That is fantastic!
You can visit Jenn at her blog Natural News by All Natural Mommies and shop for a wonderful assortment of top quality natural parenting products like Jenn's handmade baby carriers, cloth diapers, changing pads, blankets and more at All Natural Mommies. Jenn has offered our readers a 15% discount at All Natural Mommies. Just let her know you are there from 5 Minutes for Mom and she will apply your discount. (You can reach Jenn at [email protected])

And don't forget to download (for free!) "Babies Galore – The Ultimate Advertising Book for All Things Baby" and pass it on to all your friends who are expecting!
In June, make sure you keep an eye out for our review and giveaway contest with Jennifer and All Natural Mommies. The review/contest would have been running next week, but unbelievably USPS has lost her package twice! Yes – Jenn not only made us a fabulous Mei Tai once, but after USPS lost it, she stayed up all night to make another to try and get it here before Susan left for Italy. We are now stunned to report, that somehow, despite Express shipping, the second Mei Tai is missing! Fortunately we do have insurance and once we get this all sorted out, we will have her contest and you will have a chance to win one of her beautiful Mei Tai's or a gift certificate to her store for an equivalent value!