This post may contain affiliate links. Read my disclosure policy here.
Merry Christmas our Dear Friends!!!
Susan here… it's almost 1 am in the Pacific Time Zone and I've wrapped most of the gifts and set them out under the tree.
(Janice is still over at her in-laws celebrating French Canadian style with a late night Christmas Eve party.)
And I just finished creating my photographic evidence of Santa with Capture the Magic.
(Janice has to wait to play Santa at about 3 AM after all of their late night partying.)
She'll update with her magical SANTA photos here soon.
My little girls are going to squeal with delight when they see Santa (or "Hanta" as Sophia calls him) here in our very own home.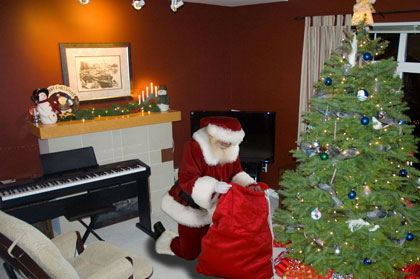 Tell us in a comment if you take a Santa photo too and be sure to leave your link!!!
Oh also, this is fun too… you can get a Get Your FREE signed photo of Santa Claus for FREE!
Update: Janice here — I am home now at 3am and just finished capturing the magic! Here is my photo. (Trust Susan and me to choose the same pose of Santa! I didn't notice until I posted them! Oh well!)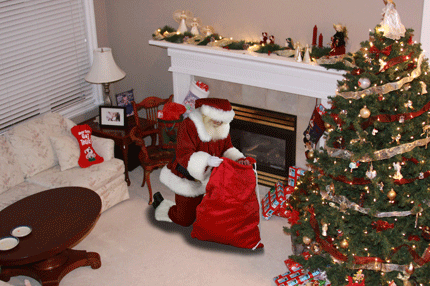 Merry Christmas!
By the way, we are affiliates and are running an advertising campaign with Capture the Magic.
Written by Susan Carraretto, co-founder of 5 Minutes for Mom.
Remember…
Get Your FREE Autographed Santa Calling Card Courtesy of Capture the Magic and 5 Minutes for Mom!