This post may contain affiliate links. Read my disclosure policy here.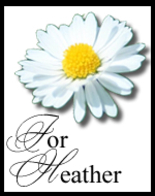 It is here…
Today BooMama is hosting a day of love for fellow blogger Heather who was diagnosed last week with a brain tumor. You can hop over to BooMama's and click on the PayPal link to donate for the "love offering" for Heather.
And don't forget that I Should Be Folding Laundry, has added a huge prize giveaway for all the participating bloggers who link to BooMama's post on April 18th and add the For Heather button to their blog. Just click here to read more and sign the Mr. Linky.
There is nothing like the love of friends to lift someone up in their time of need. Thanks to all of you who have been supporting Heather through thoughts and prayers.
A huge thanks also to Jada, BooMama, and I Should be Folding Laundry for all their work!
God bless you Heather. We love you and we are praying for you and your family!!!