This post may contain affiliate links. Read my disclosure policy here.
Sick tummies are no fun at all!
Stomach flu has to be one of the most miserable parts of parenting. It is horrible to watch our children suffer – and not fun at all trying to "catch" the mess. Plus for most children, throwing up is scary too! (I don't blame them – I am still terrified of throwing up!)
But here is something completely unique to make everyone feel a little better – an adorable, perfectly sized bowl designed for your child to hold. Made with colorful melamine in bright pink, blue or yellow, the Sick Bear™ bowl comes with textured handles for little hands, and it's tip-resistant, sturdy, and dishwasher safe.
Jackson is so jealous of Julia's bowl, he pleaded with us when he saw hers, "Please can I have one? All I get is whipping cream bowls in the night!" (I use old Cool Whip containers for him.) So I think I need to order one in blue too!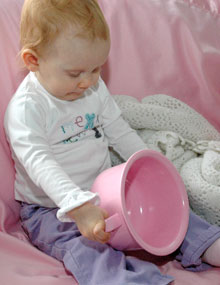 With Sick Bear™, children not only can hold the bowl themselves, they love feeling secure and being in control. Sick Bear™ can't make the flu go away any faster, but he sure brings comfort and convenience to help make it all a little less miserable.
When Cindy Kroiss emailed us about her website, we loved the ingenuity of this mom-entrepreneur to creatively meet a need of her children (and a need in the marketplace.)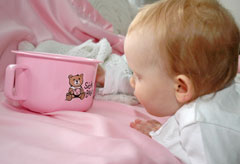 With a two year who routinely got car sick and needed something she could easily hold onto in the car and a four year old who refused to throw up in a food container (aren't kids funny like that!), Cindy searched for a solution. When she couldn't find one – Cindy designed Sick Bear™ – the perfect container for a child with an upset tummy.
And you know we love to spread the word about these brilliant mom-designed products – so let's have a contest!
Here is what you do:
First – sign the Mr. Linky with your name and URL by Tuesday, April 17th at 1:00pm Eastern. We will announce the winner Tuesday afternoon. Note: make sure you have signed the Mr. Linky by 1pm Eastern, Tuesday April 17th. If you are not a blogger, you may still enter. Just sign your name on the Mr. Linky without a URL and then email me your contact information at janice @ 5minutesformom.com (remember to remove those spaces!) Please note on your email that it is for the Sick Bear contest.
Second – on your blog, link to this contest in case any of your readers want a chance to win. A link to www.sickbear.com is always a nice thing to do too. If you are not a blogger, no worries, you obviously can't link. But if you want, you can always tell your friends about the contest.
Note: For shipping reasons, only US shipping addresses will be accepted for this contest.
Good Luck!