This post may contain affiliate links. Read my disclosure policy here.
Are you wearing reef safe sunscreen? We all know we must wear sunscreen to protect our skin from the damaging effects of sun exposure, but now it is clear we need to be more careful about what sunscreen we choose. So we're here to help you find coral safe sunscreen.
Just so you know, this post includes some affiliate links as well as links to blog posts where we have worked with sponsors in the past or received sample products.
In 2018, Hawaii proposed banning certain sunscreens because of the damage to coral reefs and that ban is getting closer to becoming reality.
And recently The United States Virgin Islands banned the importation, sale, and possession of sunscreen products with oxybenzone, octinoxate, and octocrylene. Those chemical ultraviolet filters are what absorbs harmful rays to reduce your chance of developing skin cancer.
The ban makes the U.S. Virgin Islands the first jurisdiction compliant with the Food and Drug Administration's recently issued monograph noting that only two sunscreen active ingredients, the minerals zinc oxide and titanium dioxide, have been recognized as safe and effective. Oxybenzone, octinoxate, and octocrylene are among the 12 chemicals for which the FDA has requested additional industry data in order to determine their safety and effectiveness.
Personally, I think this push towards consumers using coral safe sunscreen is a good thing.
This New York Times article explains that Hawaii's new legislation prohibits the distribution of sunscreens containing the chemicals oxybenzone and octinoxate that scientists have found contributes to coral bleaching when washed off in the ocean.
Janice and I have used natural zinc based sunscreens for years because they work well and are safer for our family.
So when I heard about Hawaii becoming the first state to enforce the use of reef safe sunscreen, I was glad to know we were already on the right track.
Reef-safe sunscreen alternatives that use mineral sunblocks with zinc oxide must be "non-nano" in size to be considered reef safe. Apparently if they are below 100 nanometers, the creams can be ingested by corals.
As the Be Reef Safe site warns… The label "reef safe" is in no way regulated by the FDA. Manufacturers can therefore label sunscreen "reef safe" even if it includes oxybenzone and octinoxate – two chemicals that are known to cause reef damage.
They go on to explain "Zinc oxide is, hands down, the most effective, non-toxic sunscreen on the planet and there are several high-SPF sunscreens which use zinc oxide to reflect the sun's rays and it works better than anything else on the market, lasts longer and doesn't have any negative effects on coral – or people."
Consumer Reports also warns that labels claiming to "reef safe sunscreen" can be misleading.
So the best way to know if your sunscreen is reef safe is to read the ingredients.
Reef Safe Sunscreen Means Safer Sun Protection For Your Family Too
When you're trying to select a safe sunscreen, the website Hawaii.com suggests…
Avoid sunscreens that include Petrolatum, aka Mineral Oil, because it takes years to biodegrade and is harmful to aquatic life.
Don't use sunscreens with high content of the mineral Titanium Dioxide because it also does not biodegrade and reacts in warm seawater forming harmful hydrogen peroxide.
And especially stay away from sunscreens that use Oxybenzone and Octinoxate. Those are the two chemicals recently banned in Hawaii because they cause coral bleaching.
I take sunscreen seriously because skin cancer runs in our family. My mom, aunt, and grandmother ALL had skin cancer. I'm determined to break that pattern and do everything I can to prevent myself and my daughters from getting skin cancer.
We've blogged in the past several times about sun safety and we've shared products from various sponsors and affiliates that we trust including swimwear for kids with UV protection.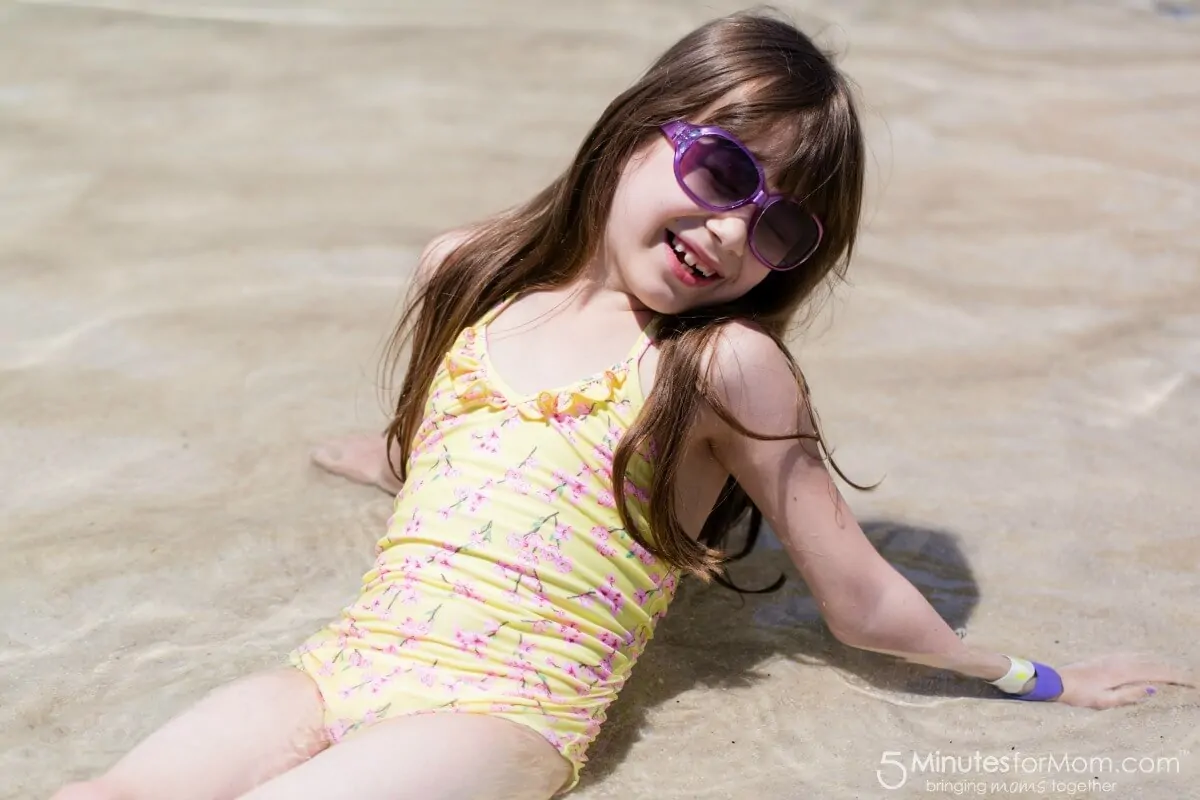 Since we're in the middle of a hot summer and you're likely slathering your kids and yourself in lots of sunscreen, I thought I'd share with you some of our favorite natural sunscreens that also happen to be reef safe sunscreens. Because even if you don't have the chance to swim in Hawaii this summer, you might as well use sunscreen that is healthier for your family. (And wow, do I wish I were swimming in Hawaii right now!)
I admit, it can be hard sometimes to always use these safer, natural sunscreens for your kids. Sometimes my kids complain that the lotions with zinc oxide feel thicker and harder to spread than the chemical ones their friends' may be using. And they always beg for spray sunscreens. So you may want to try a few options to find one that your kids like.
If you don't plan ahead and have your reef safe sunscreen ready, you might be tempted to buy whatever sunscreen you can find at the local store on your way to the beach.
One of the natural sunscreens we have used for years is from a direct sales company called Melaleuca. While I do like it, now that I'm looking at the ingredient list, I'm not sure it's as pure as some of these others.
So I've done some more research to find a few other natural reef safe sunscreens for you to try…
7 Reef Safe Sunscreens
Take a look at the ingredient list on the sunscreen you're currently using. If it doesn't meet the standards for reef safe sunscreen, then try out one of these natural brands. I'm sure you'll find a sunscreen that works well for you and your family.
Disclosure: This post includes affiliate links as well as links to blog posts where we have worked with sponsors in the past or received sample products. We published the first version of this post on July 16, 2018.
Written by Susan Carraretto, co-founder of 5 Minutes for Mom
Talk with me: @5minutesformom and Facebook.com/5minutesformom
Pin with me at pinterest.com/5minutesformom