This post may contain affiliate links. Read my disclosure policy here.
My girls and I love taking the ferry over to Victoria, BC for a quick holiday. We live in the suburbs of Vancouver, so heading over to Vancouver Island to stay for a night or two in a family friendly hotel in Victoria is a lovely way to have a short vacation. Hotel Zed treated us to a free stay so we could review their hotel.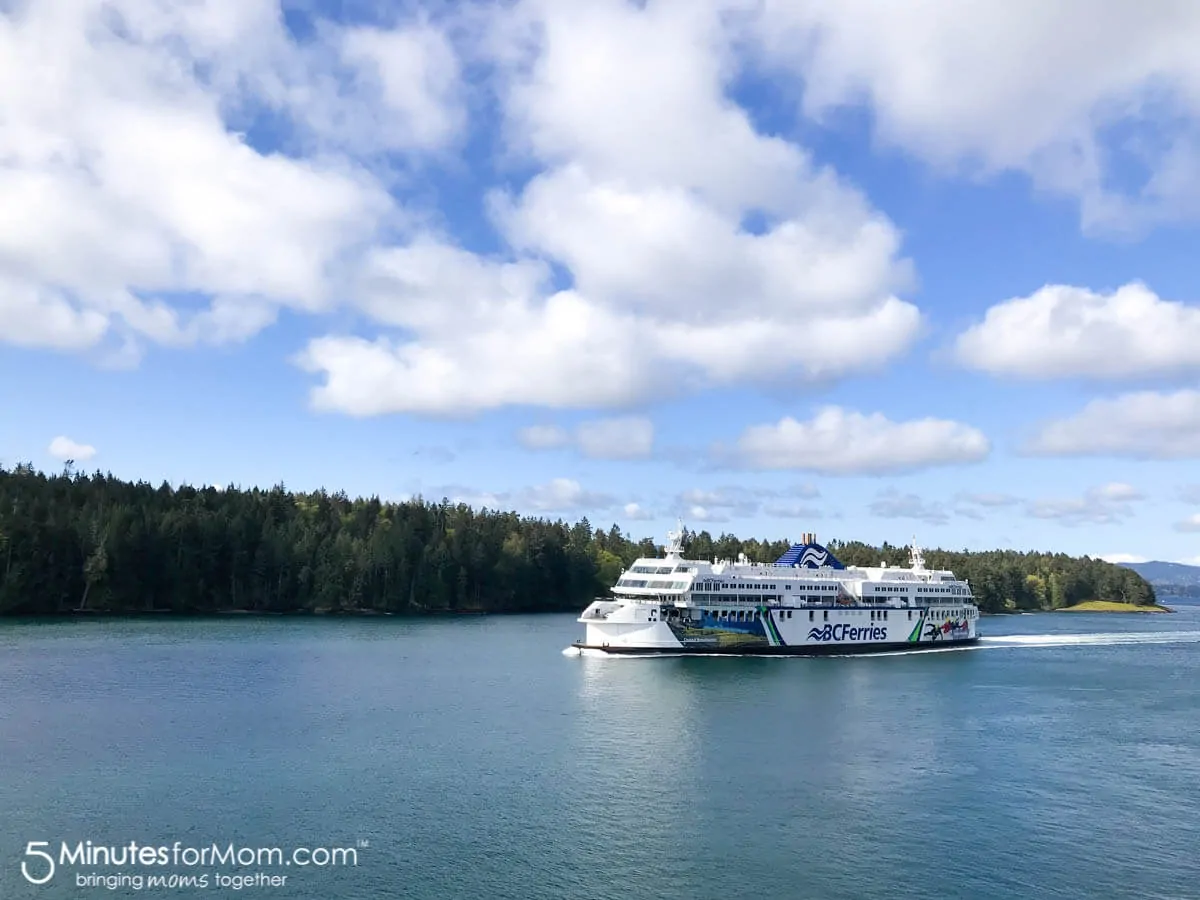 We've been to Victoria a few times before and so my girls were thrilled when I announced we were going to check out a fun new spot called the Hotel Zed.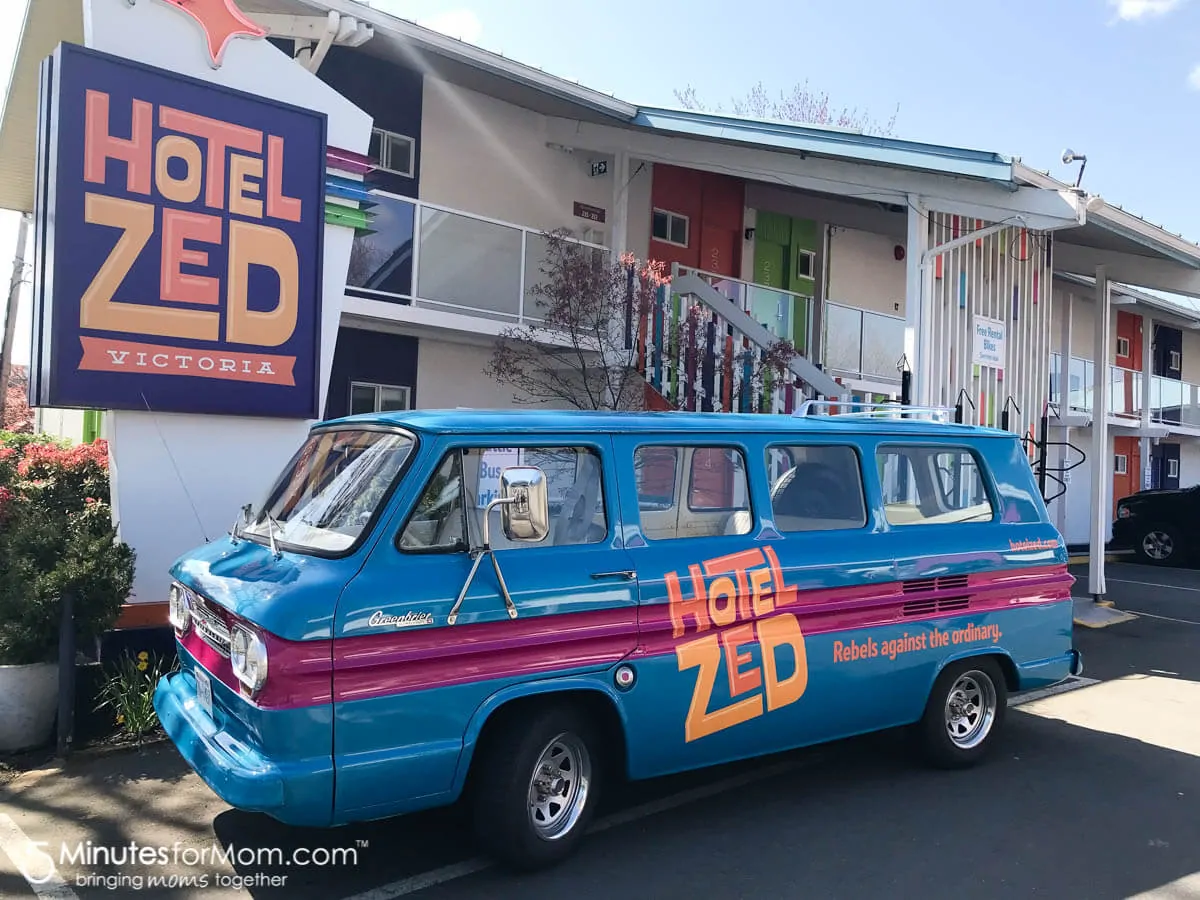 We were invited to a media event to preview their Mom-Napping experience for Mother's Day. So the hotel treated us to a free ferry ride and one night stay.
And we had a blast.
Hotel Zed is totally different than any other hotel we've ever stayed at before.
Go Retro At Hotel Zed
It's a hip hotel that celebrates its past as an upcycled motel with rotary dial phones, retro-chic amenities like vinyl listening stations, typewriter stations, board games, and even comics books in every room.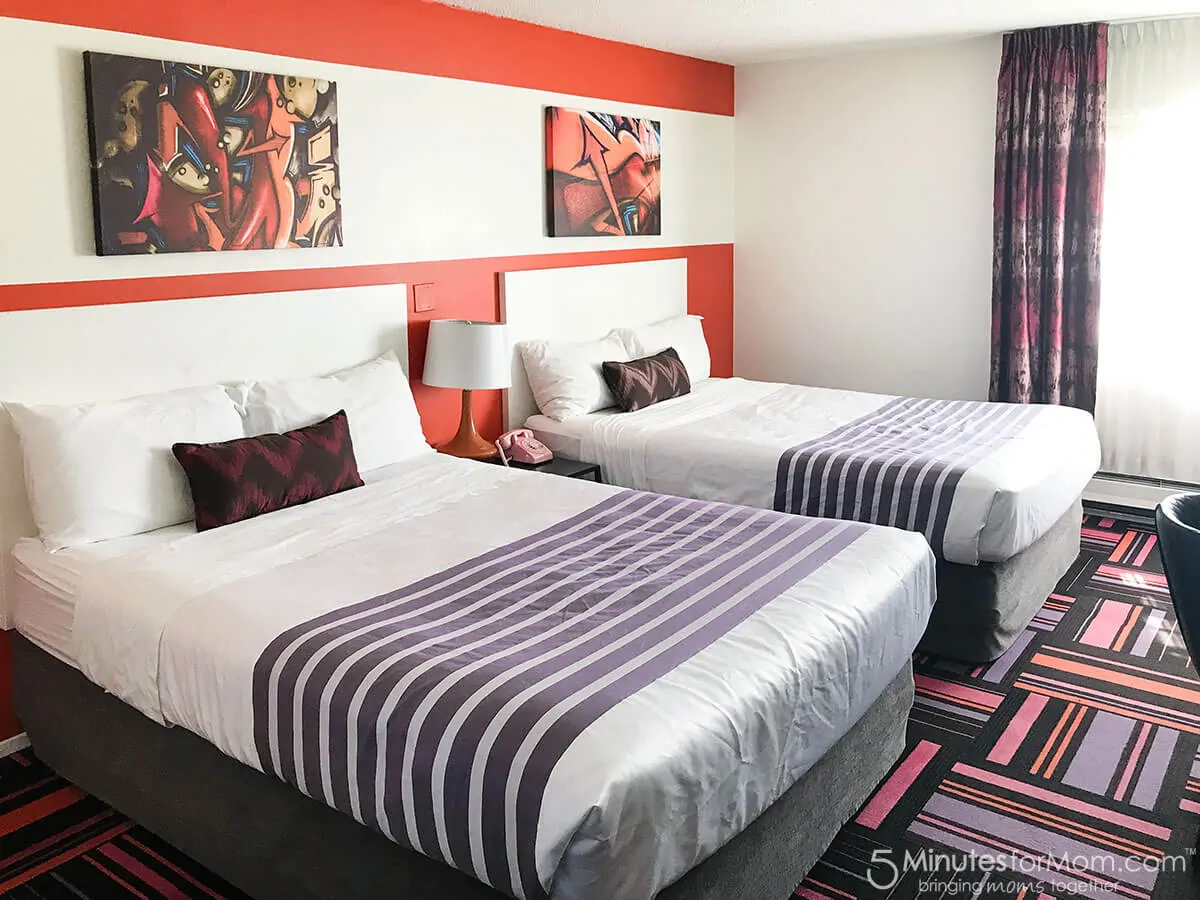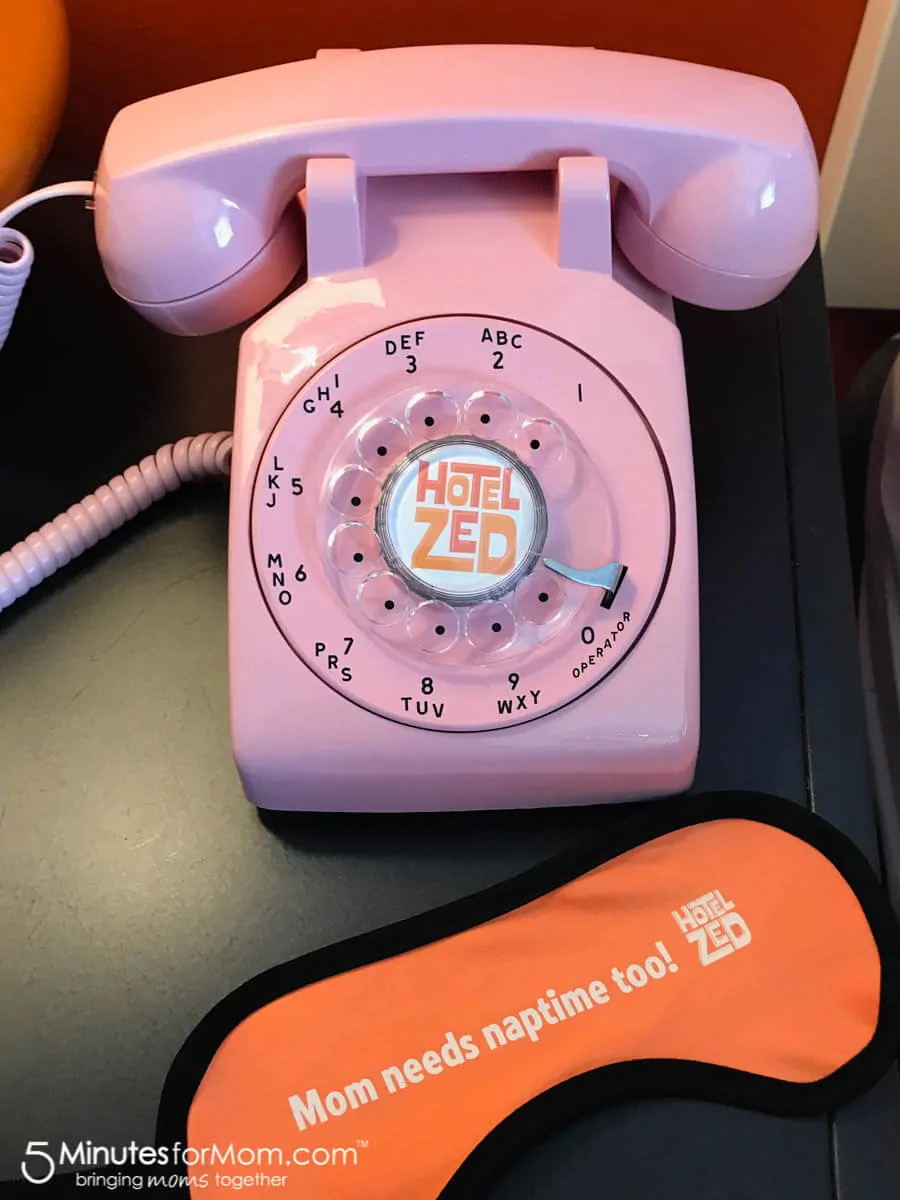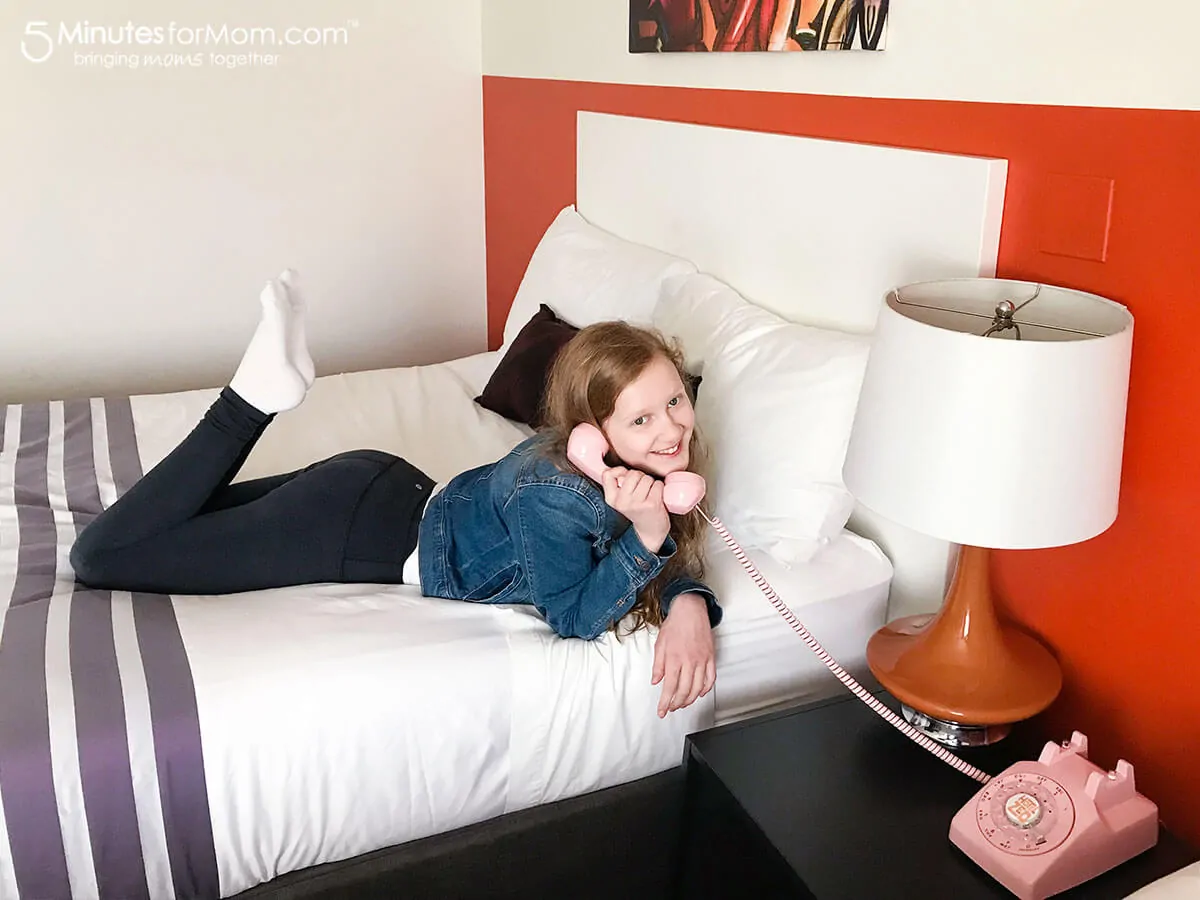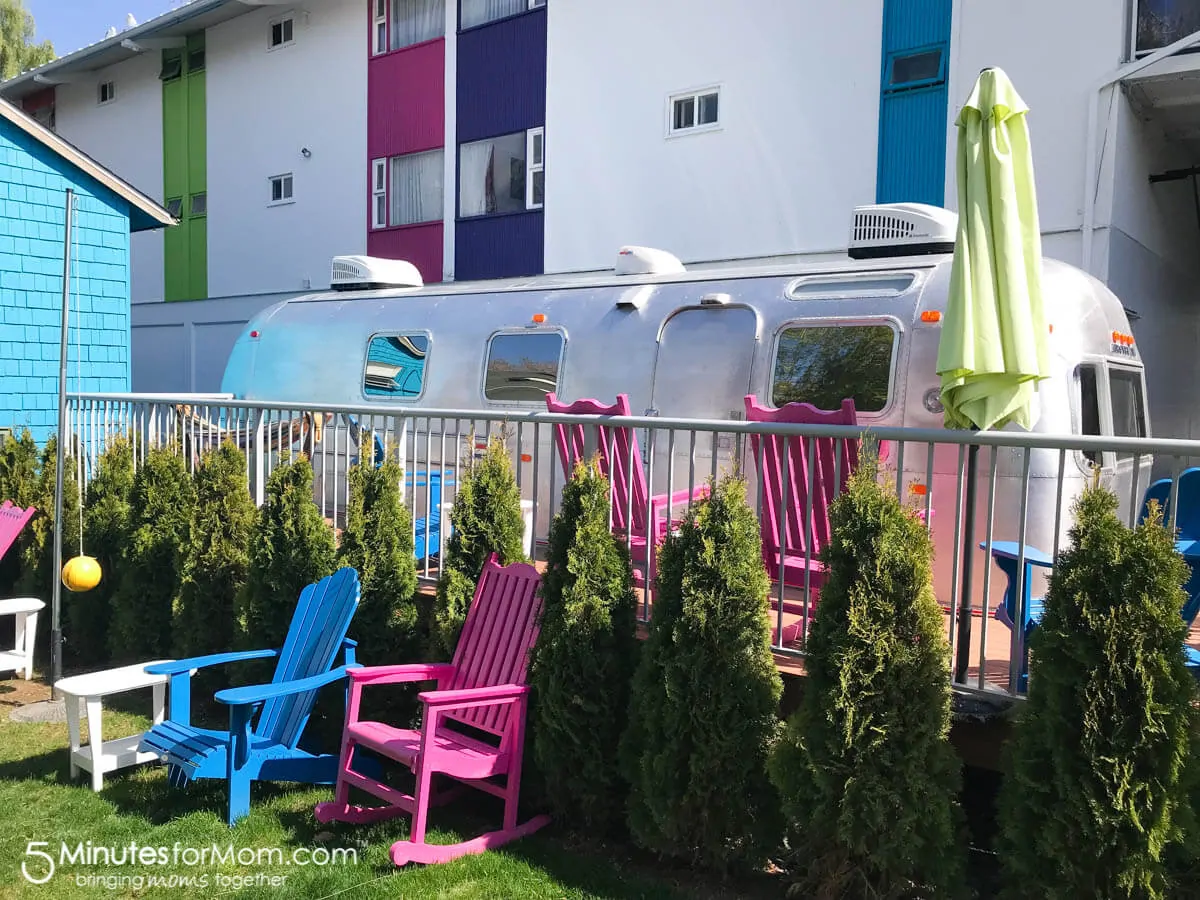 Fun Family Friendly Hotel in Victoria
If you're looking for a fun place to take your family that is affordable and still in the heart of the Victoria city center, you're going to love Hotel Zed.
We think the BEST part of the Hotel Zed in Victoria is their swimming pool… which features a fantastic waterslide and hot-tub.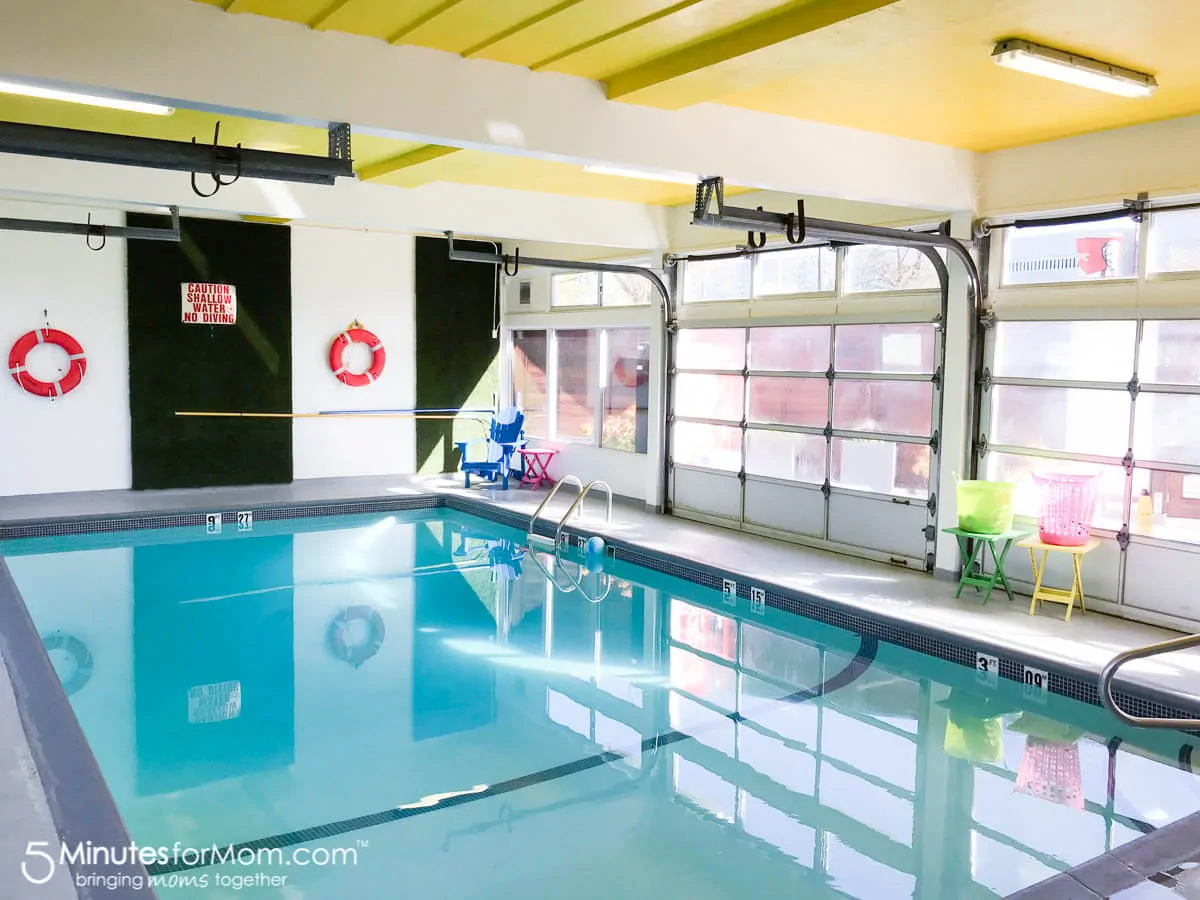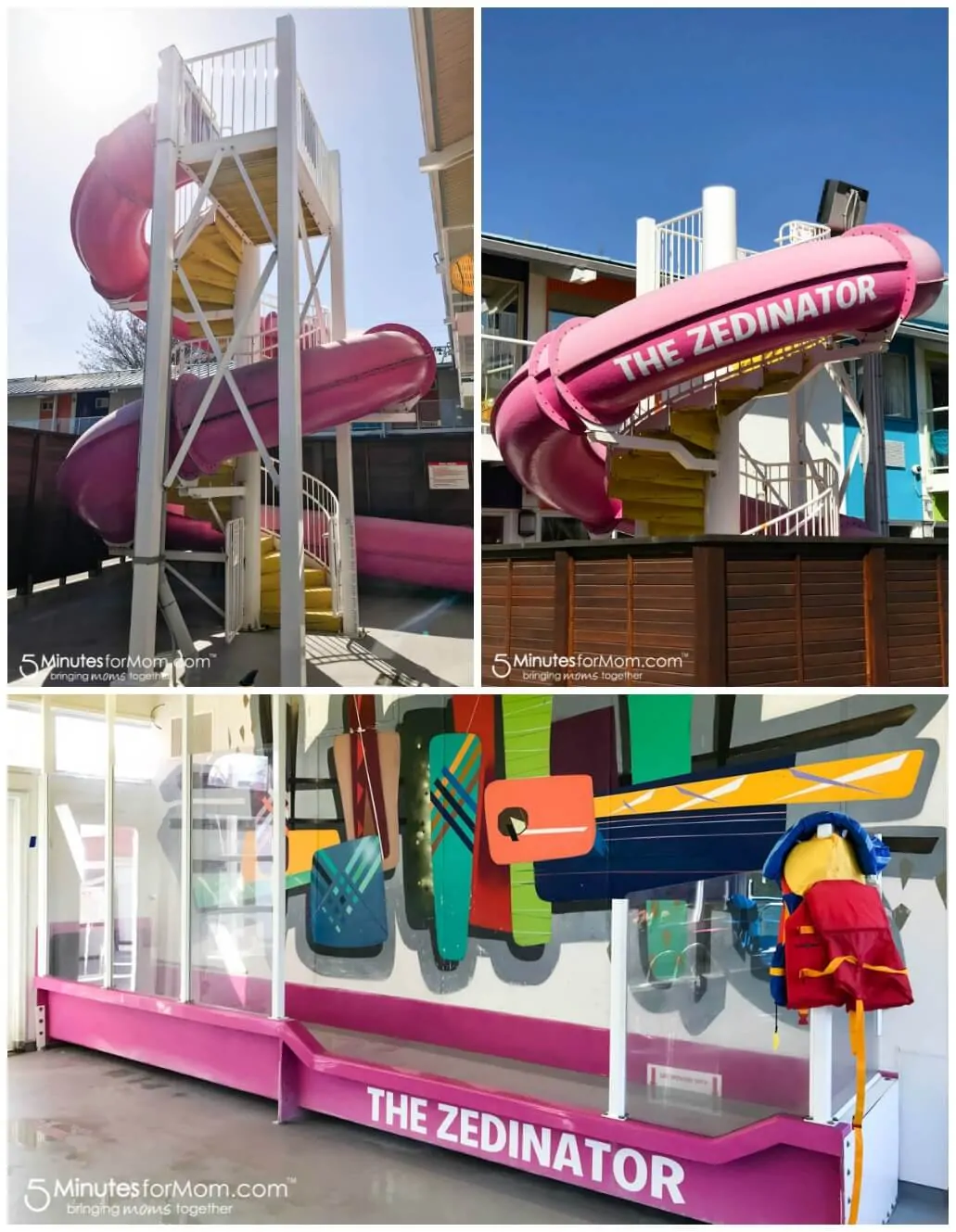 It is not easy to find an affordable family friendly hotel in Victoria's city center with a swimming pool.
The Hotel Zed swimming pool is a warm indoor pool that has huge sliding doors that open and make it feel like an outdoor pool when the weather is nice. The waterslide starts outside and ends inside so you can jump right from the slide into the pool. Then you can relax in the outdoor hot-tub or spend some time unwinding in the sauna.
The weather is usually nicer in Victoria than it is here in Vancouver, so we were lucky to enjoy a little sunshine while we spent the afternoon swimming. And the water in the swimming pool is surprisingly warm. So even though the air outside was cold, we were warm while swimming.
Another awesome part of the hotel is their retro lobby and ping pong lounge.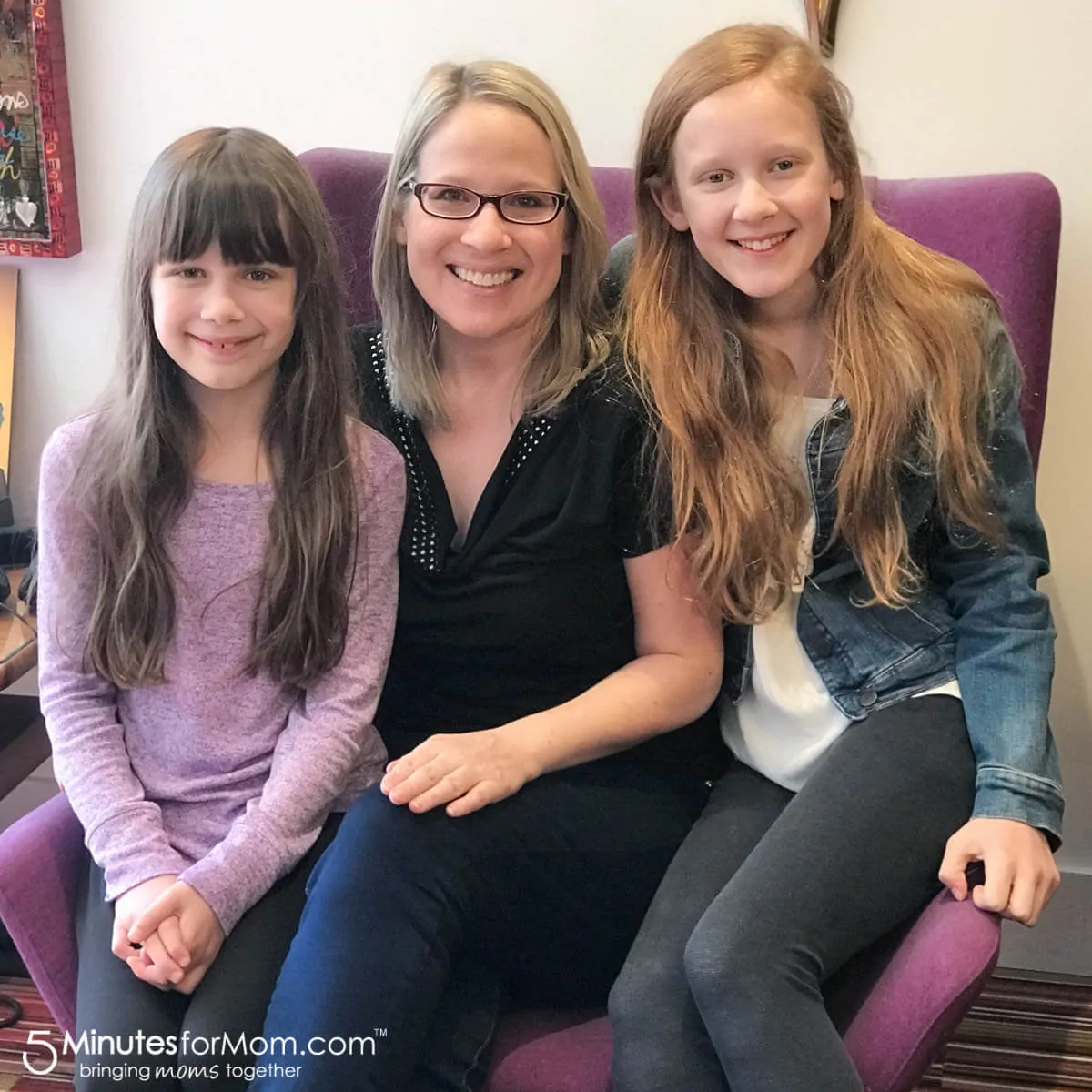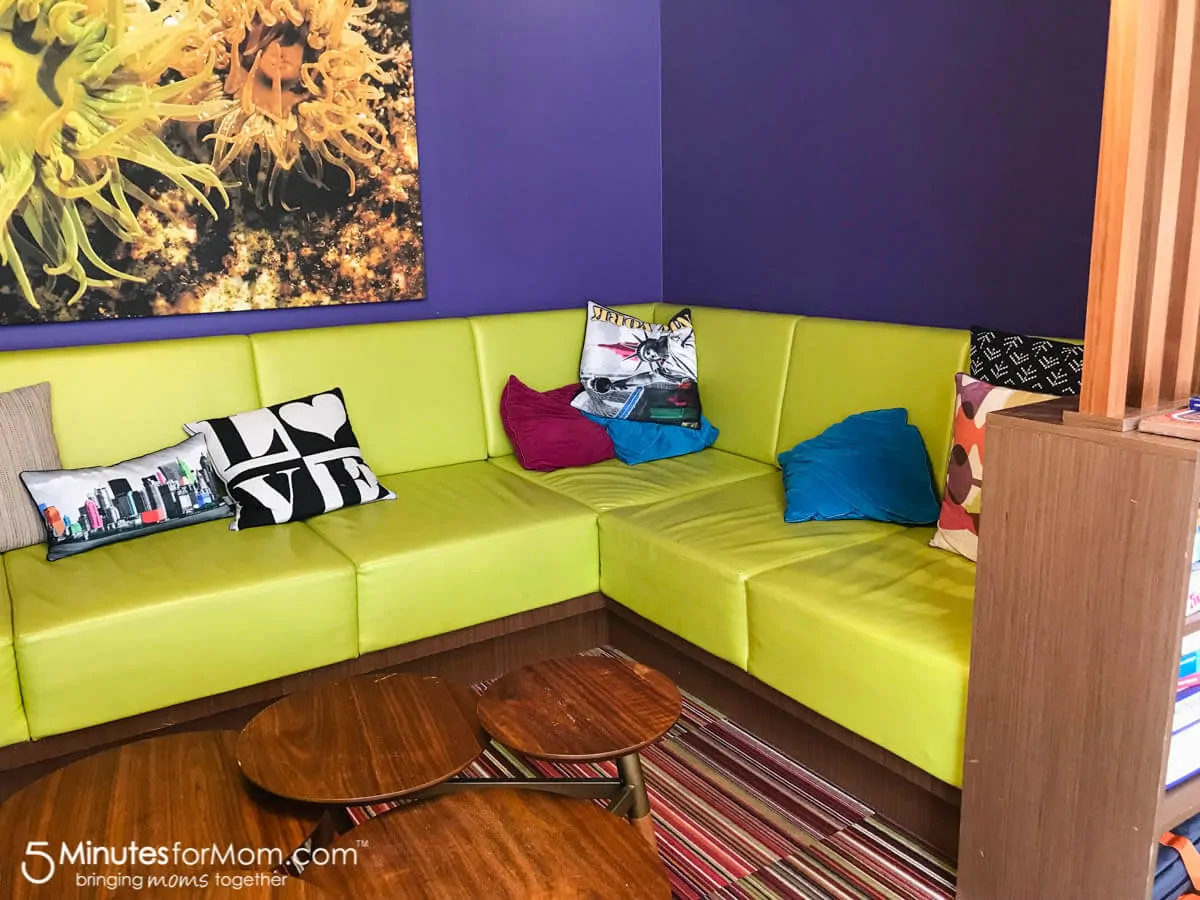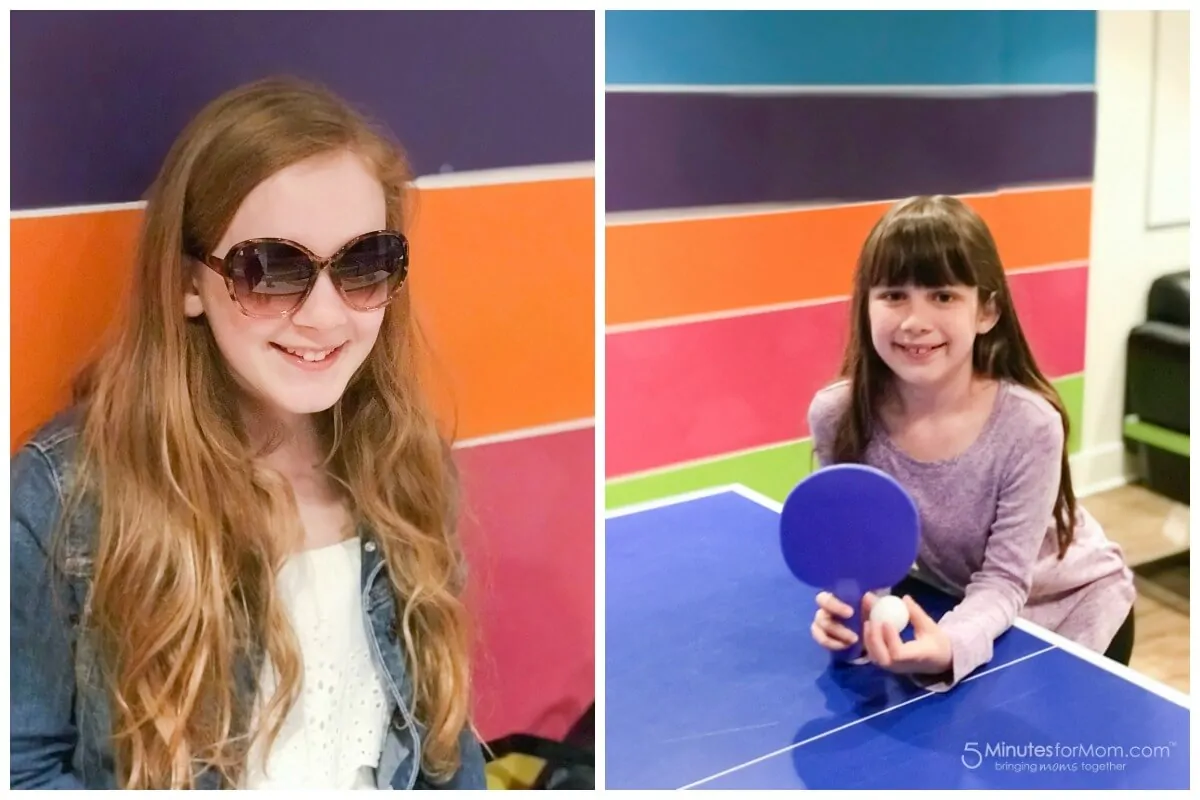 My kids got quite a kick out of the typewriter station.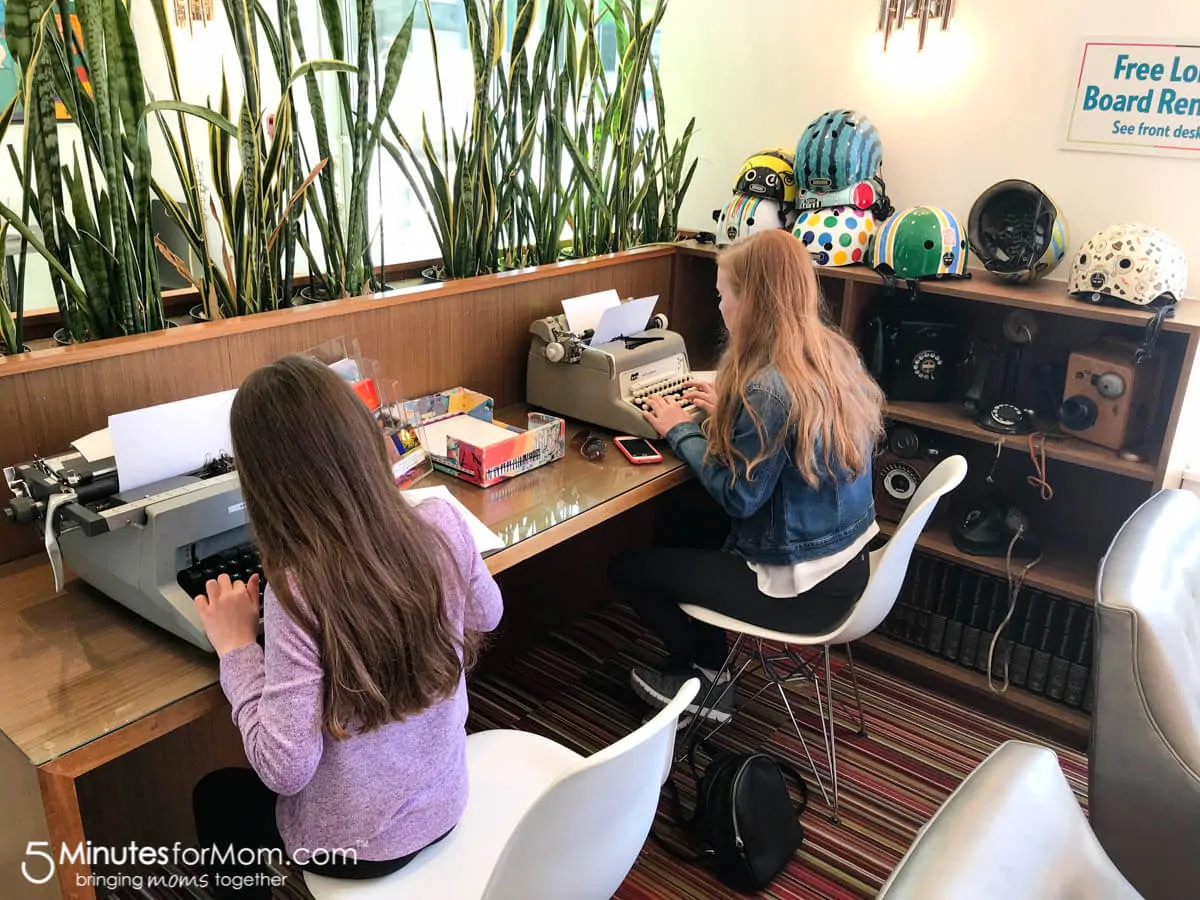 Catch a Free Ride
This forward-thinking hotel brilliantly offers free scheduled shuttle service in their classic VW buses as well as free bike rentals and free parking.
Parking in downtown Victoria is expensive, so the option of taking a shuttle or borrowing bikes while leaving your car in the free parking lot will save you a lot of money and hassle.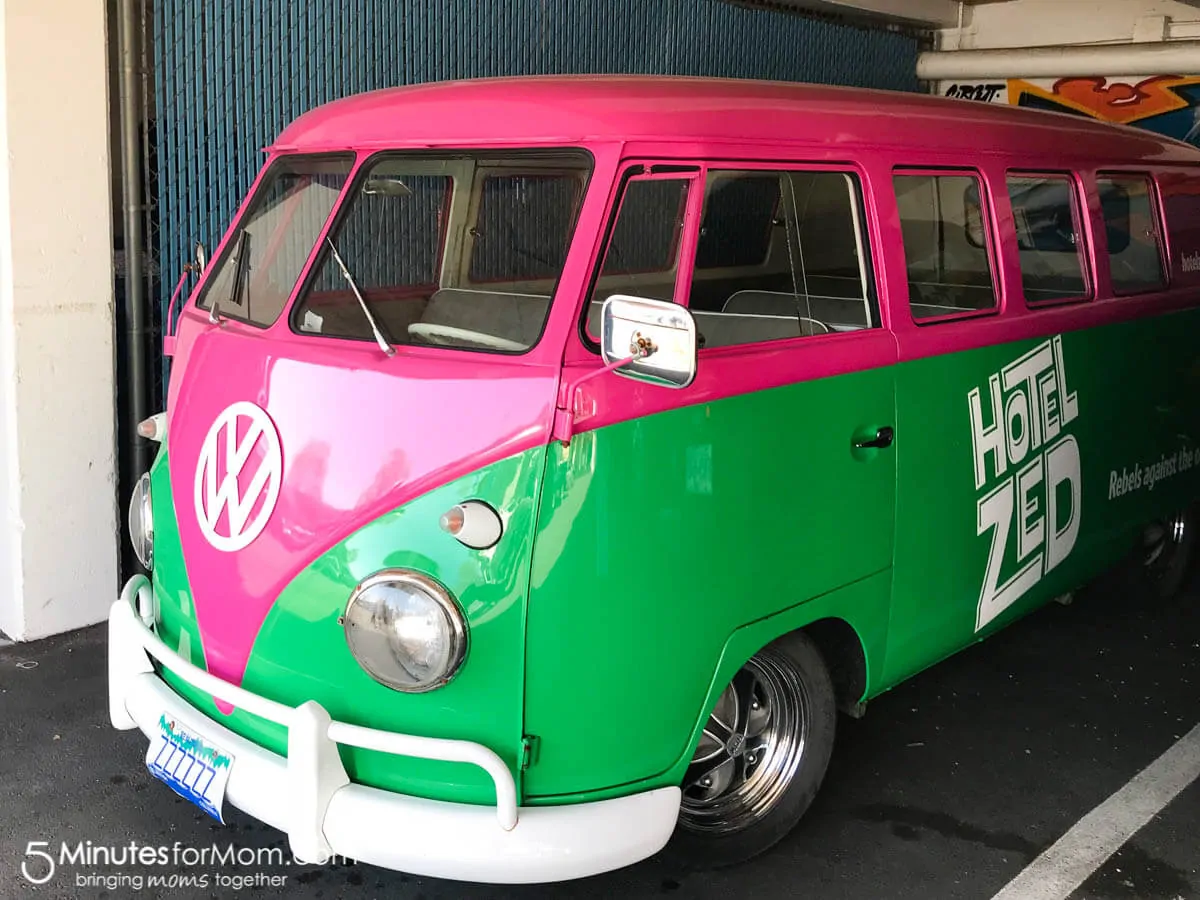 But before you take off to go sight-seeing, you'll want to eat breakfast at The Ruby. We had breakfast there and loved it. My girls ordered waffles from the kids' menu and I had a tasty omelet. The prices are reasonable and the food is delicious.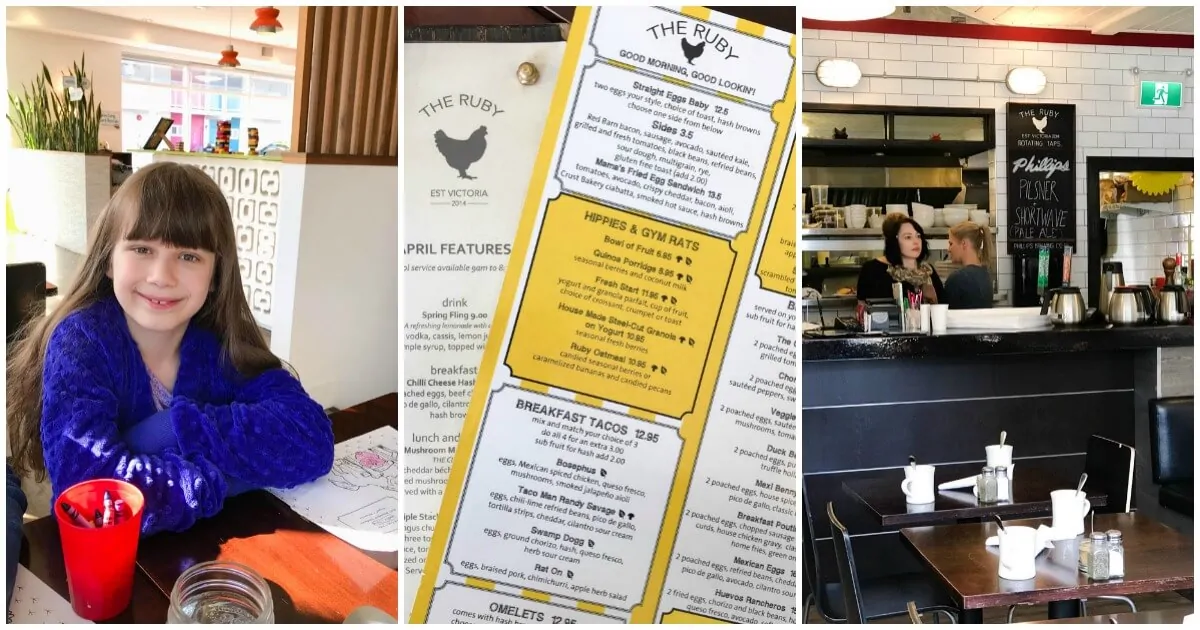 I want to thank Hotel Zed for inviting us and for creating such a unique option for an affordable and fun family friendly hotel in Victoria.
Special Mom-Napping Event for Mother's Day
Hotel ZED is giving away want moms need the most this Mother's Day: free and uninterrupted mom-naps!
Find out more and nominate a mom to win.
But hurry… entries close on May 2nd.
Pin it for Later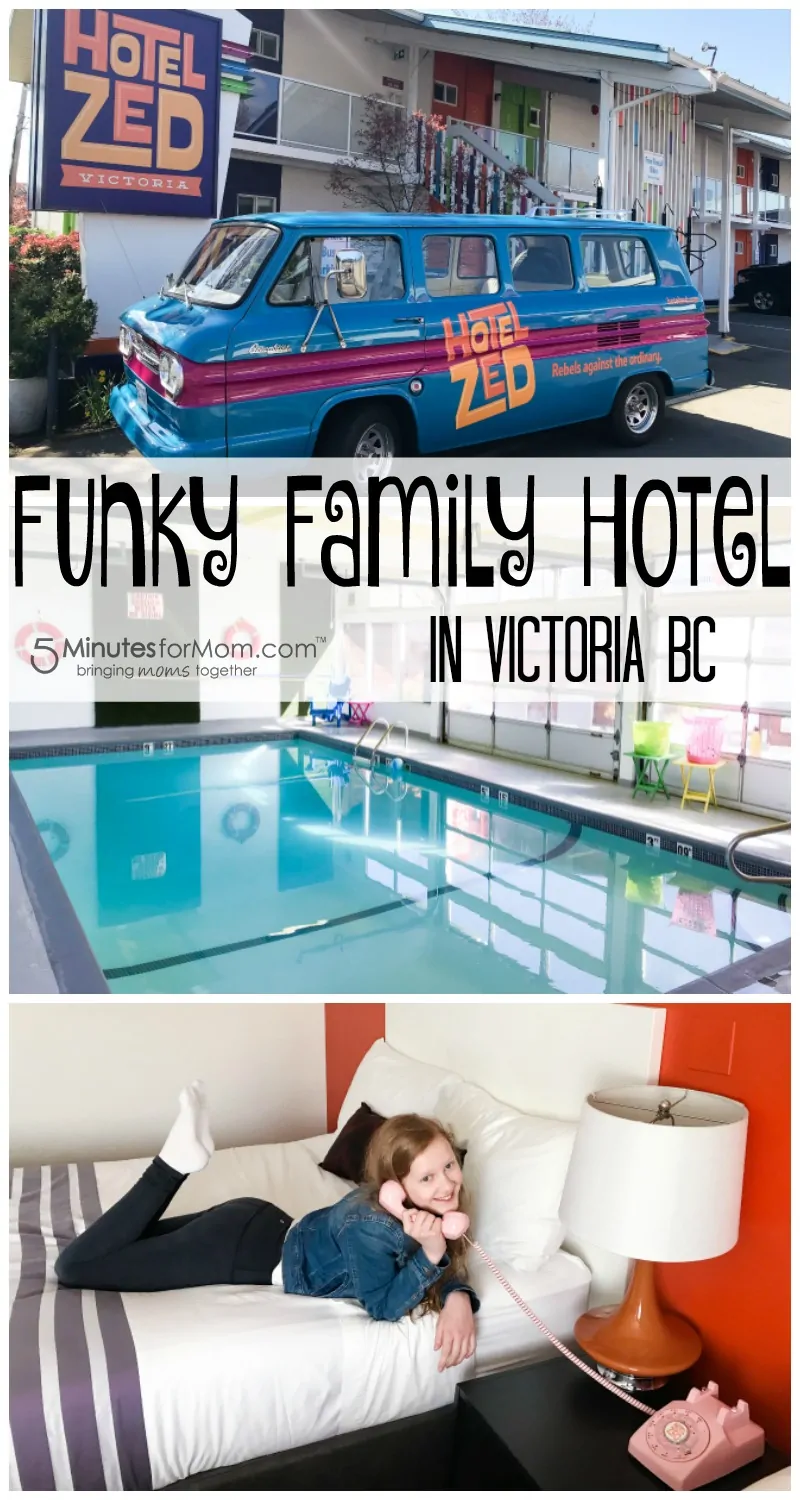 Disclosure: We received a free ferry ride from Vancouver to Victoria and one night hotel stay.
Written by Susan Carraretto, co-founder of 5 Minutes for Mom
Talk with me: @5minutesformom and Facebook.com/5minutesformom
Pin with me at pinterest.com/5minutesformom