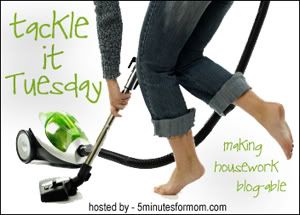 Jackson's turn…
Last weekend, our family decorated for Christmas. While Jackson was hanging ornaments on our tree, he got inspired to decorate his room.
I had been thinking about getting a small tree for his room — but Jackson decided he didn't need a tree. He decided that the little reindeer we usually use in our living room would be a "tree" for his ornaments.
Over the years, Jackson has made quite a few ornaments. So, he had plenty of favorites to adorn his "tree" and his room.
I used leftover ribbon from our family tree to wrap around the railings on his bunkbed and Jackson decorated his chest of drawers. He even hung an extra stocking on his bunkbed, convinced that Santa will visit both of his stockings.
It was so much fun — I love my son's excitement over Christmas.
What have you been tackling in your life?
Tell us what you're up to with all your other tackles… housework and otherwise… add your link to your tackle in the Mck Linky below!
Each week on Tuesday, we are posting before and after pictures of a project or trouble area that we tackled this week.

Find out more about Tackle It Tuesday here.
The project can be little or big – whatever you want.

Basically, Tackle It Tuesday is about giving ourselves incentive, deadlines and satisfaction in getting our household tasks done.

(It doesn't even have to be housework… just whatever is on your To Do list.)
If you tackled a project this week, just add a comment and add your link below.
Happy tackling ladies…

Thrill your kids this Christmas!
Written by 5 Minutes for Mom co-founder Janice. Yes, I am a Mommy Blogger, but I really prefer the term, Mom Blogger.
Do you have our feed in your reader?
Did you know that Susan and I own two online toy stores where you can find a pedal car or an inspiring toy kitchen for your children. 🙂