This post may contain affiliate links. Read my disclosure policy here.
We're thrilled to have Jamie Geller here today to share her delicious recipe for Baby Lamb Chops with Red Wine Sauce that is perfect for Passover. Since Janice and I aren't Jewish, we don't know much about Kosher cooking. But we love learning about the rich traditions and recipes from Jamie. I can't wait to make these baby lamb chops for a special dinner with my family.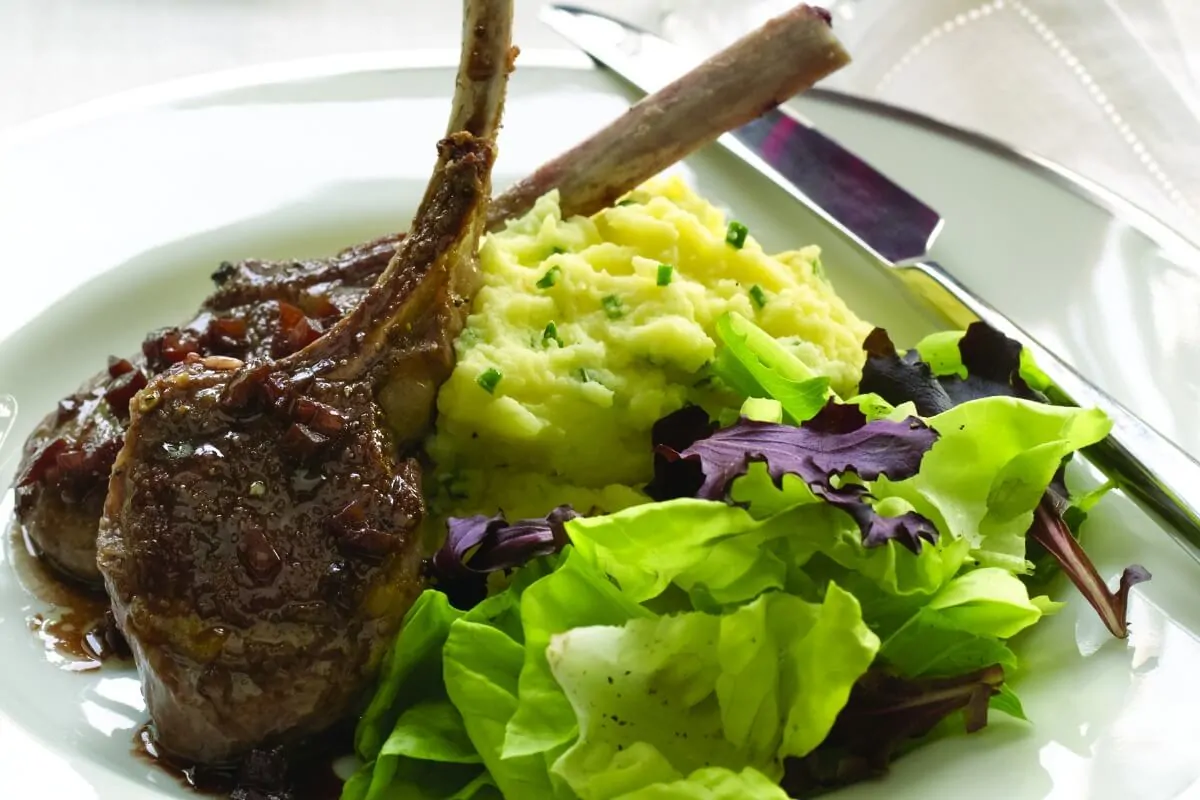 Passover is known to old-timers as the cooking holiday, but that doesn't mean we must be chained to our stoves for a whole week.
Our Festival of Freedom is no time to enslave ourselves, even if we're scheduled to serve up 10 banquets in eight days, not to mention lunches and snacks.
I'm one of those rare birds who looks forward to Pesach, and I want you to anticipate it with joy too. And I mean it.
My glorious Passover recipes will help you cook food that everyone actually will want to eat, and none of them will prevent you from getting out of the kitchen to enjoy the holiday with your family. Even if you're known for patchke-ing (fussing) in your neighborhood, you surely don't want every meal to involve a long, fussy prep — because there's more to Pesach than cooking.
And that's where I come in, 'cause I was born to cook quick without sacrificing elegance. These baby lamb chops are elegant enough to serve for a holiday, but quick and easy enough to get you back to spending time with your family.
Whether it be for your seder or one of the other many meals that take place during Passover you will love this meal. This recipe is simple and follows all the dietary laws of Passover, but some people won't serve this for the seder. The only actual rule is not eating a whole roasted lamb. Some people, most notably Sephardim, actually go out of their way to eat lamb at the seder to mimic our ancestor's meal before they left egypt, as long as it's not a whole roasted lamb. Whichever custom you follow there are plenty of days of Passover to find one to serve this elegant meal.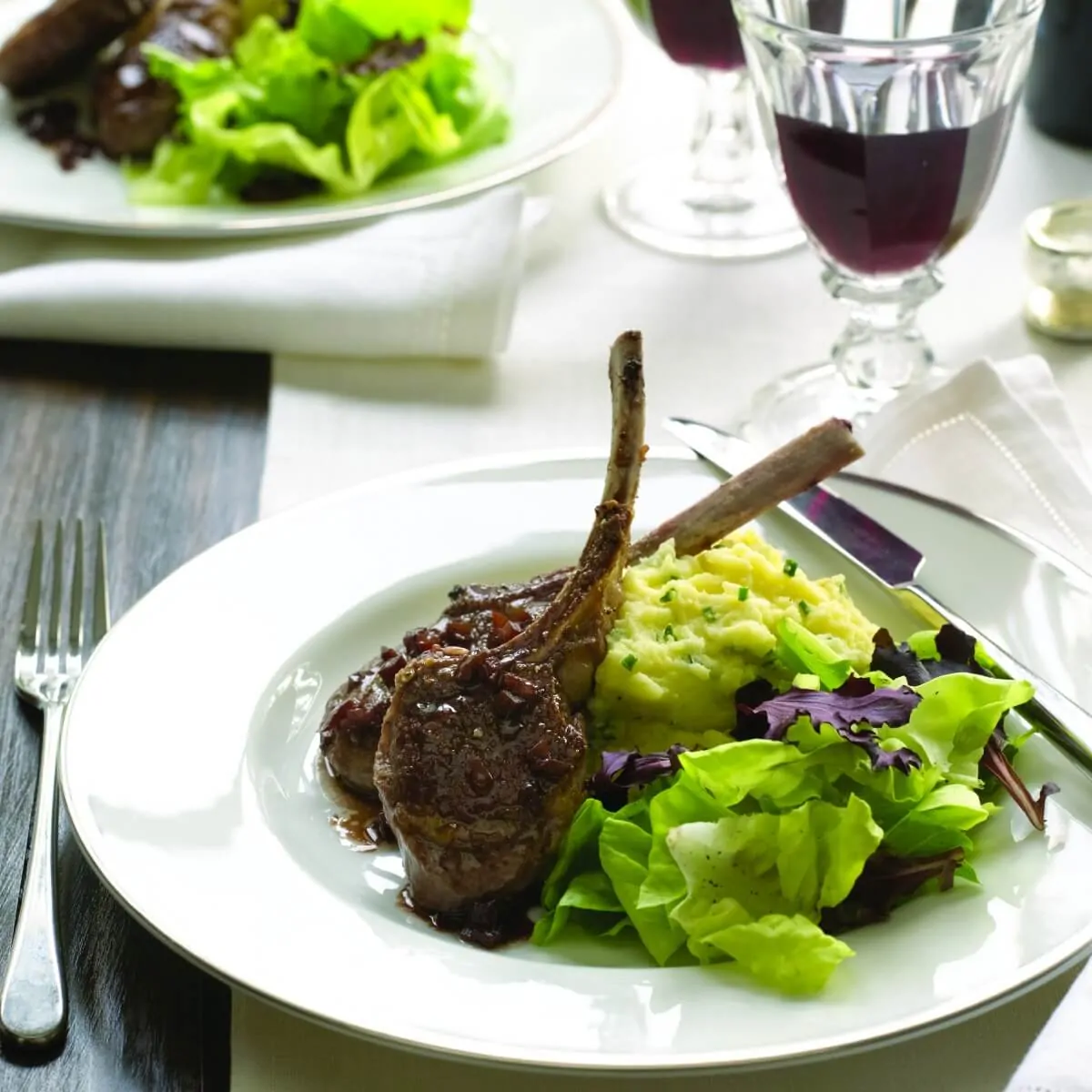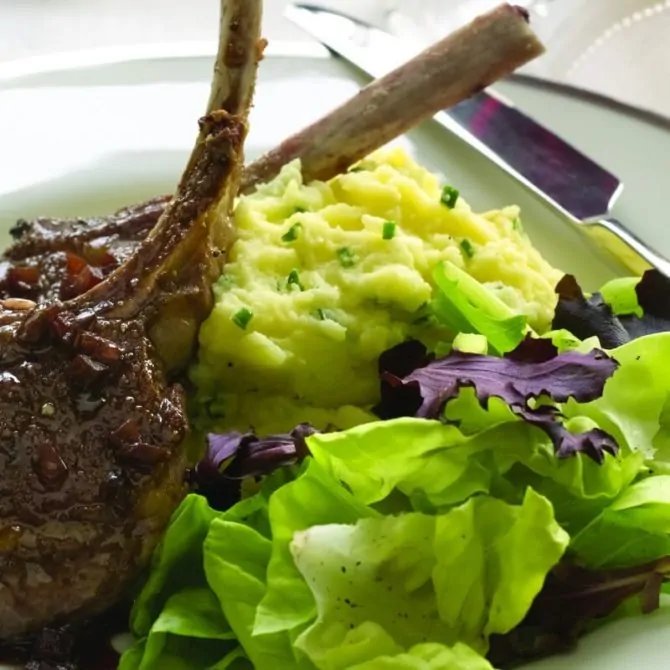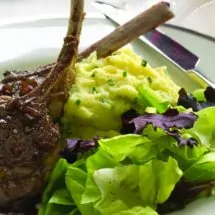 Baby Lamb Chops with Red Wine Sauce and Garlic Mashed Potatoes
Serve your dinner guests Baby Lamb Chops with Red Wine Sauce, Garlic and Chive Mashed Potatoes, along with Greens with White Wine Vinaigrette. This is the perfect meal for Passover or another special dinner party.
Print
Pin
Rate
Servings: 6
Calories: 1152kcal
Ingredients
Lamb Chops
12 baby lamb chops about 5 pounds
2 tbsp kosher salt
2 tsp freshly ground black pepper
4 tbsp extra virgin olive oil divided
½ cup minced shallots
1 cup red wine
1 cup beef broth
Garlic and Chive Mashed Potatoes
6 medium Yukon gold potatoes peeled and quartered
2 cloves garlic
1 pinch Kosher salt
1 cup chicken broth
4 tbsp extra virgin olive oil or vegan butter
2 tbsp chopped chives
Greens with White Wine Vinaigrette
1/3 cup white wine vinegar
1 tbsp honey
1 tbsp minced shallot or onion
2/3 cup extra virgin olive oil
1/2 tsp kosher salt
1/4 tsp freshly ground black pepper
1 5-ounce package mixed baby greens, rinsed and dried
Instructions
Prepare Lamb Chops
Preheat oven to 200 ℉.

Season chops with salt and pepper.

Over high heat, heat 2 tablespoons extra virgin olive oil in each of two large saute pans. Place chops in one layer in each pan. If all the chops will not fit at one time, brown them in two batches. Cook chops until brown, about 3 minutes on each side. When chops are cooked to your desired doneness, remove from pan and place on a baking sheet. Cover tightly with foil. Place in oven and turn oven off. Chops will stay warm in the retained heat without overcooking.

Reserving 2 tablespoons fat, drain fat from the pans. Return the reserved fat to one saute pan, over medium heat. Add shallots and cook, stirring, for 1 minute. Add red wine and broth and cook until sauce is reduced by half, about 4 minutes.

Serve lamb chops topped with sauce.
Prepare Mashed Potatoes
Place potatoes and garlic in a large saucepan and cover with salted water. Bring to a boil and boil gently for 20 minutes or until the potatoes are tender and break apart with a fork. Drain potatoes and return them to the pan.

Heat broth for 30 seconds in the microwave. With a potato masher or hand mixer, mash potatoes and garlic with broth, evoo, chives, and salt to taste. Mash potatoes to desired consistency.
Prepare Salad
Place vinegar, honey, and shallots in a blender or food processor.

With the blender or processor running, slowly add evoo. Blend in salt and pepper.

In a large salad bowl, toss the greens with the dressing and serve.
Nutrition
Calories: 1152kcal | Carbohydrates: 39g | Protein: 89g | Fat: 67g | Saturated Fat: 16g | Polyunsaturated Fat: 6g | Monounsaturated Fat: 41g | Cholesterol: 258mg | Sodium: 3042mg | Potassium: 2003mg | Fiber: 5g | Sugar: 6g | Vitamin A: 322IU | Vitamin C: 42mg | Calcium: 87mg | Iron: 10mg
Written by Jamie Geller. Jamie is the only best-selling cookbook author who wants to get you out of the kitchen – not because she doesn't love food – but because she has tons to do. As "The Bride Who Knew Nothing", Jamie found her niche specializing in fast, fresh, family recipes. Now the "Queen of Kosher" (CBS) and the "Jewish Rachael Ray" (The New York Times), she's the creative force behind JamieGeller.com. Jamie and her hubby live in Israel with their six super kids who give her plenty of reasons to get out of the kitchen – quickly. Check out her new book, Brisket 101 and her new family meal plan "Fresh Families" at FreshFamilies.us.
Source: Recipes and photos shared with permission from Quick & Kosher Meals in Minutes.
Disclosure: This post includes Amazon affiliate links.