This post may contain affiliate links. Read my disclosure policy here.
I can't find my Belgian Waffle maker. And you know – when a pregnant woman has a craving, she wants it now!
I have searched everywhere! But really the last time I know I had it for sure was years ago before we moved. I am not sure if I ever used it here in this house.
So I have been searching the garage to see if I can find it in a box or something. No luck.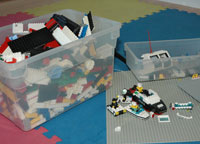 But, I did come across some of my old Lego and my Hot Wheels cars. I have been meaning to try to look for these for Jackson, but I thought they were lost long ago.
Jackson was so thrilled when I brought them into the play room. He was sincerely shocked that I was giving them to him.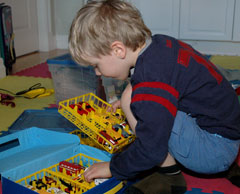 He kept thanking me all afternoon, repeating over and over in an adorable, awe-filled, little voice, "Thank you Mommy for sharing your toys with me!"
It was so wonderful to see him loving my old toys – they were my favorite treasures as a kid. (Susan and I had a tom boy streak and loved Lego and cars!) Jackson had a great time playing with them and made me take pictures of him with each one of his favorite new cars. (The funny thing was that his favorites were my favorites as a kid too!)
So I didn't find the Belgian Waffle maker. But I found something much more important. (Thank goodness for cravings!)