This post may contain affiliate links. Read my disclosure policy here.
Chocolate almond bark with strawberries is the perfect Valentine's Day treat!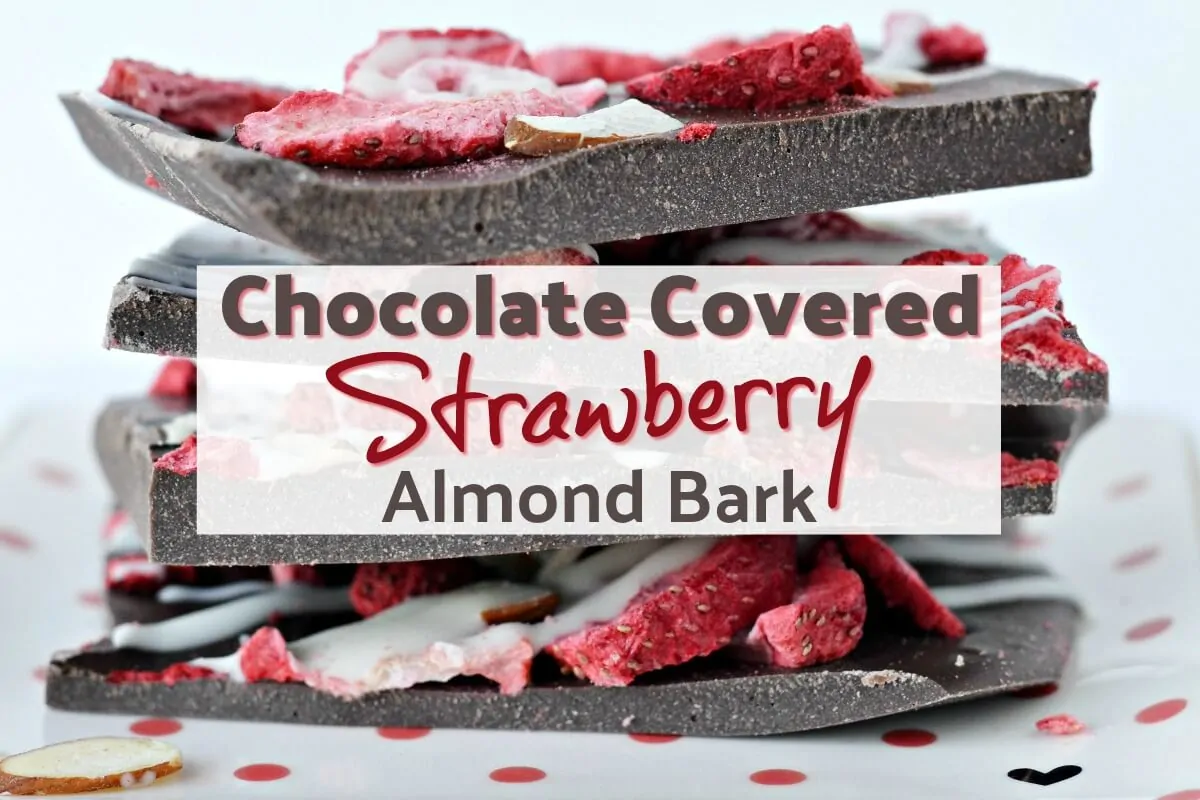 Valentine's Day is the holiday bursting with love, flowers, chocolates, and treats… so it is the perfect time to make your own chocolate treats.
It's easier than you might think. This recipe for Chocolate Covered Strawberry Almond Bark is a quick and simple way to make a delicious treat that is perfect for a DIY Valentine's Day gift.
Homemade chocolate barks are one of the easiest treats you can make. In fact, they're a great recipe to let the kids take over and try.
You, of course, can decide how independent your kids can be with making this chocolate treat. Even the littlest hands can sprinkle on the toppings! Oh, and don't forget the very important job of licking the bowl. Although that may be a job you don't want to give up. But even if I lose my bowl scraping duty to the kids, I adore recipes that are simple enough to serve as an introductory lesson into cooking for them.
We've prepared and tasted a bunch of bark recipes in our kitchen over the years, but this Chocolate Almond Bark With Strawberries is a new favorite. It has an incredible taste!
The sweetness of the chocolate paired with the tart strawberries creates a perfect balance. And the crunch of the almonds gives it just the right texture. Prepare yourself, because this irresistible treat is one you won't be able to stop at only one piece. Yes, it really is that good!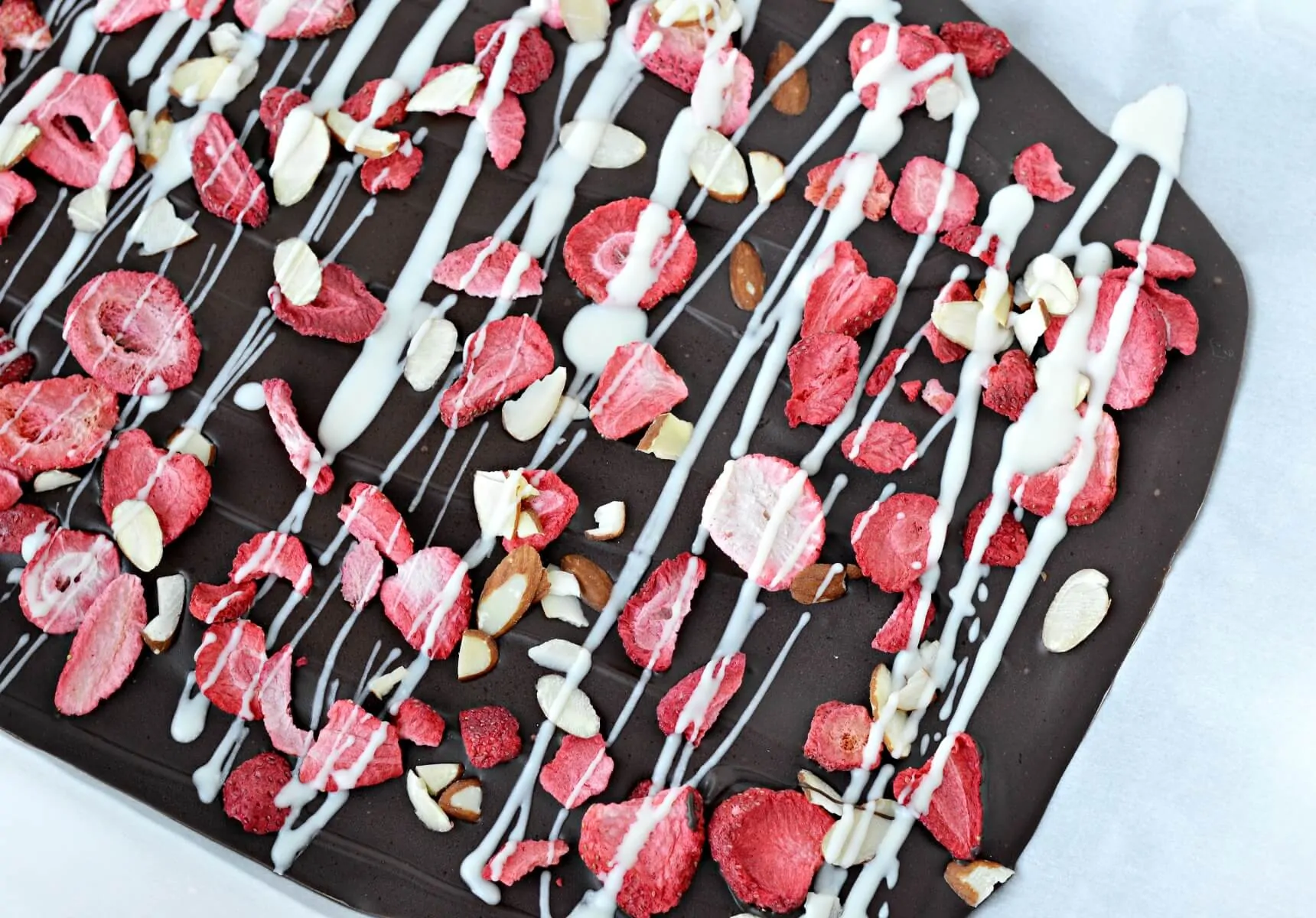 Make this Valentine's Day a little bit sweeter for your friends and family and give this tasty Chocolate Almond Bark With Strawberries treat a try.
This super simple recipe is the candy equivalent to a beloved, traditional Valentine's Day treat–chocolate covered strawberries. It's the perfect chocolate candy to package up and share with others. Just don't forget to leave a few pieces for yourself.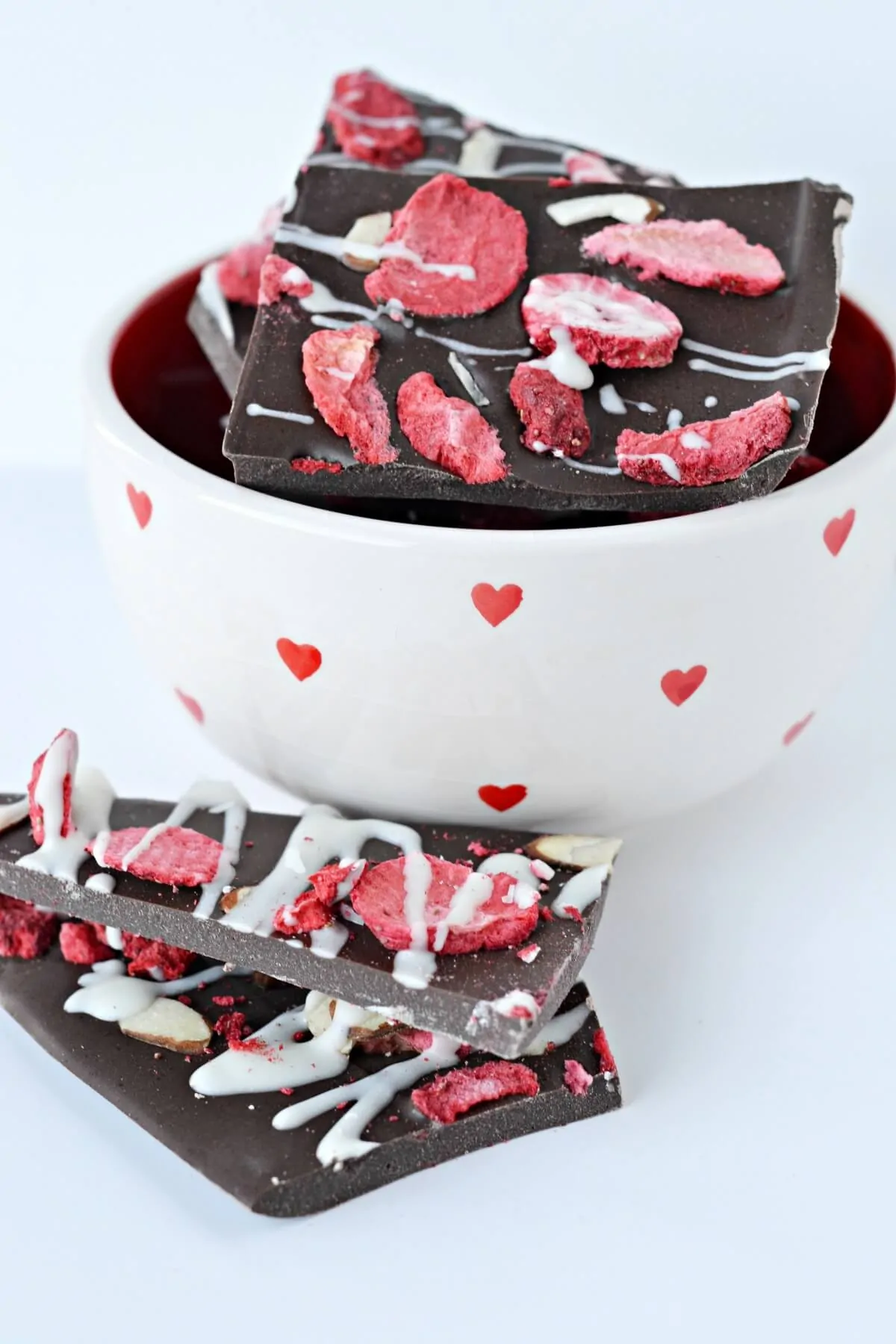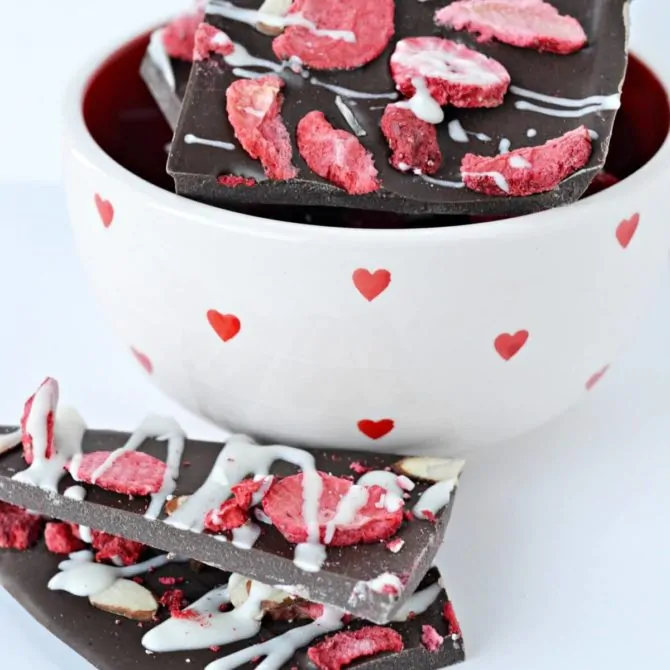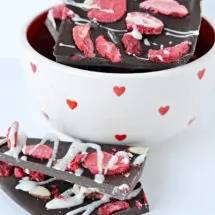 Chocolate Almond Bark with Strawberries
Strawberry Chocolate Almond Bark is an easy to make and delicious Valentine's Day treat.
Print
Pin
Rate
Servings: 24 pieces
Calories: 111kcal
Ingredients
2 cups chocolate chips you can use chocolate chips or about 12 oz of chocolate chunks
1/2 cup dried strawberries
1/2 cup slivered almonds
1/4 cup white chocolate chips
2 tsp. coconut oil
Instructions
Line a baking pan with parchment paper.

Place chocolate chips and 1 tsp of coconut oil into a large bowl and melt it in the microwave, 30 seconds at a time stirring in between. Tip: Make sure to heat it on 50% power. It's very important to not overheat the chocolate or you will cause it to become clumpy and thick. Pour the melted chocolate into the lined baking pan. Spread it out evenly.

Sprinkle freeze-dried strawberries and slivered almonds over the melted chocolate.

Melt the white chocolate chips and 1 tsp coconut oil together in a second bowl. The coconut oil gives the melted chocolate a smooth consistency and delicious flavor.

Drizzle this mixture over the bark.

Allow the bark to set and harden. Place in refrigerator for about 20 minutes. Remove it as soon as it's hardened.

Break the bark into pieces, eat, and enjoy!
Nutrition
Calories: 111kcal | Carbohydrates: 14g | Protein: 1g | Fat: 6g | Saturated Fat: 3g | Cholesterol: 3mg | Sodium: 12mg | Potassium: 21mg | Fiber: 1g | Sugar: 12g | Vitamin A: 34IU | Vitamin C: 1mg | Calcium: 28mg | Iron: 1mg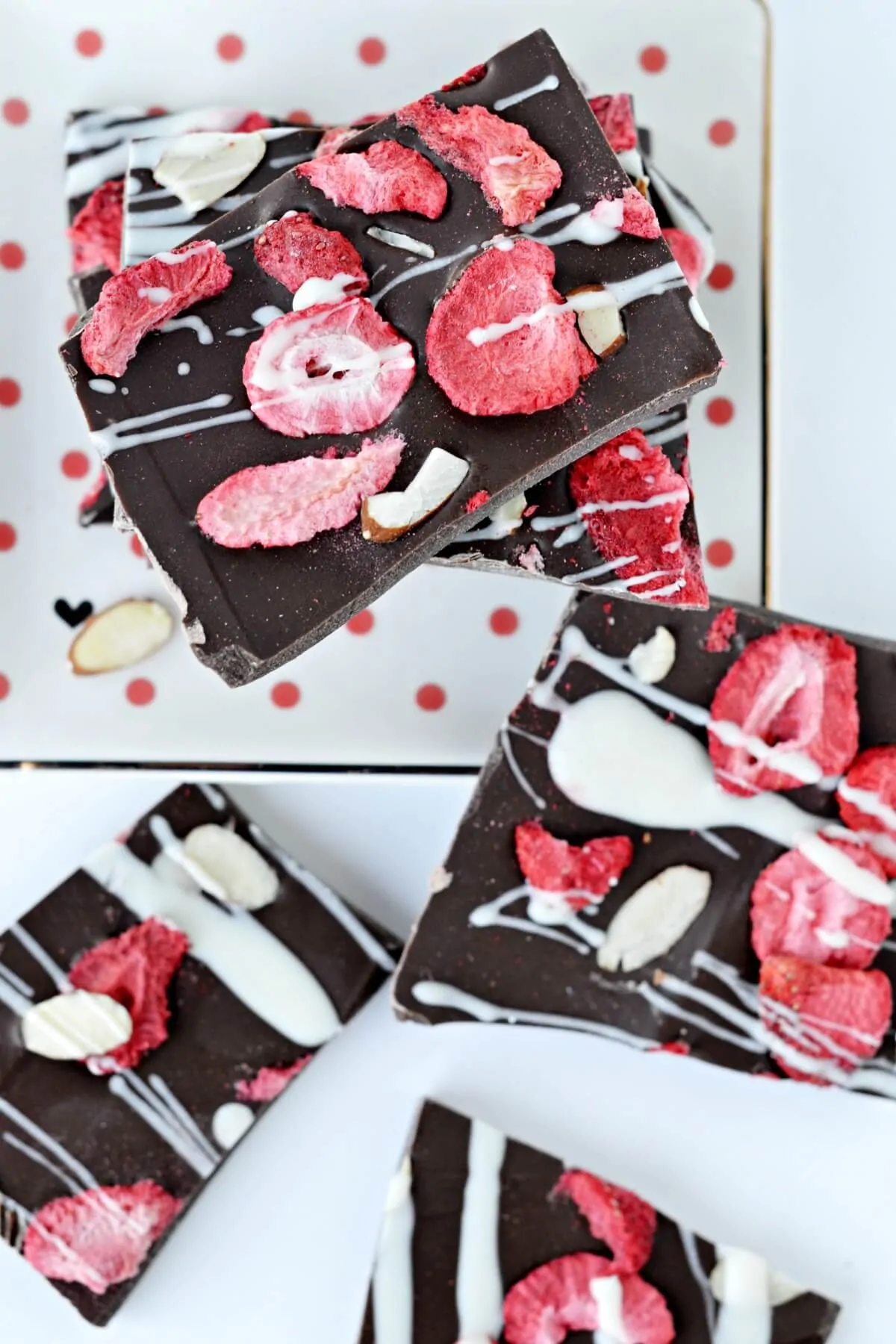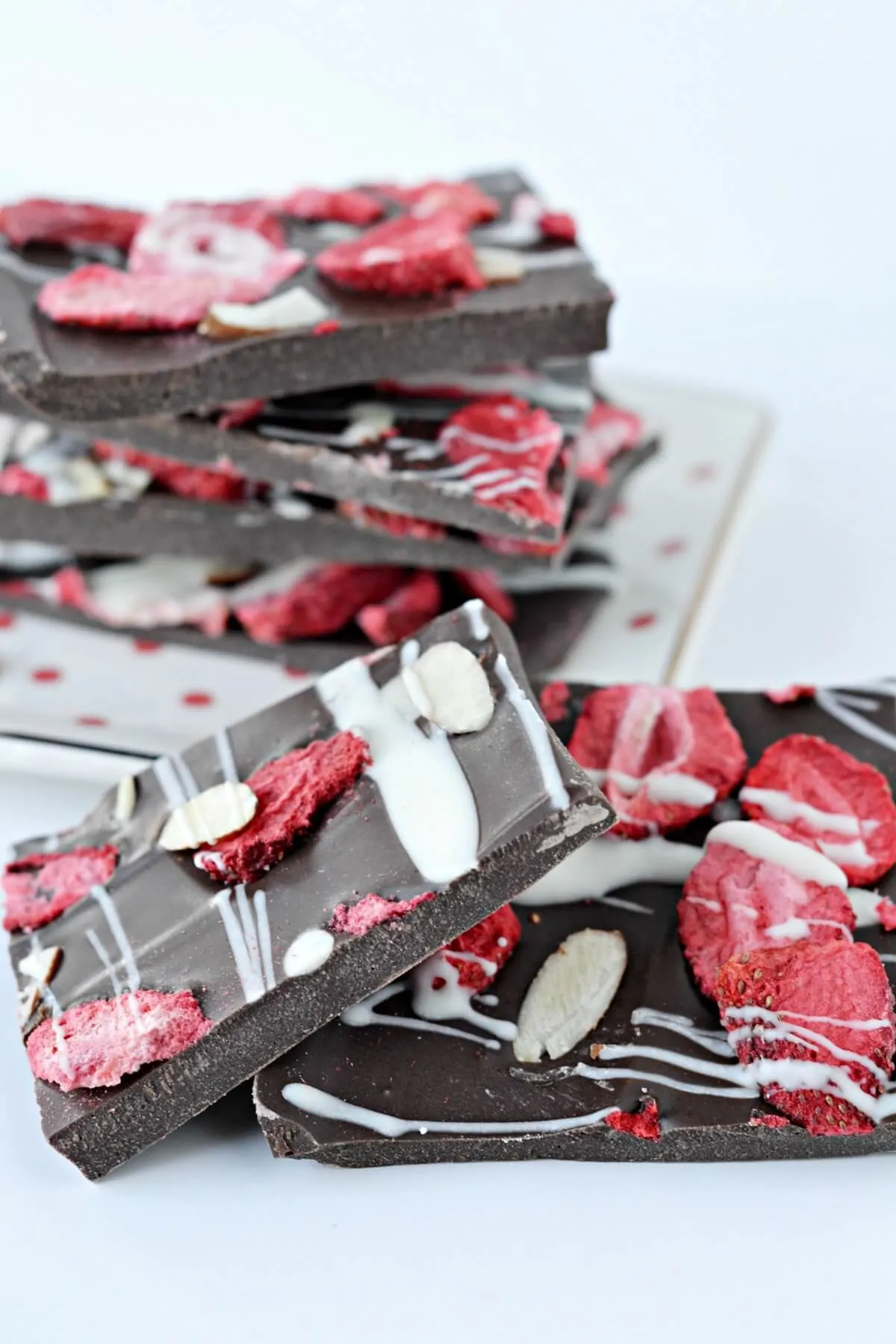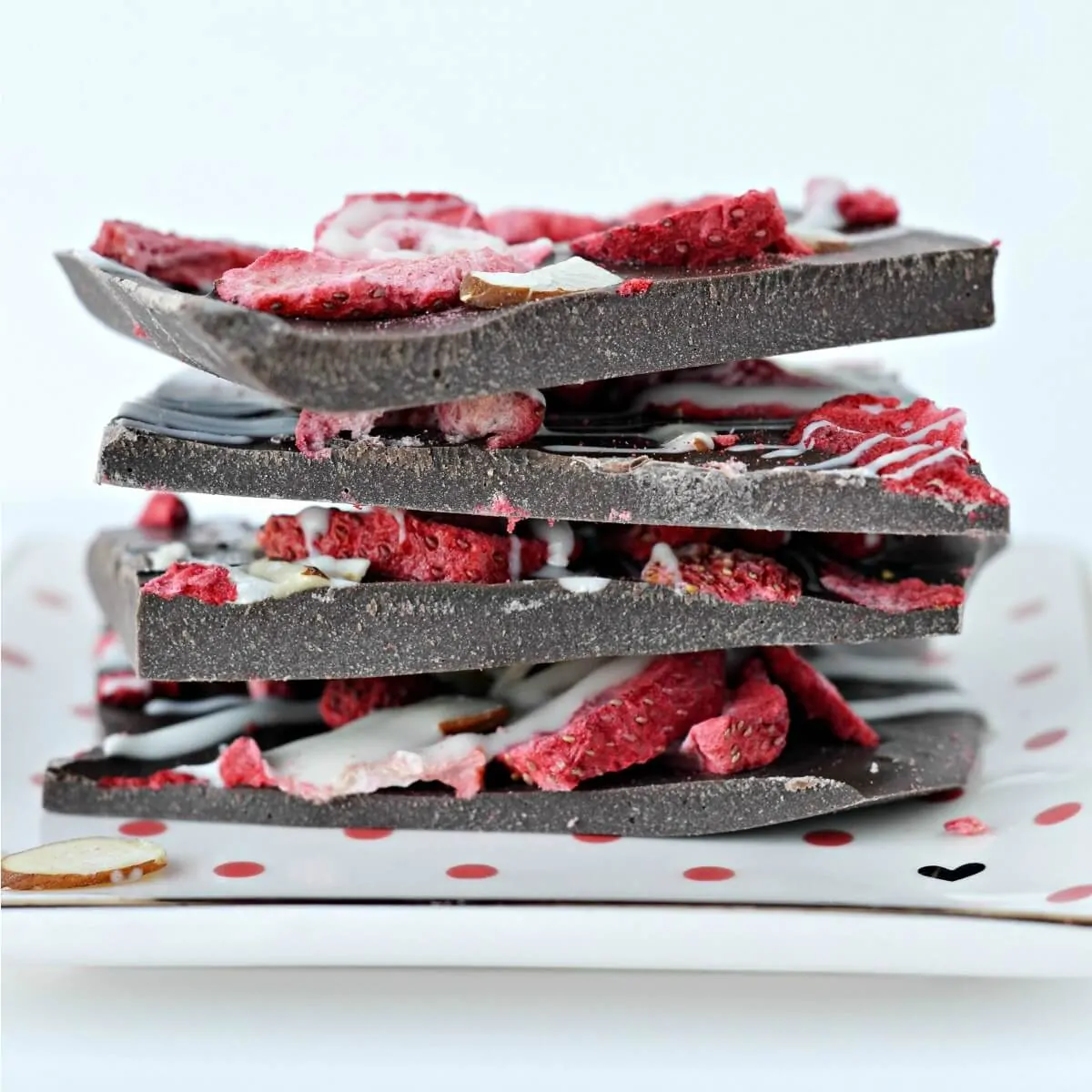 You'll Also Love These Valentine's Day Treats
Pin it for Later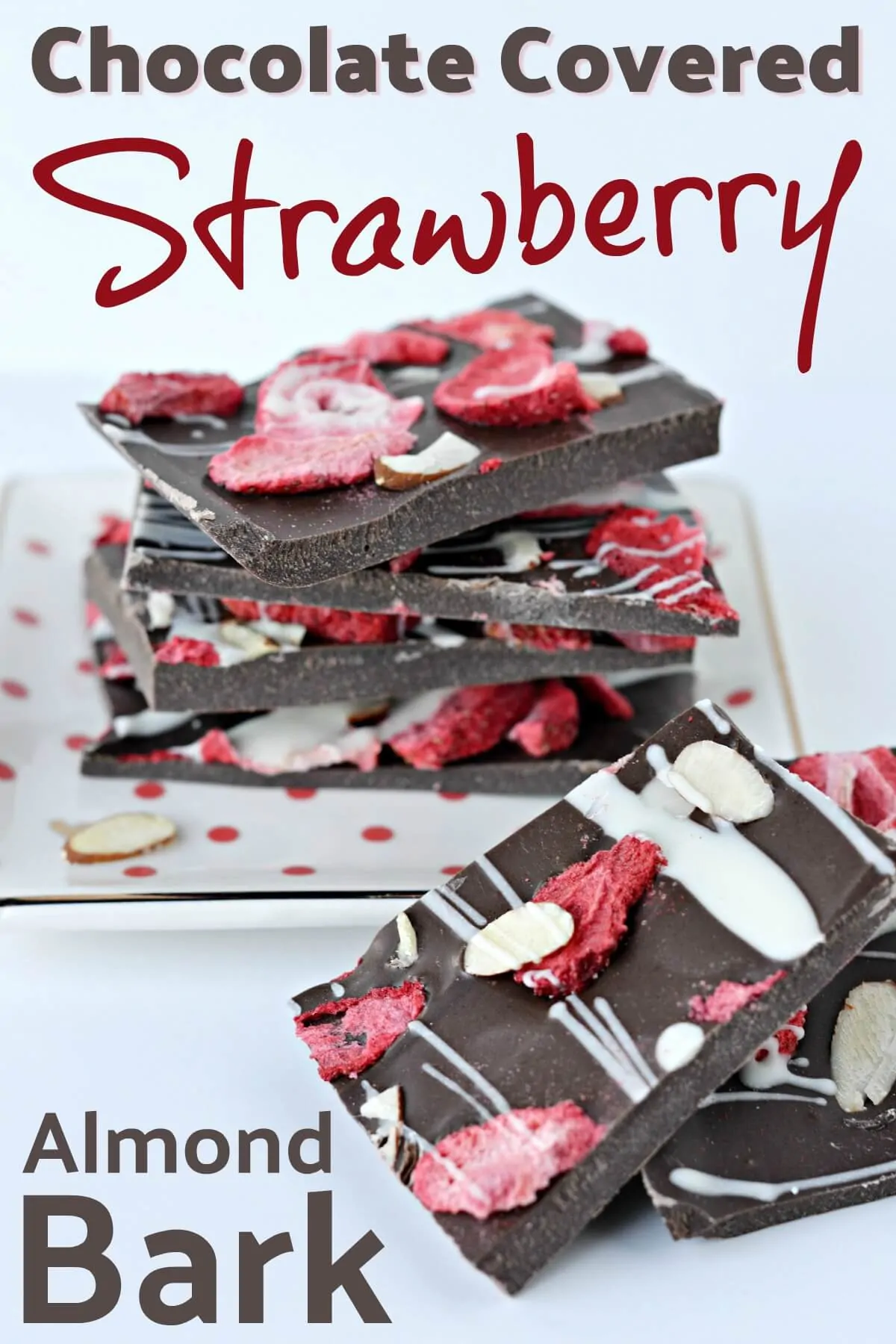 Valentine's Day Giveaway
We're giving away a $50 Amazon Gift Card to treat yourself on Valentine's Day. Open to both US and Canada. We're sponsoring this giveaway and providing the prizing ourselves.
The entry form is in our Valentine's Day Gift Guide for Women blog post.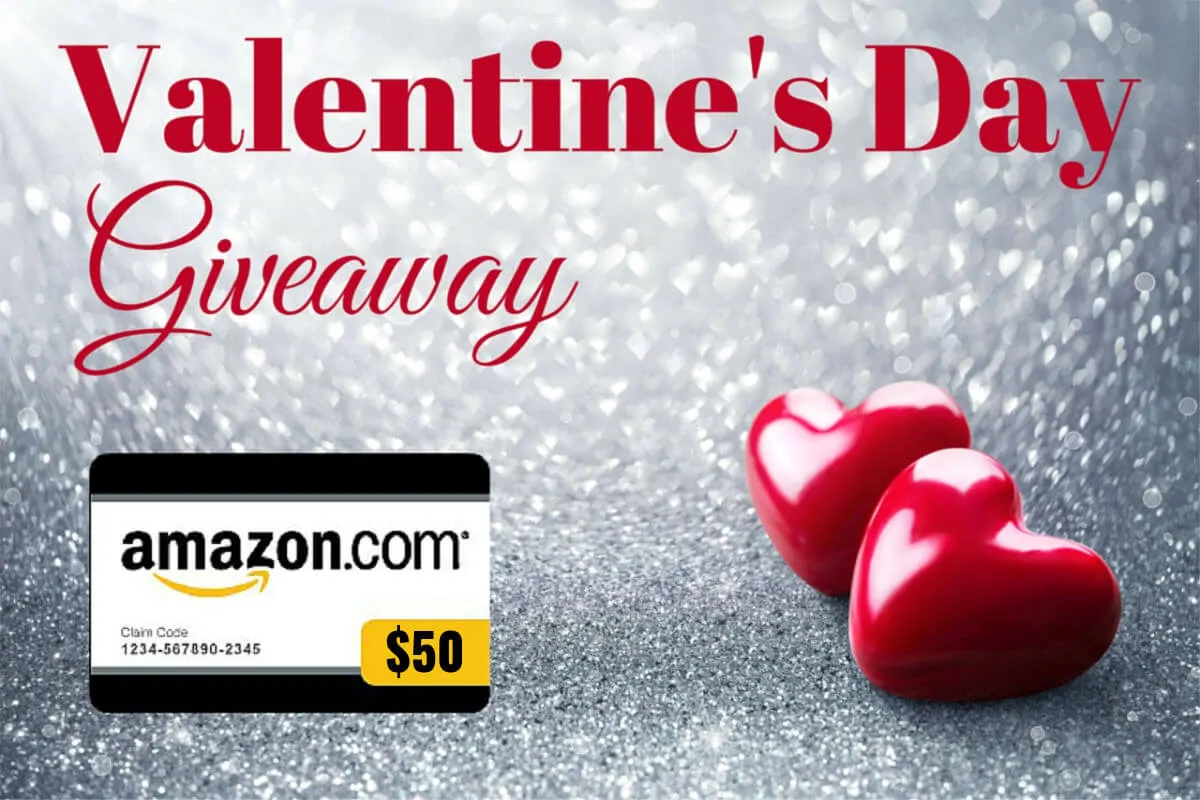 Also, be sure to enter to Win a Craft Paint Prize Pack worth $50 here…
Valentine's Day Gift Guides
Find more Valentine's Day gift ideas…