This post may contain affiliate links. Read my disclosure policy here.
It's that time again. This week we are closing the Intelligent First Aid giveaway.
Please remember to add contests5m4m(AT)gmail(DOT)com to your "Safe Senders" list or address book, to ensure that your notification is not marked as SPAM.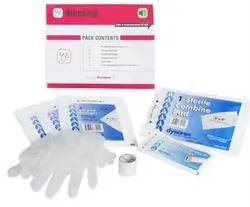 The Intelligent First Aid™ kits are here to help you through many common emergencies. From bleeding to shock, Intelligent First Aid™ kits guide you through important steps to help an injured person, in the first few critical minutes before professional help is available.
The audio's calm voice will help you to relax and the step-by-step instructions will ensure that you don't forget any important steps.
Comment Number 264 – Snarky A., will receive an Intelligent First Aid kit!

Congratulations! You should have received an email about claiming your prize.

If you haven't received an email, please send your FULL NAME, SHIPPING ADDRESS, and TELEPHONE NUMBER to contests5m4m(AT)gmail(DOT)com by Wednesday, December 9th in order to claim your prize. Any prizes unclaimed will be forfeited and a new winner or winners will be selected.