This post may contain affiliate links. Read my disclosure policy here.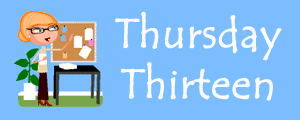 Banner by Chaotic Home
13 Things That Stress Me Out
My son whining
Fighting with my husband
When my son gets up at 6am for the day
Dinner time and I have nothing prepared
Money
Laundry
The to-do list that is so long I can't bear to write it down
Tech problems
Paper work
Being tired
Having people/family over for dinner
Finding babysitters
Time to post my T13 and I got nothing!
Get the Thursday Thirteen code here!
The purpose of the meme is to get to know everyone who participates a little bit better every Thursday. Visiting fellow Thirteeners is encouraged! If you participate, leave the link to your Thirteen in others comments. It's easy, and fun! Be sure to update your Thirteen with links that are left for you, as well! I will link to everyone who participates and leaves a link to their 13 things. Trackbacks, pings, comment links accepted!
View More Thursday Thirteen Participants