This post may contain affiliate links. Read my disclosure policy here.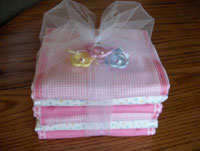 Barb at Chelsea Morning has the most adorable burp cloths she just made – along with step-by-step instructions (yes photos too!) on how to make them yourself.
I love this impromptu sewing lesson and just had to pass it on to you.
So whether you and your sewing machine are old friends, or you are barely on speaking terms – this project will get you inspired and successfully completing a perfect baby gift project in no time!
(Oh I wish I had an hour or two to visit with my sewing machine! It has been so long and I really would love to do a fun project like this.)
PS – Our site has crashed a few times today. I am so sorry for the inconvenience. I spoke with our hosting company and apparently they were having some server troubles. Hopefully our site will be okay now…