This post may contain affiliate links. Read my disclosure policy here.
When it comes to mealtime, I need help!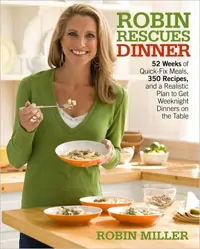 And so when I heard about Robin Miller's new book, Robin Rescues Dinner, I hollered, "Yes, Robin! I need you to rescue dinner at my house!"
I received Robin Rescues Dinner and had a chance to interview Robin for a podcast. (Click on the arrow on the podcast button below to listen to our interview.)
Chatting with Robin and reading her book inspired me to break out of the recipe ruts I am in with my family. I am so busy and I have so little time and energy for meal preparation.
But as a busy mom of two young boys, Food Network Host, Robin Miller, understands the need for quick meals! It is life as a busy working mother that inspires her to create easy to prepare meals for families.
And because she recognizes that sometimes moms need shortcuts, Robin teamed up with Tyson Foods to promote their ready to eat Tyson Grilled Chicken and Steak Strips. With these lean, preservative free, recipe-ready products, we can add protein easily to dinner and lunches. And with Robin's creative, quick recipes, we can keep our family interested with all sorts of new recipes. Robin has over 350 recipes in Robin Rescues Dinner.
If you want to hear Robin's tips for rescuing meals – including some great brown bag lunch tips! – listen to my podcast below with Robin, enjoy the recipes I have included below, and pick up Robin's book, Robin Rescues Dinner.
[display_podcast]
Mozzarella Pockets with Tomato, Basil, and Grilled Chicken
Recipe Courtesy of Robin Miller and Tyson Foods

Recipe serves 4
Prep Time: 3‐5 minutes
Cook Time: 30 seconds (if heating in the microwave)

Ingredients
4 whole wheat pita pockets
12 ounces Chipotle‐Honey Mustard Chicken* made with Tyson® Fully Cooked Grilled Chicken Strips
6‐8 ounces sliced part‐skim mozzerella cheese (regular or smoked)
16 slices fresh beefsteak tomato (about 2 tomatoes)
⅓ cup packed fresh basil leaves
4 teaspoons balsamic vinegar
4 teaspoons olive oil

Preparation Instructions
1. Halve each pita pocket.
2. Stuff chicken into pita pocket halves and then add mozzarella slices, tomato slices, and basil leaves.
3. Drizzle in balsamic vinegar and olive oil (1/2 teaspoon each per pita pocket half).

NOTE: For a warm sandwich, microwave on HIGH for 30 seconds.

* See the recipe for Chipotle‐Honey Mustard Chicken, and use the leftovers in the recipe above.

Chipotle‐Honey Mustard Chicken
Recipe Adapted from Robin Miller's Cookbook, Robin Rescues Dinner

Recipe Serves 4*
Preparation Time: 5 minutes
Cook Time: 3‐5 minutes

Ingredients:
½ cup honey
1 tablespoon olive oil
1 tablespoon minced chipotle chiles in adobo sauce, plus 1 teaspoon sauce from the can or jar
2 teaspoons Dijon mustard
4 packages (6 ounces each) Tyson® Fully Cooked Grilled Chicken Breast Strips

Preparation Instructions:
1. In a small bowl, whisk together the honey, oil, chipotle chiles with their sauce, and Dijon mustard.
2. Put the sauce and chicken in a skillet over medium heat and bring to a simmer. Simmer for 3‐5
minutes, until hot.

*With leftovers remaining to make Mozzarella Pockets with Tomato, Basil, and Grilled Chicken
*I received a review copy of Robin Rescues Dinner.