This post may contain affiliate links. Read my disclosure policy here.
Christmas trees are the center of holiday decorations. We love seeing how different people decorate their trees. So our team here at 5 Minutes for Mom searched the blogosphere to share 15 unique Christmas tree themes. Get inspired by these clever bloggers and click through to their sites to see their fabulous creations.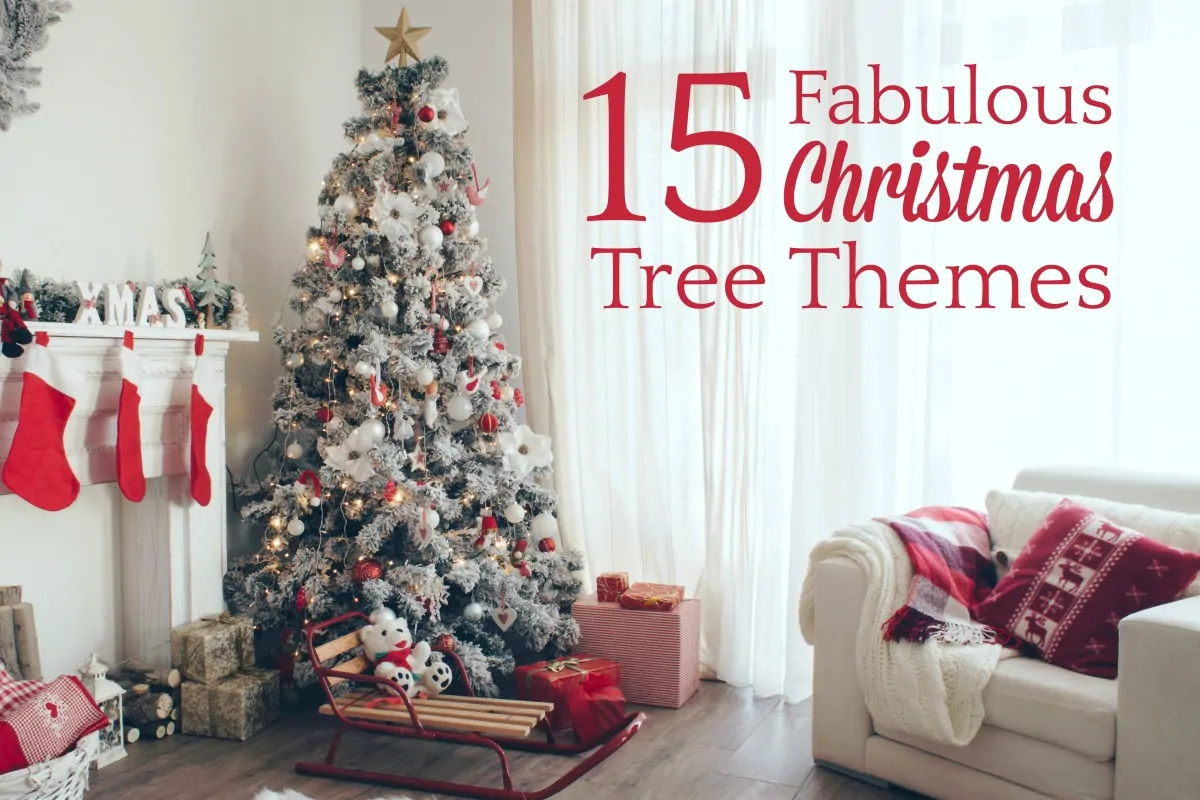 1. Twelve Days of Christmas Advent Tree
This tree is all done with red and white and looks so festive. The added touch is to have boxes with numbers on them to represent the twelve days of Christmas. Then you can add candy canes to the red and white theme with snowflakes too. Against the green of the tree it is stunning. The glitter letters to spell out the "Twelve Days of Christmas" is the final touch. See this tree theme at Tatertots and Jello.
2. Rustic Lumberjack Christmas Tree
Create a rustic looking tree with berry sprigs, antler sprigs, pine cones, galvanized hearts and snowflakes, white christmas balls, chalkboard ornaments, red and black ribbon and large wood Christmas balls. It is colorful but very rustic and when wrapping your presents for underneath follow the same theme on your packages and you will love the final look. This tree theme was created by Love the Day.
3. Birds and Berries Christmas Tree
A tree with a bird and berry theme is cute and has great colors. You will need cardinals, white lights, red berries and white berries, plaid and burlap ornaments, small bird nests with snowballs, plaid ribbon and assorted coordinating ornaments. The ribbon cascading down the tree is a final beautiful touch. Check out this tree design at DIY Showoff.
4. Santa Inspired
A Santa tree is a true inspiration with red ball ornaments, santa hats, candy canes, sprigs of white branches and ribbon. Make or purchase some red ornaments that have a Santa belt around the middle for a nice touch. A Santa hat placed as your Christmas tree topper makes it fun and whimsical. This tree was created by Seasonal Wonderment.

5. Gingerbread Christmas Tree
A tree with gingerbread ornaments made by you and your family makes an adorable tree. Add colorful ornaments to match your favorite colors with ribbon. I love to have a theme and then go shopping and create as I go. This tree is fun for the children to help create. Claire Days created this tree design.
6. Sophisticated Woodland Wonder
A tree with a touch of sparkling gold to it, deer antlers for that rustic look and use lots of neutral colors for a rustic charm look. I liked using the beautiful country ribbon I found for an added touch. I made a tree skirt in the neutral colors to match. The final product is rustic elegance. Use neutral wooden ornaments to make it stand out. Find this tree at Kirklands.
7. Mickey Mouse on a White Tree
If you decide not to go with a fresh cut tree you might want to consider a white tree. This tree will have your imaginations soaring. The look was created by using a white tree, a giant stuffed Mickey Mouse taken apart with pvc pipe making the arms and legs stiff to attach to the tree. Then stuffing the head to put on top. Add lights, red and black ornaments and you will have a Mickey Mouse tree. A fun one to develop. This Mickey Mouse tree was designed by Country and Victorian Times.
8. Pink Christmas Tree
This is such a cute tree for a child's room to have a beautiful pink Christmas tree. This is a white tree that has been spray painted pink. Then add pink roses, white ribbon and white ornaments for a final all pink tree. It also uses strands of white pearls as garland. It has a fun angel on top with pink trim. A fun tree to make that can be repurposed each year. This tree was created by Shabby Chic Treasures.
9. Rainbow Tree
A decorated tree made basically of glass ornaments in all the colors of the rainbow. Start with one rainbow color at the top and work your way down. Mix in some white ribbon and gold at the top for your pot of gold. Any other small decorations can be added if you match up the colors of the rainbow.i like it with small off white twinkle lights. This is a creation by Inspired by Charm.
10. Red and Gold Christmas Tree
Red and gold are classic colors for a simply designed tree that your children can decorate themselves. Janice's tree uses simple decorations including many that have seen year after year of Christmas celebrations. They use a lovely artificial tree, so each year it ends up looking very similar to the previous years. The kids love having the tradition of seeing the same decorations each year. See the Red and Gold tree here on 5 Minutes for Mom.
11. Blush and Copper Christmas Tree
Blush colored ornaments with white garland are beautiful on this fresh cut tree. Add white twinkle lights, blush and white ornaments and pinecones painted copper. Add your choice of a blended color of ribbon and it presents with a cool refreshing peaceful color for your tree. Craftberry Bush shared this tree.
12. Candy Themed Christmas Tree
A tree decorated with candy can be fun and certainly colorful. You can use wrapped candy canes or fake ones, wrapped candies, make candy garland, fake candy canes, candy shaped ornaments and glue candy together to make an ornament. Add your choice of lights and a fun tree topper to match the theme. A striped ribbon looks great to pull the fun look together. See this design on DotCom Women.
13. Angel Tree Christmas
A beautiful tree decorated with an angel topper and angel wings. The white twinkle lights, white ornaments, and white feathers add a great touch. Finally with white wide ribbon and angel tree ornaments that can be purchased with the wings in most craft stores. This tree is so pretty at night so enjoy. Find this look here on Dotcom Women
14. Red Hot Christmas Tree
Red is the best color for a traditional Christmas tree. This tree has it all with red baubles, red ornaments, gold garland, golden brown ribbon, red fill in ornaments and small gold ornaments. Then add red bows and a tree topper of red and gold. Use red or white lights to highlight all the color. There are so many things you can add on made out of red construction paper like snowflakes or candy cane shapes. This is another creation by Dotcom Woman
15. Kids Handmade Ornaments
When you have children, it's wonderful to make Christmas ornaments together as a family activity and then decorate the tree. While some handmade Christmas ornaments may not be so elegant, you can also create classy looking pieces together. Work together with your kids to make these fantastic ornaments that Tiffany from Peanut Blossom created.
Or if you want to skip the actual tree and make your own DIY Christmas Tree, check out our DIY Christmas Tree Decor and Photo Background
Pin it for Later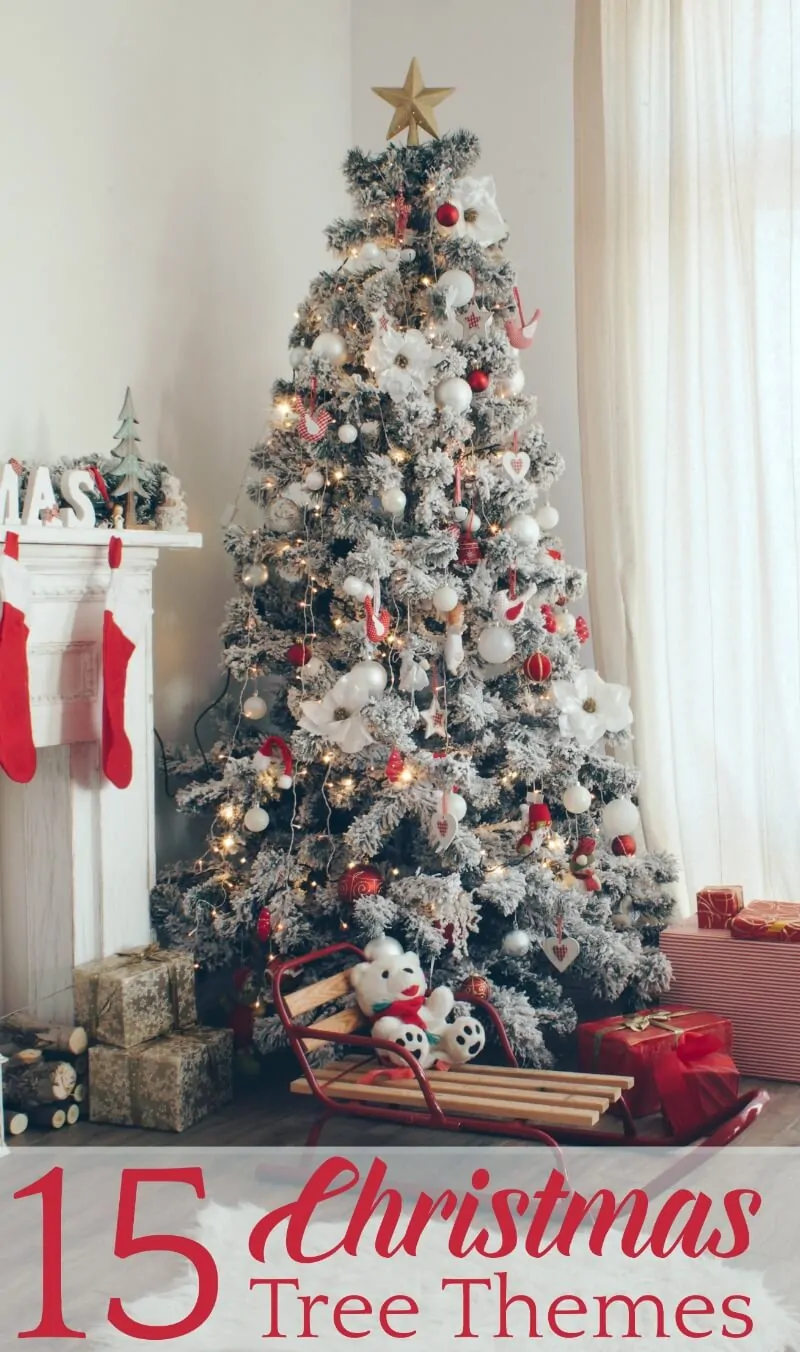 Written by the team at 5 Minutes for Mom
Talk with us: @5minutesformom and Facebook.com/5minutesformom
Pin with us at pinterest.com/5minutesformom