This post may contain affiliate links. Read my disclosure policy here.
Learning first aid or buying a first aid kit is one of those things that we'll all do tomorrow… or the next day… or the next… really… we will… soon.
Well, there's not many tomorrows left to enter to win a complete Talking First Aid kit from Intelligent First Aid. Our final Talking First Aid kit giveaway ends on Friday!!!
But, don't wait to win… Click over right now and order one or more Talking First Aid kits. You'll want to have a full size kit at home and a travel one in each of your cars. And if you win, you can surprise a loved one with their own kit.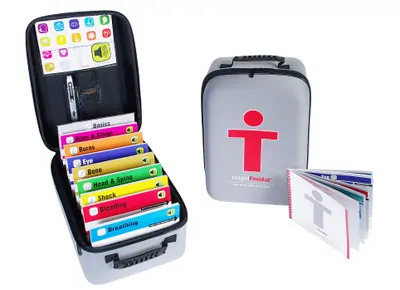 I think the travel size kits make perfect gifts for all your loved ones that you hate trying to buy for. Everyone needs one (or more) and what better way to show your love.
Right now you can get 15% off AND Free Shipping — use Coupon Code BESTGIFT.
I recorded a quick video to show you the kit and share with you a story where I had a scary reminder of the need for first aid skills.
For your chance to win, leave a comment on our Intelligent First Aid page.
And then, click over to IntelligentFirstAid.com and stock up on First Aid Kits for your family and everyone you love.
Remember you can get 15% off AND Free Shipping — use Coupon Code BESTGIFT.
* This post is part of a paid campaign with Intelligent First Aid™. Intelligent First Aid™ provided Janice, Susan and Erica with first aid kits.
Written by Susan, 5 Minutes for Mom co-founder
Do you receive our weekly newsletter?