This post may contain affiliate links. Read my disclosure policy here.
Do your kids, tweens and teens need a new computer? Are you wondering what type of laptop to purchase? Should you save money and buy your kids a Chromebook instead of a Windows or Mac laptop?
This post is sponsored by Acer.
Last year we showed you how impressed we were with the Acer Chromebook and now we're thrilled to tell you about the newest model – the Acer Chromebook 15 CB515-1HT-P39B.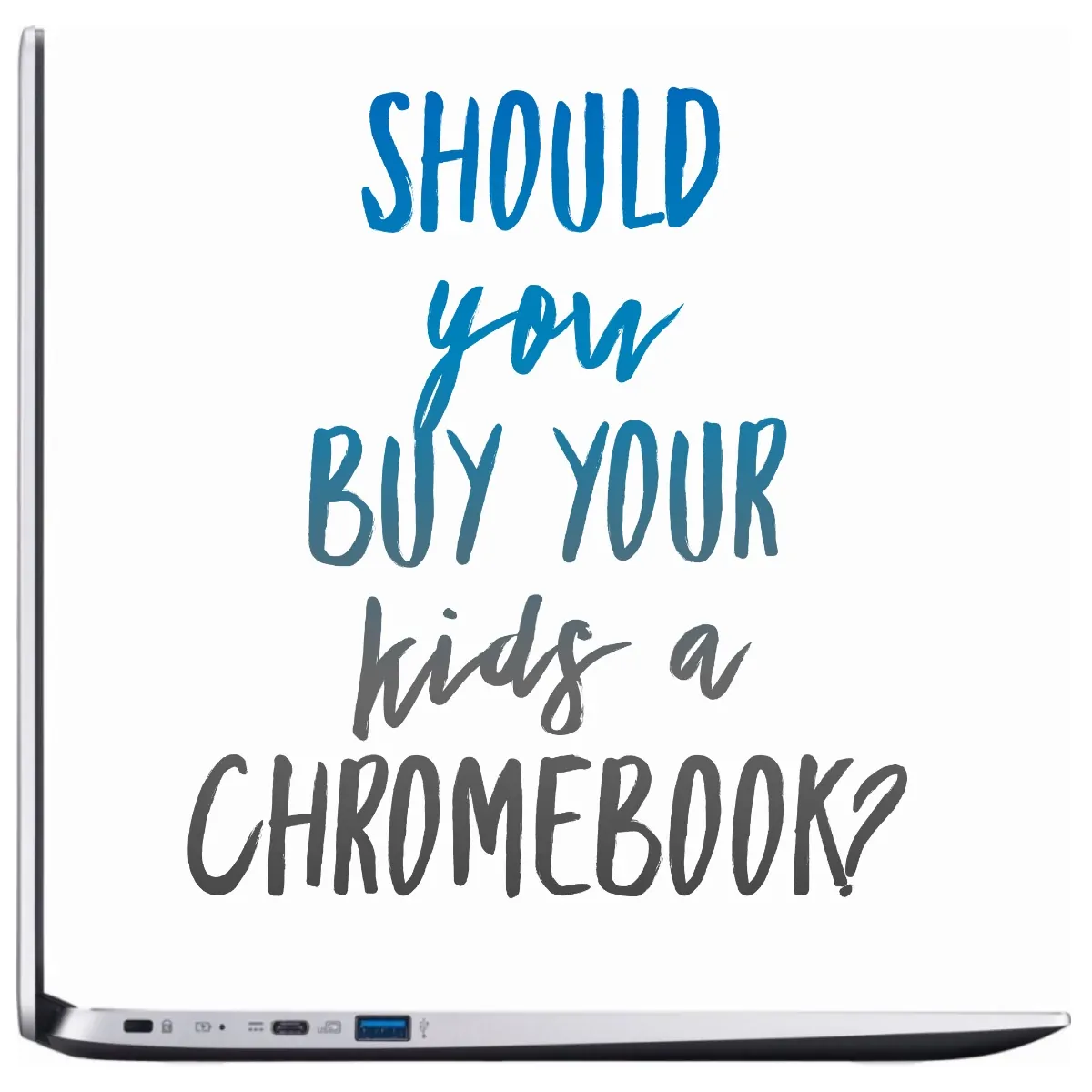 If you're like us and trying to stretch your holiday budget as far as you can, you'll love that you can get the Acer Chromebook 15 CB515-1HT-P39B for only $349 right now at Best Buy. (The retail price is $399.) It has a 1920 x 1080 full HD display, Intel Pentium processor, 4GB of memory and 32GB of internal storage.
These lightweight devices are perfect for moms on the go… it's great to toss your Chromebook in your purse so you can be productive while you're waiting for kids at all their after school activities.
But we especially love letting our kids use a Chromebook so that they can watch YouTube and play games on it instead of begging to use our work laptops.
Most importantly, kids can use their Chromebook for their homework.

These days by the times kids get to middle school, they usually need to use the Internet for research and other applications for their homework. In the past the main option for word processing was Microsoft Word, but now kids can use Google Docs and keep all their homework assignments in the cloud.
Since Janice and I work online, we can't let our kids play on our machines or depend on them for their homework. So they need their own computers… and that's when a lower price point device saves the day.
Janice's 10 year old daughter Olivia has been happily using her Acer Chromebook for the last year. It does everything she needs.
Now this new model, the Acer Chromebook 15 CB515-1HT-P39B, has a stunning 15.6-inch display, which is 27 percent larger than 13.3-inch Chromebooks on the market.
(Acer is the only Chromebook provider in the industry with a model with a 15.6-inch display.)
For moms using the Acer Chromebook to work on the go, the larger screen size means you can work better and faster with multiple tabs and apps in view.
And your kids will love watching their favorite YouTubers on the bigger screen.
If you're a power user who depends on a Windows or Mac laptop with a suite of programs including photo and video editing software, a Chromebook can't replace your main machine. But it is an awesome second computer to take with you during daily outings or traveling.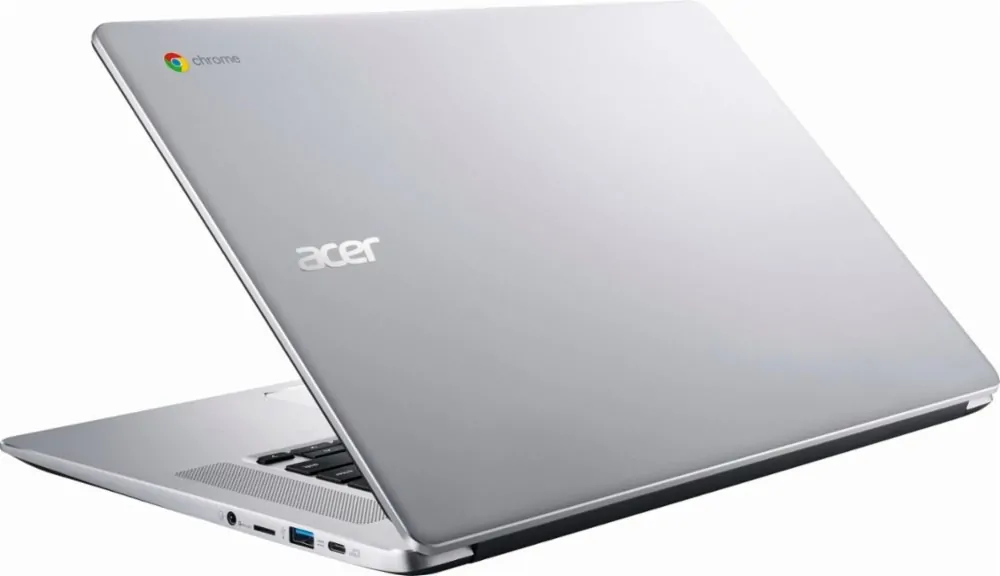 If your kids are young, then getting yourself a Chromebook to use as a second laptop that you can let them use when they need it will make you all be happy.
Depending on the age of your children, a Chromebook might fit all their needs. For teenagers in the later years of high school, you should discuss what programs they need to use to decide if a Chromebook will work. If they are editing videos or using certain applications, you may need to spend more money to buy a Windows laptop or a Macbook.
Personally, I think try to save your money when you can. Unless your kids really need a full powered machine, get a Chromebook and put the extra money towards saving for those ridiculously high college tuition fees.
Pin it for Later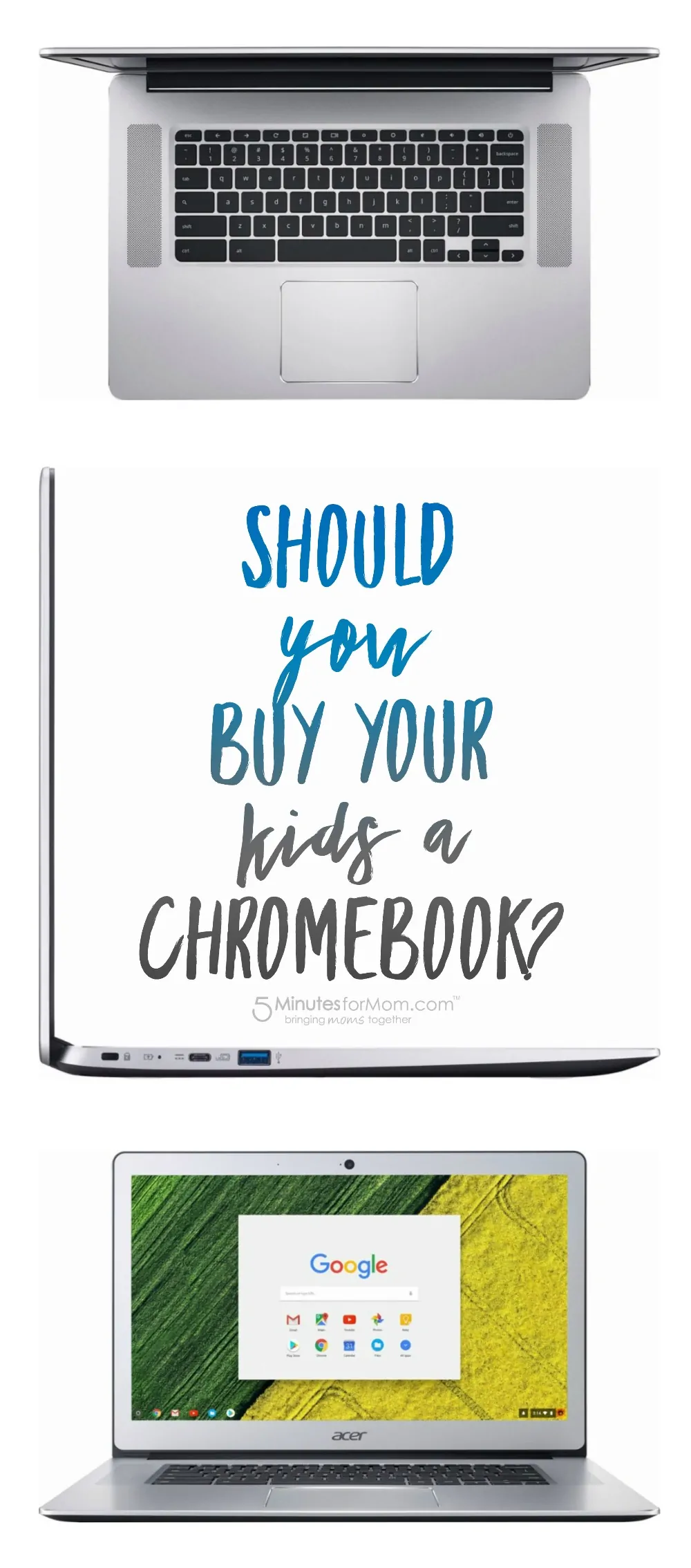 Disclosure: This post is sponsored, so extra thanks for reading and sharing.
Written by Susan Carraretto, co-founder of 5 Minutes for Mom
Talk with me: @5minutesformom and Facebook.com/5minutesformom
Pin with me at pinterest.com/5minutesformom