This post may contain affiliate links. Read my disclosure policy here.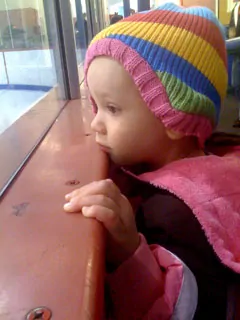 Today, I made an almost fatal parenting mistake – one of those "I only turned my head for a second" mistakes that could have ended my world.
I was trying to keep Olivia both contained and entertained at Jackson's hockey practice.
The crayons, snacks, and "waving at Jackson on the ice" tricks had lost their appeal and Livvie was tearing from one side of the arena to the other.
I stood in the middle of her tracks, chasing her, picking her up and trying to drag her back to "watch Jackson."
At one point, she was running down a short ramp lined with candy machines that led to a couple dressing rooms. It was a dead end, with nowhere for her to go. She generally just turned around at the end and ran back or stopped to play with the candy machines.
I was talking to a friend and watching her race about like a caged animal. I suppose I was somewhat lulled into a false sense of security by the familiarity of our surroundings and the fact that she really didn't have anywhere she could go.
But I was terribly wrong.
She did have somewhere she could go… I had forgotten about the automatic sliding front doors that would open even for an unaccompanied toddler.
I suppose I must have turned my head for a second. I must have looked away for a moment. When I didn't see Olivia come running back and I didn't hear her little squeal, I raced down the ramp to the dressing rooms to see if she had run in there.
But she wasn't there. She wasn't anywhere.
I panicked.
I started screaming for Olivia and raced back and forth looking for her. I checked the dressing rooms. There was nowhere else for her to go! It was a dead end! How on earth could she have just disappeared?!?
My mind went everywhere a parent's mind goes in those moments. Had someone taken her? How had they gotten past me? How could she just disappear?
As I frantically searched and called out for Olivia, I heard my friend, "I have her!"
I raced back up the short ramp and saw my friend holding Olivia on the staircase next to the front doors. These stairs were right near where I had been standing watching Olivia. How had Olivia gotten past me? How could I have not seen her run up there?
I tore up the stairs and hugged Olivia, holding her and telling her how she had scared me. I was shaking with relief and disgust over what I had almost let happen.
When I got home and told Phil about what had happened, he immediately thought of the automatic front doors — the doors that opened right into the parking lot. I was nearly physically sick when I thought about it, when I realized how quickly she could have run out those doors and been hit by a car in the dark night.
I had thought I was watching her. I had thought she couldn't get past me. But somehow I had missed it. I hadn't been concentrating enough on her, and with her toddler speed, she had slipped past me.
Thank the dear Lord she chose the stairs for her escape, not the front doors. But it was that close. For those few moments, I had no idea where she was. I had let my two year old out of my sight and I nearly lost her forever.

I feel terrible even admitting my mistake. A part of me wants to never tell anyone what I did. But I want to remember so I don't do it again, so I don't allow myself to be distracted for even a second when I am watching my children.
It is so true. It only takes a second for tragedy to happen. Tonight, I am thanking God that I got off with a warning and my daughter is safe.
Note: Sorry for the terrible photo quality! I took those shots on my iPhone.