This post may contain affiliate links. Read my disclosure policy here.
For an activity meant to make memories, scrapbooking has a reputation for being tedious and meticulous work, which is why so few people undertake it anymore. Knowing that, why would anyone try to do it with small children? It just sounds messy and stressful.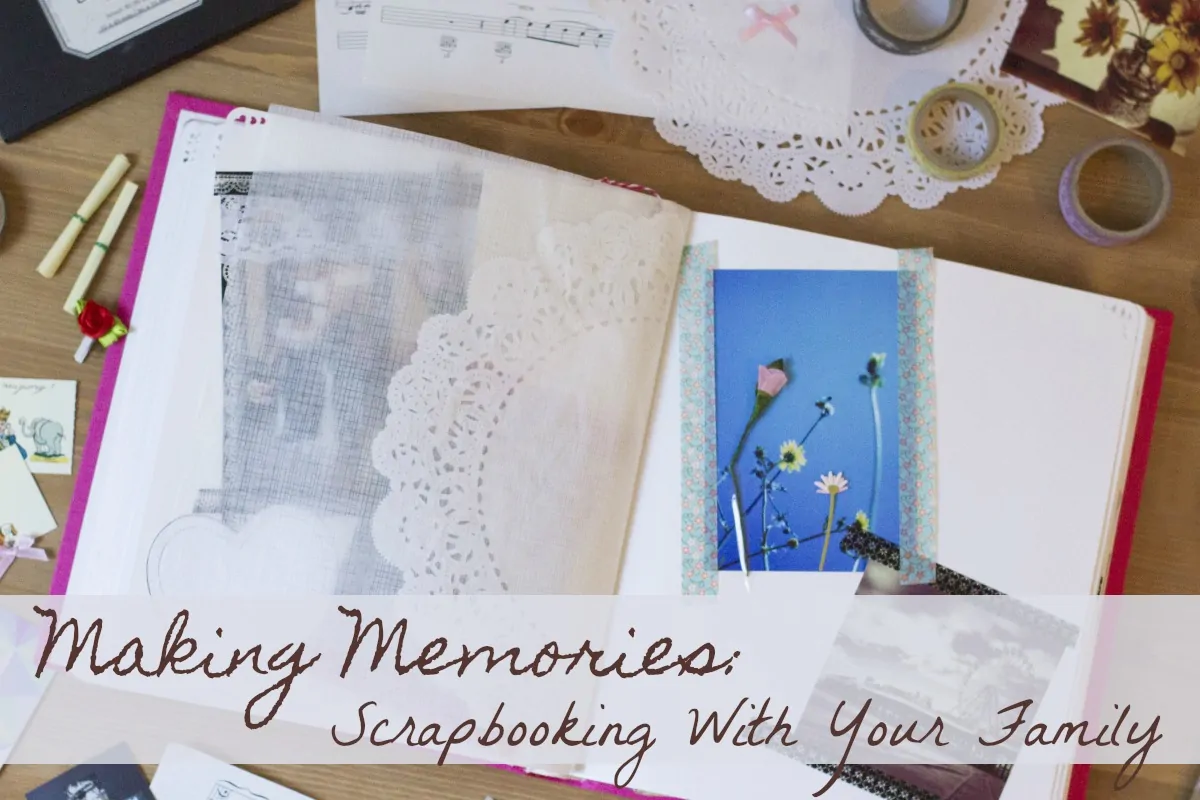 Simply put, scrapbooking doesn't need to be that flawless piece of art you see all over Pinterest. Rather, like finger painting or splashing in the bath before bed, scrapbooking can be fun, messy, and create as many memories as it records.
Lower Your Expectations
The most important thing to do when taking on a scrapbooking project with kids is to lower your expectations and forget about perfection. Just like you can't expect a four-year-old to always color inside the lines, they also don't have the fine motor skills to cut things out perfectly or glue everything straight on the page. Your scrapbook should look like your child was part of making it and that means being open to the mistakes and quirks.

Go High Tech
If you feel overwhelmed by all the supplies (and expenses) involved in scrapbooking, consider starting out with a digital approach. Programs like Smilebox make it easy to plug photos into a template, add text, and even include music. Going digital is a great way to gauge whether making scrapbooks is something your family is interested in without buying all the paper, stickers, and add-ons that go with this kind of project.
Get Focused
It's easy to get overwhelmed when scrapbooking with kids, so give everyone a specific task to work on as part of the project. Young children might sort photos or pick our embellishments while older kids might write the text or glue the selected photos onto the page. The idea is to give your children tasks that suit their specific skill set, otherwise, they're likely to get frustrated and abandon the activity.
Don't Forget The Keepsakes
Scrapbooks don't need to just be photos. In fact, historically these projects were full of ephemera like ticket stubs, booklets, show programs, and certificates. Your modern scrapbook can do the same thing. Make copies of treasured items like children's handprints and footprints to add to the book to give contexts to your photos and memories. Your kids might also want to choose certain school projects or awards each year to put in the scrapbook.
Keep A Sense Of Humor
Your scrapbook should offer a glimpse at all sides of your family, so don't be afraid to include silly photos or awkward moments. Have a family picture where one of the kids looks totally grumpy? Make those imperfections features of your scrapbook and keep it lighthearted. As teens, your kids may look at these pages with embarrassment, but they'll laugh down the road. After all, the awkward moments are memories too.
Scrapbooking isn't for everyone, but even if you end up with a half-finished project, the time spent together will make it all worthwhile. So what picture captures your family in a nutshell? It could just be the starting point for your scrapbook.
Pin it for Later