This post may contain affiliate links. Read my disclosure policy here.
Thanksgiving is one of the most wonderful celebrations. Since Thanksgiving is not about presents, families and friends can focus on sharing time and love together as they enjoy a delicious feast.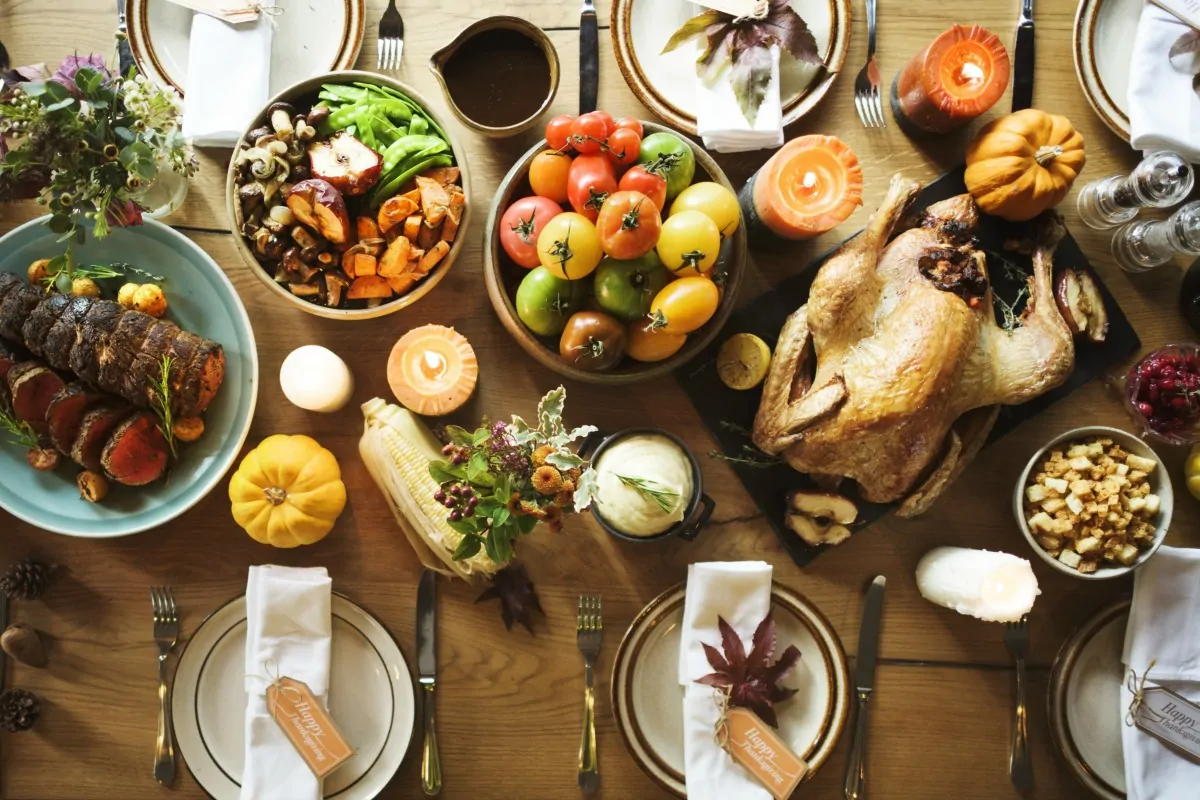 We're here to share some of our Thanksgiving dinner hosting tips as part of a sponsored campaign with Maytag. I'm Canadian, so we'll be having Thanksgiving on October 9th. But these hosting tips will be just as helpful for our American friends with their Thanksgiving on November 23rd.
Celebrating our blessings with family and friends should not be a stressful time. However, for the Thanksgiving dinner host, bringing together a large gathering of people and serving an elaborate dinner can be an extremely challenging task.
Our mother has hosted countless dinner parties including Thanksgiving, Christmas and Easter meals. Our childhood memories are full of such dinners where my mother served mouth-watering turkey with all the trimmings to our extended family and friends.
Even now, at the age of 76, our mother is still our family's Thanksgiving dinner host… although we do help, of course.
Janice and I have learned so much from our mom and we continue to be amazed at all she has accomplished and still keeps on doing. She may be 76, but she's not showing any signs of slowing down.
So we want to thank our mom for being such a wonderful example of the perfect hostess.
Dependable Hosting Tips for Thanksgiving
Whether you have an intimate gathering with a few family and friends, or you're hosting a huge dinner party with extended family, friends and associates, you want to be able to enjoy Thanksgiving too.

We've come up with 6 tips that you can depend on to help you host a wonderful Thanksgiving dinner…
Graciously accept help when it's offered.

Guests often want to bring a side dish or dessert when they're coming for Thanksgiving dinner. Instead of telling them not to worry, recognize that they sincerely want to help and thank them. Ask what they'd like to bring and keep a list so that you don't end up with duplicates.

Desserts such as pumpkin pie are perfect for guests to bring along and it will save you time. If you have a large number of guests attending, be sure to calculate how many pies you will need. You could have a few guests bring different flavours of pies.


Get help cleaning your house before the holiday.

You will be doing enough work preparing food and hosting the dinner.

Either enlist your family to help you clean, or treat yourself to a professional cleaning service.

Don't let yourself feel guilty for hiring a cleaner to help you. Especially if you work outside the home, or you work at home like we do as bloggers, your time has a price tag. It can be a smart decision to outsource housework, and Thanksgiving is the perfect time of year for it.


Take shortcuts.

Janice and I love cranberry sauce from the can even more than homemade cranberry sauce. So it's a perfect shortcut for our family.

When we were kids, our mother made the stuffing from scratch. But we've finally convinced her that our entire family is happy with pre-stuffed turkeys or stuffing from a box. Again, this shortcut makes sense for us.

But don't take a shortcut on your turkey cook time. Plan ahead for the amount of time you'll need to perfectly cook your turkey. Check here for turkey cooking times and tips.

Find where your own family is okay with cutting back on effort. You might discover that your family doesn't even notice that you didn't make the stuffing started in a box.


Keep hungry guests happy with appetizers.

If you're inviting family and friends to come early, be sure to have something for them to eat while they're waiting for dinner.

You want your guests to enjoy themselves visiting and not trying to cover up the sound of their grumbling stomachs. Try one of these Thanksgiving appetizer recipes.


Make the "kids' table" kid-friendly.

Many families are too large for everyone to sit at the main dining room table for Thanksgiving dinner. If you have young guests sitting at a "kids' table", make it extra special and mess-proof.

Put a plastic tablecloth both ON the table and UNDER the table. Give the kids plastic cups with lids and straws and label them ahead of time with their names. You may want to get disposable or plastic plates for the kids if you don't have enough dishes to go around. As a bonus, you won't have to worry about them breaking their dishes and you'll have less to wash.

You can even keep kids busy while waiting for dinner by setting them up with some fun and easy Thanksgiving activities for kids.


Keep the conversation away from politics.

Thanksgiving is not the time to talk about politics, but it can be tough if the conversation starts heading in that direction.

You likely know ahead of time if political disagreements are likely amongst your family members. So be ready ahead of time. If you know your brother and sister strongly disagree with each other, ask them kindly ahead of time to avoid talking about the news or politics during the get-together.

One of the best ways to avoid negative conversation is to trigger positive conversation. If you're going to be busy in the kitchen, perhaps ask one of your family members to lead everyone in a few fun games like charades, Pictionary, or even Ellen's famous guessing app, "Heads Up!" It might seem silly, but family board games can be great fun and loosen everyone up to enjoy a relaxed evening. If it's not too cold, get everyone outside and toss a football around or play a fun field day game together.

Depend on Maytag
Maytag is all about durability, reliability and power.
So when Maytag asked us to participate in their #DependOnMAYTAG campaign to share our dependable hosting tips for Thanksgiving, we were happy to join the party.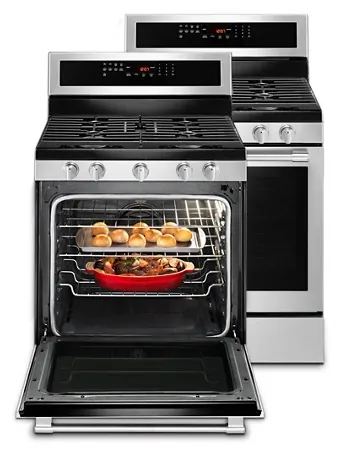 If you have Maytag kitchen appliances, you can be thankful that they're built for dependability and power. You also can thank their fingerprint-resistant stainless steel for keeping your appliances looking ready for company.
And If you're looking to upgrade your kitchen, be sure to check out…
We truly hope you have a wonderful Thanksgiving and that these hosting tips help you stay relaxed and able to enjoy your dinner party.
Pin it for Later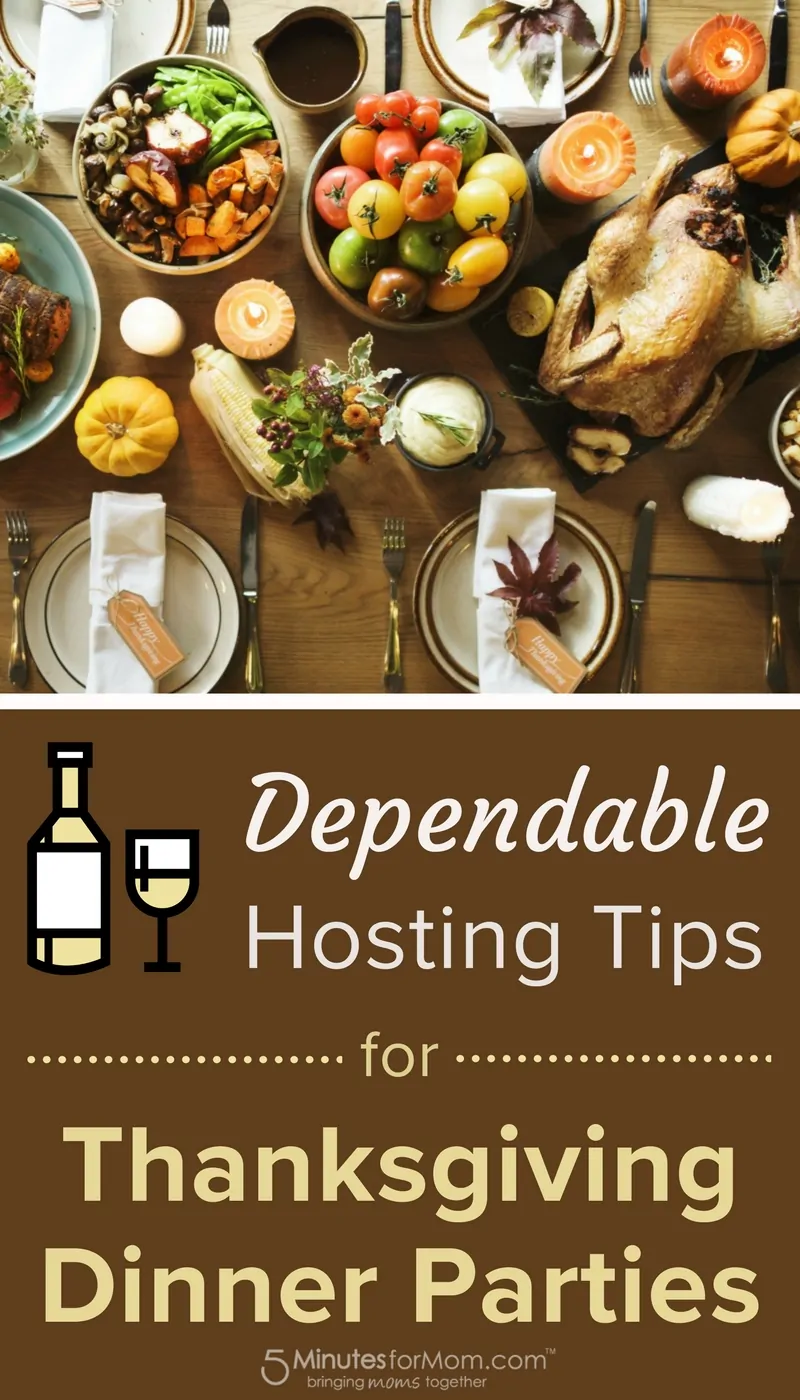 Disclosure: Whirlpool has compensated us for our services and our posts, but our opinions are our own.
Written by Susan Carraretto, co-founder of 5 Minutes for Mom
Talk with me: @5minutesformom and Facebook.com/5minutesformom
Pin with me at pinterest.com/5minutesformom