This post may contain affiliate links. Read my disclosure policy here.



Cheeky and Swank — for cheeky kids and swank parents. With a tagline like that, you just know you are going to love this mom-owned store!
I met Jenny Johnson, co-founder of Cheeky and Swank, last spring at Start Up Princess. Jenny is as irresistible as her store. She is warm, fun, and hip, with, of course, the perfect amount of swank!
Jenny is giving away two of her adorable magnetic bibs in our Christmas Giveaway. We will have two winners — and you get to choose which design you want!
The magnetic closure is brilliant! It is quick and simple with no more velco to scratch your baby's neck or ruin the clothes in the dryer! The 10″x13″ size gives great coverage for the active eater and the designer preshrunk cotton and chenille are stylish, as well as, soft and absorbent.
But there is even more than bibs at Cheeky and Swank! I just have to show you some more of Cheeky and Swank…
This September, when I was speaking at Touchpoint, Start Up Princess's Annual Conference, Jenny sent me home with the Perched Messenger Bag. Ladies — I squealed like a school girl!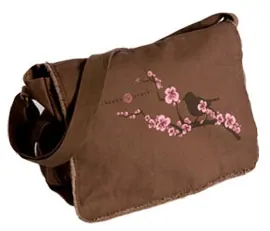 I LOVE THIS BAG!!!
I use it every day! It is perfect for the taxi-mom lifestyle. I can even throw in diapers, sippy cups and snacks!
The side pouches, inner and outer zip pockets, and clip for my keys keeps me from going nuts searching for my iPhone, hand sanitizer, keys and chapstick. Because really — a mom does not have time to search for essentials!
Oh and my favorite feature is the magnetic closures, because I bet you all can guess that I don't have time to be doing up buckles and snaps!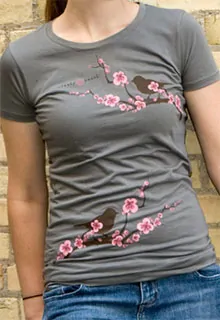 If you are looking for a casual but cool, everyday bag, tell your hubby you want this Perched Messenger Bag under your tree! At only $39.95, I bet you he might go for it. And he doesn't even have to leave the house. Bonus. (Just pretend you didn't notice when the box arrives in the mail.) 🙂
I also received the Perched T-Shirt in my speakers bag. And yes, I LOVE this item too!
The shirt is soft and thin, but not skin tight so it is still flattering for figures like mine that are NOT perfect. It is long and hides what I definitely need it to hide around my waist.
I also noticed Jenny tweeting today about her fantastic 50% Off Holiday Sale. With these incredible prices — such as beautiful shirts for $15 — I better start sending my hubby some links for under my own tree!
Jenny has also offered a discount too for our readers: Coupon Code "5minmom" for 15% off your entire order!
Let us know in the comments which Cheeky and Swank Bib you want!
See our Christmas Giveaway 2009 post to read more about
participating in our Christmas Giveaway

Either link back to this post and include a Christmas Giveaway 2009 button in that post or on your sidebar, or link to the individual giveaways you choose to enter. We have a ton of different buttons and styles for you to choose from. Click here to get the button codes. (If you post and include the button, either in your post or on your sidebar, and link back here, you are good for all the giveaways. No more linking required.)
You may earn additional entries for the following:
If you are already subscribed and are on our newsletter list, you qualify for these two additional entries. Go ahead and leave your additional comments below.
Spread the word to your friends via your blog, twitter, etc.
Remember to leave a comment for each thing you do!
Entries are open until Friday, December 4th at 12pm EST.
Our winner will be drawn randomly and we will announce the winner Saturday, December 5th. Please make sure to check our site and your email address to see if you have won a prize. We must receive your reply within 5 business days. (If you want your prize to arrive in time — the sooner we hear from you, the better!)
This contest is open to US shipping addresses. Due to legal restrictions, this promotion void where prohibited.
Please see our site's Terms and Conditions of Use for a complete list of our Contest and Giveaway Rules.
*I received one messenger bag for review and one t-shirt in a speaker's gift bag. Cheeky and Swank is also providing two bibs to giveaway.