This post may contain affiliate links. Read my disclosure policy here.


Traveling with children is hard. Kids get cranky, little legs get tired, and boredom quickly sets in.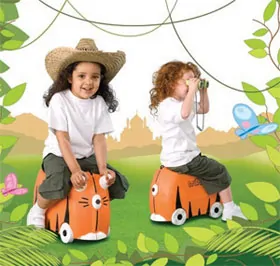 Trunki Ride-On Suitcases are here to solve those problems for weary little travelers (and their weary parents!)
This lightweight, carry on sized suitcase is pure FUN for kids. They can pack em, pull em, or ride on em! Trunki comes in a Ladybug or Tiger design, (retail $54.95,) as well as in pink and in blue design (retail $39.99.)
I received a review sample of the Ladybug Trunki and I love how light the Trunki is and how roomy it is inside. I can actually get some serious amount of stuff in there!
I am so excited to try the Ladybug suitcase out with Olivia on our next trip! I know she will love it. Only problem I forsee is Jackson hijacking it from her!
But I think my hubby and I will appreciate the Trunki the most!
After one trip with Jackson's kid-sized suitcase, I have never taken his little suitcase again! He inevitably gets too tired and cranky to pull it himself and so then we have to pull it. BUT, the handle isn't long enough for an adult! So, I am sure that the Trunki will make our whole family happier on our next trip.
Trunki Ride-on Ladybug 'Harley' Edition Features include:

Carry handle Quick to grab for a departure gate dash
Locking catches Stop toys falling into the wrong hands
Teddybear seatbelts Strap in the toys and stop them tumbling out when Trunki is open
Internal pouch For keeping little things tucked away and easy to find
Key Fixed to strap so it never gets lost.
Trunki passport Your new Trunki suitcase will come with its very own passport, which can be filled with exciting downloads, keeping tots entertained when Trunki has been stowed away.
Pack, Carry, Tow and Ride!
Airline approved for carry on
Great for storing travel essentials, snacks, toys and clothing
Integrated wheels and Horn grips
Strong and durable

Trunki Deluxe Luggage is designed specifically for children to use as a ride on toy. Your child can ride on and be pulled at the same time while traveling through airports, train stations, etc. Trunki Deluxe truely makes waiting in long airport lines a whole lot easier and a lot more fun too! Eliminate airport boredom and tiredness and purchase a Trunki Deluxe at FamilyTravelGear.com today.

Trunki Ride On Suitcase Specifications:

Holds up to 5 gallons of travel essentials
Weight is only 3.55 lbs.
Shipping Box Dimensions: 18.25″L X 8.25″W x 12.75″H
Carry's up to 110lbs.
Constructed of 100% polypropelene
Suitable for children from the ages of 3 to 6 years old
Four-wheeled
Built in stabilizers and secure catches
Sturdy enough for children to ride themselves
We have one Trunki Ride-on Ladybug 'Harley' Edition to give away here in our Christmas Giveaway event and one for Under the Tree!
See our Christmas Giveaway 2009 post to read more about
participating in our Christmas Giveaway

Either link back to this post and include a Christmas Giveaway 2009 button in that post or on your sidebar, or link to the individual giveaways you choose to enter. We have a ton of different buttons and styles for you to choose from. Click here to get the button codes. (If you post and include the button, either in your post or on your sidebar, and link back here, you are good for all the giveaways. No more linking required.)
You may earn additional entries for the following:
If you are already subscribed and are on our newsletter list, you qualify for these two additional entries. Go ahead and leave your additional comments below.
Spread the word to your friends via your blog, twitter, etc.
Remember to leave a comment for each thing you do!
Entries are open until Friday, December 4th at 12pm EST.
Our winner will be drawn randomly and we will announce the winner Saturday, December 5th. Please make sure to check our site and your email address to see if you have won a prize. We must receive your reply within 5 business days. (If you want your prize to arrive in time — the sooner we hear from you, the better!)
This contest is open to US shipping addresses. Due to legal restrictions, this promotion void where prohibited.
Please see our site's Terms and Conditions of Use for a complete list of our Contest and Giveaway Rules.
*We received one Trunki Ladybug for review, and Family Travel Gear is providing one to giveaway and one for Under the Tree.