This post may contain affiliate links. Read my disclosure policy here.
If you've ever used the phrase, "bread always falls buttered side down," or "life is what happens when you've made other plans," then you probably know that unexpected expenses could be just around the corner – whether you like it or not.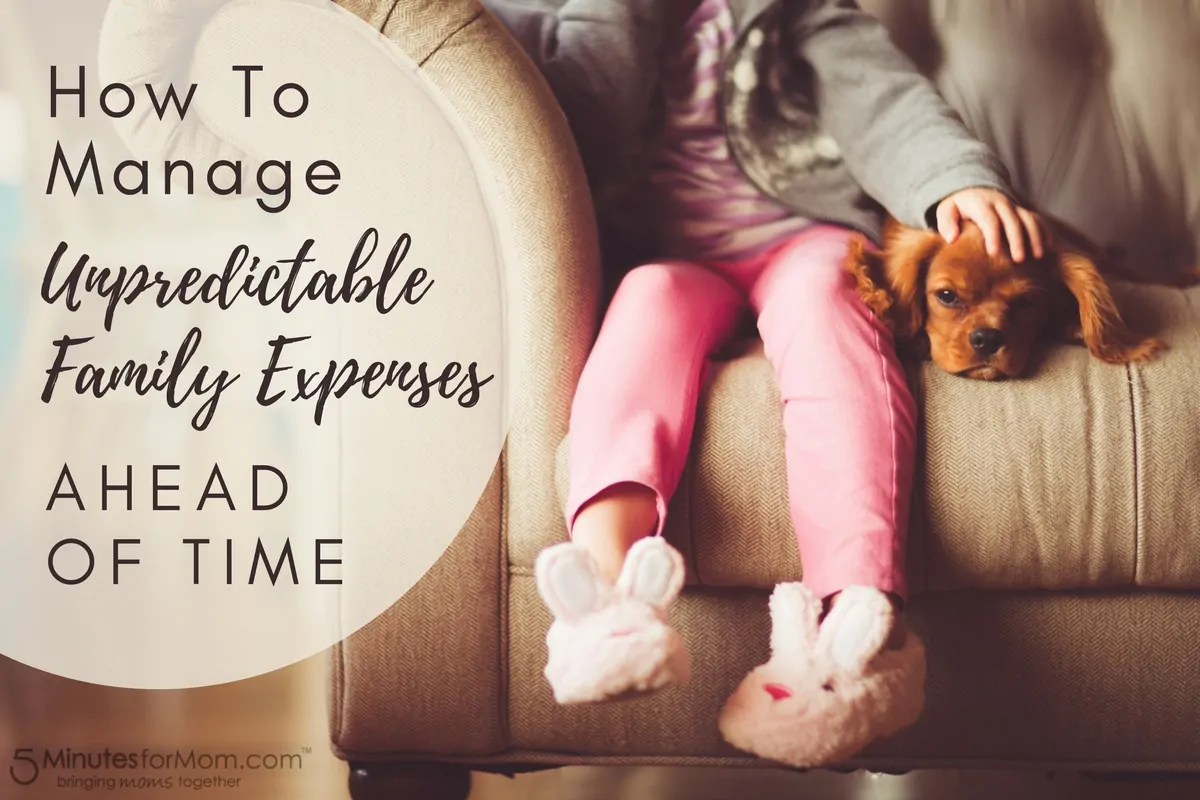 Some people refer to this as Murphy's Law – the idea that anything that can go wrong will go wrong. This seems to have some truth to it – however, just because something might go wrong doesn't mean you can't be prepared. In fact, if you have a family, it's your duty to be prepared for just about anything (especially if you have kids). The more people you have in your family, the more chance there is that something could go wrong.
Here are some of the most expensive unexpected family expenses that could pop, along with a brilliant method to help you prepare to have funds available for anything…
1. School expenses for your kids
Decades ago, schools paid for basic supplies like crayons, rulers, folders, paper, and even provided pencils for students who needed them. The only big expenses you had to worry about as a parent were admission tickets to museums for field trips, occasional supplies to build models of landmarks your kids were learning about, gym clothes, and the fees required to play on the school's sports teams.
Today, parents (as well as the PTA) are expected to pay for more than their fair share. In addition to making parents pay for basic daily supplies for grades K-12, they are further solicited for donations and fundraiser contributions that should be covered by the school district.

In 2014, for basic supplies, elementary school parents spent an average of $642, middle school parents spent an average of $918, and high school parents spent an average of $1,284. The difference is not just an increase in price – some schools require kids as young as 8 to own a tablet computer.
When your kids are seniors in high school, they'll have expenses for yearbooks, senior photos, graduation photos and gowns, ACTs, SATs, class rings, dances, and college application fees.
2. A medical bill that maxes out your insurance
No matter what paperwork you signed in the beginning, insurance policies are confusing and you never know what your insurance will cover until your claim is submitted. Sometimes all it takes is one medical bill to max out your insurance coverage.
3. Long term care for parents
At some point, it may become necessary to hire long term care for your parents, or other family members, and this type of care can be difficult to obtain. Although the care can be expensive and upwards of $7,000 per month, it can be covered by insurance or even the state, but they decide whether or not you qualify.
Unfortunately, many people are denied these services, not because they don't have the money, but because they make too much money or have too many valuable assets.
The ultimate money saving solution
Other unexpected expenses might include missing work without paid time off, an appliance that breaks down, car repairs, and even vet bills.
So how do you save money for these random expenses? In addition to saving money any chance you get, here's a unique idea that you can use to save money for anything.
You probably have a savings account, but do you just collect the money in your account or do you create a budget for the different categories of expenses you could be facing? If you don't budget the use of your savings account, that could be why you don't have the extra funds for unexpected expenses, despite having saved money all year long.
Don't just lump your savings – create allotments for expenses
To budget for sick time, save five days' worth of pay. To budget for a broken appliance, save the average cost of your most expensive appliance and consider the option of downgrading to a different model if necessary. For car repairs, it's a good idea to have at least $500 available at any given time.
By creating allotments for each expense, you give yourself the ability to make good choices. When you can see your projected potential expenses on paper, and you know that you need to save another $100 to cover potential vet bills, you can make the conscious choice to skip ordering pizza for delivery, tuck that money away, and cook a spaghetti dinner for your family instead. Pizza isn't cheap when you're feeding more than a couple of people and that one choice can mean the difference between paying your unexpected bill or not.
Create a ledger for the money you save and use it as a budget
Don't tuck away any money without assigning it to a specific expense. For example, if you put $100 into your savings account, assign it to something like an appliance. That way, when it comes time to buy a new appliance, you'll know how much you have budgeted for that expense.
If you have a savings account with a balance of $5,000 when your washing machine breaks down, you might be tempted to think you can afford to buy the more expensive model. However, when you know you've only saved $300 for an appliance expense, you'll be able to choose a less expensive model and, therefore, you'll have funds available for other expenses.
And here's an extra tip to help your kids learn the value of money so that they can help you as a family stay on budget… get your kids volunteering. Check out how Susan's recent trip with her 12 year old to volunteer at a food bank helped her daughter understand budgeting.
Saving money isn't hard. The hard part is creating and sticking to a budget. If you can create a budget for your savings account the way you do your checking account, you'll be more likely to have the funds for those expected-unexpected expenses.
Written by Jenna Cyprus, a freelance writer and business consultant who covers business, technology, and entrepreneurship.
Pin it for Later