This post may contain affiliate links. Read my disclosure policy here.
Girls – I am so excited about this contest!!!
Now I ADORE my son and he looks sooooo great in his hockey gear. But I also love all things "pretty" and I LOVE the chance to dress up Julia.
And Julia does not disappoint me – she loves all things pretty, pink and sparkly and I knew the second I saw Katchy Kids Dancewear that Julia would go crazy for one of their beautiful skirts.
When Julia's skirt arrived, I was as giddy as she was! I can't even describe how gorgeous it is.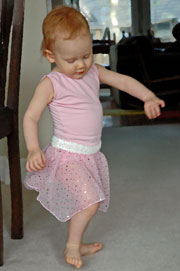 Joy, the designer at Katchy Kids Dancewear, is a professional designer and seamstress and has been creating dancewear professionally for 20 years. Joy is passionate about her work and about making little girls' dreams come true. Each skirt is lovingly and carefully made with top quality materials for each little princess. I could tell from the site, that these skirts were beautifully made and I was even more thrilled when I got to see a skirt in person. I just love how the sequins sparkle in the light!
The other reason I was so eager to tell you all about Katchy Kids is because Susan and I just love to give work at home moms as much support as we can – especially if they are new to the online world.
While Joy has been designing and making dancewear for years, her website is brand new. So what better way to get her off to a great start than to tell you all about her!
Joy's prices are unbelievably low – the skirts sell for $14.99 – and she delivers them with wonderful customer service and a 100% satisfaction guarantee. (Joy has never had anyone return a skirt – and after receiving ours, I am not surprised!)
So if you know a dancer or a skater – or a girl who just loves to dress up as a princess – you must check out Katchy Kids Dancewear.
AND of course – you can enter to win one too! (The winner can choose any skirt Joy has in stock.)
Here is what you do:
First – sign the Mr. Linky with your name and URL by Wednesday, March 21th at 11pm Eastern. (If you do not have a blog, but would like to participate, leave a comment asking to be entered and email me at janice at 5minutesformom dot com with your contact information.)
Second – on your blog, link to this contest so that your readers can get in on the fun too. Gotta spread the love! If you want to link to Katchy Kids Dancewear as well, I am sure Joy would really appreciate it. (If you don't have a blog – you obviously can't post about it. No worries. But if you want, you can spread some smiles by passing on the contest info to one or two of your friends.)
We will announce the winner on Thursday, March 22, 2007. Good luck!