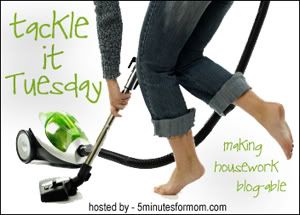 This week we have Michelle from Michelle's Family Journal dropping in for a guest tackle.

Michelle is a long-time participant in Tackle It Tuesday and we're glad she's jumping in and tackling for us this week.

Thanks Michelle!
Hi, I'm Michelle and I'm today's guest tackler.
For this week's Tackle It Tuesday, I really, really needed to tackle McKenna's room. *sigh*
The closet was overflowing with clothes — Baby to 4 years old. I worked on organizing it while she was at pre-school and
afterwards. Then I asked for some help with her old socks and toys. McKenna was fairly willing — emphasis on the fairly willing.
I managed to put clothes in Rubbermaid bins by size. I'm so relived that's done… I'm going be to consigning the clothes in January!!!
Yes, we are saving some of the special clothes… "Baby's First Christmas" Top and the Toile Dresses/Hat. As well as the First Birthday dresses. Yes dresses — a girl can never have enough 🙂
I vacuumed all over the room as well except under the bed it's too hard for this Mummy to do herself!
McKenna was over at a neighbours house and when she came back she promptly said to me "Oh Mummy I love how my room looks thank you so much!" And when I said it was my tackle it for 5 Minutes for Mom, she replied "Oh, 5 Minutes for Mom" Right!!" LOL
First up is the closet *still left to do the shelf* and wash the stuffed animals. I'll share pictures when that is done in the week.
Before
The Rubbermaid bins — this one has size 3 and 4 clothes

The Bed With Some Of The Clothes

After
The drawers were stuffed with 3/4 clothes and such. Gone!!!

The Closet with assorted Princess costumes and Halloween Tutu… As well as the stuffed animals.

Well, thanks so much for joining me for my Guest Tackle here at 5 Minutes for Mom.
~ Michelle
What are YOU tackling? Add your link to your tackle in the MckLinky below!
Each week on Tuesday, we are posting before and after pictures of a project or trouble area that we tackled this week.

Find out more about Tackle It Tuesday here.
The project can be little or big – whatever you want.

Basically, Tackle It Tuesday is about giving ourselves incentive, deadlines and satisfaction in getting our household tasks done.

(It doesn't even have to be housework… just whatever is on your To Do list.)
If you tackled a project this week, just add a comment and add your link below.
Happy tackling ladies…
Written by a Guest Contributor and published on 5 Minutes for Mom
Do you have our feed in your reader?