This post may contain affiliate links. Read my disclosure policy here.
Want to know what is giving me a better sleep at night?
Dream Kuddle
Yes, this cuddly little pillow is giving me some night-time relief.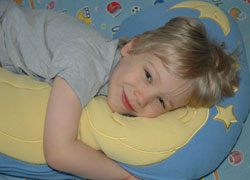 We have quite a time getting our son Jackson to sleep in his own room. Compounding the problem, Jackson does not have a special comfort toy. So when he is having trouble going to sleep or when he wakes up in the night – he doesn't have a security item to help him self soothe.
So when I saw an ad on a blog for this huggable buddy pillow, I was intrigued. "Would this help Jackson?" I decided to try it out.
Success! The Dream Kuddle pillow is the first and only thing my son has ever attached to. (Over the years I have gone through a myriad of stuffed toys, blankets, etc., trying to get him a comfort item.)
But from the moment he first touched this pillow, he has been in love with it.
What exactly is it?
It is an innovative child sized body pillow and huggable buddy in one!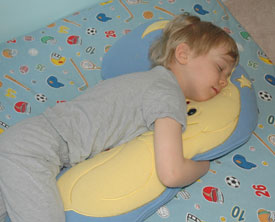 It is designed for kids ages 2 and up and provides healthy body support and emotional comfort.
And I do think it is helping Jackson sleep because he likes to snuggle up and hold on to things (usually us!) Now he is finally able to sleep the entire night in his own bed. And even if he does come in our bed some nights, he snuggles his pillow and gives me some space!
I love this pillow almost as much as Jackson.
(I am so grateful I saw that ad!)
If you want to find out more about the Dream Kuddle pillow or get one for your child, you can check out their website http://www.dreamkuddle.com.
(Pippen Hill Designs, the creators of the Dream Kuddle pillow, is also a mom-owned company and we will be listing them in our mom-owned store listings.)