This post may contain affiliate links. Read my disclosure policy here.
Whether you are a stay at home mom looking to re-enter the workforce or you want to help your child get her first job, there are some new job search tools and strategies that you need to know. We are thrilled to have a fantastic guest post from Nicole Scott who has years of HR experience and has read countless resumes. Nicole's key insights will help you get the job you want.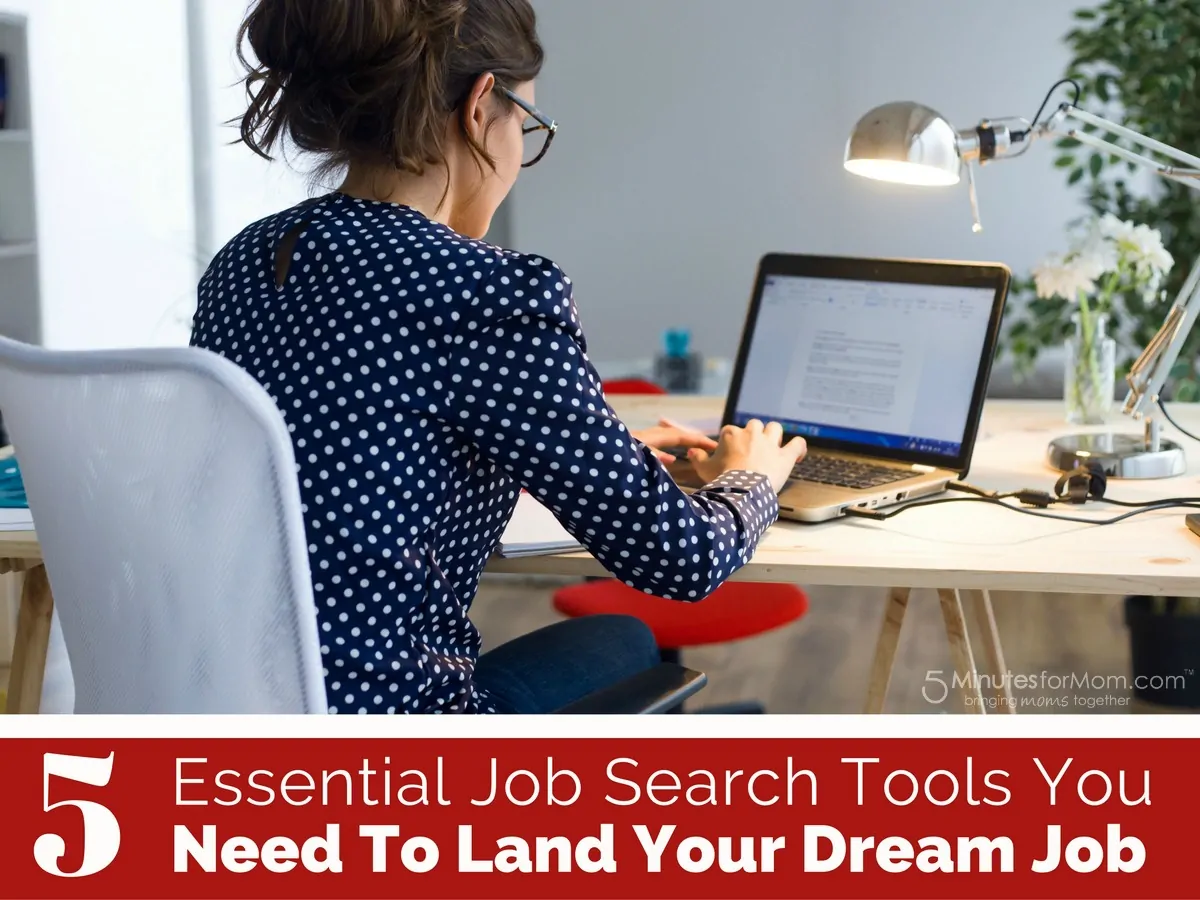 It seems like nowadays the thought of job searching can bring feelings of dread.
What used to be seen as simple process of applying, interviewing and landing, is now seen as complicated, soul crushing and hopeless.
It's true… hiring processes have changed.
With most companies being charged with the ideal of "doing more with less", this could lead to many HR professionals wearing multiple hats and finding themselves with less time to review each and every application.
What does this mean for you?
It means that getting noticed among the masses can be more challenging. It can also mean that though you might be perfectly equipped to do the job but you might not be perfectly equipped to get the job.
So what can you do about it?
Plenty. Here are some surefire job search tools to give your job quest the boost that you need.

1. Aggregator Job Sites
Sites such and Indeed.com and SimplyHired.com comb through major and minor job boards, employer websites and niche sites to help bring postings from multiple sources into one place.
Sites like these can be a great starting point in your job search because of the broad range of offerings.
2. Word Cloud/ATS
In an ideal world, when you hit submit, your carefully crafted resume goes straight to the employer and is read over lovingly by a hiring manager or recruiter who cannot wait to pick up the phone, punch in your number and give you a call.
However, in today's world, this isn't so.
Instead your resume is typically met by an ATS (Applicant Tracking System). This system can help sort out applicants and push forward qualified ones to human eyes for review. This is great and time saving for recruiters but can complicate things on the job seekers side of things for two reasons:
Synonyms

Let's say you're a Community Manager who is applying for a Social Media Strategist role.

Essentially these roles share a lot of the same responsibilities, however an ATS may not be able to discern the similarities based off title alone.

Enter: The Word Cloud.

By copying and pasting the job description into the world cloud, you are able to see what keywords are most prevalent in that posting.

Your next step would be to run your resume through the word cloud to ensure that the same keywords show up. If they don't, you know what words need to be added into your resume.

Formatting

This can become an issue if the requested format (Word/PDF/Text) is not specified.

This may lead to the possibility of your resume losing the template or style that it was written in and could appear rather jumbled on the receiving end.

So that beautifully illustrated chart that you included may render as a heaping mess of gibberish to the person reviewing your resume.

Some things to keep in mind are: If the ATS allows for upload, you will likely want to upload a Word version of your resume, however if the ATS asks that you copy and paste, then it might be beneficial to use a text version instead.
3. T- Letter
Ah, the old dilemma of whether to include a cover letter or not.
On one hand, these can very time consuming and who knows if someone will actually care to read it.
On the other hand, it's quite possible that someone does care and would be disappointed to not see one.
The difficult part being is that you don't know which set of eyes your application will meet. This is where T-letters can help bridge the gap.
A T-letter is a side-by-side comparison of the employers' needs next to your qualifications. It's eye catching because so few candidates use them and because it creates a more obvious parallel between you and the job that you seek.
It starts off as a regular correspondence and then quickly displays your value as a qualified candidate. You can find T-letter examples and samples here and here.
You can see in this example from jvskc.org how the table format allows readers to quickly see how you meet the job requirements.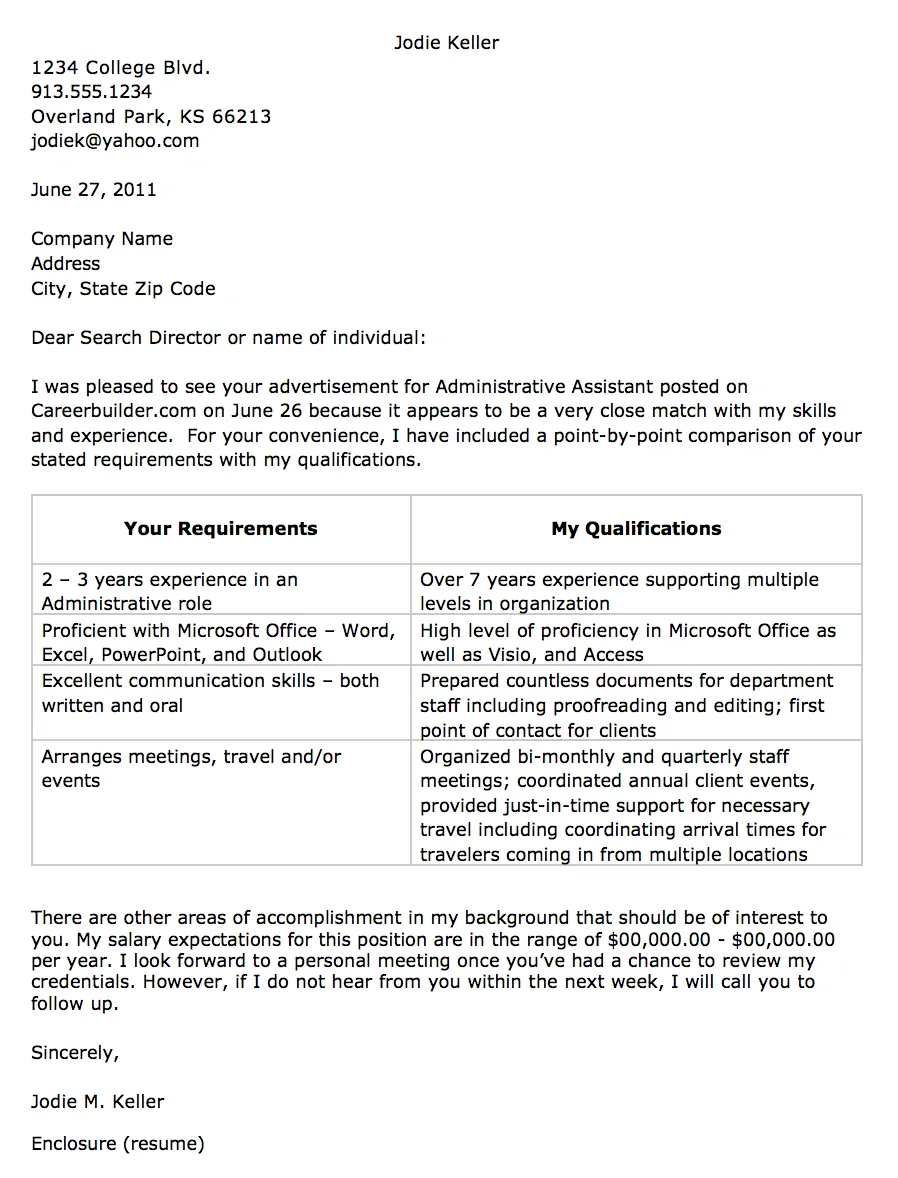 4. Professional Email and Voicemail
These two may seem insignificant, however how a stranger feels when interacting or attempting to contact you may make all of the difference.
When it comes to email, I recommend setting up a separate email account that has your name as it's username.
This is important because it makes name recall easier and it provides a better air of professionalism than @[email protected].
You may also want to include a signature that has your name, phone number and email address listed.
The easier you make it to contact you, the better.
Having a professional sounding voicemail falls into that same philosophy. Yes, that ring back tone of Puff Daddy may sound cool but may not necessarily be what you want a prospective employers first impression of you to be.
5. JibberJobber
It's likely that your applying to multiple jobs each day. (If you're not, please re-think your strategy.)
With JibberJobber, you're able to manage and track each of your applications. Things such as, which resume format you used, who you spoke to and when, reminders to follow-up and what outfit you wore to the 1st interview can be easily kept and reviewed in this one system.

Searching for a job can be the hardest job in the world. It can be downright depressing. But if you start using these job search tools and strategies, you will absolutely improve your chance of getting noticed in a crowded marketplace and landing your dream job.
Pin it for Later