This post may contain affiliate links. Read my disclosure policy here.
Do you have a daughter, grand-daughter or niece? Then this post is for you. I'm going to share 5 tips to help you encourage your girls to keep playing sports, along with personal experiences from my childhood and as a mother raising two daughters. Also you'll see a heart-warming video from our sponsor Always®. To get inspired, keep reading…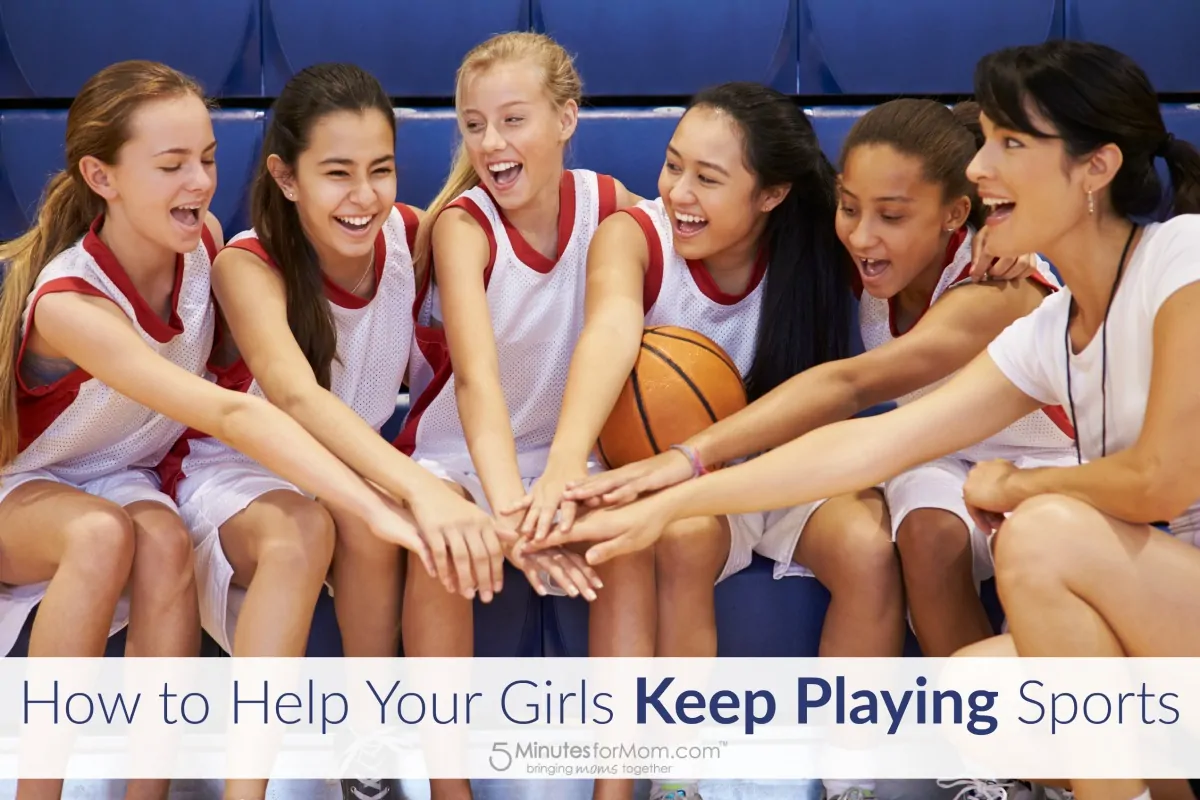 It's clear from many studies that girls who participate in sports usually have higher levels of self-confidence.
But sadly, when girls hit puberty and their self-confidence declines, they often quit sports. A new survey by Always® shows that half of girls will quit sports by 17 and nearly 7 in 10 girls report that they don't feel encouraged by society to play.
I'm part of that statistic. I quit playing sports when I was 11. Until that age, I'd had tons of self-confidence and I loved running, I was part of a track club and played on a soccer team.
But when I turned 11, I switched to a school where participation in track wasn't actively encouraged and I stopped running. Suddenly, I felt like I wasn't good at sports, and I stopped trying. I played softball for one last season and then quit that too.
I still regret not staying active in sports after I turned 11. Once you stop playing and being active in team sports like basketball, volleyball, baseball, soccer etc., it's almost impossible to get started again. If you lose confidence when you hit puberty and quit, your skills quickly fall behind everyone else and your confidence doesn't ever catch up.
Sure I didn't have great hand-eye coordination and I never would have become a star athlete, but I know I would have benefited from playing some sports.
Since sports are so important for our girls' health and self confidence, I want to share some ideas for how you can help your daughters' keep playing.

5 Ways to Help Your Girls Keep Playing Sports
Practice at home and play together.

Try various sports and activities.

Encourage self-confidence and work to build self-esteem in other areas.

Watch women's sports teams on TV and go to games.

Stay physically active as a family going for walks, runs, hikes and bike rides.

What if your daughter doesn't seem to want to play sports?
As parents, it can be hard to know how much to push or encourage our kids to sign up for activities.
So what should you do if your daughter doesn't want to play sports?
From my personal experience, I can say that it's true some kids just don't like playing ball.
I'm a mom of two girls who have never liked any activity involving a ball. I tried signing my oldest up for baseball and she just stood in the field playing with her baseball mitt, waiting for the time to pass.
But a team sport doesn't have to be limited to the typical games. My oldest daughter Julia and her cousin Olivia are having fantastic team sport experiences in all-star cheerleading.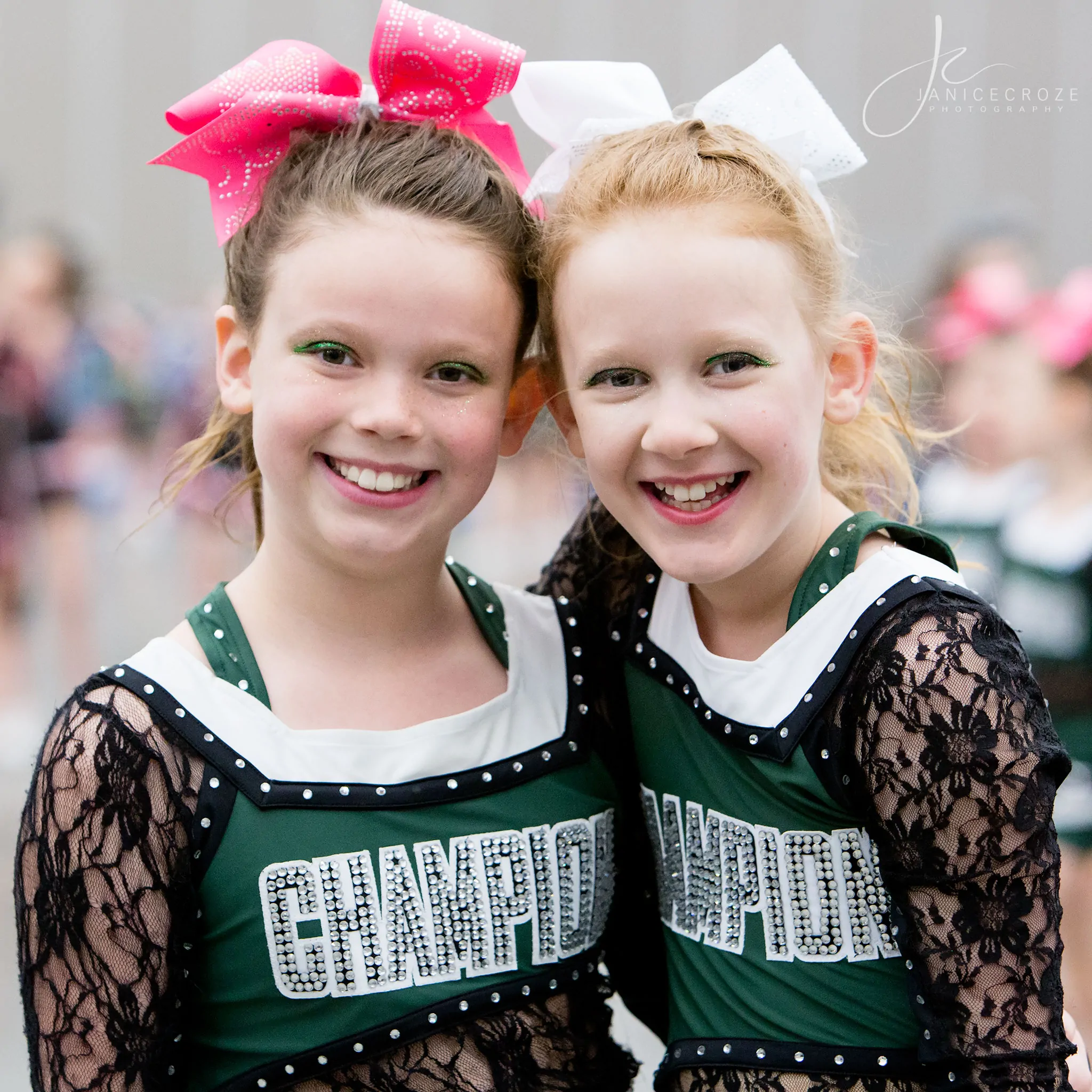 All-star cheerleading squads do not cheer for a school or other sports team… they ARE the sports team. It's a bit like a combination of gymnastics and dance. Instead of cheering for a team, they work to develop routines to compete at cheerleading competitions.
As Janice explained in her post 5 Reasons Why Cheerleading is a Fabulous Sport for Kids, being part of an all-star cheerleading team builds self-confidence and teaches teamwork.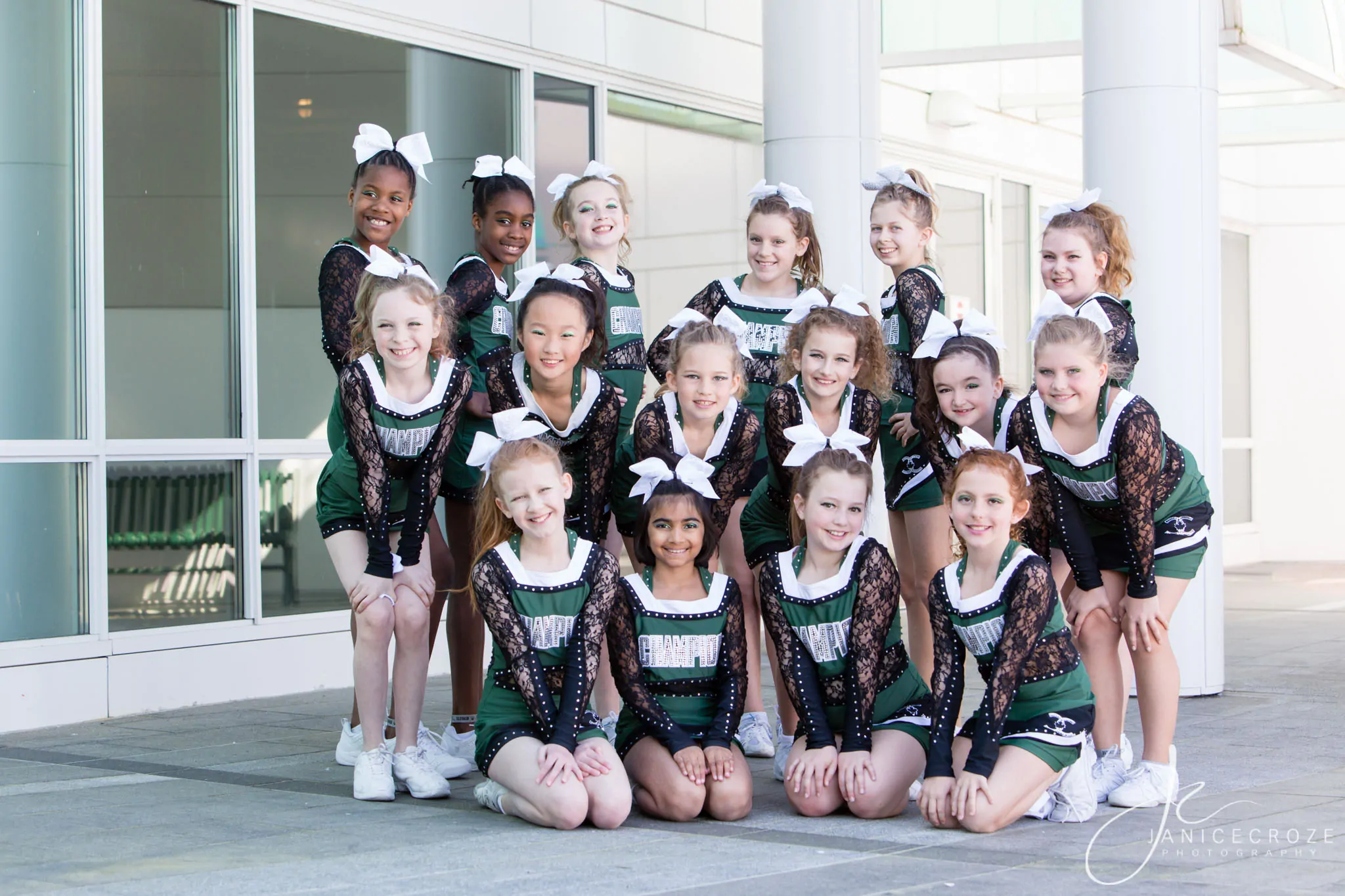 If your daughter has shown interest in sports when she was younger and then suddenly stops playing when she turns 11 or 12, that's the key time to get involved and encourage her to not give up.
Here's an important question to consider… is the team sport part of your daughter's school?
Around age 11, social dynamics at school become very complex and your daughter might be avoiding her basketball team not because she doesn't like basketball anymore, but because she's not getting along with the girls on her school team.
I remember when I was 13 years old and other girls at school were signing up for basketball, volleyball and other teams. I didn't sign up because I didn't want to spend more time at school with those girls. It wasn't even that I had been fighting with them or had any issues going on, I just didn't want to spend extra time after school in the school gym with complicated cliques and friendship dramas.
If you suspect that may be the case, talk to your daughter and consider signing up for a team that isn't connected with school.
It can be so beneficial for girls to have a second set of friends outside of school. My activity of choice was horseback riding. So while I didn't play team sports, I did have an activity that kept me busy and having fun.
Always #LikeAGirl – Keep Playing initiative
Always® examined why girls felt they weren't encouraged by society to play sports. They found those feelings often stem from a lack of community support, parental encouragement, and funding. So they decided to do something to help keep girls in the game.
Always® has embarked on a new relationship with Walmart to provide crucial resources to girls teams around the country to help keep girls in sports.
As part of the Always #LikeAGirl – Keep Playing initiative, the "50 States, 50 Teams" program will support one girls team in every state – before the year is over, fifty teams will receive the resources needed to keep their girls playing.
I LOVE this uplifting video that shows the first team transformation in Hulbert, Oklahoma…
This summer, Always and Walmart met with the Lady Riders junior high girls basketball team to listen to their sports experiences and frustrations.
As you saw in the video, the girls were empowered to keep playing by with new equipment, uniforms and facility upgrades.
It's amazing the difference in girls' self-confidence when they feel supported by their parents and community. You can follow a similar strategy to encourage your own girls by allocating some of your household budget for sports equipment and dedicating time to watch their games.
Find out more at – walmart.com/AlwaysLikeAGirl
Facebook – facebook.com/always
Twitter – twitter.com/Always
Instagram – instagram.com/always-brand
* Data collected from a 2016 survey amongst U.S. Girls
Share With Your Friends
We'd love, love, love a tweet or a pin… Thanks so much! 🙂
[Tweet "How to Help Your Girls Keep Playing Sports #LikeAGirl"]
Disclosure: This post is sponsored, so extra thanks for reading and sharing.
Written by Susan Carraretto, co-founder of 5 Minutes for Mom
Talk with me: @5minutesformom and Facebook.com/5minutesformom
Pin with me at pinterest.com/5minutesformom