This post may contain affiliate links. Read my disclosure policy here.
Since we're all starting to make our lists and think up creative gift ideas, I thought I'd share what I've been thinking about…
By now, you likely know that we've been working with Intelligent First Aid to share the news about their Talking First Aid Kits. Well, since I've had first aid kits on my brain for the last few weeks, I've been realizing what perfect CHRISTMAS GIFTS they make!!!
I think buying gifts for adults is never as fun as shopping for kids, and often times it's downright frustrating. We grown-ups tend to buy whatever we need or want throughout the year, leaving no room for easy gift ideas.
Well… I'm going to bet that MANY of the grown-ups on your Christmas list do not have a first aid kit in their car and some might not even have one in their kitchens.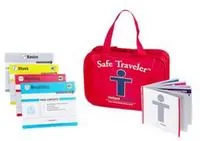 So… easy answer. Wrap up a Talking First Aid kit and they'll really know you love them.
(And by the way, we're giving a Traveling Talking First Aid Kit away on our First Aid page… just leave a comment on our First Aid page to enter.)
Merry and Safe Christmas to all…
~Susan
Whether you're a Mommy Blogger or not, you'll want to stay on top of our feed.