This post may contain affiliate links. Read my disclosure policy here.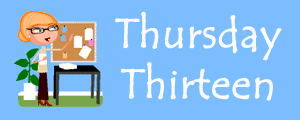 Banner by Chaotic Home
My 13 All-Time Favorite TV Shows
(Let's see how many I can remember…)
Friends – I never missed one episode and I saw them all in the correct order (thanks to a VCR.)
Seinfeld
Cheers
Frasier
E.R.
The Wonder Years
Hogan's Heroes – Our family used to watch this all the time when we were growing up.
M.A.S.H. – When I was a kid I thought this was always on – literally. I am sure there is not one episode that I haven't seen at least twice.
Three's Company – I know it is cheesy – but I loved this show when I was a kid.
The West Wing – Ok it is lame now, but the early seasons were incredible.
The Bob Newhart Show – I was too young to watch this in its original run, but loved it in syndication.
Happy Days – OK – give me a break – I was a kid!!
Laverne and Shirley
Get the Thursday Thirteen code here!
The purpose of the meme is to get to know everyone who participates a little bit better every Thursday. Visiting fellow Thirteeners is encouraged! If you participate, leave the link to your Thirteen in others comments. It's easy, and fun! Be sure to update your Thirteen with links that are left for you, as well! I will link to everyone who participates and leaves a link to their 13 things. Trackbacks, pings, comment links accepted!
View More Thursday Thirteen Participants