This post may contain affiliate links. Read my disclosure policy here.

The Kids TRAYblecloth and Activity Center really is good, clean fun!
If you are planning a flight with children, you definitely want to consider buying The Kids TRAYblecloth and Activity Center from Love to Travel Products.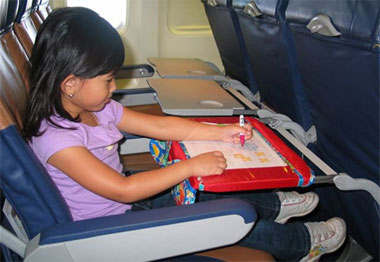 This smart product is a colorful tablecloth and activity center that slips on an airplane tray table. It includes a set of four dry erase markers and an activity booklet. There are also additional activities available for download.
Love to Travel Products sent Susan and me TRAYblecloths for our kids before we went to Disney World. They were definitely great distractions for the kids and the handy pockets were perfect for storing crayons, markers and small toys — which is especially useful on an airplane!
This summer I recorded a quick video about The Kids TRAYblecloth and Activity Center for a discussion we were having on traveling with kids on Say it Face to Face.com:
Considering all the germs lurking on airplanes, having a clean tablecloth over the airplane tray table this flu season is a great idea! I always clean my tray table, arm rests, etc with antibacterial hand wipes when I fly, but TRAYblecloths make it an even cozier, cleaner space.
The Today Show even recently featured The Kids TRAYblecloth and Activity Center on a segment about travel products!
If you want a clean, organized space yourself when you travel, Love to Travel Products also makes The Original TRAYblecloth for adults. And now, they also carry Disposable TRAYblecloths for use on airplane trays.
We have 2 Kids TRAYblecloths as well as 2 Disposable TRAYblecloths to giveaway. If you are planning a flight, or know a family that is, enter to win this set and enjoy a clean, fun flight!
Here's how you can win:
See our Christmas Giveaway 2009 post to read more about
participating in our Christmas Giveaway

Either link back to this post and include a Christmas Giveaway 2009 button in that post or on your sidebar, or link to the individual giveaways you choose to enter. We have a ton of different buttons and styles for you to choose from. Click here to get the button codes. (If you post and include the button, either in your post or on your sidebar, and link back here, you are good for all the giveaways. No more linking required.)
Please leave one comment below to enter this giveaway. You may earn additional entries for the following:
1. Subscribe to our Feed
2. Sign up for our Newsletter
If you are already subscribed and are on our newsletter list, you qualify for these two additional entries. Go ahead and leave your additional comments below.
As always, non bloggers are welcome to participate! We understand you can't link – but please spread the word to your friends.
Entries are open until Friday, December 4th at 12pm EST.
Our winner will be drawn randomly and we will announce the winner Saturday, December 5th. Please make sure to check our site and your email address to see if you have won a prize. We must receive your reply within 5 business days. (If you want your prize to arrive in time — the sooner we hear from you, the better!)
This contest is open to US and Canadian shipping addresses. Due to legal restrictions, this promotion void where prohibited.

Please see our site's Terms and Conditions of Use for a complete list of our Contest and Giveaway Rules.
We received four TRAYblecloths to test out with our children.