This post may contain affiliate links. Read my disclosure policy here.
Enter to win a HP TouchSmart 600 for yourself and help us win another one for a deserving family!
Get ready to drool ladies…
We online moms appreciate technology — I mean a fabulous computer can make us shiver with love, and a slow, outdated machine can make us growl with frustration.
So we realize that when we show you what we are about to giveaway, it might make you REALLY excited… and really desperate to win it. You might turn green.
I know, cause I AM! I want this prize soooo badly!!!
Yes, we are going to give one of you a new computer. And not just any computer. We are giving away a fabulous HP TouchSmart 600 (valued at $1599.99)!!!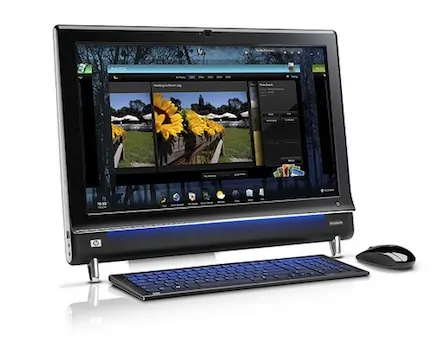 The HP TouchSmart 600 is a collaboration between Microsoft and HP to create best-in-class touch technology that melds with the power of Windows 7. This revolutionary desktop features some of the newest technology in home computing, including multi-touch which allows you to pinch, rotate, arc, flick, and press and drag to zip through applications, photos and more!
More reasons why we love the HP TouchSmart 600:
The integrated hardware & software technology (including TouchSmart Live TV with optional TV tuner) allows you to view video, record TV, and play video games right on your PC.
Windows 7 fast start up and shut down gives you easier access to your apps on the HP TouchSmart 600. This is HUGE for us busy moms who only have a few minutes before the kids wake up from naptime and every minute counts!
Just think how amazing the HP TouchSmart 600, with it's sleek design, is going to look on your desk! OR you can even hang it directly on your wall!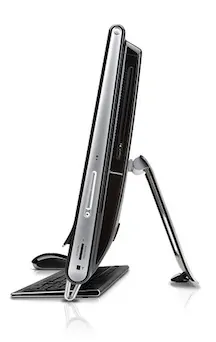 SO, for a chance to win this amazing HP TouchSmart 600, we want to make sure you have LOTS of ways to try to win. Here's how:
Leave us a comment telling us you want to win!
Sign up for our 5M4M Newsletter
Add our 5 Minutes for Mom button in your sidebar
Write a blog post and link back to this contest
Spread the word via Twitter, Facebook or email
Please see our site's Terms and Conditions of Use for a complete list of our contest and giveaway rules.
Each of the entries mentioned above are optional. Do any or all of them. But don't forget to leave us a SEPARATE comment for EACH entry method you do. Your comments are your entries. Every time you tweet, post, etc, come back to this post and leave a comment letting us know.
But YES, we mentioned a SECOND computer…
Not only is HP giving us this fabulous TouchSmart 600 to give away to a lucky reader, but they are also giving us A CHANCE TO WIN ANOTHER HP TouchSmart 600. Let me explain…
HP has selected 5 Minutes for Mom as one of nine blogs to "compete" for a chance to win their very own TouchSmart 600.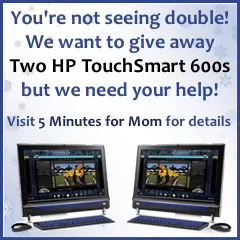 Now, as much as I am DYING to have this computer, (and my current laptop is two steps from the garbage!) we just couldn't bear to keep this fabulous computer for ourselves — not when there are so many of our readers and our readers' friends and families who really, really need and deserve this computer!
So, in the spirit of Christmas, if we are lucky enough to win, WE WILL GIVE THAT SECOND COMPUTER AWAY here at 5 Minutes for Mom to someone that you nominate!
Here's how you can help make that happen:
Out of the nine selected blogs holding this HP giveaway, the blog who creates the most buzz about their contest wins!
We need your help to create that buzz!
We need you to comment on this post, tweet about this contest, and write blog posts. And all of those actions will count as entries to win the first TouchSmart 600 giveaway here.

Who gets this second HP TouchSmart 600 if we are the lucky blog to win?
Well, we want you to help us with that, too! We want you to nominate someone who you think could really benefit by receiving this new computer — a friend, a family member, a neighbor in need, a family down the street, or maybe you.
If you could bless someone this Christmas with an amazing HP TouchSmart 600, who would it be?
Leave your nomination as a comment on this post and it will also be included in the entries for the first HP TouchSmart 600. And you can tweet, post, etc too. Remember — HP wants BUZZ. And that is the way we will get that SECOND computer to GIVEAWAY!
So, what are you waiting for? Start commenting, tweeting, blogging, and nominating. This contest ends Tuesday, December 1!!!
Enter to win an HP TouchSmart 600 for yourself and help us win another one for a deserving family!
Because, as much as I would love, love, LOVE this computer in my house, we would love the opportunity to bless someone else this Christmas season!