This post may contain affiliate links. Read my disclosure policy here.

My daughters love playing with their doll house. They will literally spend hours playing with it. No, I'm not complaining! The problem, however, is that when we travel we can't take their beloved doll house with us. I let them bring a few of their small dolls but then I get the questions: "But mom, where will our dolls sleep? Play? Eat their dinner?"
The Doll House Building Blocks from Babalu, Inc. and WJ Fantasy have solved our problem! The ten boxes stack on top of each other to create a Victorian-style doll house that you can play with at home or take with you!!!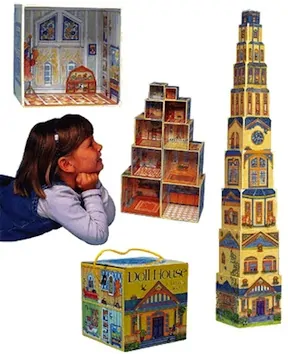 Each of the ten blocks are individually illustrated to create ten different rooms: living room, dining room, library, kitchen, playroom, bathroom, child's room, bedroom, sewing room, and attic. The blocks can also be stacked one onto of another to create a 10-story house, as the outside of each block is decorated as the exterior of a house.
My girls love stacking the blocks in different ways to create new houses. They split the blocks up between each other to create two separate houses. And they love discovering new things about the intricately detailed interiors.
The best part for me, as a mom…the blocks neatly pack away one inside another for a compact, easy to store and travel with, 6″ x 6″ x 6″ box!!! The Doll House Building Blocks will definitely be coming with us when we travel to grandma and grandpa's house this Christmas!
WJ Fantasy offers a variety of other Building Blocks, including a Castle, Big City, Country Farm Touch & Feel, Do-Re-Mi Musical Blocks, ABCs, and much more! You can also find some great toys, games and books at WJ Fantasy, as well as some holiday products!
If you are looking for even more affordable and portable fun this holiday season, check out Babalu's Felt Story Boards and other great educational products! These classic felt boards come in a variety of different scenes, allowing your child to use their imagination as they come up with story after story after story! My daughter already has Felt Tales – Pretty Princess and Felt Tales – Let's Go to the Ballet on her Christmas Wish List!!!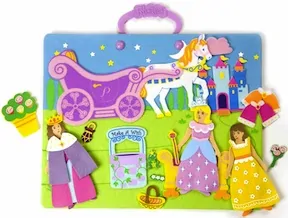 To make your holiday travels a little more fun, we are giving away one set of Doll House Building Blocks (valued at $20) to a lucky reader!
Here's how you can enter to win:
See our Christmas Giveaway 2009 post to read more about
participating in our Christmas Giveaway

Either link back to this post and include a Christmas Giveaway 2009 button in that post or on your sidebar, or link to the individual giveaways you choose to enter. We have a ton of different buttons and styles for you to choose from. Click here to get the button codes. (If you post and include the button, either in your post or on your sidebar, and link back here, you are good for all the giveaways. No more linking required.)
Please leave one comment below to enter this giveaway. You may earn additional entries for the following:
1. Subscribe to our Feed
2. Sign up for our Newsletter
If you are already subscribed and are on our newsletter list, you qualify for these two additional entries. Go ahead and leave your additional comments below.
As always, non bloggers are welcome to participate! We understand you can't link – but please spread the word to your friends.
Entries are open until December 4th at 12pm EST.
Our winner will be drawn randomly and we will announce the winner on December 5th. Please make sure to check our site and your email address to see if you have won a prize. We must receive your reply within 5 business days. (If you want your prize to arrive in time — the sooner we hear from you, the better!)
This contest is open to US shipping addresses only. Due to legal restrictions, this promotion void where prohibited.

Please see our site's Terms and Conditions of Use for a complete list of our Contest and Giveaway Rules.
* We did receive a set of Doll House Building Blocks for this review and Babalu, Inc. is also providing one set for this contest AND another for our Under the Tree Program.
Written by 5 Minutes for Mom Contributing Editor: Stacey Lynn