This post may contain affiliate links. Read my disclosure policy here.
This recipe for Chicken Cutlets with Artichokes and Lemon is a quick and healthy meal that you can have on the table in about 30 minutes.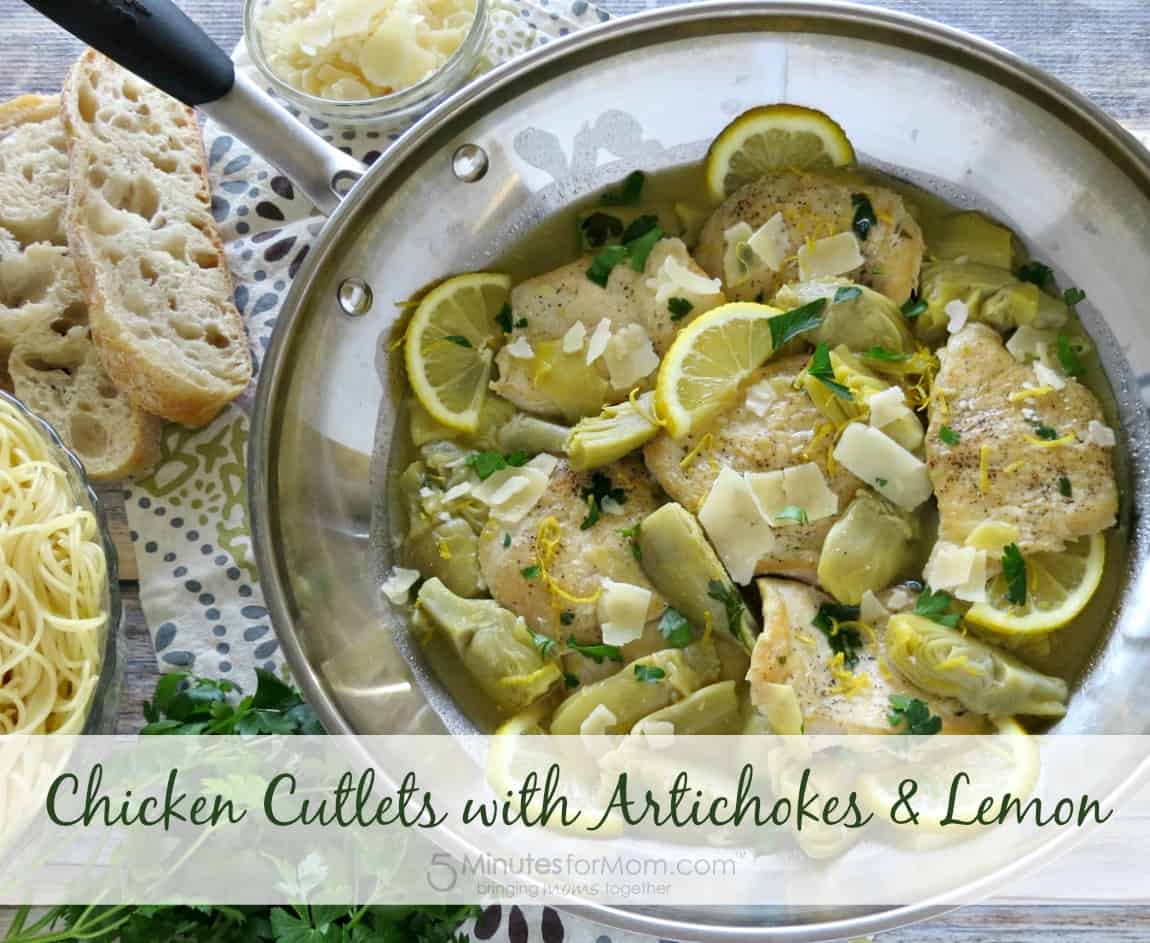 It's elegant enough for a dinner party but also makes a great family-style meal. We served this over buttered angel hair pasta, and it served four people generously.
To keep this gluten-free, you can serve this alongside rice or spiralized zucchini. You can also add mushrooms, capers, baby spinach leaves, and/or some fresh basil.

Preparing Chicken Cutlets with Artichokes & Lemon
We've included detailed recipe steps below, but here's a look at the process…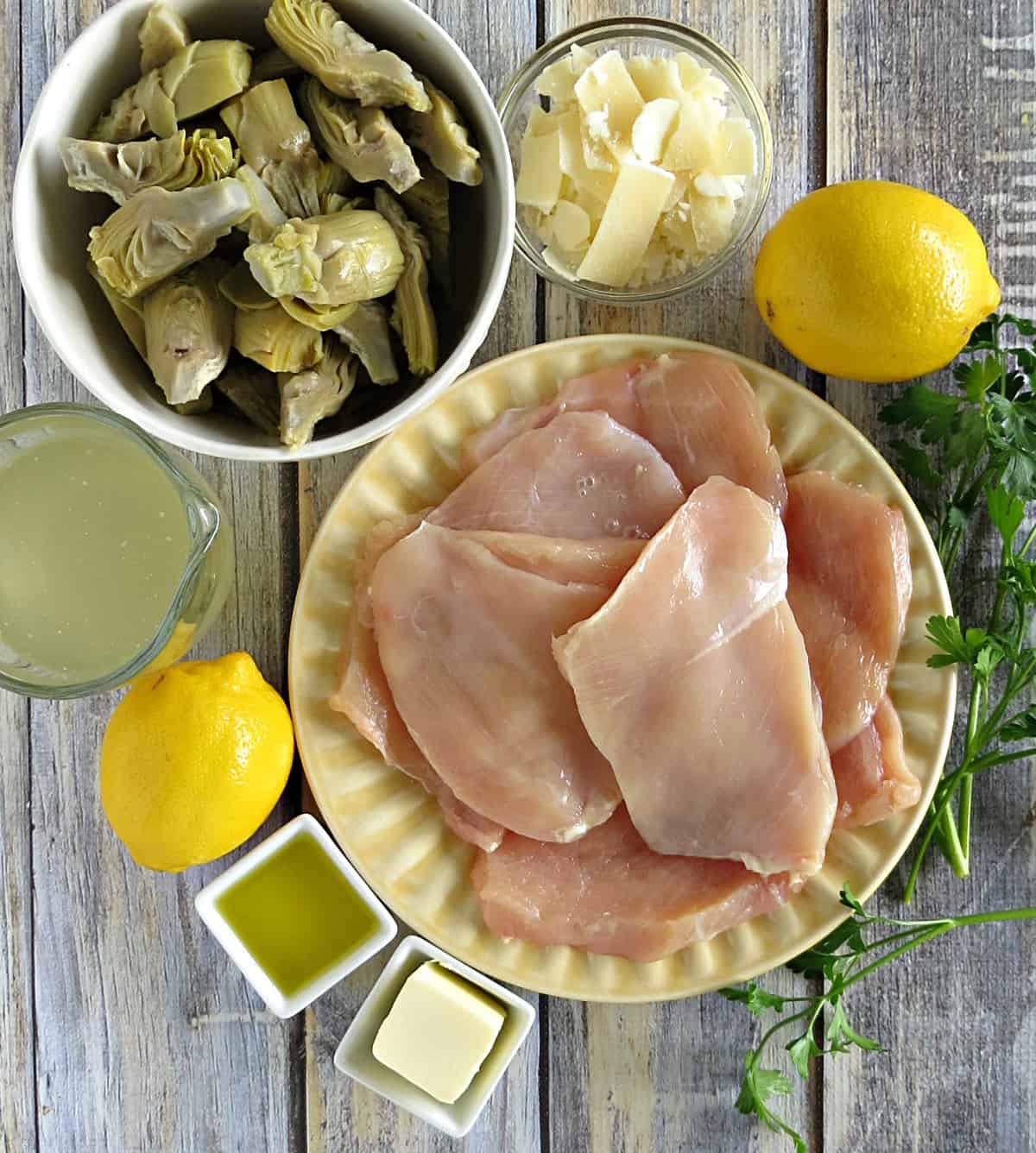 Slicing the chicken is the hardest part, but you can always have your butcher do it for you or buy them already cut.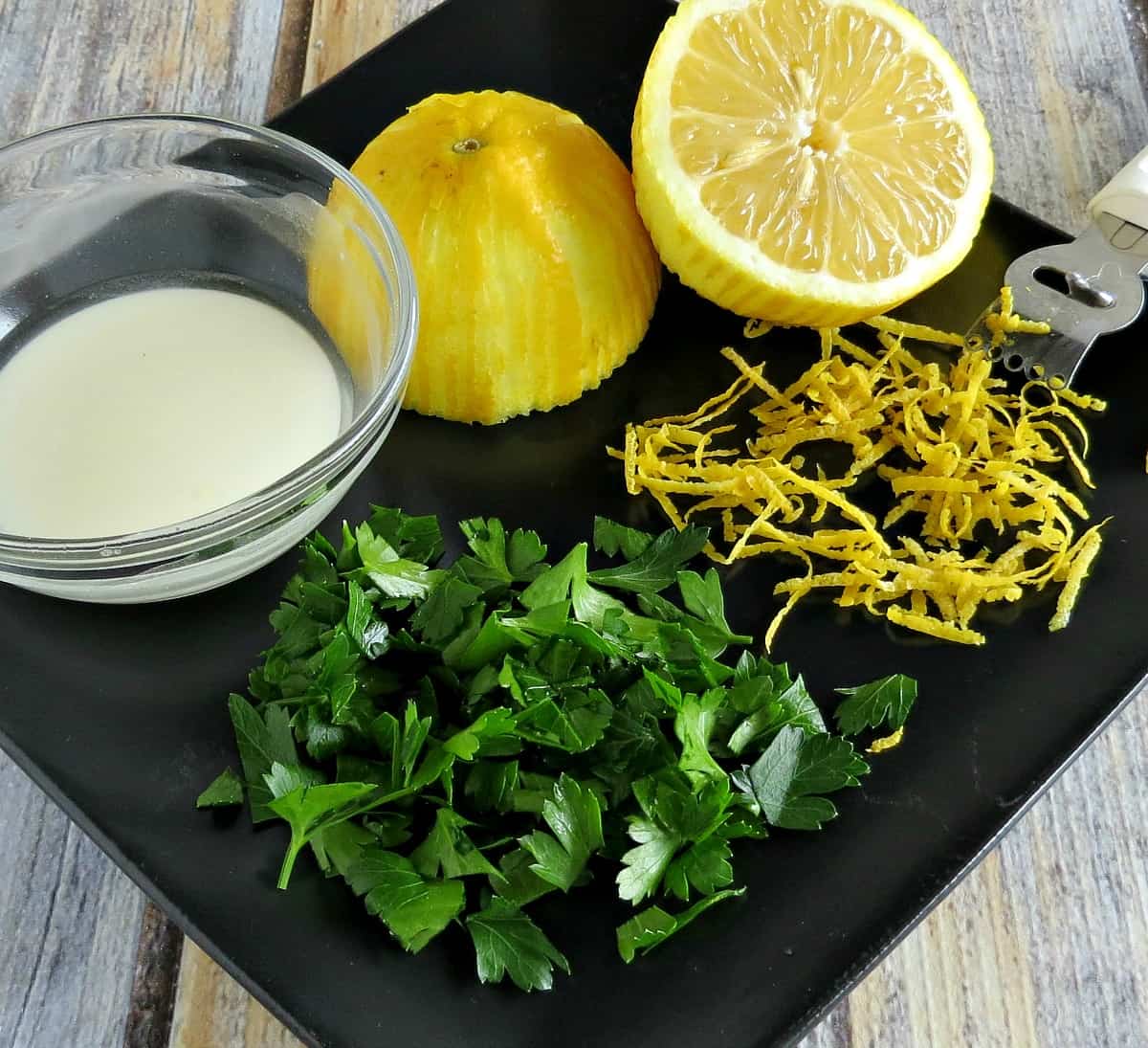 The artichoke hearts and lemon are bright and zesty and perfectly compliment the pan-seared chicken. We like to sear the chicken so that we can deglaze the pan and pick up all the delicious flavors at the bottom. The result is a more savory sauce that's still light and fresh.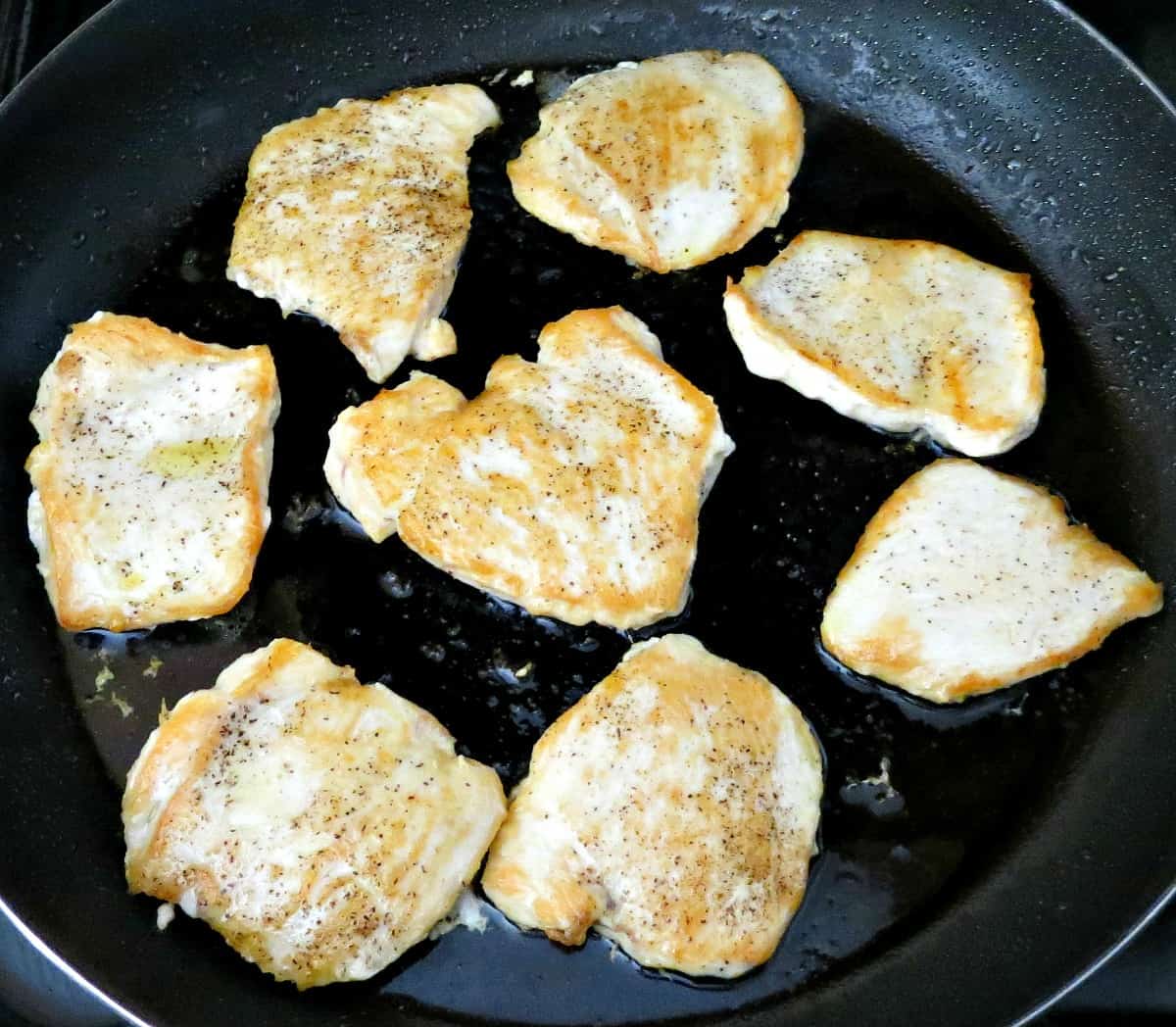 If you're not opposed to cooking with wine, you can deglaze the pan with one cup of dry white wine, let it reduce by half, and then add the broth. It's just as delicious without the wine, but the wine will give it another layer of flavor.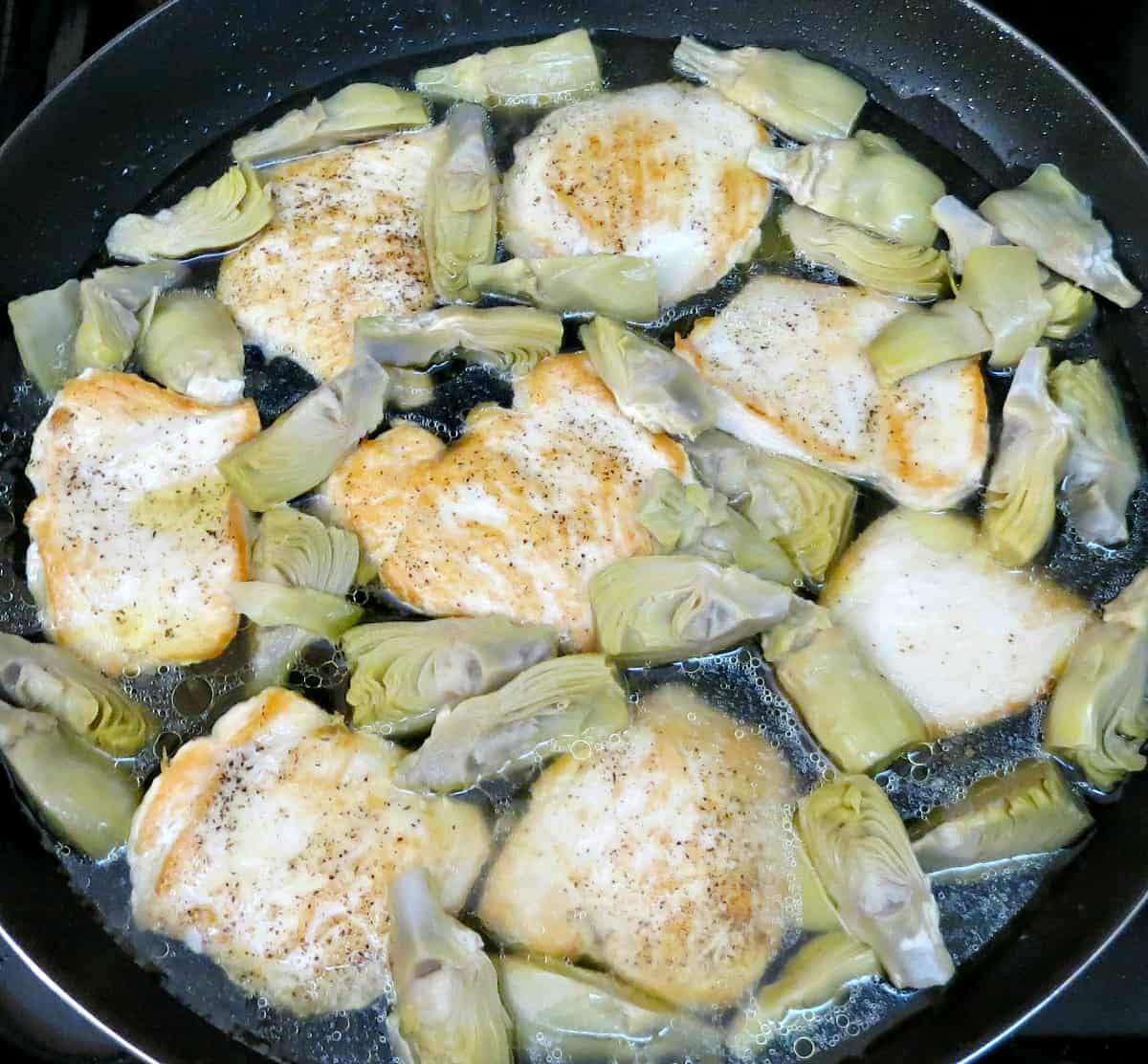 My chicken breasts were huge, so I was able to get four cutlets out of each one, and they (clearly) weren't perfect. You can slice them however you want as long as they're thin.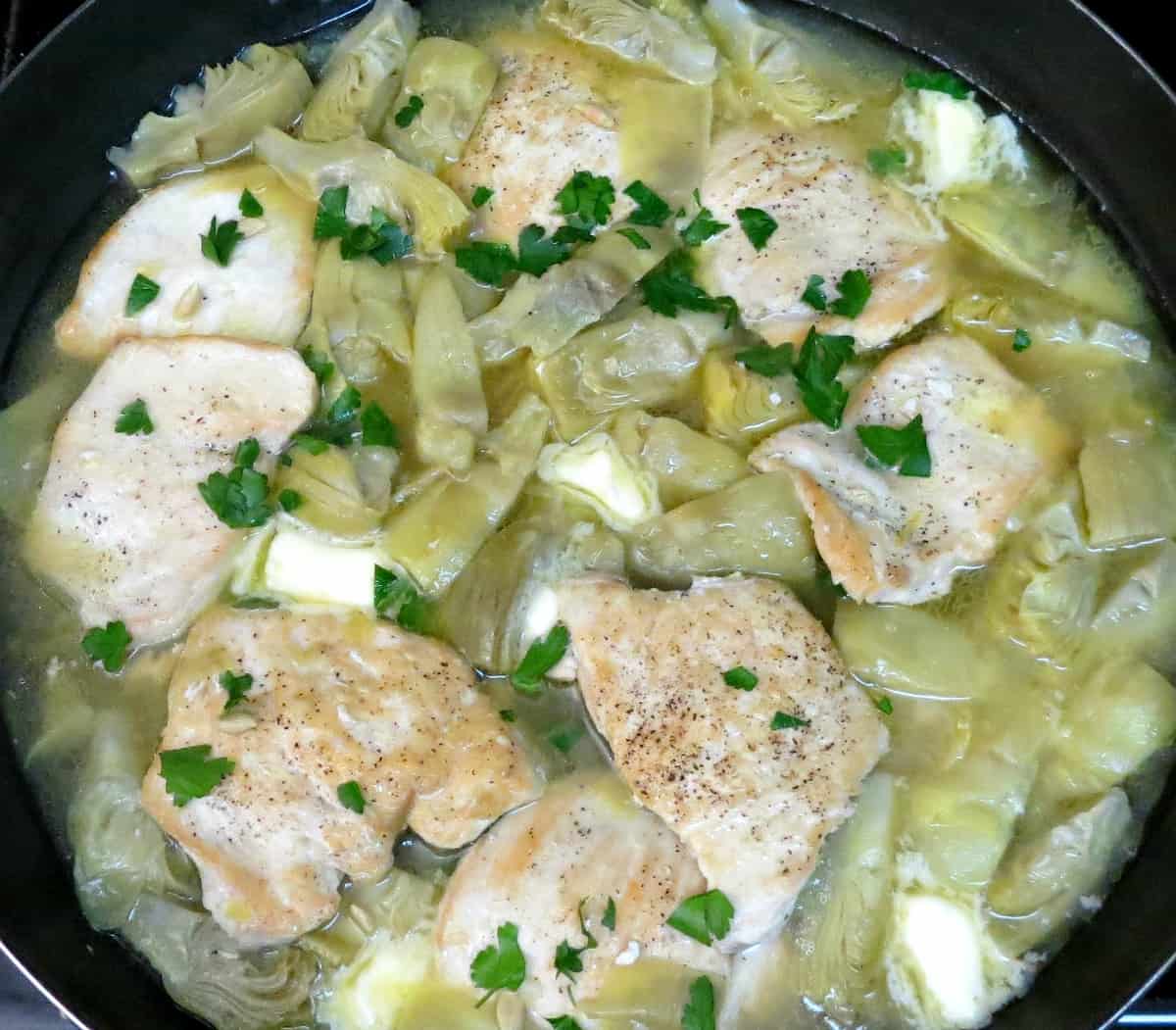 Since we serve this over pasta, we like a lot of sauce, but you can easily adjust that depending on how much sauce you want. If you use less broth, you won't need as much of the cornstarch mixture.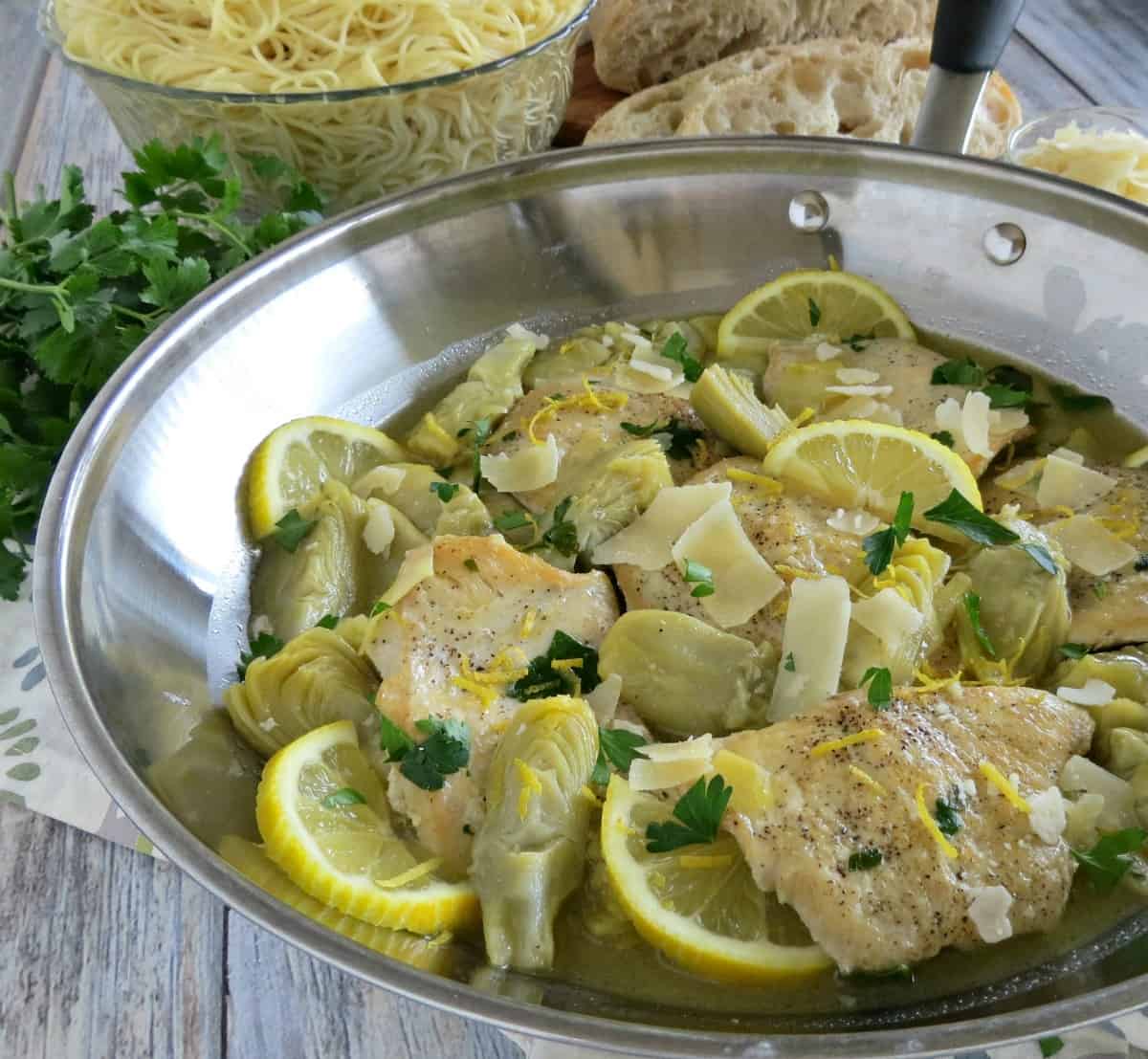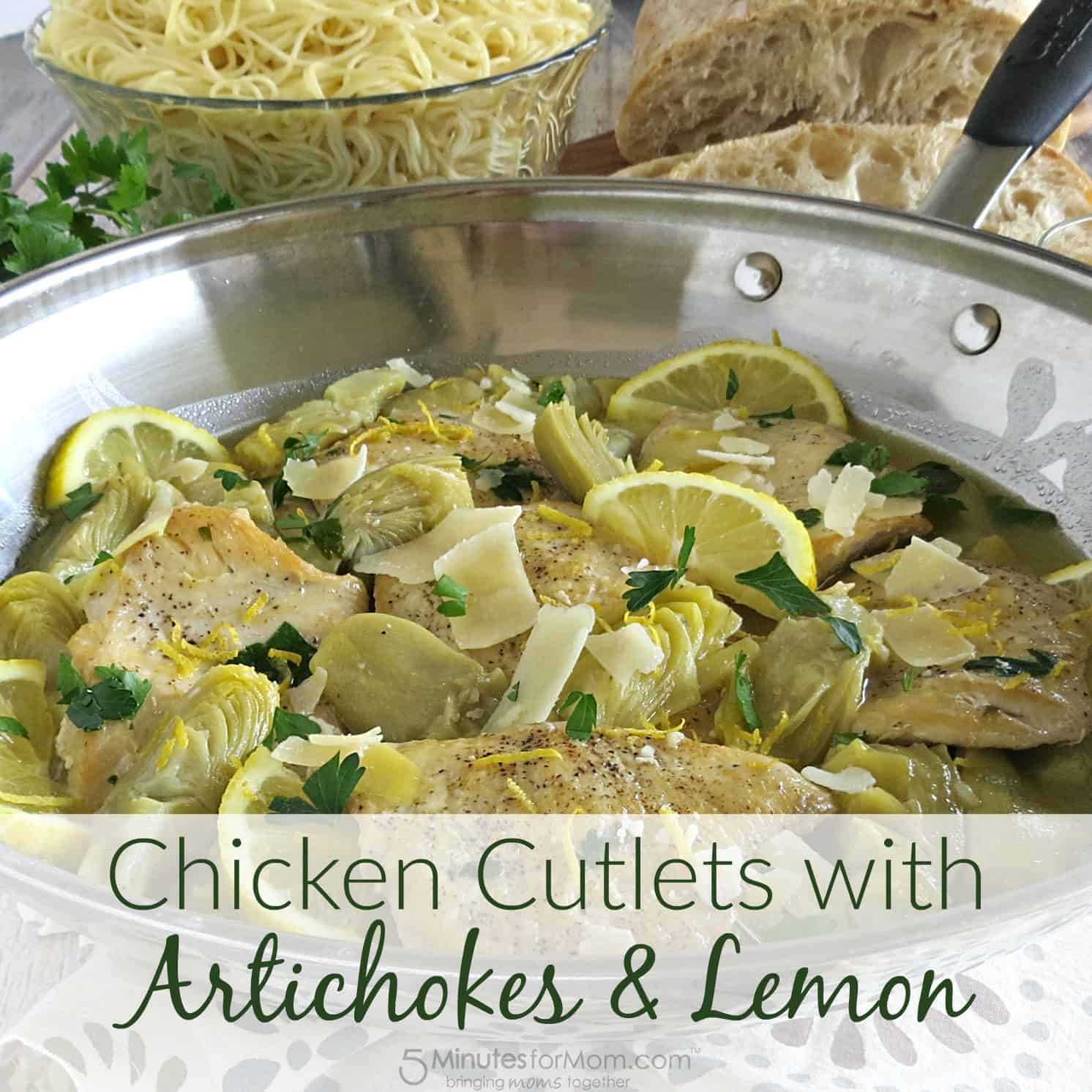 Chicken Cutlets with Artichokes and Lemon
A quick and healthy meal that can serve as an elegant dinner for guests.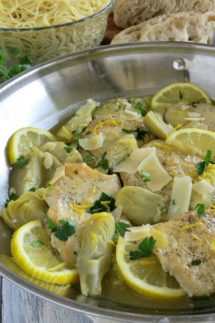 Ingredients
2 large chicken breasts (appx. one pound)
2 - 3 teaspoons olive oil
1/4 teaspoon salt
1/2 teaspoon pepper
3 cups chicken stock
1 12- ounce bag frozen artichoke hearts
2 teaspoons butter
2 large lemons
1/4 cup fresh Italian parsley
3 teaspoons cornstarch
2 tablespoons chicken broth
Instructions
Slice each chicken breast into thin cutlets.

Place the sliced chicken pieces between a few layers of wax paper, and pound them out until they're approximately 1/4" thick.

Season each side of the chicken with the salt and pepper.

Place a large skillet on the stove over medium-high heat. You want to use a skillet large enough to hold all the chicken in a single layer.

When the pan is hot, add enough oil to cover the bottom. I used all three tablespoons.

Carefully lay the chicken in the pan, and cook for 2 - 3 minutes or until the bottom side is nicely browned. These will cook quick, so you want the heat to be high enough that you hear them sizzle.

Turn the chicken over and cook for two more minutes.

Pour the broth into the pan, and use a spatula to scrape up all of the bits at the bottom.

Add the artichokes all around the pan, and bring to a boil.

Turn the heat down to medium, cover, and cook for five minutes or until the artichokes are tender.

While the chicken is cooking, you can prepare the parsley, lemons, and cornstarch mixture.

Mix the cornstarch with two tablespoons of chicken broth until smooth. Set aside.

Zest and juice one of the lemons and thinly slice the other. Set aside.

Remove the stems from the parsley, and roughly chop the leaves. Set aside.

Turn the heat down to medium-low, and slowly stir in a little of the cornstarch mixture. Stir constantly, and add more as needed. This is meant to be a light sauce and not thick like gravy, so go slow with this and add a little at a time. If you accidentally add too much, just add some more broth.

When the sauce is the consistency you like, stir in the butter, lemon juice, zest, and fresh parsley. (I like to save a little zest and parsley for garnish)

Taste and adjust the salt and pepper to your liking.

To serve, garnish with parmesan cheese, lemon slices, and extra zest and parsley.
Share With Your Friends
We'd love, love, love a tweet or a pin… Thanks so much! 🙂

Written by Susan Carraretto, co-founder of 5 Minutes for Mom
Talk with me: @5minutesformom and Facebook.com/5minutesformom
Pin with me at pinterest.com/5minutesformom