This post may contain affiliate links. Read my disclosure policy here.
This recipe for Bowtie Pasta with Chicken Italian Sausage is perfect for weeknights when you need to get a delicious, healthy meal on the table quick!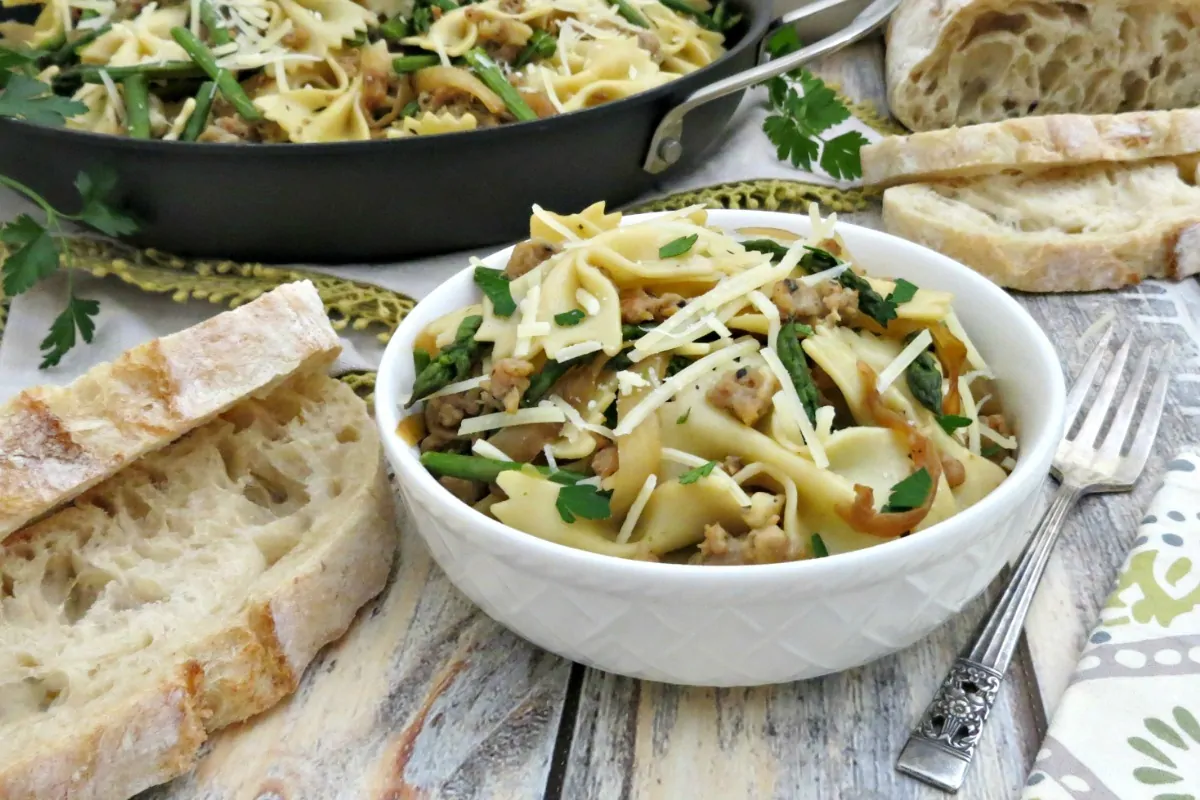 The chicken Italian sausage keeps it nice and light but tastes savory and delicious. We suggest buying a good quality, fresh chicken sausage. In our experience, it tastes better and you can buy the exact amount you need.
How to Make Bowtie Pasta with Chicken Italian Sausage
We've included detailed recipe steps below, but here's a look at the process…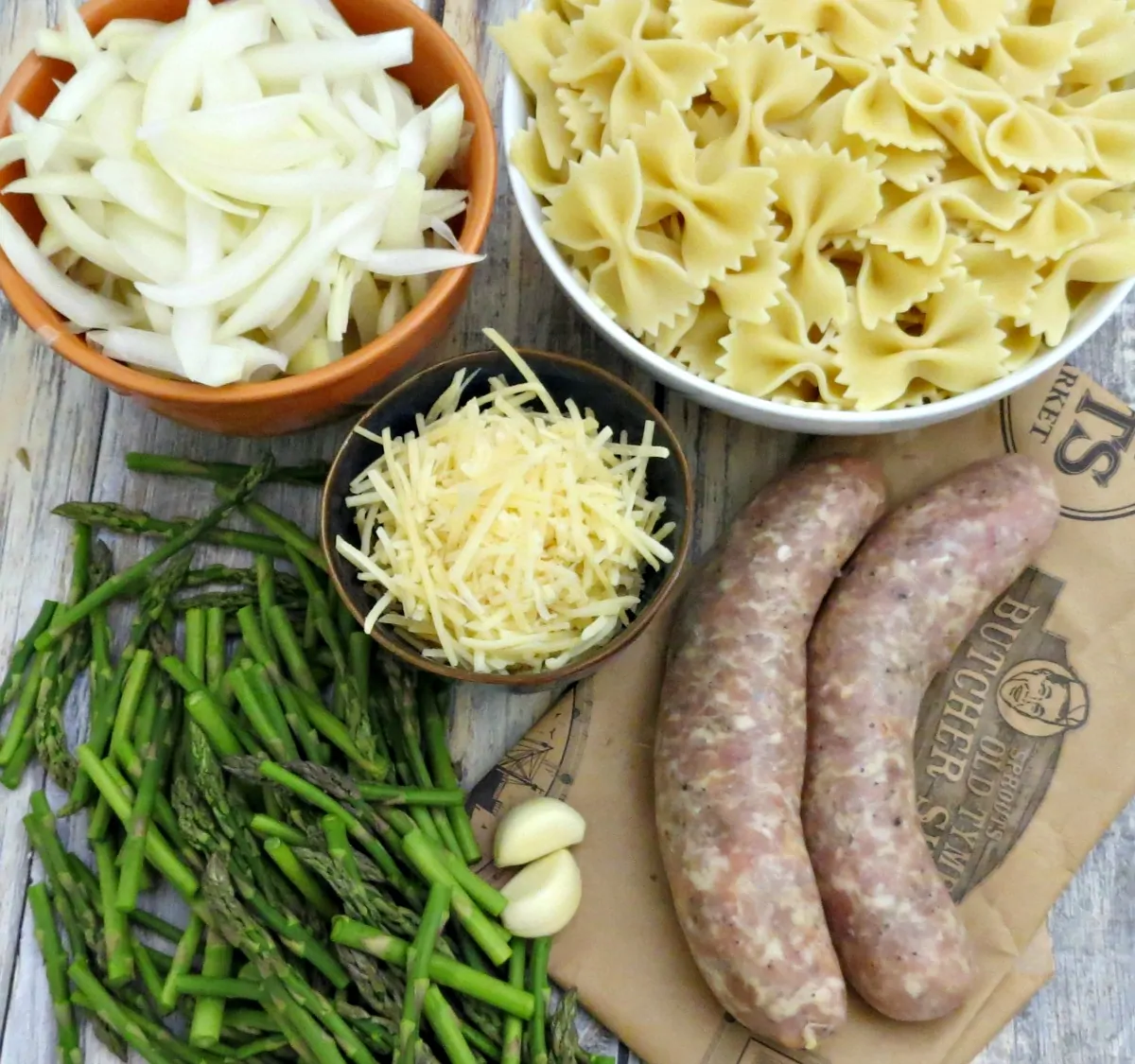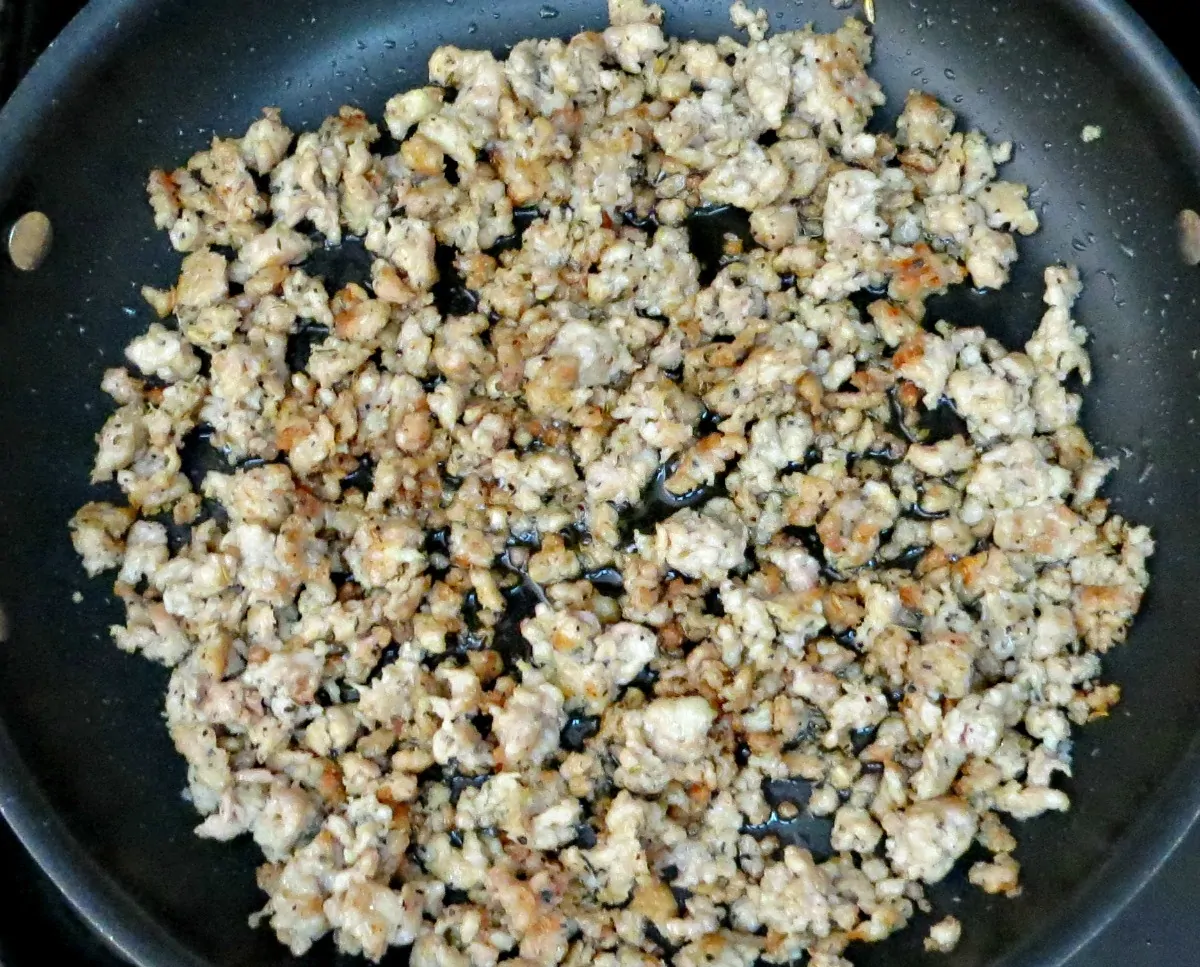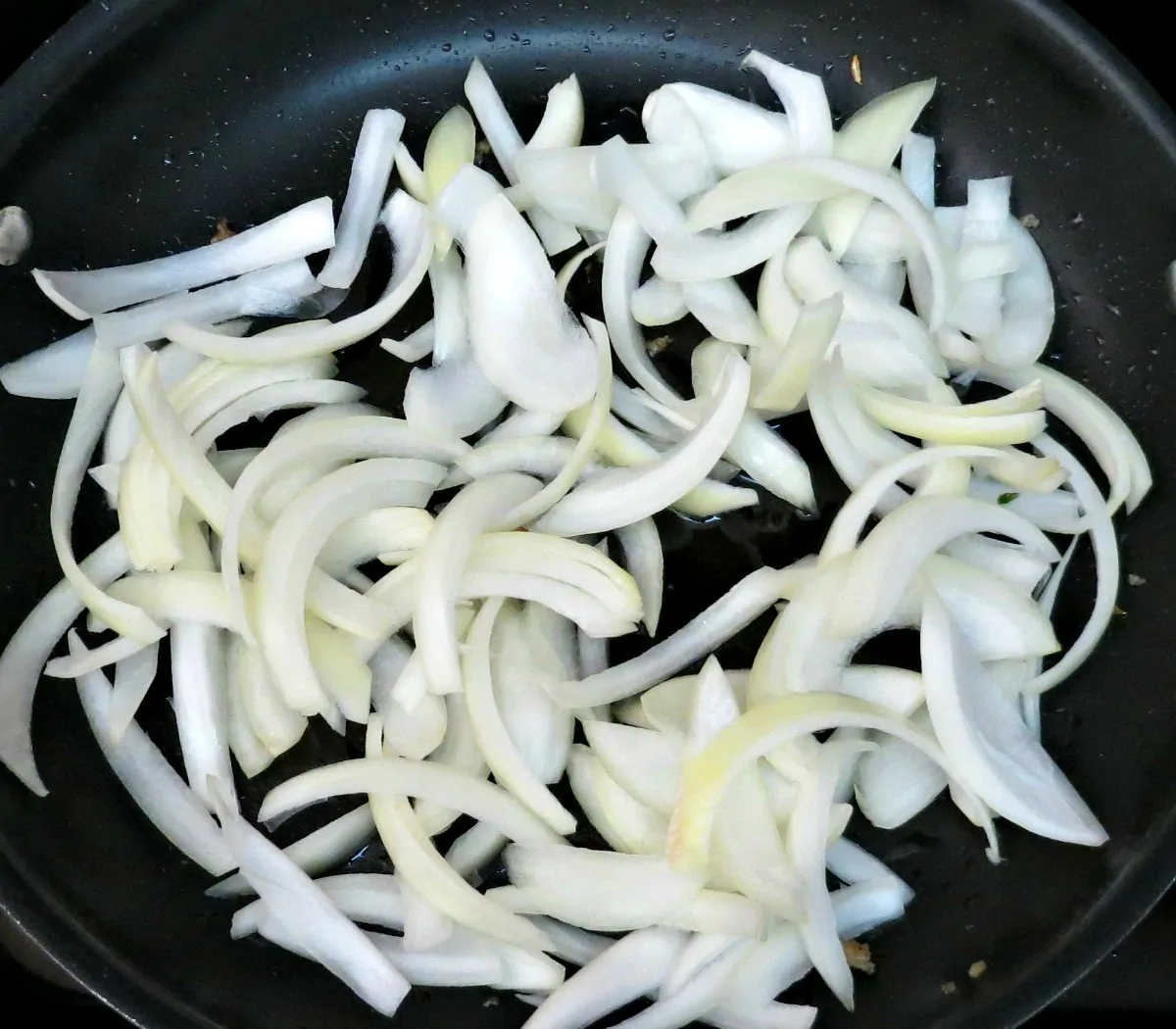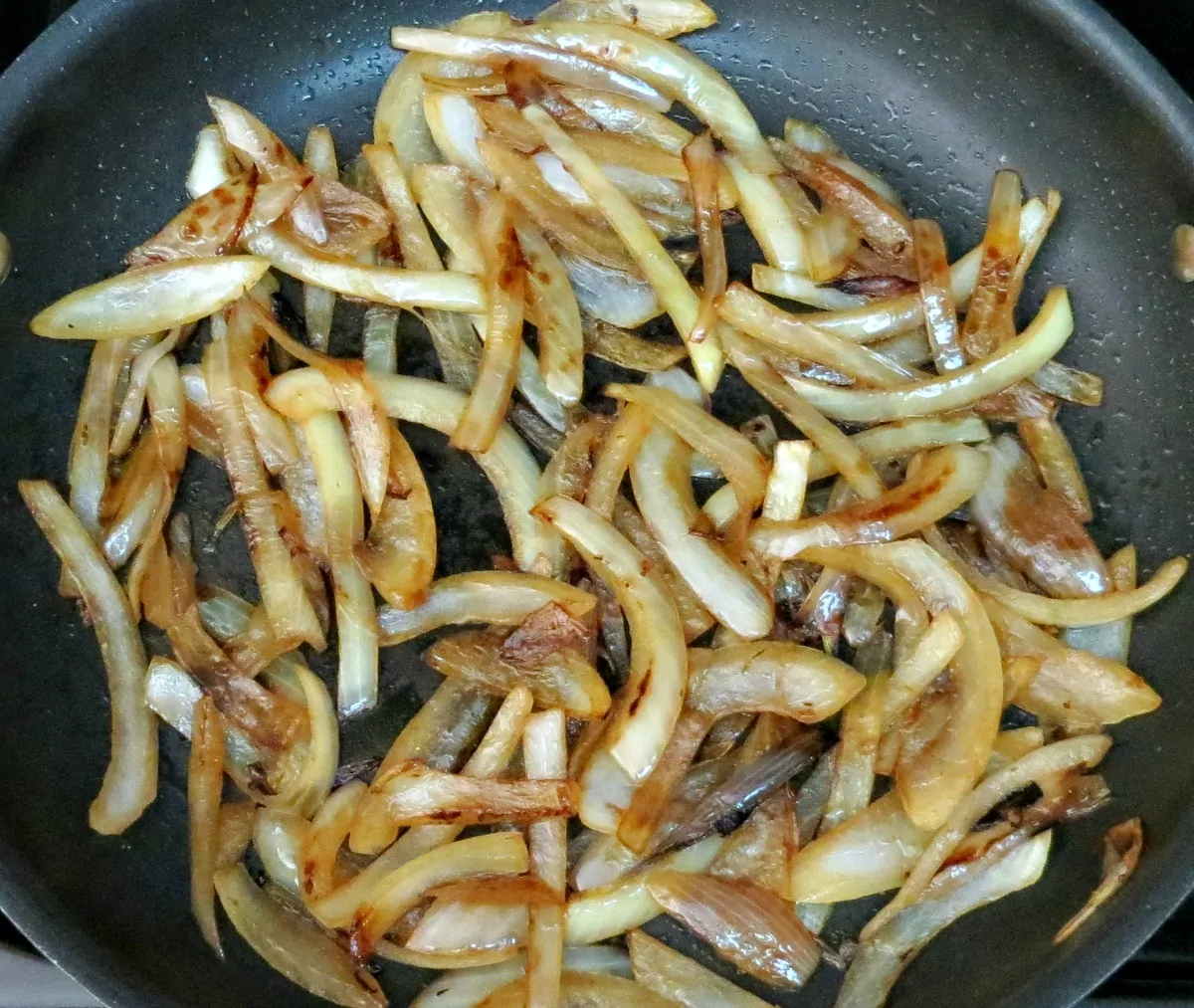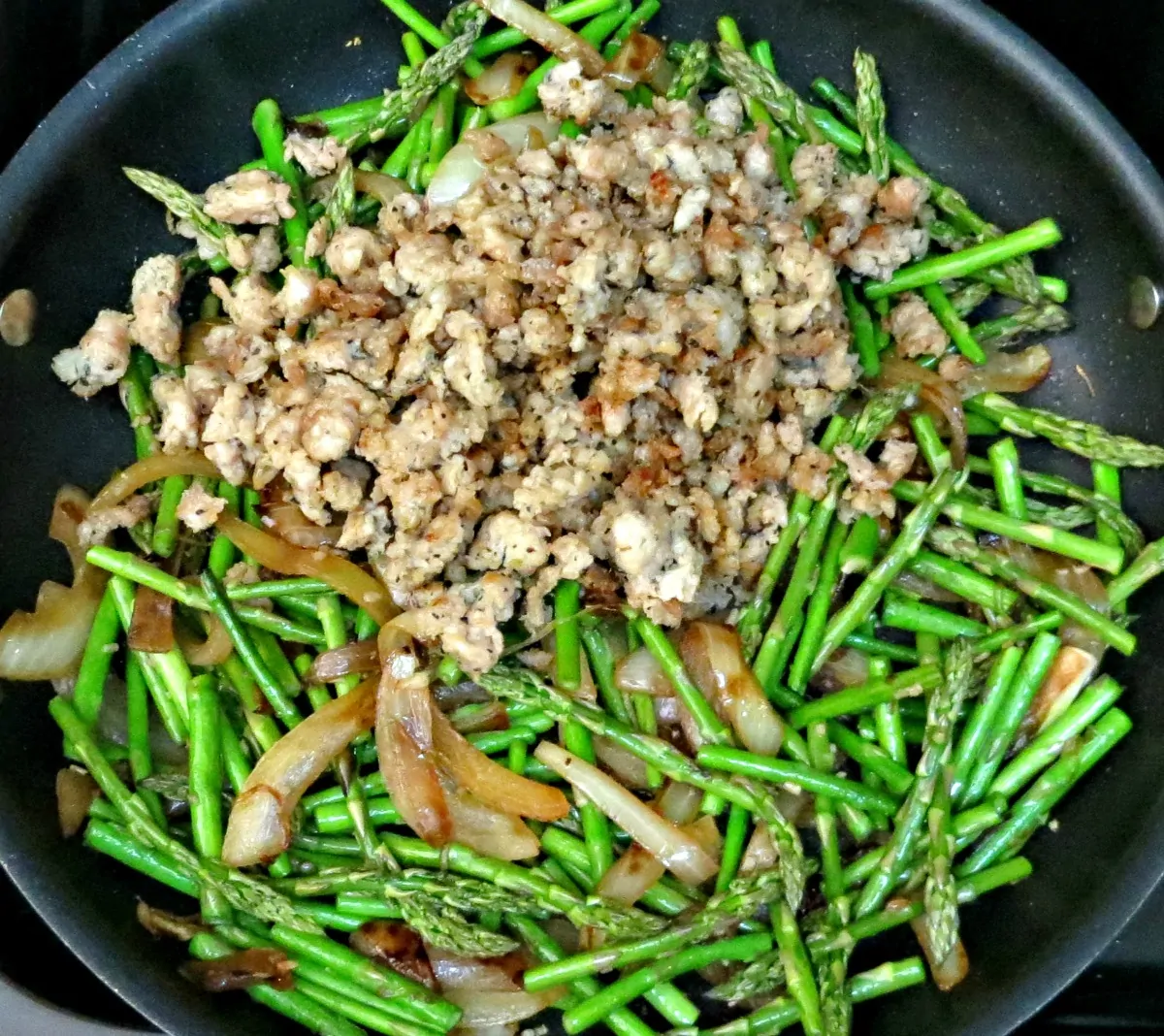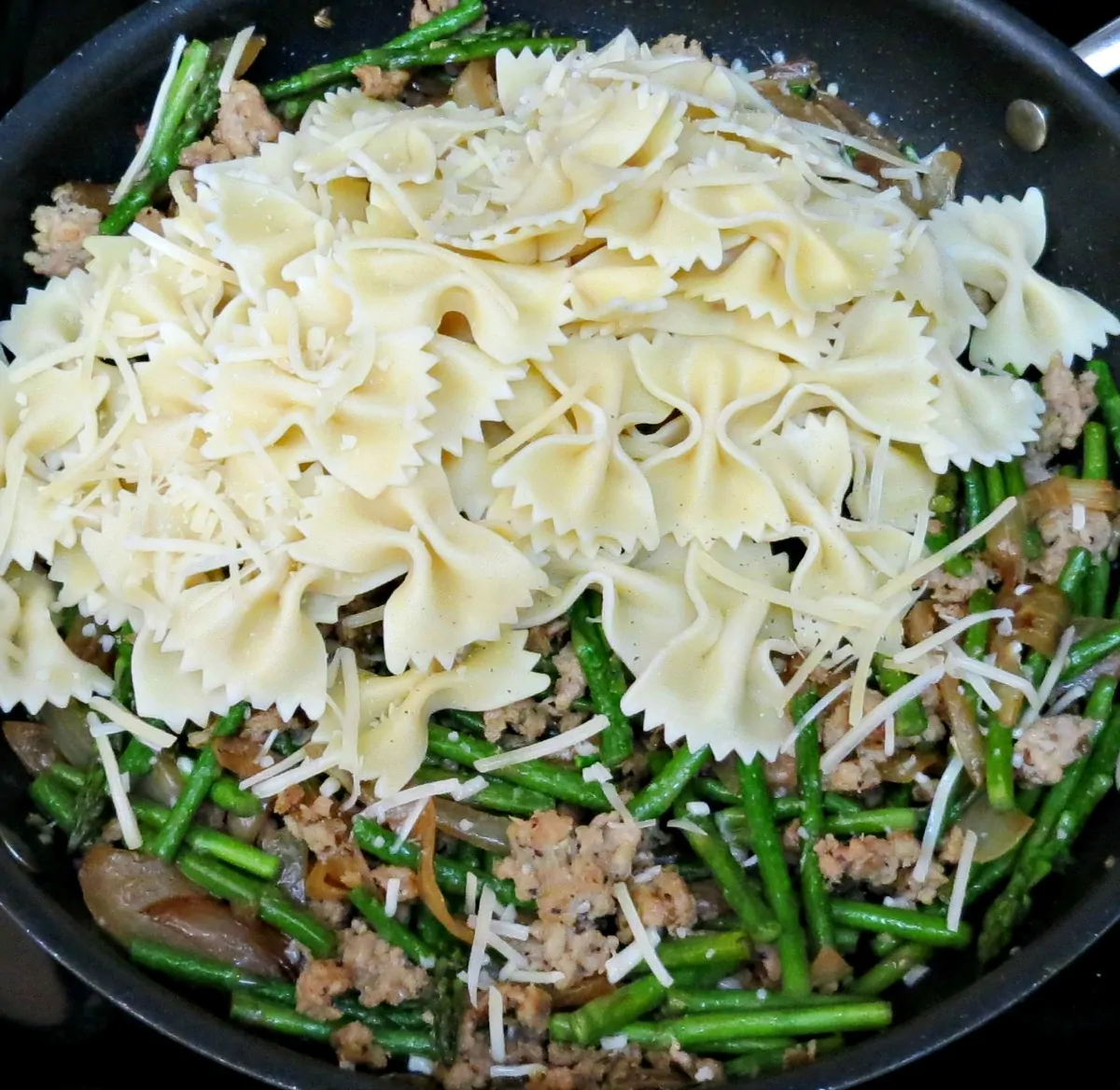 When you add too much Parmesan cheese at once to a hot, it can become gluey and clump up. Adding it a little at a time along with the pasta, prevents this from happening.
If you like things spicy, you can add some crushed red pepper flakes along with the pasta and Parmesan cheese.
Some yummy additions to this would be mushrooms, sliced peppers, fresh spinach leaves, and/or fresh basil.
We love making these types of easily modified recipes for our families. That way for our kids who like simpler foods, we can keep certain ingredients off their serving. For example, if one child doesn't like asparagus, we leave that off her plate. If another doesn't like sausage, we just move her sausage on to one of our plates. We can still just cook one meal, but still accommodate different tastes.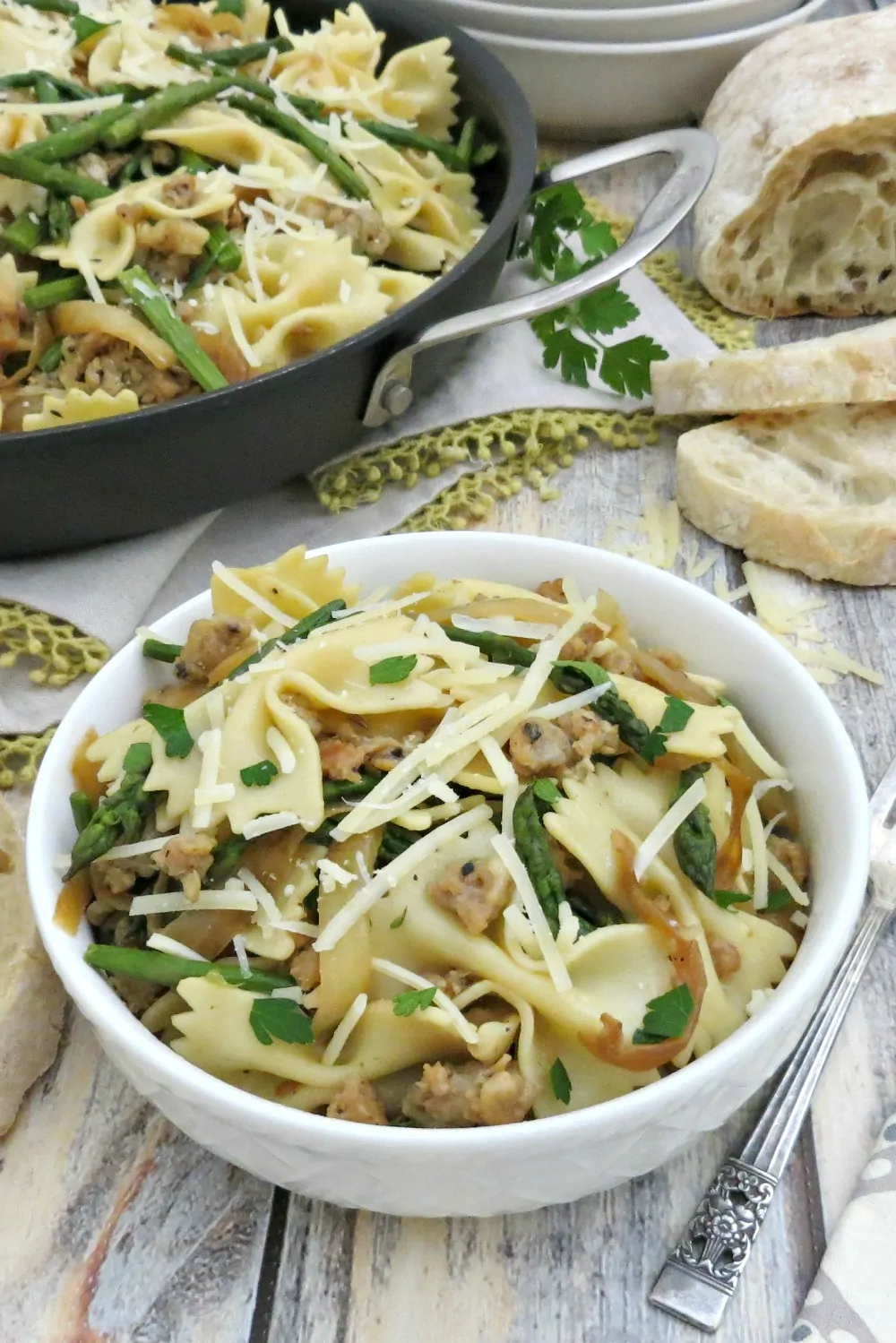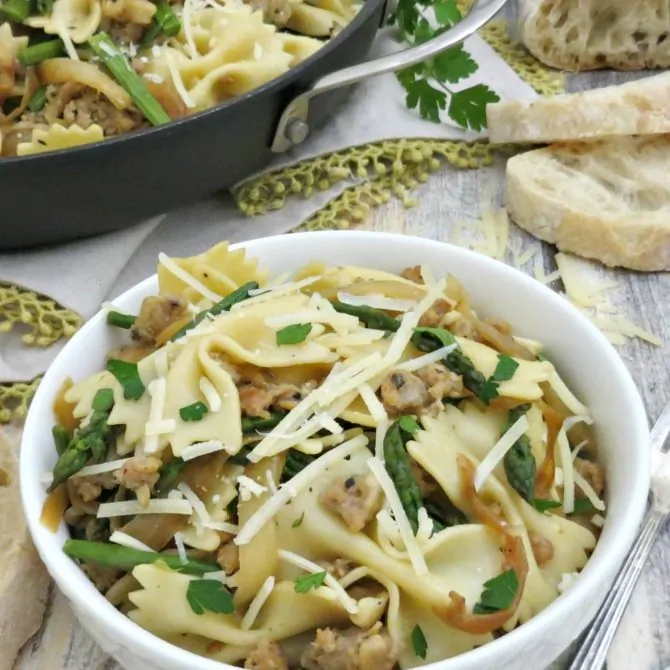 Bowtie Pasta with Chicken Italian Sausage, Asparagus & Caramelized Onions
A tasty pasta recipe perfect for weeknights when you need to get a delicious, healthy meal on the table quick.
Print
Pin
Rate
Servings: 4 generous servings
Calories: 581kcal
Ingredients
12 ounces dry Bowtie pasta
2 links chicken Italian sausage appx. 3/4/lb
1 bunch fresh asparagus appx. 1 pound
1 large onion sliced
1/4 cup fresh Italian parsley chopped
1/2 cup freshly grated Parmesan cheese
3 tablespoons olive oil
Salt and pepper to taste
Instructions
Cook the pasta according to the directions on the package. Before draining, reserve 1 cup of the cooking liquid.

While the pasta is cooking, wash the asparagus, trim off the tough ends, and cut into bite-size pieces.

Place a large skillet on the stove over medium-high heat, and add one and a half tablespoons of the olive oil.

When the oil is hot, squeeze the Italian sausage out of the casings and into the pan.

Use a wooden spoon to break up the sausage as it cooks. Cook for approximately 5 minutes or until cooked through nicely browned.

Remove the sausage from the pan using a slotted spoon, and add the remaining olive oil.

Add the onions to the pan and saute for approximately 5 minutes or until browned and caramelized, stirring frequently to ensure even browning.

Add the garlic and the asparagus, turn the heat down to medium, cover, and cook for 3 minutes, stirring frequently.

Add the sausage back to the pan and stir well to combine.

Add 1/2 of the reserved pasta water, cover, and cook until the asparagus are tender, stirring frequently.

Turn the heat down to low and a little of the cooked pasta along with a little of the Parmesan. Toss well to combine, and continue adding a little pasta and cheese until completely incorporated. If necessary, you can add a more of the reserved pasta water to loosen it up.

Stir in the Italian parsley, and adjust the salt and pepper to your liking.

Serve with additional Italian parsley and Parmesan cheese sprinkled on top.
Nutrition
Calories: 581kcal | Carbohydrates: 74g | Protein: 25g | Fat: 21g | Saturated Fat: 5g | Polyunsaturated Fat: 2g | Monounsaturated Fat: 9g | Cholesterol: 39mg | Sodium: 646mg | Potassium: 504mg | Fiber: 6g | Sugar: 7g | Vitamin A: 1415IU | Vitamin C: 15mg | Calcium: 207mg | Iron: 4mg
Pin this Bowtie Pasta Recipe for Later:


Find more recipes here on 5 Minutes for Mom and on our Recipes Pinterest Board.