This post may contain affiliate links. Read my disclosure policy here.

Do you have a little one who yearns to know the inner workings of everything he sees? Do you have a child who loves to explore and experiment in the world around her? If you answered yes to either of these questions, then the Young Scientists Club's Science Kits would be perfect for the studious and curious little mind in your care.
Founded by Esther Novis, a mother of five and a former Harvard trained biologist, the Young Scientists Club seeks to bring children fun, interactive learning adventures that allow them to explore and learn the world around them through science.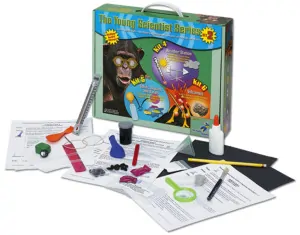 And the Young Scientists Club Science Kits do just that. We tested out the Weather Kit with my six year old who is a weather nut. Included in the kit were three plastic baggies that each provided several experiments and activities. Thanks to the Young Scientists Club, my son now understands the three phases of matter, how a barometer works and the properties that compose a volcano.

And I can tell you that for his six year old little mind it was almost too much excitement. I half expected him to actually erupt himself when our makeshift volcano bubblied up. He was literally bouncing up and down. Oh, and a bonus? I learned a few things myself!
There are twelve different Science Sets available, each containing three kits, and they span a wealth of topics from Recycling to the inner workings of the body to Polymers. That's hours of fun and learning for you and your children. Today, we would like to offer our readers a chance to win a Young Scientists Club Science Kit. Leave a comment for your entry to win. There are also ways to earn extra entries. Read below for all the details.
The Young Scientists Club was founded in 1999 to fulfill a clear and simple mission: to engage boys and girls around the world in An Educational Science Adventure that Lasts a Lifetime by offering quality, science-related products that will fascinate them with the wonders of scientific discovery and spark their interest in future scientific endeavors. All of our products are designed by a team of Harvard graduates, scientists, educators and parents with one purpose in mind – to combine fun and fascination with quality and learning in each and every product.
See our Christmas Giveaway 2009 post to read more about
participating in our Christmas Giveaway

Either link back to this post and include a Christmas Giveaway 2009 button in that post or on your sidebar, or link to the individual giveaways you choose to enter. We have a ton of different buttons and styles for you to choose from. Click here to get the button codes. (If you post and include the button, either in your post or on your sidebar, and link back here, you are good for all the giveaways. No more linking required.)
Please leave one comment below to enter this giveaway. You may earn additional entries for the following:
1. Subscribe to our Feed
2. Sign up for our Newsletter
If you are already subscribed and are on our newsletter list, you qualify for these two additional entries. Go ahead and leave your additional comments below.
Of course, if you are not a blogger but would like to enter, you may still do so. Leave us your email address and let us know how you shared the giveaway with your friends.
This contest will be open from November 17 to December 4th. A winner will be selected and announced on December 5th.
Christmas will be here before we know it, so enter to win today and get working on those holiday cards!
*We received one weather kit to review. Two kits are also being provided for our Christmas Giveaway and Under The Tree Program.