This post may contain affiliate links. Read my disclosure policy here.

This month Sesame Street is celebrating forty years! Forty years of dancing, singing, monsters, and mayhem. Forty years of education and entertainment!
My siblings and I grew up watching Sesame Street and now my kids are watching those very same lovable monsters! Of course I have no problem sitting down and watching it with them!
And now, with Sesame Street's dvd celebratory release of Sesame Street: Forty Years of Sunny Days, my kids and I can share our favorite muppet memories of the past or present! Sesame Street: Forty Years of Sunny Days is a double disc dvd set packed with over 5 hours of scenes and skits from the past forty seasons.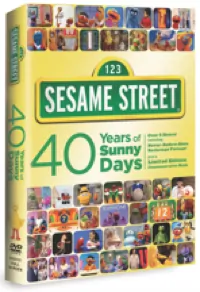 This special dvd set also includes some amazing never-seen-before footage and a Limited Edition Commemorative Book with some unbelievable facts. Did you know that the man behind Big Bird and Oscar the Grouch, Carol Spinney, is one of only three original cast members still on the show?
I love watching Sesame Street: Forty Years of Sunny Days with my daughters. It is has definitely been their dvd of choice lately! I actually wasn't sure what they would think of the earlier episodes. After all, the clothes and hair styles were quite a bit different! But my girls love them!!! My 3 year-old was a little confused as to why Oscar wasn't green at first but then she loved seeing the "new" skits and learning the "new" songs. She's still singing "Put Down the Ducky"!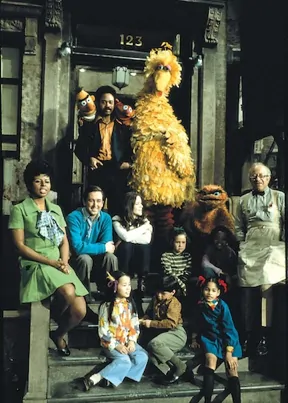 In the past four decades the characters of Sesame Street have dealt with everything from birth to death, marriage to hurricanes. They have talked about self-confidence, fear, family, and friendship. Journalists, actors and musicians from every genre have made their way to the most famous street in the world to wear fairy wings, interview monsters, and sing with chickens. However, no matter how things may change on Sesame Street they are still holding true to the principles it was originally founded on in 1969 — Children's Entertainment and Education!
Some of my favorite memories from Sesame Street years past are Bert & Ernie fishing ("heeeere fishy, fishy, fishy"), the Alligator King & His 7 Sons, and that crazy painter who would go around painting the Number of the Day in random places. My daughter absolutely loves the old episode of Kermit the Frog reporting on Sleeping Beauty. She cracks up every time when Prince Charming kisses her and falls asleep, too!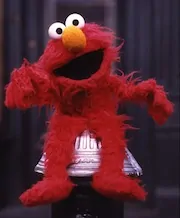 I'm so glad that Sesame Workshop and Vivendi Entertainment have put together the Sesame Street: Forty Years of Sunny Days dvd pack. It is an amazing way to relive those old Sesame Street memories with your children and to make a few new ones!
This celebration dvd is available for purchase at most retailers and on SesameStreet.org. And don't forget to head over to SesameStreet.org for more 40 Years of FUN!!!
Again, Congratulations on 40 years Sesame Street and here's to 40 more!!!
As moms we obviously love Sesame Street here at 5 Minutes for Mom and are so excited to be giving away a copy of Sesame Street: Forty Years of Sunny Days as part of our Christmas Giveaway!
Here's how you can enter to win:
See our Christmas Giveaway 2009 post to read more about
participating in our Christmas Giveaway

Either link back to this post and include a Christmas Giveaway 2009 button in that post or on your sidebar, or link to the individual giveaways you choose to enter. We have a ton of different buttons and styles for you to choose from. Click here to get the button codes. (If you post and include the button, either in your post or on your sidebar, and link back here, you are good for all the giveaways. No more linking required.)
Please leave one comment below to enter this giveaway. Maybe share with us your favorite Sesame Street memory! You may earn additional entries for the following:
1. Subscribe to our Feed
2. Sign up for our Newsletter
If you are already subscribed and are on our newsletter list, you qualify for these two additional entries. Go ahead and leave your additional comments below.
As always, non bloggers are welcome to participate! We understand you can't link – but please spread the word to your friends via facebook, twitter, etc.
Entries are open from Sunday, November 15th until Friday, December 4th at 12pm EST.
Our winner will be drawn randomly and we will announce the winner Saturday, December 5th. Please make sure to check our site and your email address to see if you have won a prize. We must receive your reply within 5 business days. (If you want your prize to arrive in time — the sooner we hear from you, the better!)
This contest is open to US shipping addresses only. Due to legal restrictions, this promotion void where prohibited.

Please see our site's Terms and Conditions of Use for a complete list of our Contest and Giveaway Rules.
* We did receive a complimentary copy of Sesame Street: Forty Years of Sunny Days for this review. Sesame Workshop and Vivendi Entertaiment are also providing one copy for this contest AND another for our Under the Tree Program.
Written by 5 Minutes for Mom Contributing Editor: Stacey Lynn