This post may contain affiliate links. Read my disclosure policy here.

A friend of mine has a family of four. Two of her kids are outgrowing toys. For Christmas the last few years she's given her family an experience gift — tickets to a show or other event. It's a great way to set aside time to celebrate the holidays together as a family as well as giving them memories that will last longer than the charge on battery-powered electronics.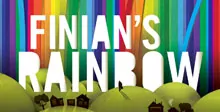 It can also be difficult to find an appropriate gift for parents and grandparents. Tickets to a Broadway show, specifically Finian's Rainbow, are something that they might not buy for themselves, but are sure to enjoy. They are a great gift idea for people who either have everything, don't want anything, or buy whatever they want for themselves!
I am happy to be able to offer up a family-four-pack of tickets to the revival of Finian's Rainbow on Broadway. The tickets are valid for January 2010 (subject to availability), so if you live in the New York area, or want a little nudge to take a trip to the Big Apple (the city I love)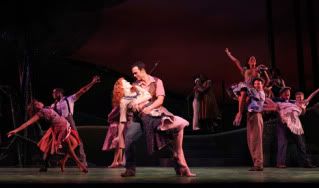 I was offered a pair of tickets to the show while it was still in previews. I didn't know much about it, except that it was a revival, and was billed as a family show. I was really interested in bringing Amanda (age 11) with me and hoped it would be to her liking. She's seen a few of the Disney shows on Broadway, but this was her first time seeing a musical show intended for general audiences.
She liked it. I liked it. The audience around us loved it. On the way out, a woman was saying that this was already her third time to see it.
Finian's Rainbow is the story of man and his daughter who go from Ireland to the sharecropping South to find their fortune, which involves a pot of gold and the mischievous leprechaun who follows them there. The story also has a very timely theme about bigotry and race relations that's told in a way that gets the point across, but is not heavy thematically at all, keeping it age appropriate.
This show really has it all: drama, romance, and most notably comedic relief from Christopher Fitzgerald as Og the Leprechaun.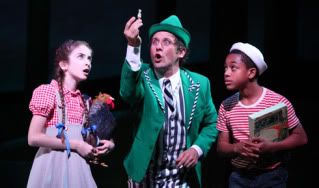 Everything from the costumes, to the music, to the scenery screams "classic Broadway show." I was glad that Amanda was able to enjoy this show with me. It's not quite as long as some shows are (it's 2 hours and 20 minutes, including intermission), so those who are younger — or older — who might not want to sit for over 2 1/2 hours will appreciate this. In general, I don't think that young children are suited for long Broadway shows, but I think that this show would be suitable kids from about eight and up or for couples looking to experience the magic of a traditional classic Broadway show.
If you'd like to enter to win a four-pack of tickets valid in January 2010 for yourself or to give as a gift, here's how you can enter to win:
See our Christmas Giveaway 2009 post to read more about
participating in our Christmas Giveaway

Either link back to this post and include a Christmas Giveaway 2009 button in that post or on your sidebar, or link to the individual giveaways you choose to enter. We have a ton of different buttons and styles for you to choose from. Click here to get the button codes. (If you post and include the button, either in your post or on your sidebar, and link back here, you are good for all the giveaways. No more linking required.)
Please leave one comment below to enter this giveaway. You may earn additional entries for the following:
1. Subscribe to our Feed
2. Sign up for our Newsletter
If you are already subscribed and are on our newsletter list, you qualify for these two additional entries. Go ahead and leave your additional comments below.
As always, non bloggers are welcome to participate! We understand you can't link – but please spread the word to your friends via facebook, twitter, etc.
Entries are open from today through Friday, December 4th at 12pm EST.
Our winner will be drawn randomly and we will announce the winner Saturday, December 5th. Please make sure to check our site and your email address to see if you have won a prize. We must receive your reply within 5 business days. (If you want your prize to arrive in time — the sooner we hear from you, the better!)
This contest is open to anyone, providing that you are available to see a show in New York City in January 2010. Due to legal restrictions, this promotion void where prohibited.

Please see our site's Terms and Conditions of Use for a complete list of our Contest and Giveaway Rules.