This post may contain affiliate links. Read my disclosure policy here.
Are you too busy to plan and execute an elaborate Star Wars party for your kids, but you still want to celebrate the fun and excitement of the new movie? We're here to help with tips for the easiest way to throw a Star Wars party or playdate for kids. This post is sponsored, so extra thanks for reading and sharing.

It's finally here! Star Wars: The Force Awakens is finally playing in theatres.
Are you excited? Are your kids excited?
Do you want to host a fun Star Wars party or playdate for your kids that's so quick and easy that it doesn't add any extra stress to your already way too busy life?
Easy Tips to Throw a Star Wars Party
There are times in life when moms need shortcuts.
A week before Christmas is definitely one of those times.
It's clear that this new Star Wars movie is a big deal to everyone… and likely a very big deal to your kids. So you want to enjoy the experience, but you might not want to invest a ton of time into planning or preparing a party.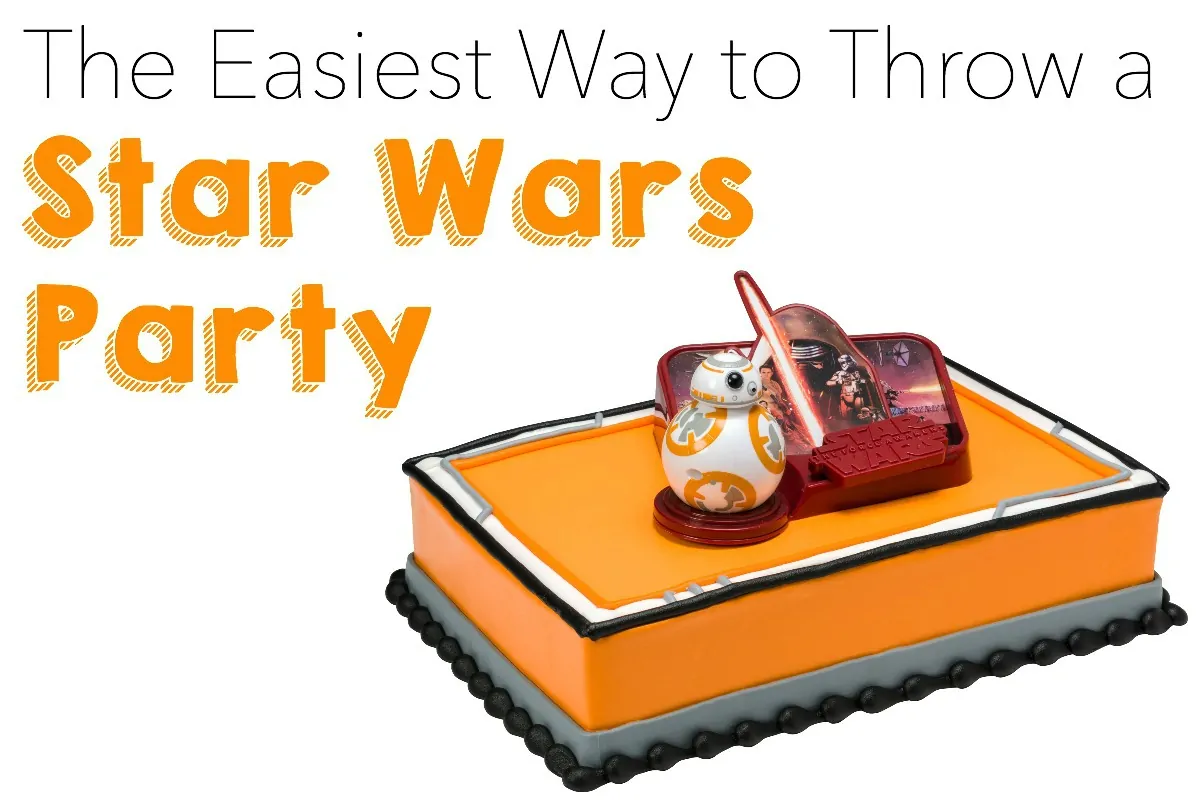 No worries… We've got you covered.
Just follow these 3 steps to host the easiest Star Wars party or playdate…

Step 1. Print out some fun and FREE Printables
Depending on the age of the kids, you can entertain them with Star Wars themed coloring, activities and games.
Click here to download a FREE set of Star Wars activity sheets including Star Wars coloring pages, activities and games.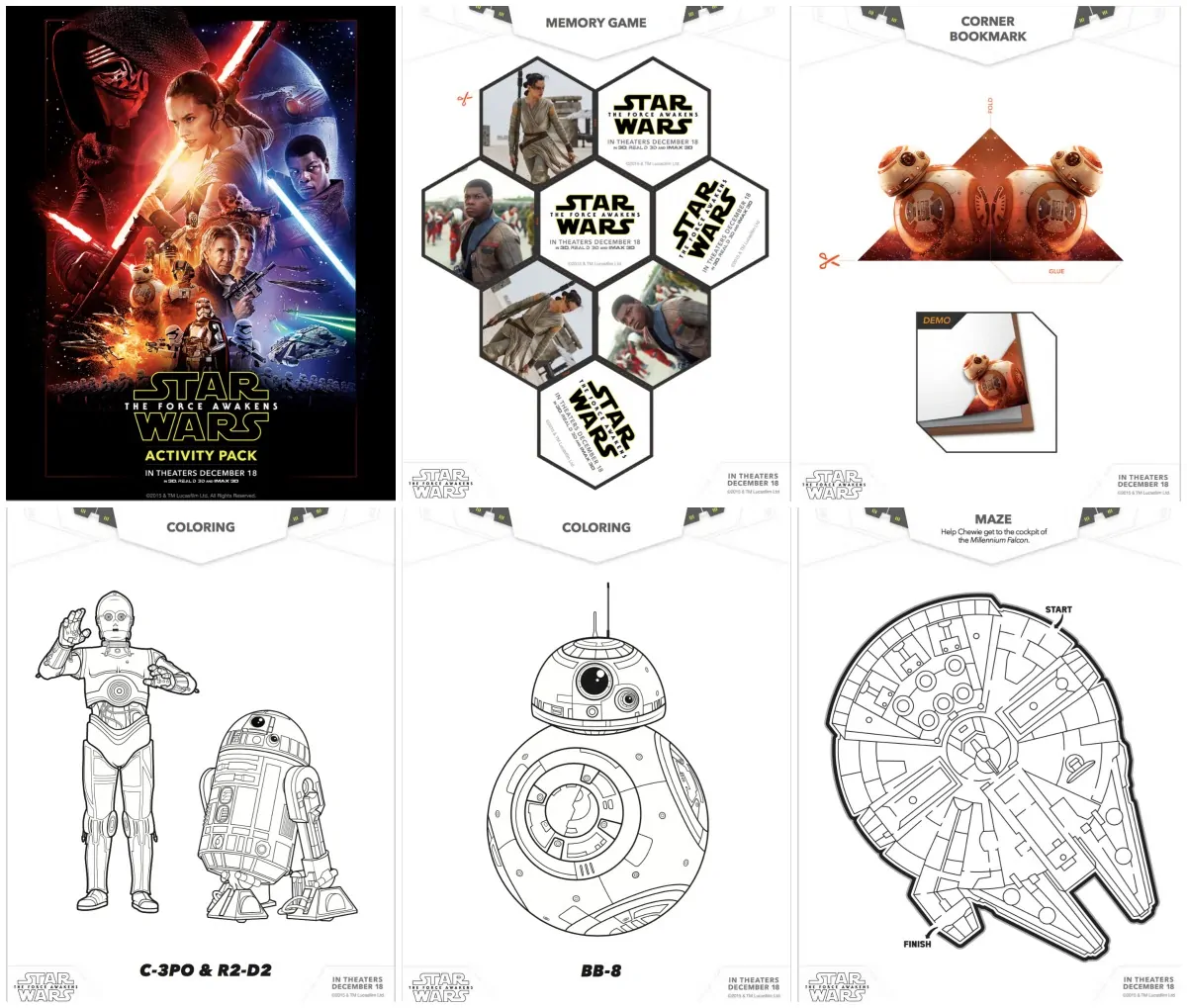 Step 2. Borrow a few easy ideas from these Bloggers
Our blogging friends have been sharing so many Star Wars crafts and party ideas.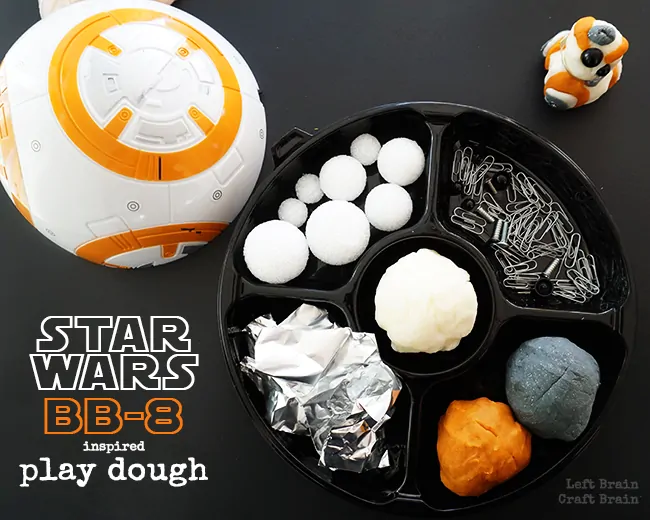 I absolutely love this idea for BB8 Play Dough from Left Brain Craft Brain.
And check out these awesome Star Wars Crafts, Activities and Party ideas at…
Red Ted Art
Fun Family Crafts
Family Food and Travel
Pinterest is going wild with all things Star Wars!
In fact, we created a Pinterest board just for Star Wars…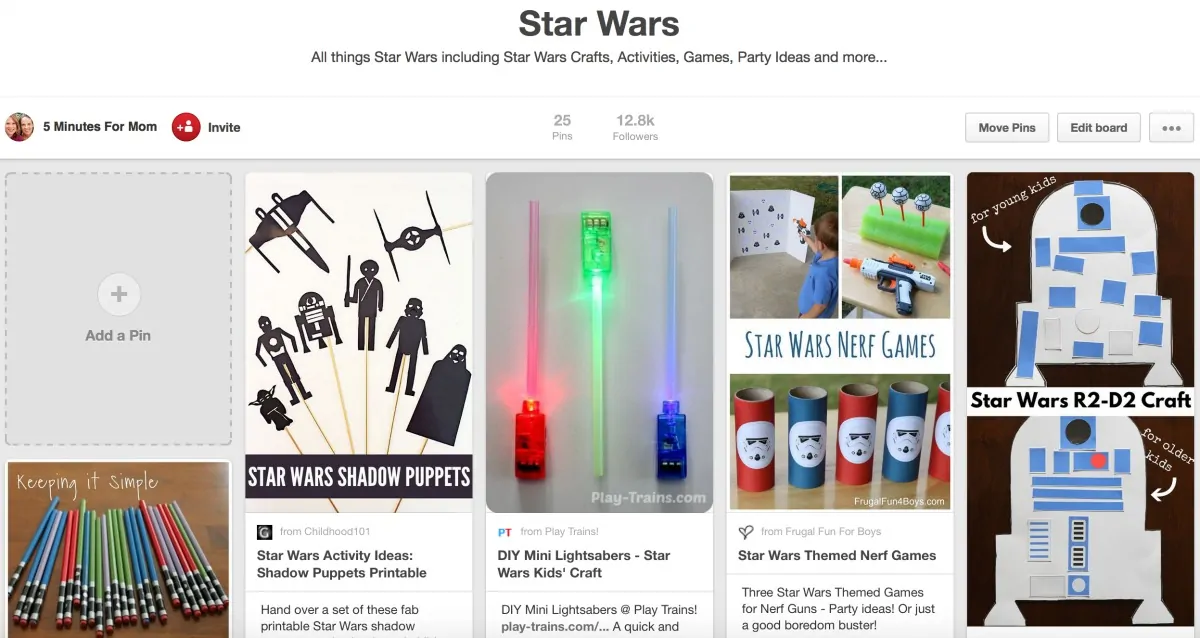 Step 3. Blow them away with a Star Wars Cake
But don't blow your schedule by baking it. Instead just order one of these super fun and delicious Baskin-Robbins Star Wars Ice Cream Cakes.

By having a phenomenal cake as the highlight of the party or playdate, you take a ton of pressure off yourself.
And it's an Ice Cream Cake!!!
I LOVE ice cream cakes. In fact, we celebrate most of our family birthdays with ice cream cakes instead of regular cakes. They taste so good and they're a more unique twist on a traditional party cake.
I also love that when I buy a Baskin-Robbins ice cream cake, I don't feel so guilty thinking I could have just baked it myself. I know I couldn't just whip up one of these cakes on my own.
Your Star Wars Party or Playdate will instantly be a huge hit when your kids and their friends see (and taste) the cake.
Baskin-Robbins' new Star Wars: Darth Vader Cake is a classic sheet cake with blue icing, red, black and grey trim which features a collectible Darth Vader helmet decoration that makes the iconic movie villain's infamous breathing sound.

The new Star Wars: The Force Awakens Cake is a classic sheet cake decorated with orange icing with black, grey and white trim which features a collectible BB8 decoration that turns from left to right locking into its base while its head spins, making for action packed fun after the party. The cake also features a raised backdrop with Kylo Ren, Captain Phasma, Rey, Finn and Poe Dameron.
You can customize either ice cream cake with your favorite Baskin-Robbins ice cream flavor and order either in-store or online at baskinrobbins.com/onlineordering. It'll be available for pick-up within 24 hours of ordering.
Whether you're planning on taking just your own kids to see the movie or a few of their friends are coming along, turn it into more than a trip to the movies with some extra activities and one of these cakes.
PIN FOR LATER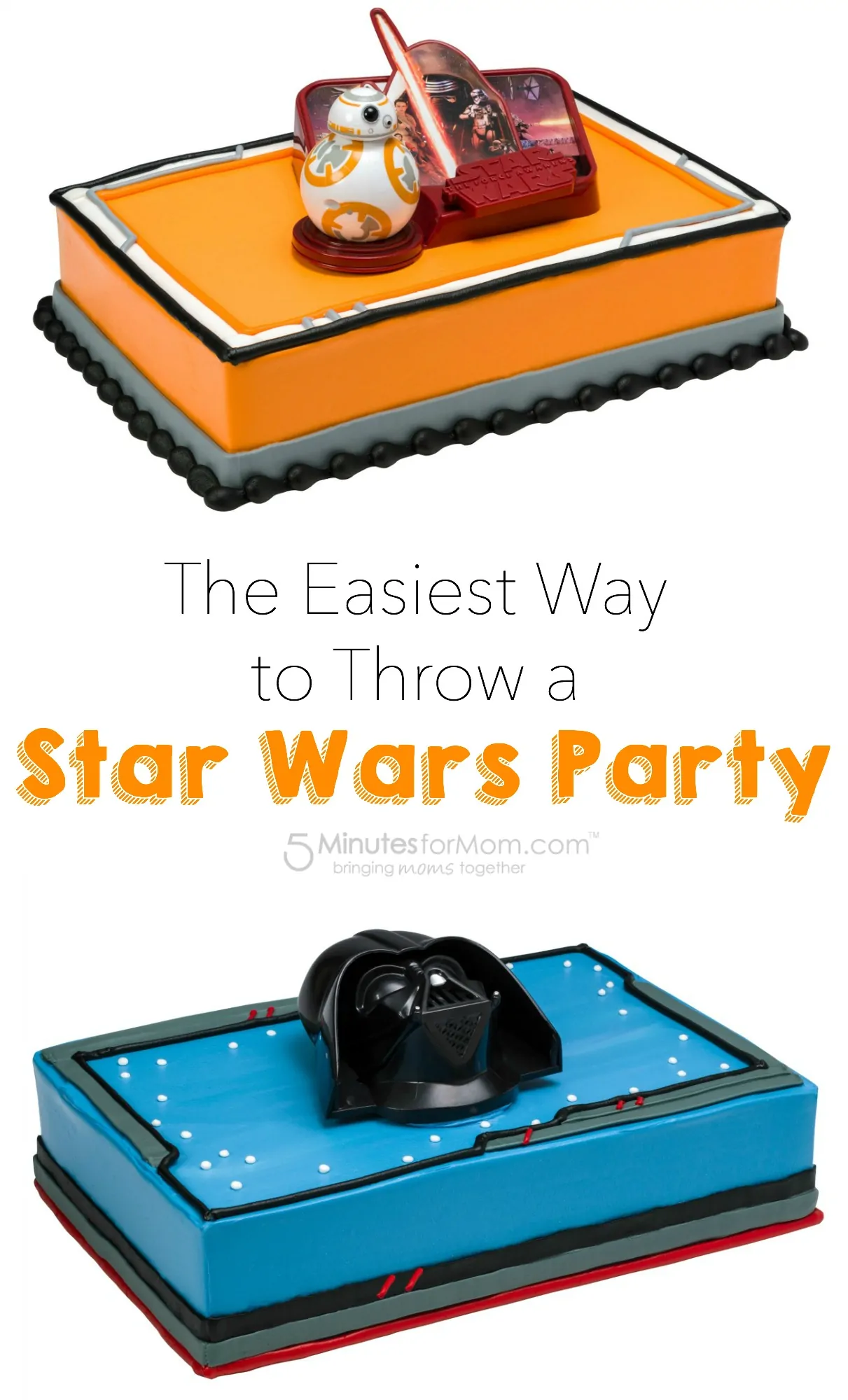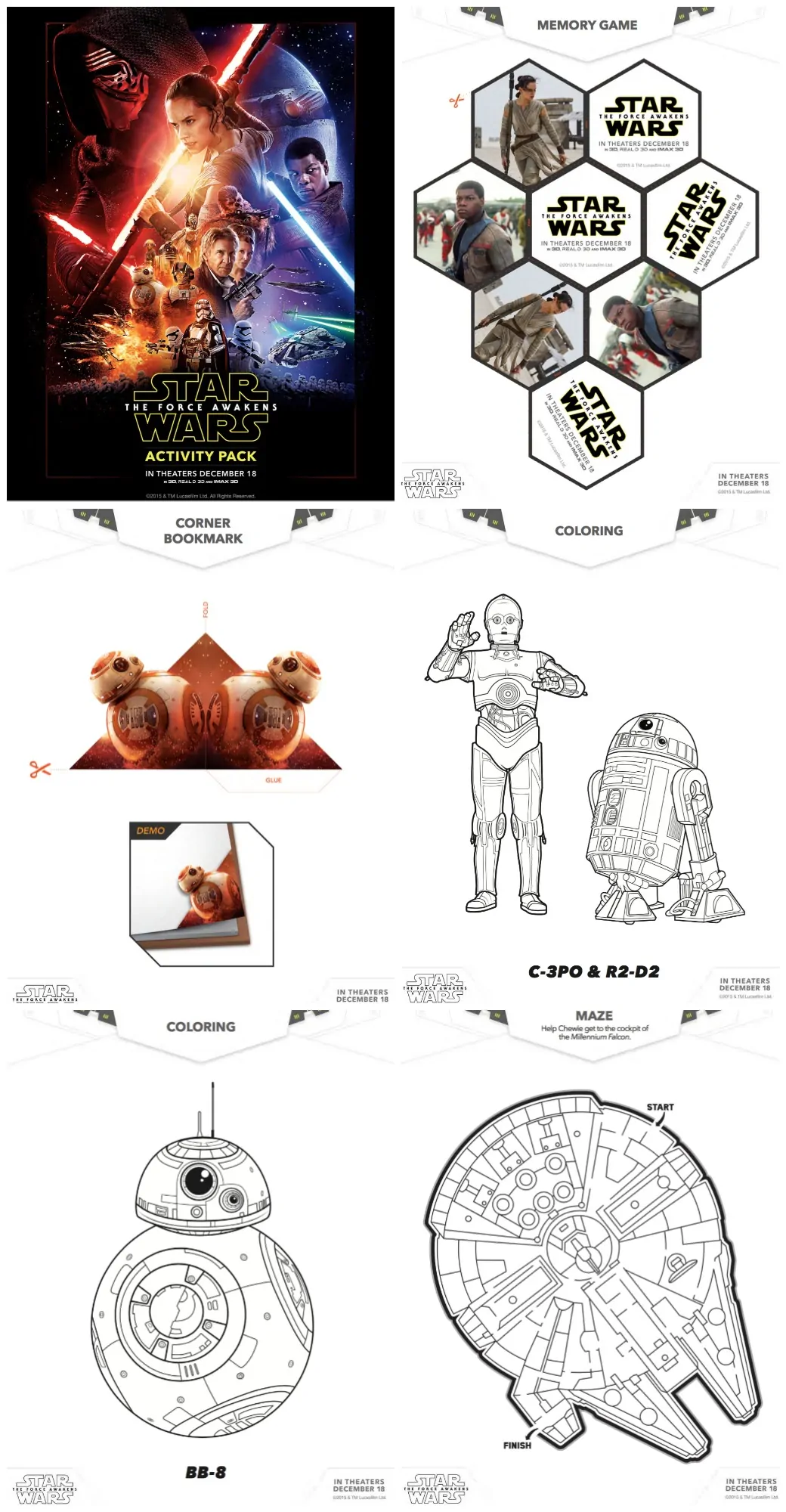 Disclosure: This post is sponsored, so extra thanks for reading and sharing.
Written by Susan Carraretto, co-founder of 5 Minutes for Mom
Talk with me: @5minutesformom and Facebook.com/5minutesformom
Pin with me at pinterest.com/5minutesformom