This post may contain affiliate links. Read my disclosure policy here.
Appliances break down. And when major appliances like your dishwasher or washing machine break down it is a major hassle with major costs. So we're helping American Home Shield remind you to make sure you're covered. This post is sponsored, so extra thanks for reading and sharing.

For many of us, it can be a challenge to just keep up with life's regular expenses and make it through a typical month. But when a big, unplanned cost hits us, it can really hurt.
I'm a single mom supporting my family as a blogger. While I love my life, I'll be honest, my budget is tight.
So last year when my 10 year old dishwasher suddenly broke, I broke down and cried.

Yes, I'm a 42 year old woman, and I cried when my dishwasher broke. It's a little embarrassing. But I just didn't have the extra money to buy a new one right then… and I can barely keep up with my dishes when I HAVE a dishwasher.
But about a week later, my sweet mom went out and bought me a new dishwasher. I was so thankful!!!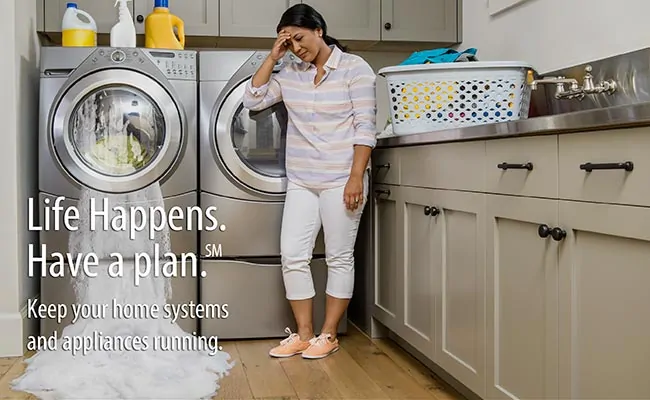 The thing is appliances break. Now, it's true my dishwasher was 10 years old and was destined to die, but problems often arise much earlier.
Take for example the poor luck of my mom. She has had so many troubles with her washer and drier as well as her refrigerator. All of those appliances have been good, trustworthy brand, but still ended up having multiple problems requiring servicing.
Expect The Worst
It just makes sense to plan for the worst case scenario.
Fortunately, American Home Shield – the nation's largest provider of home warranties – can help.
Can you believe that they have received more than 3.6 million service requests for broken down appliances from the consumers over the past five years? And that number gets bigger each year.
Tips to Keep Appliances in Good Shape
There are steps you can take to help keep your appliances in good working order. Check out these resources for ideas…
Enter to Win
Would you like THREE NEW GE APPLIANCES worth $5000?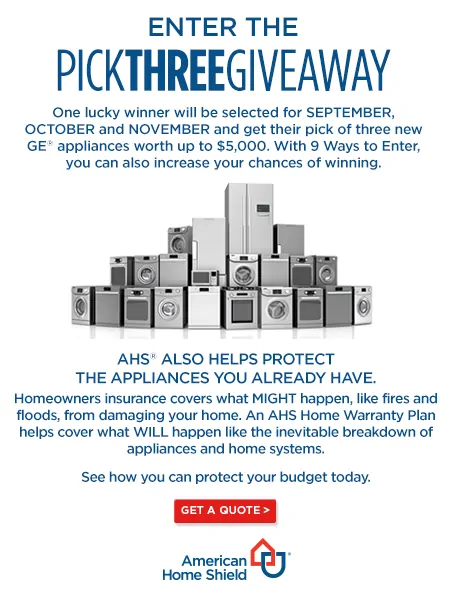 American Home Shield is giving homeowners the opportunity to take a chance at winning three GE appliances through its "You Pick Three" sweepstakes.
Entering is easy: you can simply do any (or all) of the following:
American Home Shield You Pick Three
Disclaimer: This post is sponsored but my opinions are always my own.
Written by Susan Carraretto, co-founder of 5 Minutes for Mom
Talk with me: @5minutesformom and Facebook.com/5minutesformom
Pin with me at pinterest.com/5minutesformom